After my string of night shifts, I simply wanted to sleep and veg out all day.  So that's what I did.  I didn't leave the apartment.  I didn't even change out of my pajamas.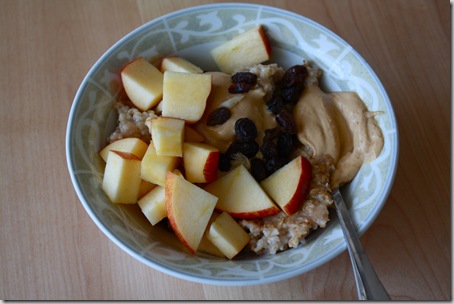 Normally I feel at least a little bit of pressure to work out, especially since I'm supposedly "training" for a triathlon.  But I didn't.  It's rare that I don't have feelings of guilt for being a sloth – which is something I'm always working on.  I am a firm believer that guilt is a pointless emotion.  Being healthy means being balanced and flexible.  That includes fitness.  Not working out one day won't kill me.  I still have to actively say that to myself to make sure I'm being practical (and not a perfectionist).  But I also don't want one day off to turn into a week.  It's easy for me to rationalize reasons why I "deserve" a day off.  So I am constantly working on making sure there's a true balance in my life – cutting myself slack when I need to, but still pushing myself to my fullest potential. 
It was during my third hour of Sex and the City that I read a news story that made me cringe. 
Sitting for 4-6 hours a day means you have an 80% higher risk of death. 
Disregarding it's bizarre phrasing, the study's conclusion really creeped me out!  Here I am, on my days off, sitting at my computer for hours on end.  Often more than 6 hours.
The negative effects of sitting:
weight gain –> obesity –> increased risk of heart disease & cancer
spine compression
circulatory trouble (plaque in blood vessels)
slowed metabolism
Maybe blogging (or reading others' blogs) isn't so healthy.  I mean, 80% is no small amount. 
The study also said that even 1-2 hours of exercise doesn't counteract the effects of prolonged sitting.  So unless you're reading blogs on your iPhone while walking to a gym, you're not doing yourself any favors. 
How about I conduct a study about the positive effects of sitting?  Here's what I'm thinking off the top of my head:
better recipe ideas
less laundry (I'm mentally subtracting my dirty gym clothes in this scenario)
Ok, that's all I can think of.  Feel free to chime in!?!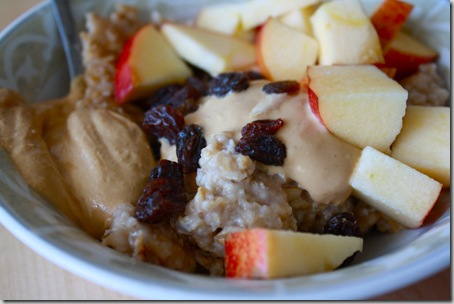 I had two bowls of oatmeal, identical in composition, for breakfast (which was around 1 pm once I woke back up).  Whole rolled oats, cinnamon, raisins, apples, coconut peanut butter AND regular peanut butter. 
I snacked over the course of the afternoon, but took no photos (how interesting are apples, hummus, and nuts really?). 
Now that I think about it, I was actually fairly productive for being a sloth because I finished my book and swept, mopped, and scrubbed down the kitchen and bathroom.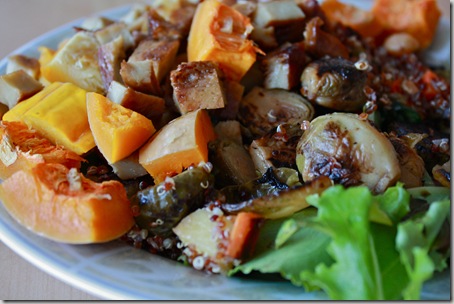 My dinner was kinda a smorgasbord of stuff…roasted squash, quinoa, veggie leftovers, and seitan…on a bed of lettuce.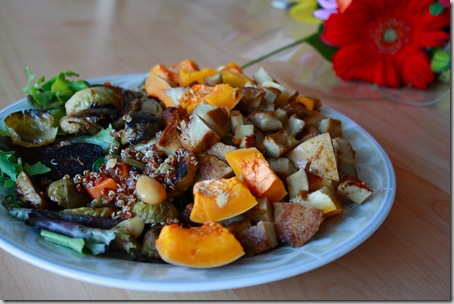 And since I ate so early (6ish), I had lots of time for dessert.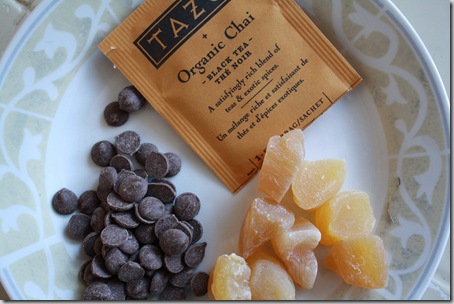 I annihilated my bag of carob chips. 
By 9 pm I was delirious and Kyle was enjoying my nonsense almost as much as he enjoys me showing his love notes on the blog.  [Read: not at all]  I went to bed early and fell asleep the second my head hit the pillow. 
How many hours a day do you think you sit?  Consecutively or broken up with activity?
Elise June 30, 2011 brussels sprouts, carob chips, oatmeal, peanut flour, quinoa, seitan, squash Read more >