This overnight concoction tasted just like a peanut butter and jelly Larabar.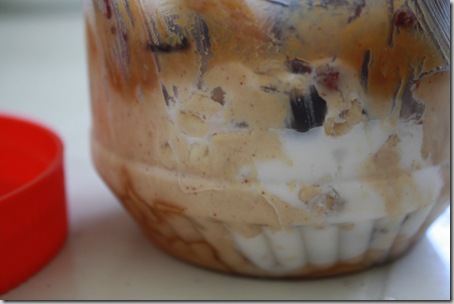 While I never really cared much for the whole oats-in-a-jar phenom that rocked the blog world circa 2010, I also can't stand waste. 
Fact: the best way to get every last lick of peanut butter is use the nearly empty jar as a vessel for overnight oats.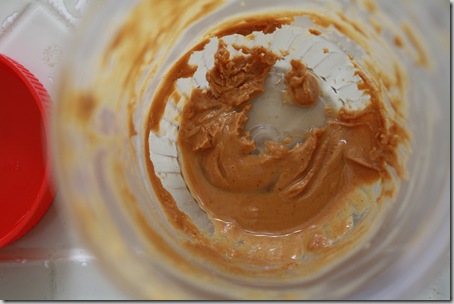 I added in oats, maple syrup, apricots, and almond milk, then topped it off with almonds, cashews & dried cranberries.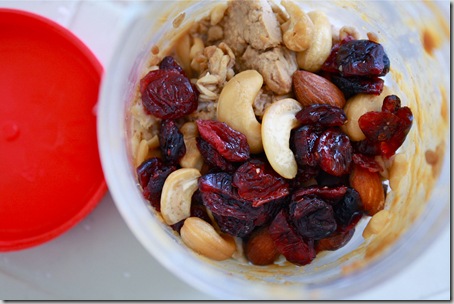 The next morning is was super gooey.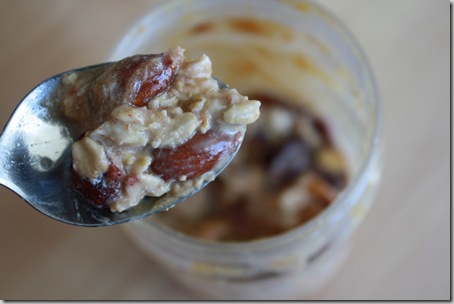 After breakfast I caught up on blogging, watched the US Open, and went for a run.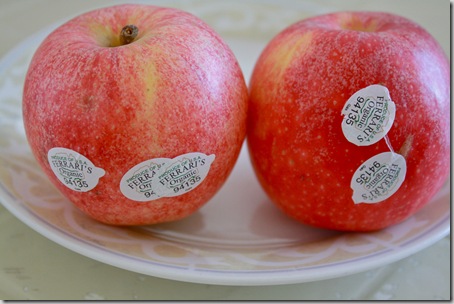 Geez, I get it, you're organic!  My afternoon was snack-tastic, but nothing was extraordinary.  I started with apples with coconut butter.  There was a long parade of things that followed but I couldn't be bothered to photograph them all. 
I know there were almonds and watermelon in there though.
Later on Kyle got home (so early!!) so we took the opportunity to get a few errands done together.  We went to the Promenade to shop, stopped by the bank to change the name on my cards (finally), and eventually made our way over to the NEW Tender Greens for dinner.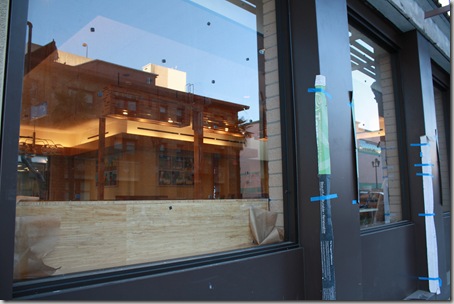 Or not.  Sunday was supposed to be their grand opening, but clearly they weren't ready yet.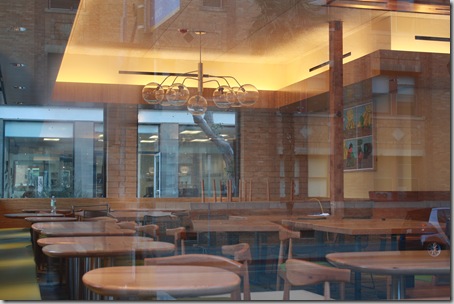 I took a peek inside to check on the status and it seems like it may still be a few more weeks :(  I'm so ready for this place to open!!  I realize I'm not that far from the Culver City location, but this one is within walking distance from our apartment.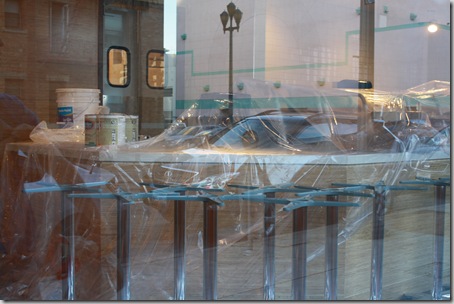 Plastic wrap.  Paint cans.  Stray furniture.  You don't have to have tuned into an HGTV marathon to know that Tender Greens is still more of a construction zone than a restaurant. 
Luckily, our plan B restaurant was only a few blocks away.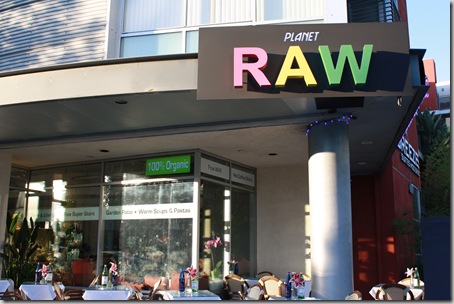 Planet Raw has been on the to-try list for a LONG time. 
I love raw food when it's well done, but there's really no gray area.  It's either outstanding or blah. 
Kyle's wishy washy on raw food because he doesn't always leave feeling satisfied.  It has less to do with the fact that the food is uncooked, and more to do with the serving sizes.  His one (and only) dining experience at Pure Food & Wine is to blame due to the tiny portions.  He also detests zucchini which is a very common ingredient in raw food.  But still, he remains open minded. 
And so we got our raw on.
We started with the Spring Rolls.  They had avocado, kelp noodles, cabbage and Thai herbs in a coconut wrapper with a no-peanut sauce.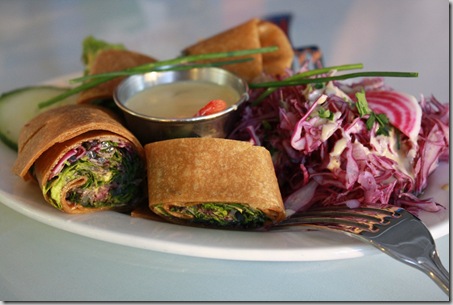 OH. MY. WORD.  I can't tell you how this knocked my socks off. 
Taste buds <— blown away.  The no-peanut sauce could have been made from baby tears and I still wouldn't have stopped eating it.  It was SO good.  The coconut wrapper was like a savory fruit roll up.  It was complex and my mouth didn't know what to make of it, but I definitely loved it.  Texture wise it was like a hearty (less sticky) fruit roll up, but the flavor was salty/savory.  It complimented the crunchy veggie insides perfectly.  I could go on and on, but words mean nothing.  You can't understand it until you try it. 
For Kyle's main course, he chose the Taco Salad with fresh avocado, heirloom salsa, cashew sour cream, crispy flax chips and ground mushroom taco nutmeat.  He was a big fan and agreed with me that the sauces were fantastic.  He finished off every bite except for the beets.  Not sure why.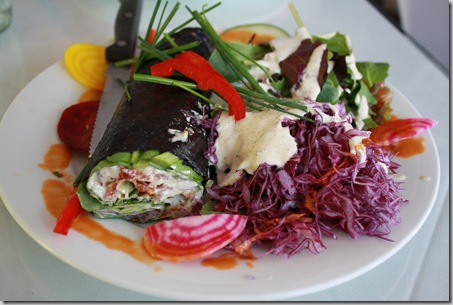 For my entree, I got the Sundried Tomato Cheeze Wrap with collard greens, nutcheese, avocado, onions and sun dried tomatoes.  I was having a hard time choosing between two options, but I was completely sold when I found out the nut cheese was made with cashews and the wraps were layered in both seaweed AND collards.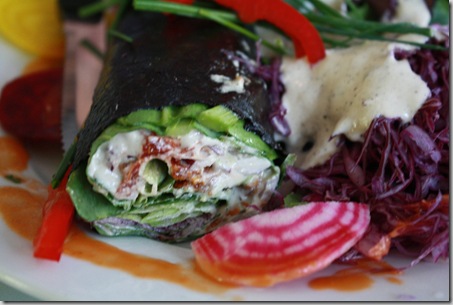 I know it's blurry, but check out that saucy sauce!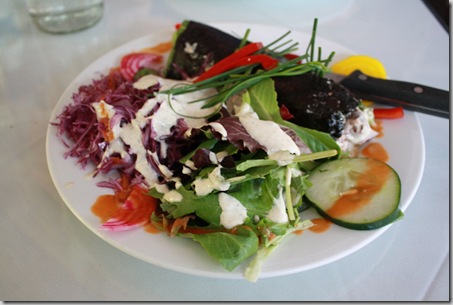 The ratios of dressing to salad and sauce to wrap were perfect – not too doused but deliciously oozing nonetheless. 
Serving size, perfect.  Belly, happy.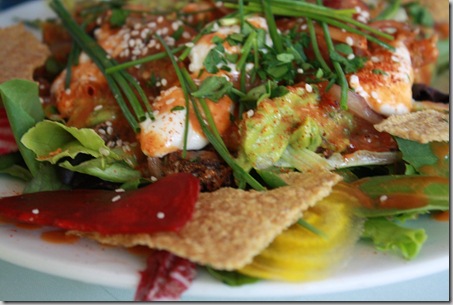 At the end of our meal, an older couple was seated next to us…clearly very unfamiliar with raw food.  I couldn't help but eavesdrop on their conversation (I'm not nosy, the tables are quite close).  I was delighted at how patient and helpful the waitress was.  They told her they had never tried raw food before and asked for her advice.  She guided them beautifully, without an air of condescension or superiority (even as they asked questions like "is the food fattening?" and "what kinds of fish do you have?").  And they seemed very satisfied with both their orders and the raw food concept. 
Tips for diners new (or not) to veganism or raw food:
tell the server you are new to the restaurant/diet (they probably get this all the time, so don't be embarrassed)
ask for suggestions (they know the menu best and they probably know what meals will best please new-to-raw palates)
ask questions about the menu (I asked what nut was used in almost every sauce/puree/paste/etc. and Kyle asked if there was zucchini in every "pasta" dish)
communicate what you typically like in your food (if you're a spicy person, tell them so)
I was SO pleased with my meal at Planet Raw.  For a backup restaurant, it certainly blew my mind.  Hands down, top five favorite meals in LA.  I loved every single saucy bite, I wanted to slurp the plate clean.  I most definitely need their cookbook (which has 250+ pages of recipes) for the nut based dressings alone.  I can't describe how flavorful this meal was!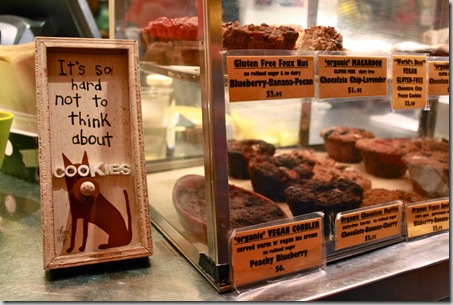 On the way home, we stopped for dessert at Interim Cafe, but we saw flies in the dessert case.  Ummm, that's a no-go.  But (as per the sign in the photo) I had cookies on the brain…and wound up eating quite a few as I prepped for the work week. 
When was the last time your Plan B surpassed your Plan A expectations?
Have you ever dined at a raw restaurant?  Tips/advice?
Elise August 31, 2011 nutbutter, nuts, planet raw, rawrestaurant review Read more >