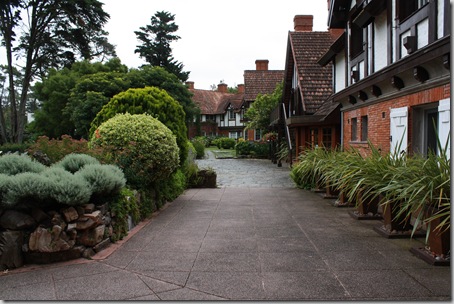 At first glance, the L'Auberge hotel looks rustic.  But once you tour the place, you start to notice it's all a facade.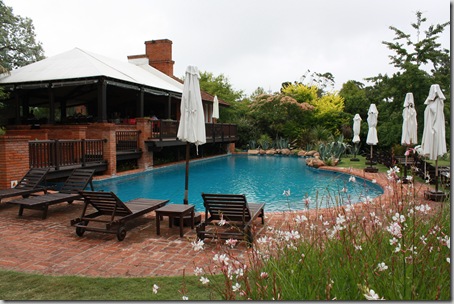 With satellite TV (not that I wanted to watch the Kardashians on vacation) and high tech gym equipment (in the tower's top floor) and multiple places to lounge around outside while connected to the hotel's (free) wi-fi…I'd say it was the perfect balance of old and new for a relaxing vacation.
Kyle and I went to the gym 4 of the 7 days we were there.  Not bad!
We ordered room service 7 of the 7 days we were there.  Not bad!
It was so wonderful to have nothing to do.
I know I've been doing day by day posts about our December vacation up until this point, but it makes no sense to continue for Punta Del Este because our days were all basically the same…
Instead I'll give you a tour of the best rated hotel in the town country continent.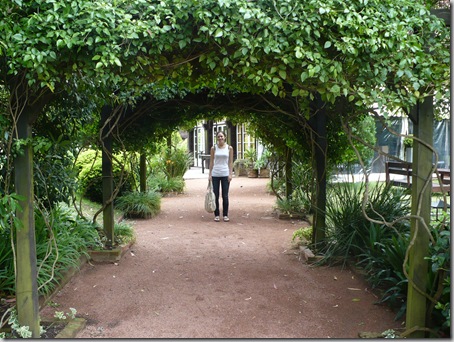 All the photos in this post are from different areas on the hotel's grounds.  So as you can see, it's far from quaint.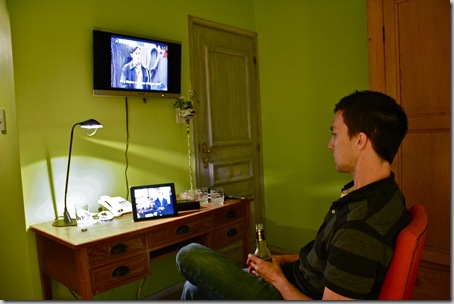 In this photo, Kyle is watching Seinfeld on TV while watching an interview of Jerry and Larry David on his computer. Obsessed.  While that's funny on it's own, I wanted to show off how connected you can be at L'Auberge.  How much you want to unplug is completely up to you.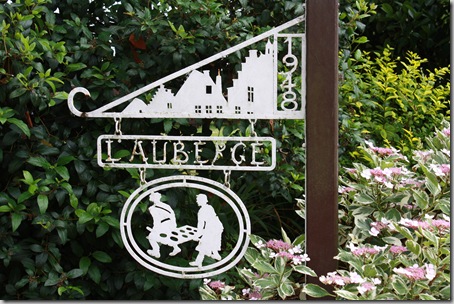 Wikipedia actually mentions the L'Auberge under the "splurge" section of Punta Del Este.  This is saying a lot since the entire town is one resort after another.  They call Punta Del Este the Monaco of South America. 
The hotel is in the most distinguished residential area in Punta del Este, surrounded by places I want to buy once I win the lottery.  And it's only a few minutes to walk to the beach.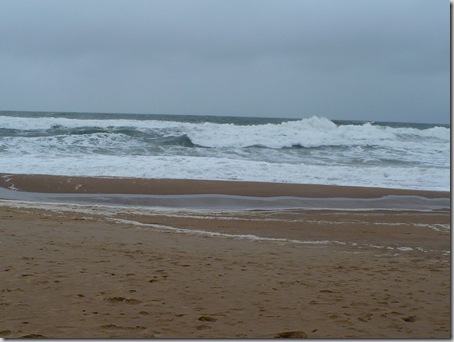 The staff is extremely friendly and hospitable.  They made every effort to make sure we were comfortable and content.  When they weren't sure about the dairy in a dish, they would go ask someone who knew.  When our combined Spanglish wasn't translating, they went to find someone else to help.  When we needed umbrellas, they provided them.  It was the best customer service I've ever seen. 
The hotel website says We strongly support the idea that an international hotel should develop the "Art of being a Good Host" – and you can tell that's something they practice each and every day.
As for the food…
They have a few different dining areas, depending on the time of day, but by far, my favorite was the tea house.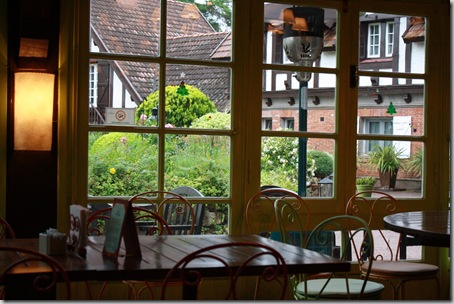 Every day from 5 to 8 pm the tea room serves traditional Belgian waffles.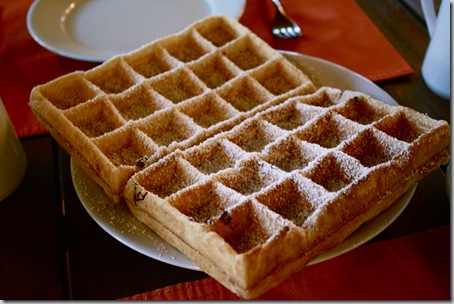 I never had to look at a clock to know when it was 5 because I smelled the delicious aroma immediately.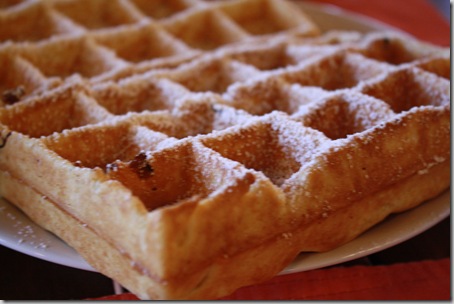 The waffles are actually one of the main reasons the hotel is famous.  People travel from all over to dig into the sweet gofres.  It was what sealed the deal when I was researching hotels as we planned our trip!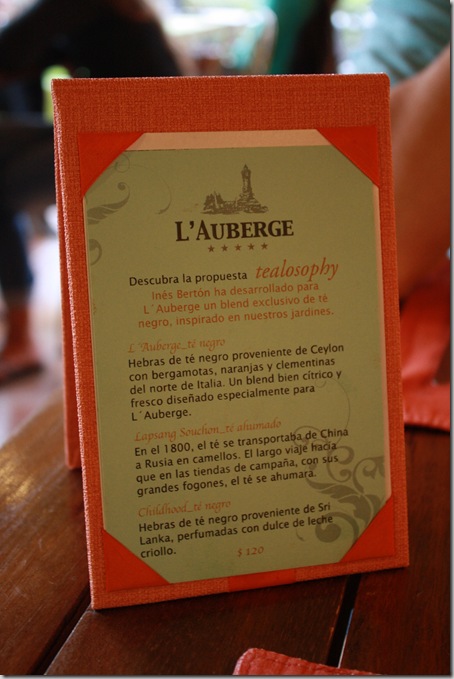 They also serve tealosophy teas, with variety aplenty.  I tried quite a few over the week long stay.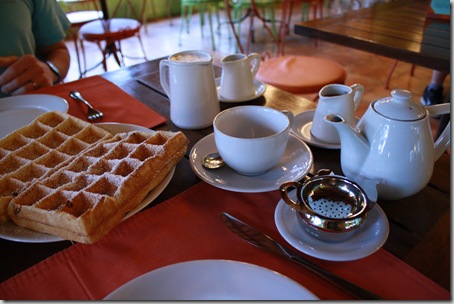 The waffles come with sweet or savory toppings, but we always went with sweet.  The idea of a savory waffle with cheese sauce sounded really good to me, but I can't tolerate dairy.  Kyle, however, thought it was sacrilegious to top waffles with a non-syrup-like sauce. 
So we stuck to miel and dulce de leche.  Oh, and powdered sugar.  Hello diabetes!
And now for some room service eats…
We had to get a bit creative at times. 
Kyle wasn't eating much meat at this point and was getting tired of the dairy heavy pasta.  I was also throwing the chef some challenges with my meat & dairy free requests.  Basically we did a lot of menu tweaking, but the staff was super understanding and friendly and we never felt like we were putting them out.  They just wanted us to be happy, so we just tried to make the most of it.  I will say, the rapid translating and looking up words in Spanish was pretty exhausting. 
This particular dish took 30 minutes to construct over the room service phone.  It's basically stir-fry veggies with a sesame soy sauce.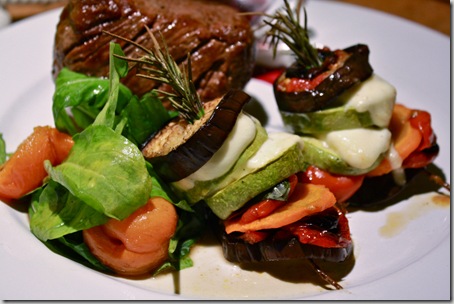 Steak with a side of veggies and grilled cheese skewered with rosemary.
Pasta with marinara and fresh bread.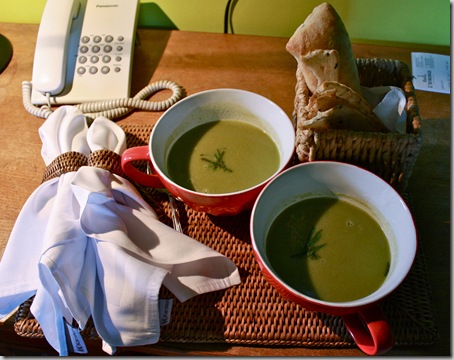 Dairy free split pea soup with toasted sourdough and fresh Ciabatta bread.
More pasta.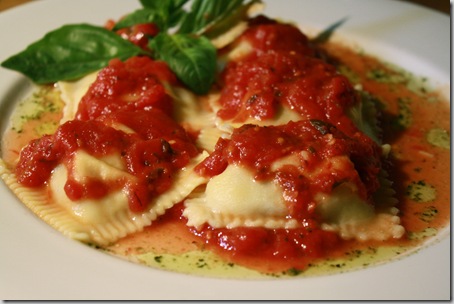 More pasta.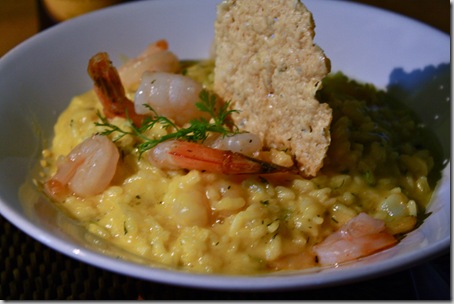 Salad and pasta.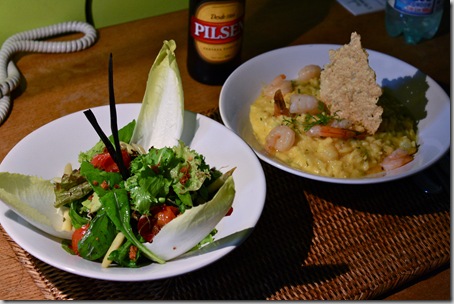 I loved this salad and wanted it the next night, too, but it wasn't available.  I guess it's nice to know they only use fresh ingredients.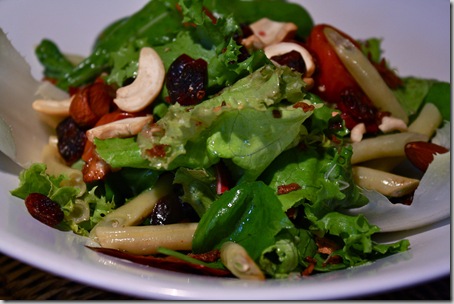 Lunches were much of the same, but eaten at the poolside restaurant.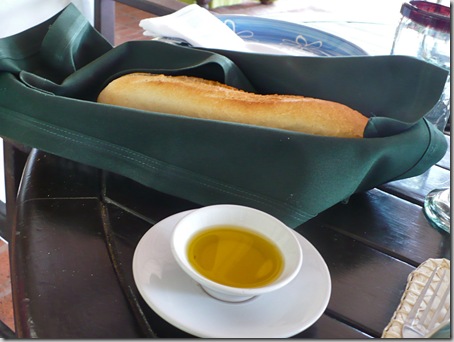 That bread!  It made my taste buds swoon.
Like in Argentina, meal times were way later in Uruguay, so we often waited until 5 pm to have waffles for lunch.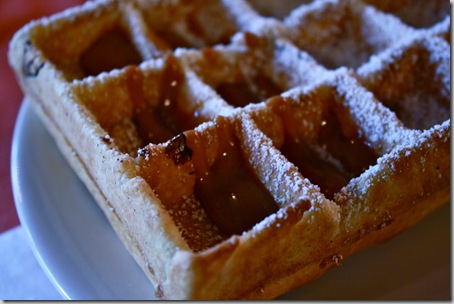 I could have bathed in dulce de leche.  To be honest, there were a few times I nearly did.  I think Kyle was equally embarrassed and jealous.
Waffles feel so indulgent when they are eaten for a non-breakfast meal.  Such a treat!
Speaking of breakfast…
The morning spread was available til 11 am every day and had so many things I loved.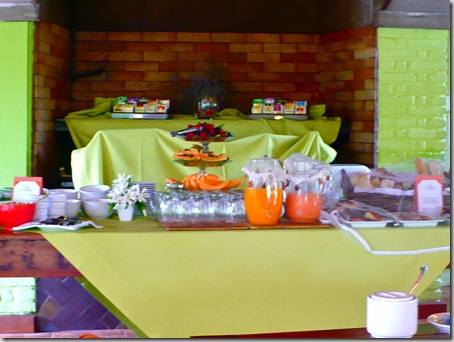 Fresh fruit and fresh bread. 
Pastries that I'd never seen before.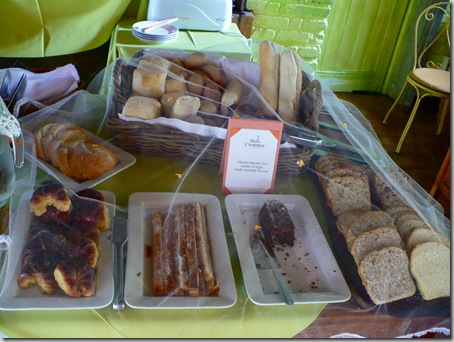 Cereal and granola.  Greek yogurt and fresh juice.  These are the things I will never tire of. 
I managed to find lactose free milk at the town grocery store, which came in very handy.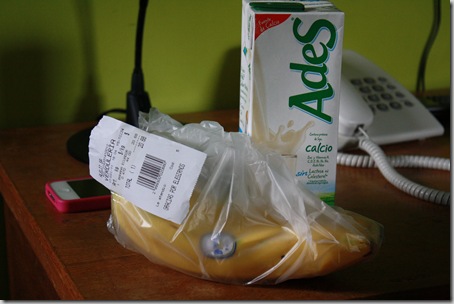 With that and a bunch of bananas, I could have been jet set for the week.  But I lucked out with the supply of granola and cereal.  Each morning was a new combo of fruit and grains!
They were wonderful enablers, letting me take full urns of coffee back to the room with me.
And since no vacation is complete without daily desserts, here's a small sampling of the week's chocolate and alfajores.
As you can see, there was no shortage of good eats at L'Auberge!
Basically our stay felt like a combo of bed and breakfast and Ritz Carlton treatment.  Cozy and friendly yet classy and posh.
Elise March 31, 2012 cereal, chocolate, granola, tea, wafflesUruguay Read more >