What a weekend.
It all started with a Friday wedding.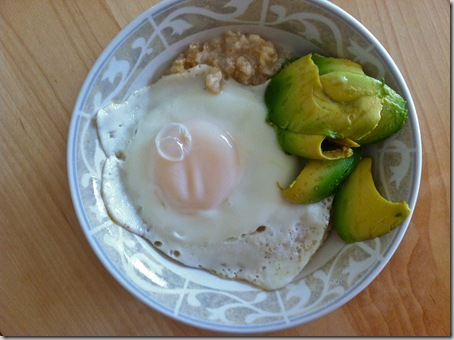 Ok, actually it all started with a really awesome breakfast.
Oats topped in a perfectly fried egg and avocado.
Kyle came home from work early, so I got to eat lunch with him, which was a nice change in routine.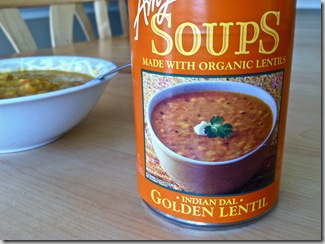 I had Amy's golden lentil soup.  It was stellar!  I have already gone to the store to get another can, that's how much I loved it.  I think this is now the best Amy's soup I've ever tried.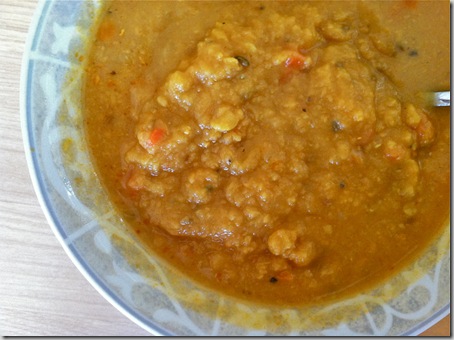 On the side I had carrots and hummus.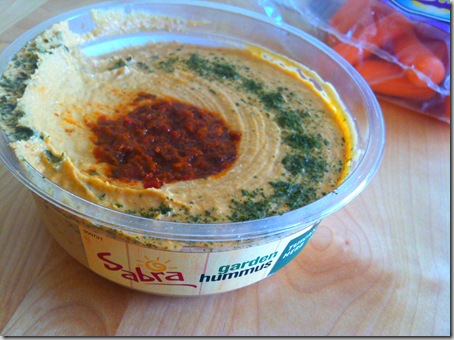 I got a shipment of Sabra hummus a few days ago.  And by shipment I mean SHIPMENT!!!  Holy crap did they ever hook me up.  I have enough guacamole, hummus, salsa, and yogurt dip to last me until 2013.  But, since it's me, it'll probably only last me until next month.  We shall see…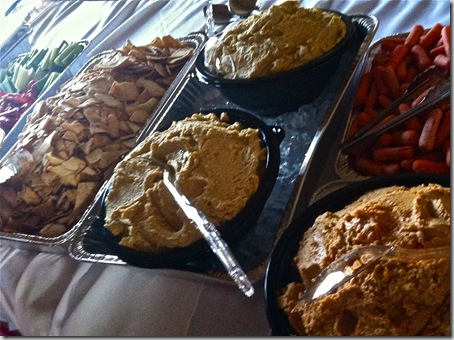 The wedding had hummus too!  The apps included pita chips (Stacy's!! love!!), hummus, veggies, and three kinds of hummus.
I knew the guy who was planning the food, so he clearly had my vegan interests in the back of his mind.  So nice awesome to have options.  There were skewers with tomatoes and mozzarella as well as pesto shrimp that people really seemed to enjoy too.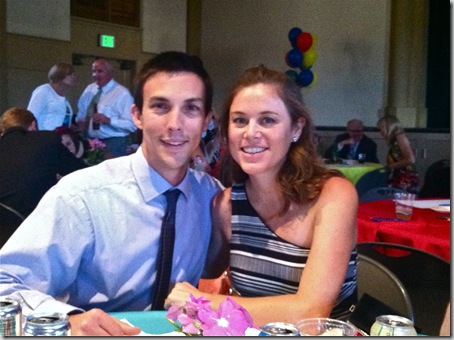 Couple shot.
The dinner was buffet style…veggie highlights included the massive spinach salad and the curry vegetables.
Even labeled as vegan!  The "spicy" rating deterred me at first, but I'm glad I still took a decent amount because it was delicious!  The perfect level of heat.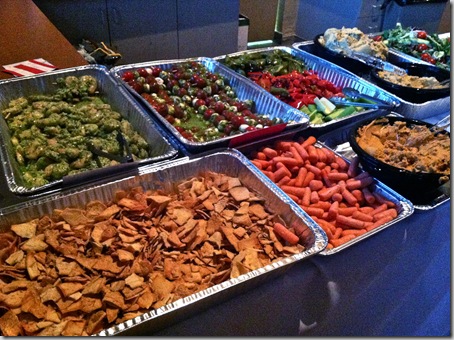 The appetizers were still out, so I grabbed more veggies and hummus too. 🙂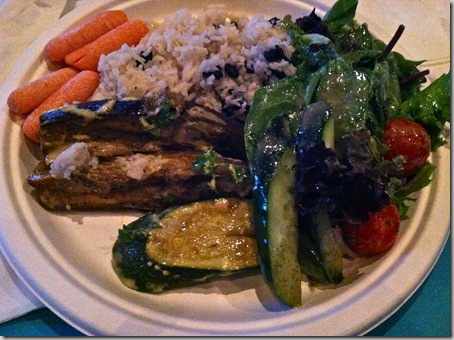 As you can see there was also a rice dish that was made with black beans and coconut milk.  It was soft and creamy – complementing the veggies so well.
After the speeches and dances, it was time for dessert.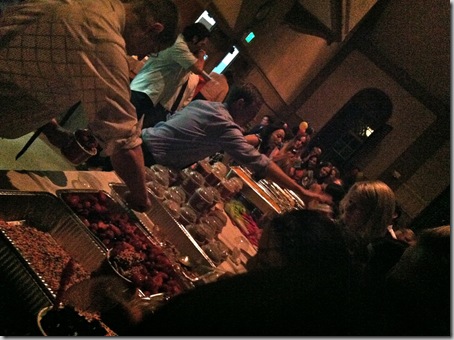 Can you tell what this line-up is about??  Probably not (no thanks to my shoddy iPhone camera work).
Menchie's!!!  They had tons of flavors – red velvet, grasshopper, chocolate, vanilla, swirl, sorbet, etc.  And then a whole line up of toppings – berries, candy bars, sprinkles, etc.
So cool! Definitely better than cake in my opinion.  And seemingly everyone else's too – it was a MAD rush for the fro yo!  Kyle and I split it, although I only had a few bites.  The portions were monstrous.  I felt bad because it seemed like a lot went to waste.
We danced well into the night, then walked home to see the final bit of the opening ceremony.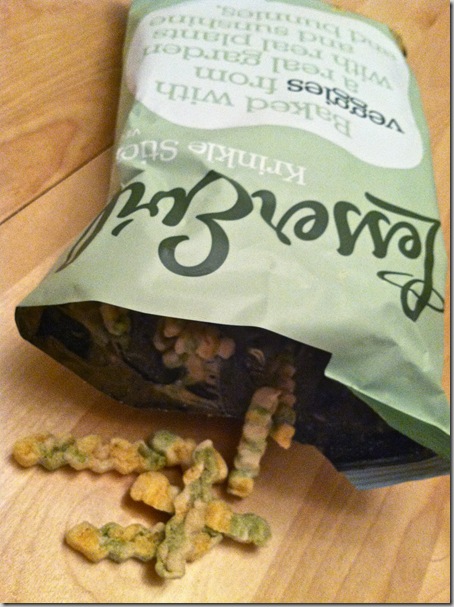 I snacked on these addicting little buggers before passing out.  Lesser Evil veggie krinkle sticks taste like a combo of veggie chips and pop chips and snapeas.  They are totally delicious.  I made the mistake of letting Kyle sample them and he quickly took over.
The best part is the stats.  They are made with real veggies (like spinach, broccoli, potato, & corn) as well as whole grains (like wheat, barley, buckwheat, millet, quinoa, and white corn).  Totally awesome.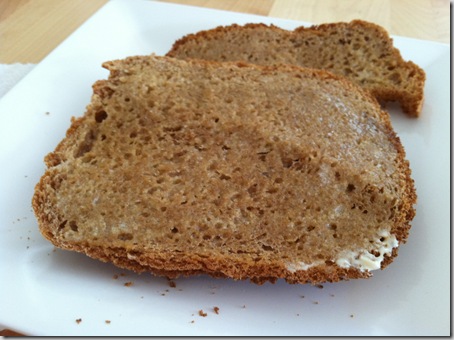 The next day we got up early (who knows why) to get some stuff done in the morning.
I had toast with Earth Balance – the last of my home-made loaf.  I'll have to make more soon.
[For those who keep asking I use a Sunbeam breadmaker and I love it.  I make the basic whole wheat loaves all the time and they turn out fantastic.  I haven't had the same kind of success with my gluten free loaves though.]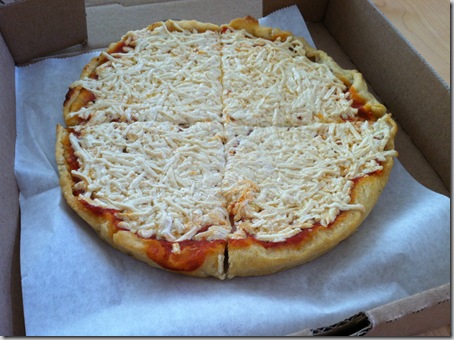 For lunch I grabbed a vegan pizza from the co-op (since we were doing our weekly grocery run anyway).
The carrots on the side made it a little more well rounded.  I had 3 of the 4 slices.
After lunch we met up with our amigos to rehash the previous night.
We lounged on the beach for a few hours.  The boys played football (which is apparently illegal now) while the girls chatted and watched a lifeguard rescue mission (successful).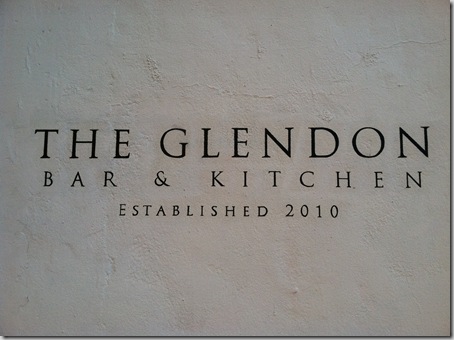 We all went home to shower and then re-convened for dinner in Westwood.
Kyle has been to The Glendon before, but this was my first trip.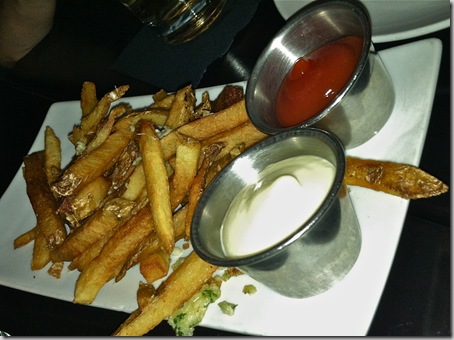 We got a few drinks and a few starters.  I had a few of the garlic fries (I picked the garlic free ones).
Left: my Healing Hippy salad with kale, spinach, grilled corn, cherry tomatoes, almonds, balsamic dijon vinaigrette.  I added avocado after I saw how badly it needed an ingredient boost.
Right: Kyle's vegetarian pizza.
We watched the Olympics, got more drinks, and eventually headed back to a friend's apartment to continue the Olympics viewing.
By the time I got home I was hungry again (that salad wasn't the most filling), so I had the last slice of my vegan pizza.  And then hit the hay.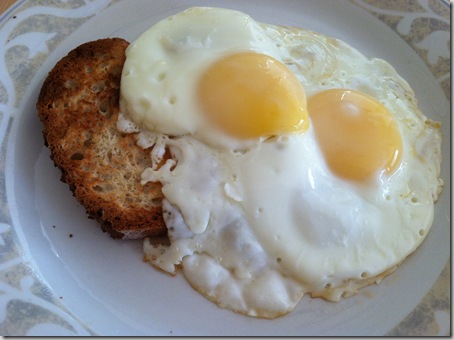 The next morning was another early one.  What's with me not being able to sleep in?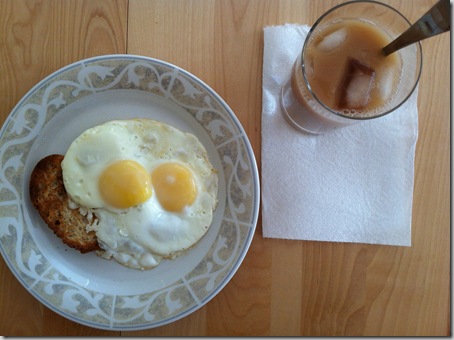 Toast, fried eggs, iced tea with almond milk.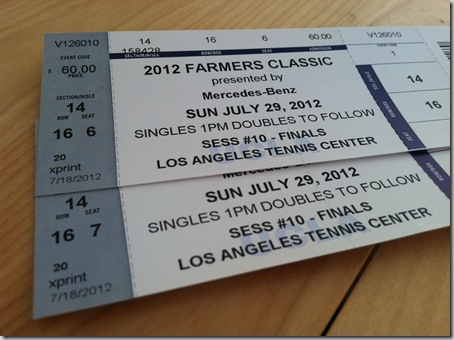 Then we headed to UCLA for the Farmer's Classic tennis finals.  It was home-town stud Querrey vs. a random dude from Lithuania named Berankis.
We grabbed lunch at Whole Foods first.  A veggie sando with soy cheese, avo mustard, vegenaise, cucumber, tomato, & lettuce.  Plus Kettle's (new) organic sea salt krinkle chips.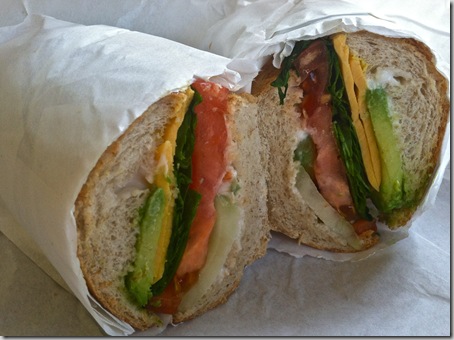 The sandwich was delish.   I liked the chips okay, but I prefer the salt & vinegar ones (as well as the salt & pepper ones).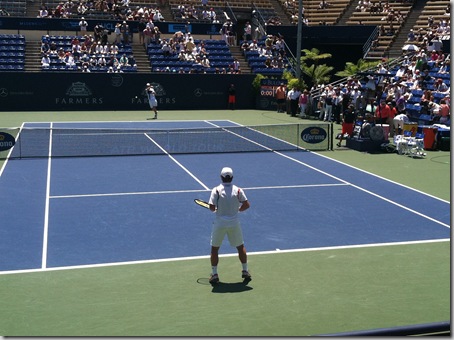 Our seats were supposed to be in the 12th row, but we got upgraded to the 4th row once they saw Kyle in his UCLA Anderson shirt.  It pays to be an alum!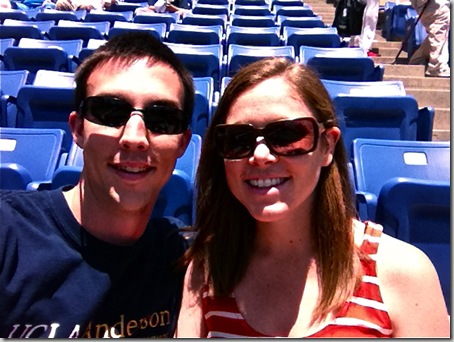 It was SOOO hot.  I was covered from head to toe in sunscreen, but I was still sweating like Ms. Lohan in court.  Kyle forgot to apply sunscreen anywhere but his face, which meant he looked like this for much of the match.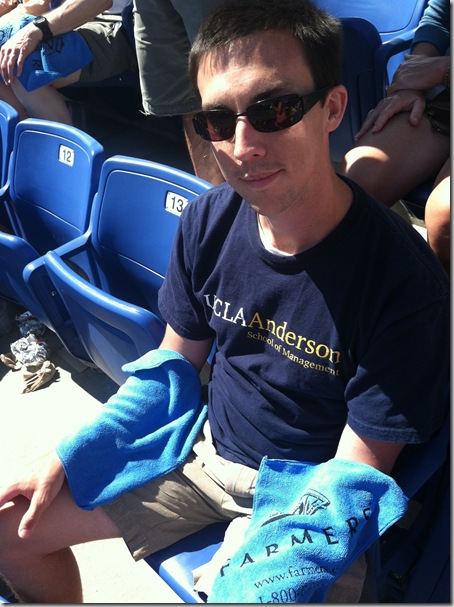 Sweet.
After Sam Querrey dominated, it was time for the doubles final.  That was much more fun because it was really close and exciting.
For dinner we went to my cousin's house for dinner.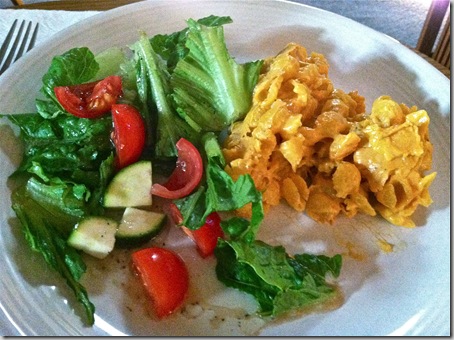 She had made vegan (and gluten free) mac 'n cheese with quinoa pasta and Daiya cheese.  Am I spoiled or WHAT!?!?!
It was delicious, and I even got to take home the leftovers. 🙂
We also had carrot cake for dessert – mine was separate with it's own non-dairy frosting.  Heaven.
And that's how the weekend went down!  Phew!
Elise July 31, 2012 Amy's, avocado, breadmaker, curry, Daiya, eggs, hummus, Indian food, kale, lesser evil, menchie's, oatmeal, pasta, pitas, pizza dough, soup, soy cheese, whole foodsrestaurant review Read more >