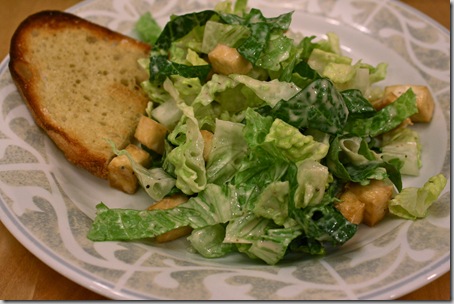 I have already gone on and on (ad nauseum) about how much I adore Caesar salad on the blog, so let's just skip all that stuff and get to the point.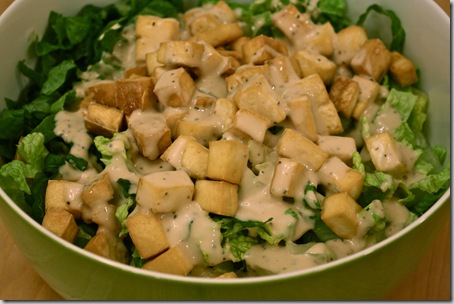 Tofu Caesar Salad [vegan]
Ingredients:
2 heads of romaine lettuce, chopped
1 block extra firm tofu, cubed & baked
Follow Your Heart's vegan Caesar dressing
(optional) nutritional yeast
Directions:
For the tofu, drain and press the block until there's no more liquid (overnight is preferable, but a few hours will work).
Cube and toss in oil, salt & pepper.  Place on baking sheet sprayed with non-stick and bake at 350 degrees for 30-35 minutes.
Let cool then add to the romaine lettuce and pour lots and lots of dressing on top.
Sprinkle with nooch (or parmesan for the non-vegan folks like Kyle) and dig in.
I could literally chug this dressing straight from the bottle I love it so.
On the side, I made some garlic bread.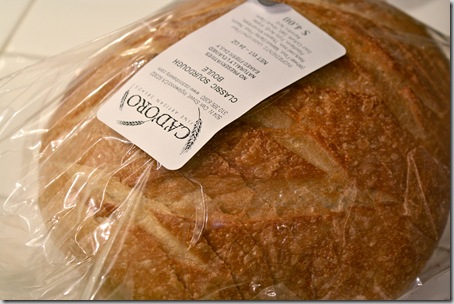 We got this gorgeous loaf of sourdough at the Santa Monica Farmer's Market last weekend.  It was my first time going to the one in Heritage Square on Main Street (I usually go to the one on the Promenade & Arizona).  It's on Sundays for anyone thinking of going, and in addition to the normal farm fresh fare, they have lots of eateries serving food.  Kyle and I want to go back for brunch now because there were tons of veggie options that looked and smelled fantastic.  And since it's in Heritage Square, there's lots of grass and benches for picnicking.
Ca'd'oro bakery is Santa Monica based by the way.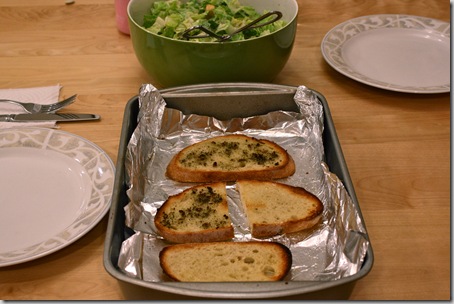 So back to the garlic bread.
I applied a hefty layer of Earth Balance on them followed by garlic and other Italian seasonings, and salt & pepper.  As you can see, I did leave a few slices plain (aka garlic free) for me.
Then I placed them in the oven (under the broiler) for 1 1/2 –2 minutes (gotta keep a tight watch on our crazy intense broiler – it likes to burn things).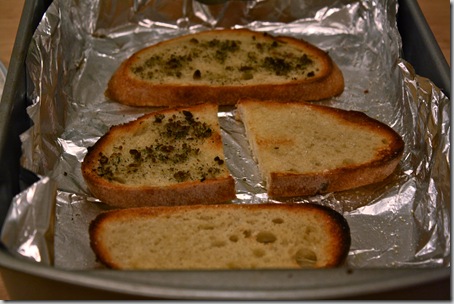 I preferred this to croutons on the salad, but if you want croutons to add to the salad, you could cube them, toss them in olive oil, Italian seasonings, and toast them in the same manner.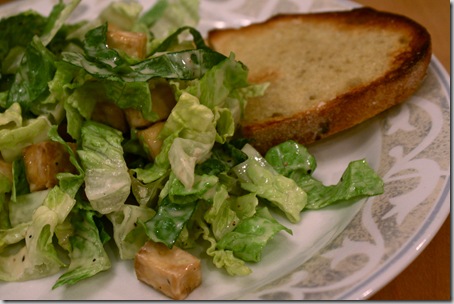 L.O.V.E.
This was enough for us both to have second helpings.
It was so good that I claimed the leftovers as mine (hands off Kyle!).  Then (freak that I am) I looked forward to it the entire next day.  I like soggy salads though.  Wilty lettuce is my jam.
Elise January 31, 2013 big salad, follow your heart, tofurecipe Read more >