I can buy this to be a diaper bag right?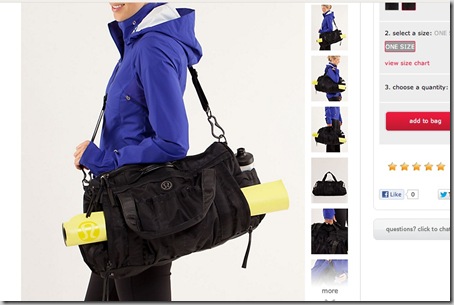 I've never owned anything lululemon and that's for a very intentional reason.
From what I understand, buying this brand is like getting a tattoo.  Once you get one thing, you want another, and then another, and pretty soon you can't stop…and your bank account is wiped. 
I've been in the store several times (I've tried on lots of yoga pants).  But I just haven't been able to pull the trigger out of fear that what I said above is true. 
But if I buy this bag "for the baby", it's a totally different situation.  Right?!?!  You'd be shocked to know how hard it is to find a gender neutral bag with lots of compartments.  If it's too purse-like, Kyle won't carry it, but if it's too masculine, I won't look cute!  I've seen this lulu bag in person and it has compartments up the yin yang.  Plus, it's nylon, which means poop won't be terribly annoying to clean off.  And it's black. 
Have I convinced you?  Can you just give me the okay?
Moving on.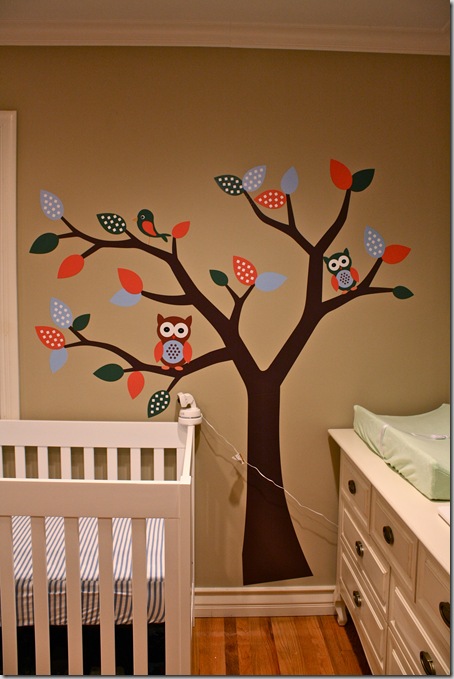 How awesome is our guest bedroom nursery starting to look!!  We have a (semi) jungle theme going on with this wall mural (it's a decal that can be removed easily, if, say, we were to move…).  It can't be re-used but at least we won't destroy the wall or have to hassle with re-painting.  And c'mon, it's basically the most adorable thing ever.  There are more stickers that I didn't put up (a lion, giraffe, monkey, and birds) because we don't seem to have much more wall space.  Plus, if (when) we do move, it will be nice to have extra wall decals. 
It wasn't too hard to put up, but it wasn't the quickest thing either.  Look at all those stickers!  The tree trunk alone came in four parts, which I had to align perfectly while sticking them to the wall.  It also didn't have any instructions or photos included (that's why my computer is open to the screen shot of how the mural is supposed to look as a reference).  I think it turned out pretty great.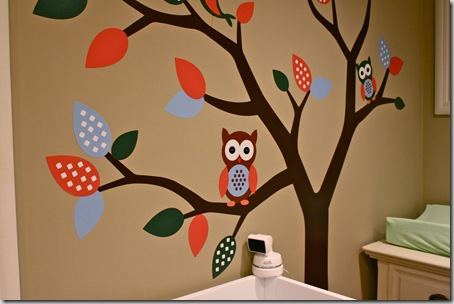 Oh and that weird camera thing in the corner of the crib is a video baby monitor (by Summer Infant).  So we can be stalkers from day one.  I set it up and practiced scanning (the monitor control part is on my nightstand), but I'm still contemplating mounting the nursery camera to the wall.  I can't tell how much I'll be able to see from the corner of the crib.  We'll see.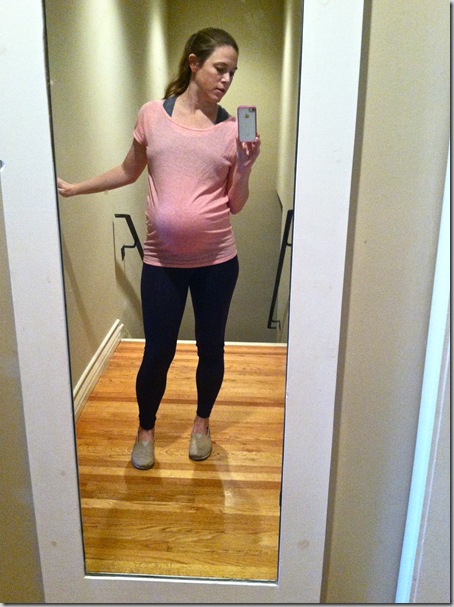 In non-nursery news, I have a basketball belly.  It looks fake in the photo above.  Maybe that's because I'm wearing a non-pregnancy shirt (still in denial about my wardrobe, even with a month to go).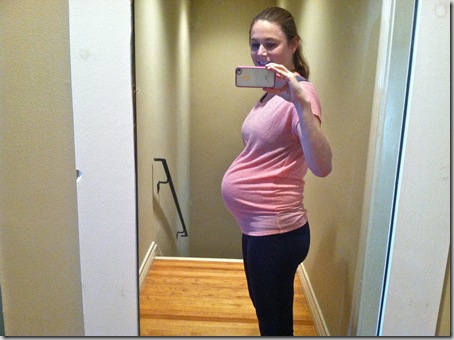 Here's a side shot.
I feel good.  Aside from minor physical inconveniences, I'm really doing quite well.  It's getting harder and harder to breathe and sometimes I have to stand up just to let my lungs expand as much as possible in order to catch my breath.  And like I mentioned previously, my appetite is getting semi-ignored due to the discomfort of eating/feeling full.  But those things are small potatoes now.  I'm much more focused on the end goal since it's just under a month away.
Doctor appointments are now weekly.  Everything is moving along.  My family is throwing me a baby shower this weekend.  I've been going to yoga and walking regularly.  I'm still having cramping.  It's painful.  Whatever. 
We have an appointment later today so keep your fingers crossed that he's head down (he has been for the past two visits) and I am GBS negative. 
I'm not really sure how to describe my emotional state.  To be honest, I'm kinda still cruising along in denial that labor has to happen for me to get my son.  Or maybe denial isn't the right way to phrase it.  I'm very aware.  I'm just choosing not to think about it.  Every once in a while I'll have moments where I realize "oh crap this is potentially going down soon", like I just did while writing that.  But I don't really know how to prepare myself for birth, so I'm just going to leave the whole issue alone.  Until I'm forced to confront it.  In the hospital.  At least he's now considered "full term".  So there's one less thing I have to worry about.  In my daydreams I imagine none of the bad stuff.  I picture him healthy and happy and in my arms. 
I can tell he's still getting bigger (by the day it seems) and his movements are starting to hurt a bit.  He sometimes hits these weird nerves that are so deep inside me.  I wish I could see what he's doing in there.  I'm so curious.  He's so freakin' active.  You'd think the lack of space would be a deterrent, but he's perfectly content doing exercises within his confined little uterine home. 
So that's the latest with me us. 
My family gets all worked up every time their phones buzz with a text or call from me or Kyle, so these next few weeks will be interesting.  It seems there are people more on the edge of their seats than I am!