Sorry if you already saw this post.  It went up earlier somehow.  I don't understand computers (clearly).
Anyway.  I've been going through a salad-for-lunch-phase.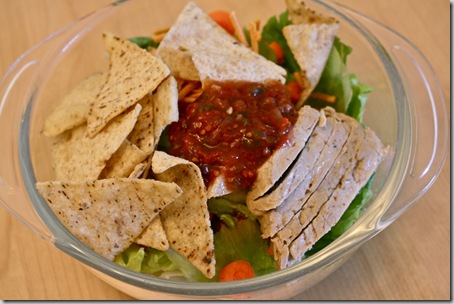 As far as phases go, I don't think it gets much healthier.  Unlike certain food ruts of the past (Earth Balance on everything, dessert after each meal of the day, etc.).
So here are a few of my latest creations.
Mexi-chop.  I tried to model this one after The Veggie Grill's Baja Fiesta salad.  That salad has "chopped romaine, papaya, avocado, roasted corn salsa, cucumber, cilantro, tortilla strips, and grilled chikin' with a ginger-papaya vinaigrette."
Mine had romaine, carrots, avocado, home-made salsa, tortilla chips, daiya cheddar "cheese" and gardein chik'n.  Pretty close right?
No offense to VG but I promise this home-made salsa made my salad better than theirs.  You see, Kyle's aunt makes this salsa every single year from the tomatoes in her own garden.  And then she jars it and gives it out to the family for Christmas.  It's legendary.  I doubt it will last through January…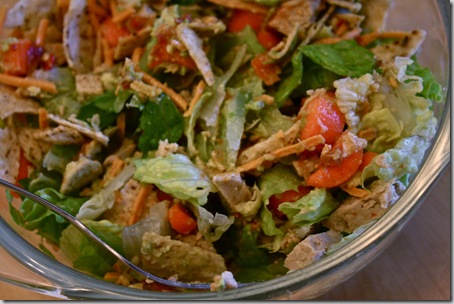 Here it is all mixed up and ready to get taken down.
FYI I used the second gardein breast from way back when (it lasted int he fridge this whole time).  The chips were 365 organic white corn (more salt por favor!).  And like I said above, the cheddar was daiya shredded leftover from our New Year's Eve dinner at my in-laws.  The salsa is what MADE the salad though.  And it was so good that I had the exact same thing for lunch the next day too.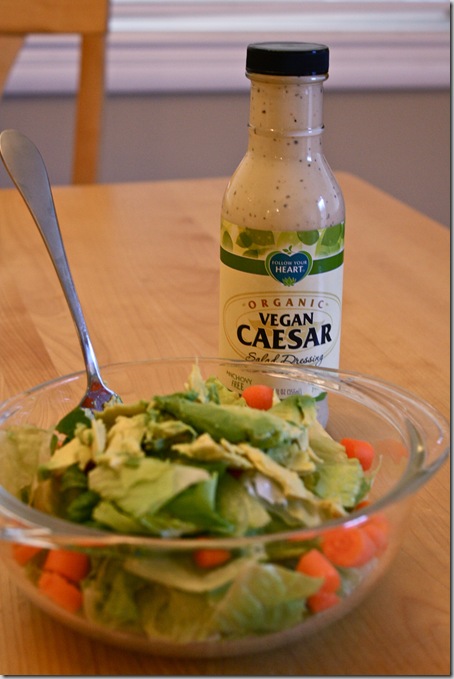 My next salad was Caesar in theme, but that's only due to the dressing.
I'm obsessed with Follow Your Heart's vegan Caesar.  So much so that I brought the unused portion of the bottle (from Christmas dinner) back to Santa Monica with me.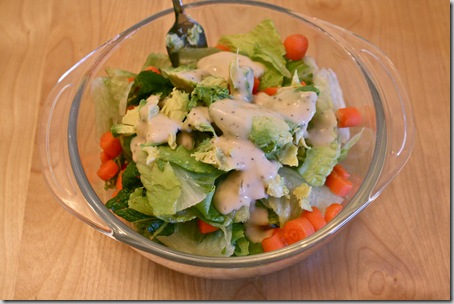 It wasn't very Caesar-like in any other way though.  It had romaine, carrots, and avocado.
Like I said, it's all about Follow Your Heart's dressing.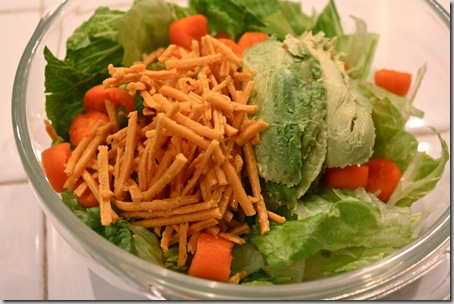 This guy was pretty much the same as the previous, only I added daiya cheddar to the mix and topped it off with a simple balsamic and olive oil blend.
I guess the rest of my salads evaded the camera.
I'm not gonna lie, I do miss tomatoes.  These salads would have been much better with them.  But our tomato plant finally got the memo that it's January (and stopped producing) and winter tomatoes are mealy and flavorless (and cost $$$$).  So until next season…
Oh and btw, 99% of the time I use my teeth to cut carrots (biting off chunks) rather than a knife.  I'm so lazy gross.  It just seems so much easier than dirtying a cutting board.  Aren't you glad I shared.  😉
Elise January 11, 2013 big salad, Daiya, follow your heart, gardein, mexican food Read more >