Sunday is typically when we do our weekly grocery shopping.  I usually brainstorm meals for the week on Saturday, asking Kyle for input (like if he's craving something in particular that he wants me to make in the next few days) and then I create a grocery list that includes all the necessary ingredients (plus whatever things have already been added to the list throughout the week).
We usually drag our feet all weekend long, waiting until Sunday evening to go to Whole Foods, because we both loathe shopping (I'm not sure when this developed because I used to LOVE the grocery store…).  Suddenly it's 4 pm and we realize we better get moving or we are going to end up eating dinner at midnight (I exaggerate, 7-8 pm is actually late for us).
Anyway.  This past weekend, we decided to (attempt to) deviate from our plan.  Not talking about the timing – we still went at 4 pm on Sunday.  Guess where we went shopping?  Vons.  We live really really close to one, and in the past I've gone for a select few things, like almond milk, Sabra hummus, and pregnancy tests (TMI?).  But never for the entire weekly grocery list.
I suspected the main difference between Vons and where I usually shop (Whole Foods, the Santa Monica Co-op, or Trader Joe's) was that they'd have cheaper prices and maybe a more limited natural/organic foods selection.  I mean, that's why people call it "whole paycheck" right?  I kinda ignored these claims because aside from the salad/hot food bar, I've always gotten more bang for my buck there.  The bulk bins are cheap.  The organic stuff is completely reasonable.  Basically, they have all the hippie brands I want at competitive prices.  But hey, you never know until you give somewhere else a shot right?  So off to Vons we went…
Guess what?  Whole Foods is actually cheaper.  Want proof?
Non-organic tofu at Vons was on sale for 2/$4 but organic tofu at Whole Foods was only $1.39.
Non-organic bread at Vons started at $3.99 (and that's the sale price marked down from the regular $5.35) while Whole Foods organic brand is as low as $2.99 (sometimes cheaper).
Organic canned beans at Vons were more expensive than Whole Foods' organic canned beans
Non-organic brown rice at Vons was comparable to the organic brown rice at WF (but the organic prices at Vons were sky high)
Organic carrots and kale costs the same at both places (but the rest of the organic produce was WAY higher than Whole Foods and pretty much limited to onions, bananas, apples, and potatoes)
And that's just what I remember off hand.  I was shocked.  I kept looking for things (there must be something!!) to get for a better price at Vons, but there was literally nothing.
So we left and went to Whole Foods.  And got our entire week's worth of groceries (plus the other basic pantry stuff we ran out of, like organic vegetable bouillon, organic cocoa, and organic peanuts) for $60.45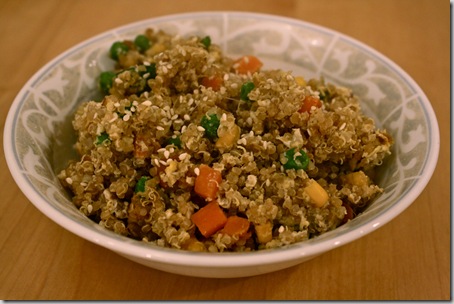 And then I came home and made a really quick (and cheap) dinner.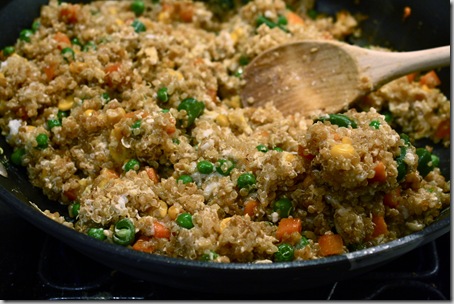 Quinoa stir fry is a staple in our household.  It's basically a warm hippie bowl.  I discussed it here (along with five fast go-to dinners).
Anyway.  I had started quinoa in the rice cooker before we left.  And we still have tons of eggs thanks to Costco.  And we bought frozen veggies at the store (organic frozen veggies are my favorite shortcut during winter and budget cuts).  And that's really all you need.  Although tamari, sesame oil, and sesame seeds help too.  🙂
Pretty simple ingredient list, right?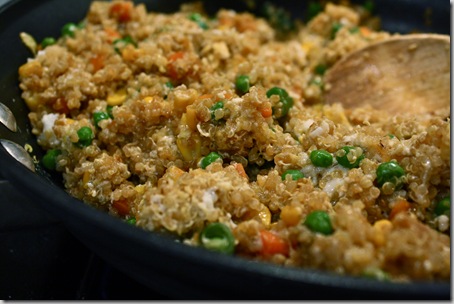 Directions:
Sauté the frozen peas/corn/carrot/green bean mix in ~2 tbsp sesame oil.
Add 2+ cups cooked quinoa.
Crack 6 eggs in the pan.
Mix throughout quinoa and veggies.
Add ~3 tbsp tamari.
Sprinkle with ~2 tsp sesame seeds.
Boom!  Vegetarian dinner for two (with leftovers after we each had second helpings) that costs practically nothing.
In truth, Whole Foods has always had my love, for their prepared foods alone.  But aside from certain things (that I get from Costco), I've now officially verified that I can get more bang for my buck at WF.  Yup.
Elise January 18, 2013 eggs, quinoa, stir fry, whole foodsrecipe Read more >