I decided I should probably do pregnancy posts more frequently now that I'm getting down to the home stretch.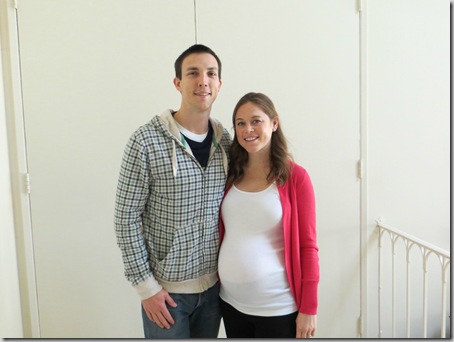 We're gonna be parents!!!!!!!
It's hard to believe I've been pregnant for all this time and it's only just starting to hit me that we are going to be mom + dad for the next however many years.  That's way different than just Kyle + Elise.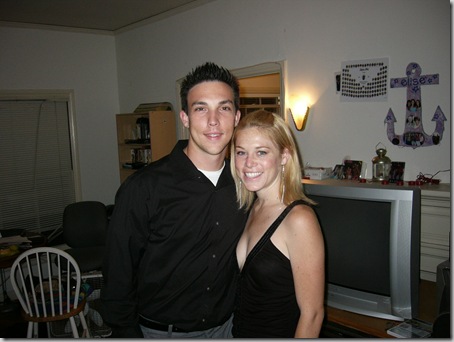 Hard to believe we were once just dumb college kids!  Now we have to pretend to act like adults so our kid doesn't figure out that we're really winging it.  The above photo is circa 2004, in case you couldn't deduce that from Kyle's spikey hair and the sorority crap hanging in the background.  And now we text each other stuff like this…
In looking at my (ever growing) belly, Kyle has said to me several times over the past week, "you have a human inside you."  Yes.  Yes I do.
I'm feeling pretty ready actually.  I don't know how it's possible that I feel that way, but I do.  I guess the fact that I could never be 100% prepared makes me think now's as good a time as any.  Each day I wake up and wonder if it'll be today (in contrast to the dread I have when I get up a million times in the middle of the night hoping to God my water doesn't break – because I'm not keen on heading to the hospital in pitch black).
As I mentioned before, I was 1 cm dilated at my 36 week appointment.  Somehow my cervix closed back up over the past week though.  Weird right?  So it seems like my little man is still content hanging out up in there…for at least a little longer.  I was sorta bummed because I was thinking my body was getting ready to do the damn thang.  Oh well.  His head is still down and I am GBS negative – so that's good.  We have our hospital go-bag nearly packed (I figure I'll have time to get clothes and toiletries – and grab some snacks for Kyle – before we head in, so those aren't yet included).  There are probably more ways I could be preparing, but whatever.
Physically I'm still feeling the same.  Bigger, but the same.  People tell me all. the. time. that I am so small for how far along I am.  It's nice to hear (better than the dreaded "you look ready to pop"), but it's also frustrating because I definitely do not feel small.  I feel completely massive.  Sitting down is really uncomfortable unless I use extra pillows to keep my hips at an angle greater than 90 degrees (more room for my belly).  It's more amusing than annoying, since I know it's a temporary thing.  I feel like a Biggest Loser contestant.  All day long I think of things I'm excited to be able to do again when I'm back to my normal size.  They're completely ridiculous things, like lean over the sink to wash my face, but they bring me such joy.
I do have a bit more back pain, but what pregnant woman doesn't?  And a few days ago I woke up with leg cramps in the middle of the night (those kinda sucked to be honest).  I've stopped going to yoga class because many of the positions are now uncomfortable and because I can't get comfortable I can't get into the right mindset to make the class worth while (plus wearing yoga pants is a rather miserable experience).  I'm still walking sporadically – some days I feel awesome and some days I get cramps after a few block and just turn around (<—that's a lie, I usually push myself for at least a few more blocks before I give in and return home).  Inactivity is so frustrating.  I know I should be resting and taking it easy, but I'm not that kind of person!
Last weekend my family threw us a baby shower.  We got so much cute stuff – I can't get over these little bitty outfits!  It was in Laguna, too, which was gorgeous.  Nice to get away, even though putting extra distance between me and the hospital does make me slightly nervous.  Of course being the type A people we are, we immediately ordered most of the stuff remaining on the registry as soon as we got home.  I was really crafty and managed to divide things up (between Babies 'R Us, Amazon, and Target) using gift cards, coupons, and such, so we didn't have to break the bank.  So now we have the extra car seat base (for our second car), the Graco pack 'n play, and the Baby Bjorn carrier, and the rest of the stuff is en route.  I'm feeling much more prepared now (I kept picturing us ordering things online from the hospital room!).  Anyway, I didn't get every single thing on the registry, because there's a lot of stuff that we don't need right away.  Just going with the basics for now.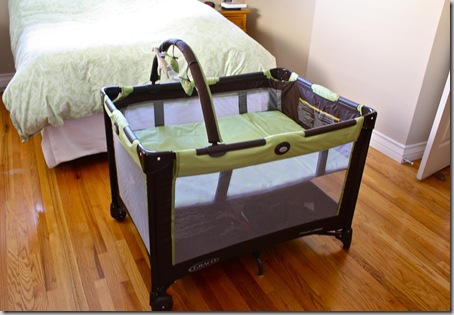 I was unsure about if we really wanted/needed the pack 'n play and went back and forth for a while.  As much as I wanted to keep things simple and just use the crib in the nursery exclusively, I ended up getting the Graco portable crib/play yard for our bedroom (just in case he does sleep in our room for those early days/weeks).  It was (only) $60 (as compared to my #1 choice by Baby Bjorn, which was $200).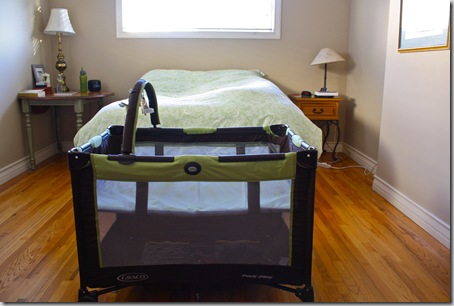 It was super simple to set up (I've been really impressed by all of the Graco products we've bought actually).  And even though it's not as light weight as the Baby Bjorn, it does fold up pretty easily and will likely be a key item that we travel with.  [Ignore the lump on the bed – that's my snoogle body pillow]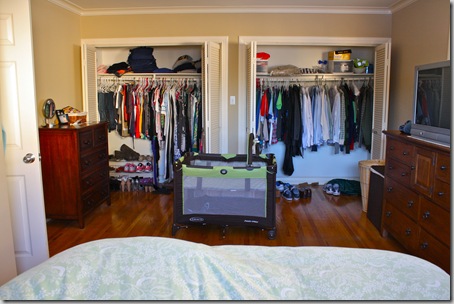 I'm guessing it will be at the foot of our bed when he's in it, but for now it's closer to the closets (out of the way so Kyle doesn't run into it or trip on it in the middle of the night).  And once he graduates to his real crib (in the nursery), we can take it downstairs to use as a playpen.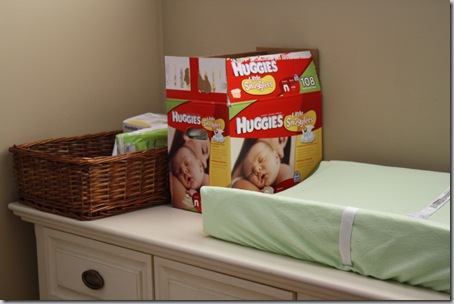 The nursery is pretty much the same, aside from the loads of clothes that now inhabit the dresser drawers (I've done at least 4 loads of laundry with baby stuff already).  Plus there's a new basket full of goodies next to the changing pad.  How many changing pad covers do you guys think I'll need, btw?  Kyle already informed me (and he was quite matter-of-fact about this) that he will get poop and pee all over the place on his first few changes so we needed a lot.  Currently, we have two.  On the same note, how many crib sheets should we have?  The organic ones are pricey, so we haven't bought any (aside from the one we have on the crib right now).
Diapers.  We got Seventh Generation disposable diapers (plus some Huggies & Pampers that are hand me downs from our friends' baby who is already onto size 3 diapers).  Even though we are planning on cloth diapering, we are starting with disposables.  I'll update you all as I learn more through trial and error about the cloth diapering scene.  Depending on how big our little man is and how fast he grows, we may start cloth diapering as soon as a month old…or not…it's going to be one big experiment.  For now, we have a few BumGenius diapers (plus bumkins inserts).  I've done what feels like a million+ hours of research on cloth diapering (such a headache to sort through all the info, btw) and BumGenius came out ahead.  But I'm holding off on buying a ton of them (I got the 4.0 one-size snap kind) until I know the fit works for sure.  I have Blueberry and FuzziBuns in the queue.  For those who have cloth diapered, how many do you think I'll need total?
Diaper wipes/disposal.  We have both Seventh Generation and BabyGanics.  We'll see where we go from there.  Costco wipes have gotten the thumbs up, I just haven't looked into how hippie friendly they are.  For disposal, we got the diaper dekor.  Not sure what the plan is once we go to cloth diapers.  I guess we can still use this pail for wipes?  With maybe a separate laundry bag for the diapers?
I'm planning on doing a separate post on hippie hygiene (baby) products, but I'm still doing research.  So far, I've gotten BabyGanics' shampoo/soap/bubble bath wash and diaper rash cream.  I'm also planning on getting California Baby calendula cream and several Earth Mama Angel Baby products (for both me and the babe).  I'm hesitant to over-buy because how much stuff could we really need?  Seems like a baby shouldn't require much more than lotion and soap, but what do I know?  Do people still use baby powder?  If you have recs, please let me know.  I also have this lanolin cream (thanks mom!) for me.
It is with great sadness that I admit I finally sucked it up and bought two nursing bras last week.  I realize I'll need more.  But for now, I can't.  Getting two was hard enough.  They are so so ugly.  Seriously.  They make me feel like my body is meant to be nothing more than a functional machine to dispense milk.  So not sexy.  I'll get over it once I have an adorable little baby that I want to feed and fatten up, I'm sure, but for now, I'd like to whine some more.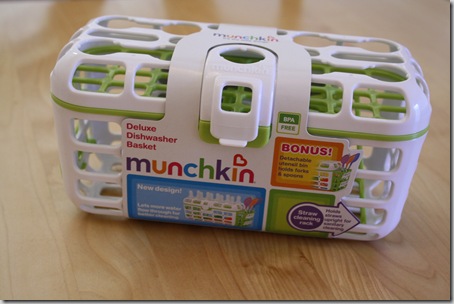 A few fun baby things we have gotten:
We have lots more "stuff" that I won't bother listing off, because let's be real, aside from diapers & breast milk (and a car seat), there's not much else required to care for an infant.
So that's the latest.  And the waiting game continues…