His and hers differ minimally on the weekends, but on week days I make him portable savory fare.  He often eats in the car on the way to work. 
His faves include mini breakfast quiches and grits.  And when I'm lazy, I'll give him an Amy's breakfast burrito. 
Unfortunately, Amy's burritos have gotten to be too expensive for our new budget.  Convenient, yes.  Pricey, yes yes.  So we said adios to the luxury of prepared frozen health food and hello to the home-made alternative.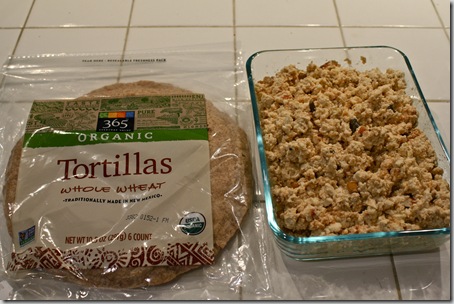 Tofu scramble + whole wheat tortilla + cheese = Kyle's new breakfast burrito
To make the scramble, I just take a fork to a block of firm tofu (drained but not pressed).  Once it's crumbled I add various spices, herbs, seasonings, and such.  It's not scientific, I just throw in a dash of this and that.  Examples include, but are not limited to:
garlic powder
onion powder
cumin
paprika
basil
oregano
turmeric (mostly for color)
nutritional yeast
soy sauce
salsa
curry
salt & pepper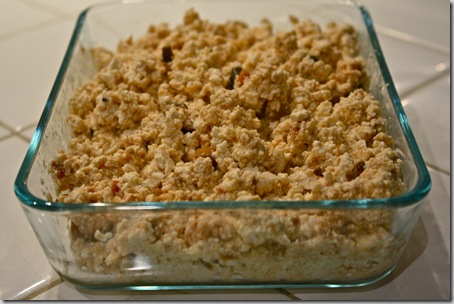 Voila!
To add even more diversity, you can use different kinds of cheese, beans and/or veggies. 
I keep the tofu separate and then wrap up a burrito each night before work (when I'm making the rest of his lunch).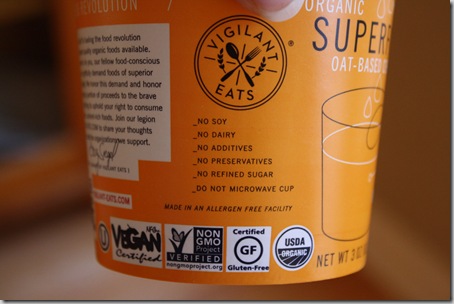 I'm more of a sweet girl.  I like to start the day with granola and oats.  With fruit.  And nut butter(s).
I was recently sent two organic super-food cereal bowls by Vigilant-Eats [how cute is that name btw?!?].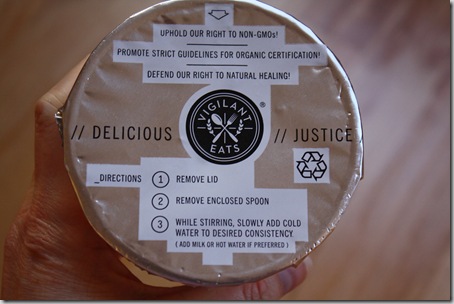 They're really convenient because they have hemp powder in them so all you have to do is add water.  I thought it sounded weird at first, but it really ends up tasting like cereal with an earthy milky flavor.  Plus, it has a spoon inside, so it's literally an on-the-go option that requires nothing else.  I saved the second one to bring to the hospital.  Pure ingredients without soy, dairy, gluten, and additives.  Perfect hippie food.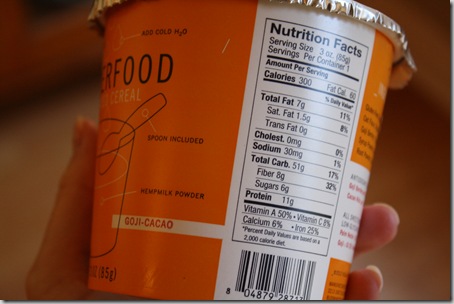 Ingredients include:
Gluten-free oats and oat flour
Goji berries
Cacao nibs
Hemp flour
Coconut palm sugar
Yacon powder
Maple powder
Cinnamon
And they're all organic.  And non-GMO.  Yay!
If you'd like to try them out for yourself, Vigilant-Eats is offering all my readers a discount.  Enter the discount code hhh10 and you'll get 10% off plus free shipping in their online store.  I fully intend on using this code myself because they also sell my absolute favorite raw chocolate bar.  I have splurged on this Righteously Raw chocolate bar way too many times in the past, so having 10% off seems like a pretty good reason to indulge now.  Right? 
Elise January 26, 2013 Amy's, cereal, mexican food, tofu, tortilla wraprecipe Read more >