A play on the word soup?  Such an Elise move.  I blame this on my dad (thanks for the pun gene).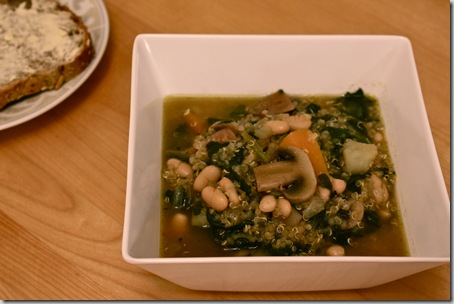 Here are a few of the reasons soup is awesome:
1. It's filling.
2. It's cheap.
3. It's easy to make.
4. It can be healthy and still taste really really good.
5. It's perfect for cold winter months.
Totally awesome list, huh.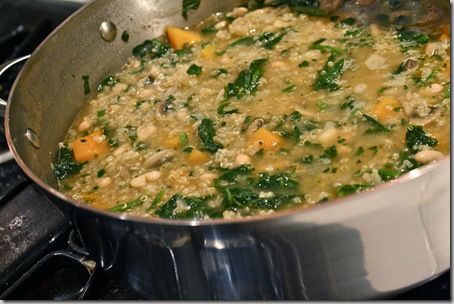 Inspired by the soup from this book (see below), I made my own version.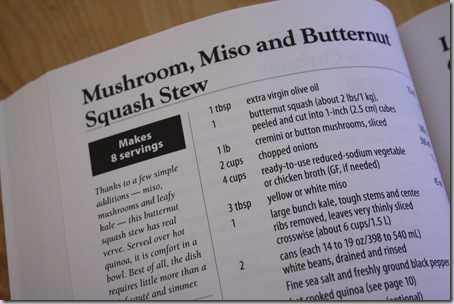 The concept was the same, I still used mushrooms, miso and butternut squash.  But I made changes too…
I halved the recipe (we definitely don't need 8 servings!)
I used spinach instead of kale (frozen spinach was on sale)
I added in 1 red potato
I increased the olive oil to 2 tbsp
I added in 3 tbsp tamari (I like the combo of tamari and miso)
I used a bouillon cube to make the broth
1 bouillon cube makes 2 cups of broth.  And it's so much easier to keep a box of these in the pantry than organic vegetable broth.  Space saver!  Plus one box (with 6 organic cubes) only cost $3.49 which means you get 12 cups of broth for that price, as compared to the quarts that cost nearly the same and only yield 4 cups of broth.  Easy choice right?
I sautéed the ingredients in stages, onions first, then squash and potato, and then mushroom. 
Next came the broth.
Then the beans and greens.
And after everything simmered together I added in the cooked quinoa.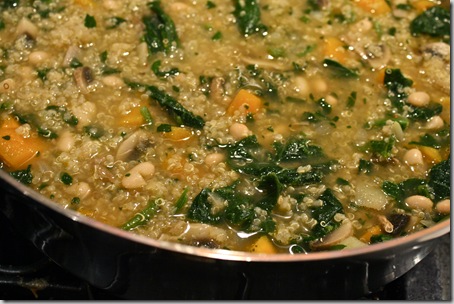 Yum!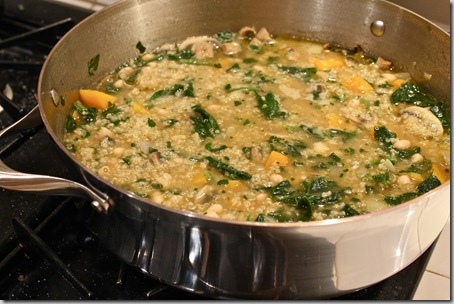 After a pretty miserable day of reflux, this meal was my saving grace.  I managed to tolerate several servings, in fact (although they were each small and spaced out over the course of the evening).  I feel like a bird, nibbling and pecking at tiny meals.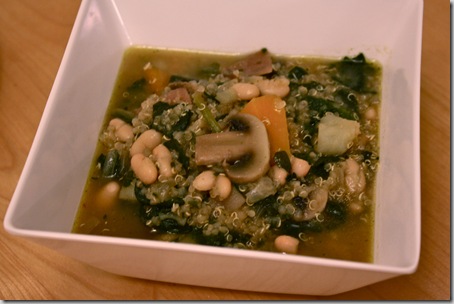 I feel like a traitor saying this, but cannellini beans may be my favorite of all the beans.  Even more than chickpeas. 
The white bean puree from Huckleberry is soooo good.  I should really try to recreate that one.  Are white/cannellini beans the same as navy beans?  Who else ranks their favorite beans?  [Aside from my sister – hers are listed in the comments section of this post]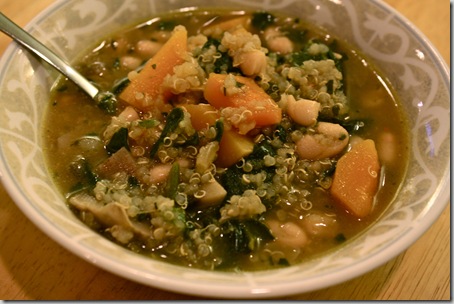 P.S. Make this souper yummy soup
Elise January 27, 2013 beans, butternut squash, quinoa, souprecipe Read more >