I'll admit, I was the first one to raise an eyebrow during the whole 2 ingredient banana pancake phase a few months ago.  But as it turns out, they were kinda good.
These are better in my opinion.
Sweet potatoes > Bananas
At least in terms of making pancakes.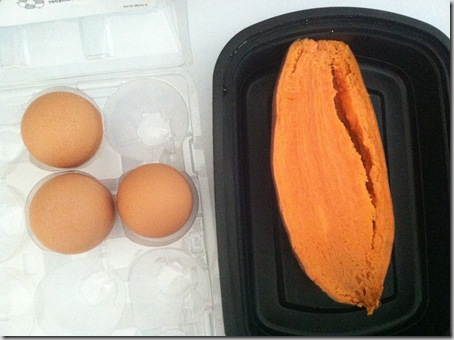 All you need to do is cook a sweet potato to the point of it being way done.  So the flesh can be separated from the skin and scooped out easily.
You can do this in the microwave or the oven or using a combo of techniques, as long as the sweet potato guts are nice and soft.
The ratio I used was perfect and yielded 4 medium pancakes.  I got full after 3 of them, so if you double the recipe, I think it will be good for 3 people or 2 with leftovers.
Two Ingredient Sweet Potato "Pancakes" [vegetarian, gluten free]
Ingredients:
1/2 of an extra large sweet potato, fully cooked (flesh only)
3 eggs
[optional] pinch of salt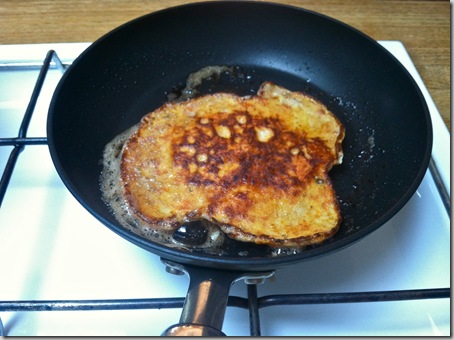 Directions:
Combine sweet potato flesh and eggs and mix.  They don't need to be perfectly combined.  I had small lumps of potato in my batter and it wasn't an issue.  I used a fork but whisking it lightly is fine too (just don't over beat the eggs).
Pour batter onto hot greased pan in desired size (I made four pancakes).  Turn pan down to low heat.
Allow to cook almost all the way on one side (so you can see the edges have cooked entirely and the middle has nearly cooked through) before flipping.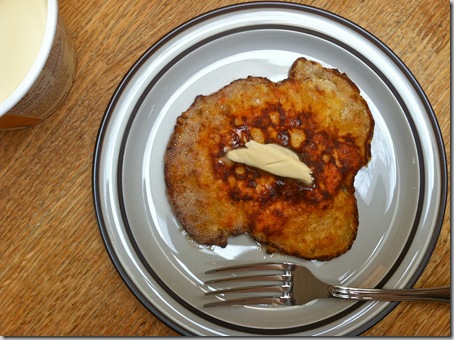 Top with Earth Balance, maple syrup, both or neither.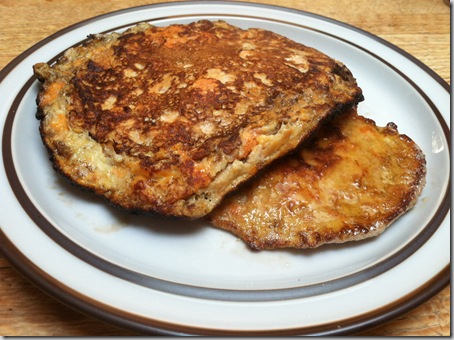 These are so tasty!  I was surprised at how sweet they were without anything added in the way of sweeteners, but that's what happens with really cooked sweet potatoes.  They are basically like candy.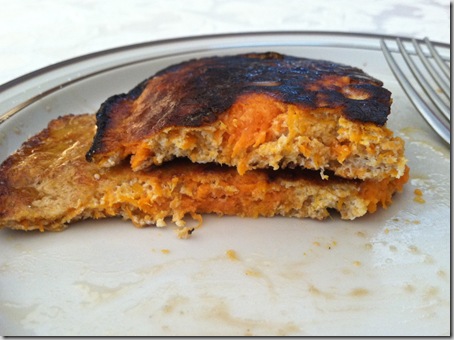 I think it's safe to say leftover steamed sweet potatoes will never last long in this house!
Notes:
The sweet potato I used was huge, so I think the flesh from a whole small one is basically equivalent to the half of the extra large one I used.  I'd venture to guess it was ~3/4 cup flesh, but I didn't actually measure it.
I don't know if canned sweet potatoes will work in the recipe, but if anyone tries it let me know.  I'd imagine another swap could be butternut squash puree, but again, I'm just guessing.