My sister sent me a guest post without any prodding from me – clearly blogging runs in our blood.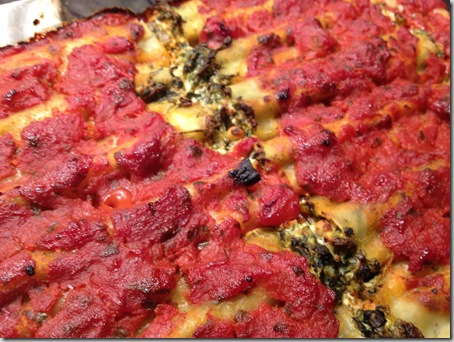 As I'm sure you've gathered in Elise's previous blogs, as kids one of our (or at least my) favorite meals was manicotti.  Its also one of the first dishes I learned to cook as my mom would "let" us mix and stuff the shells (I'm pretty sure looking back on it now it was a ploy to get us to help out in the kitchen, but I guess it worked – take notes, Elise!).
Anyway, since becoming lactose intolerant I have been craving some good home-cooked manicotti.  I know Elise has already posted recipes with tofu as a ricotta replacement as well as a Sabra hummus option (can you tell I'm a regular reader?), but Australia doesn't have Sabra and I was too lazy to experiment with the tofu shenanigans so I went rogue and experimented with my own creation.  I don't want to toot my own horn too much but it was delicious so I thought I had to share with you kind people. 🙂
Goat Cheese Manicotti [vegetarian, lactose free]
Ingredients (excuse the metric system):
1 zucchini, grated
250ish grams (~1 1/4 cups) frozen spinach
300 grams (~1 1/2 cups) goat's cheese
1 onion, diced
2 cloves garlic, minced
1/2 cup pine nuts
1 (24 oz) jar tomato sauce of choice
1 box (~12) manicotti shells
Directions:
Chop onion, garlic, and sauté in pan with grated zucchini.
Thaw and drain spinach.
Mix all together in bowl (minus the tomato sauce).
Stuff into uncooked shells.
Pour half of sauce in bottom of pan, add stuffed shells and top with remaining sauce.
Cook in oven at 200 degrees Celsius (375 F) for ~35 minutes.
ENJOY!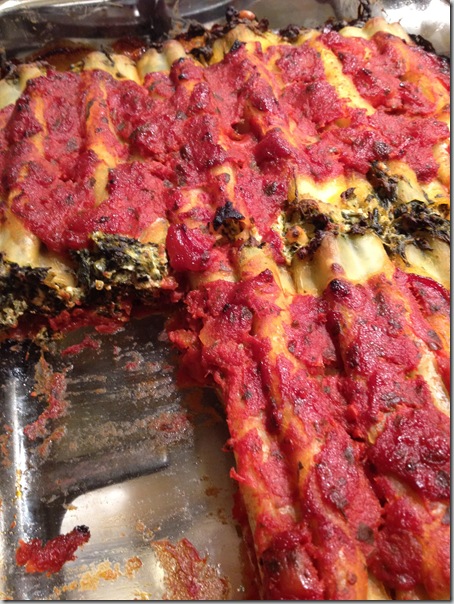 I hope you enjoy your super easy lactose-free manicotti as much as I did!
[Elise, if you want to change this from the metric system so its easier for your readers go for it…I just couldn't be bothered. Too busy watching The Voice Australia and drinking cider – much more difficult and time consuming than caring for an infant I'm sure, ha!]
I converted it guys.  You're welcome.  😉
Elise May 3, 2013 Uncategorizedguest post, recipe Read more >