May already!  The time flying by is even more noticeable now that I have a kiddo who gets bigger by the day second.  Most of his weight is going to his cheeks, which I love love love.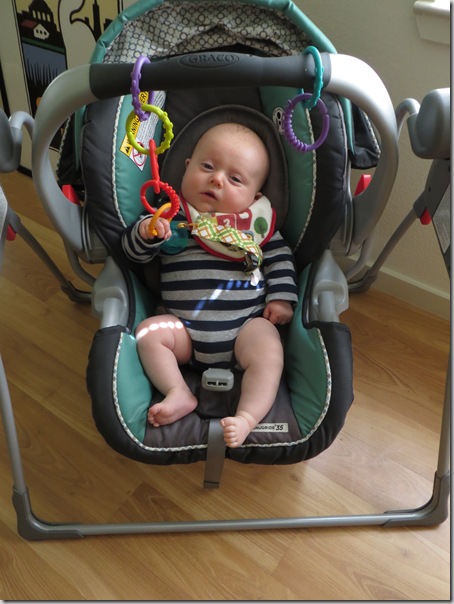 Oh, hey, I can grab rings, no biggie.
This week was a busy one for us as we were out of town all last weekend.  Lots of things to still get straightened away in setting up our house.  Ugh!  Moving takes forever.  Also, Kyle left mid-week for a bachelor party (yes, the festivities began on Wednesday).  So we definitely packed a lot into Monday and Tuesday.
The good news is that I finally finally have a pantry!  [For all it's brand spankin' new gloriousness, our kitchen doesn't have very much space in the way of food storage so we had to figure out a shelving situation because this hippie has a lot of grub to store.]
I'm thinking there will be actual recipes to share in the near future.  I hope.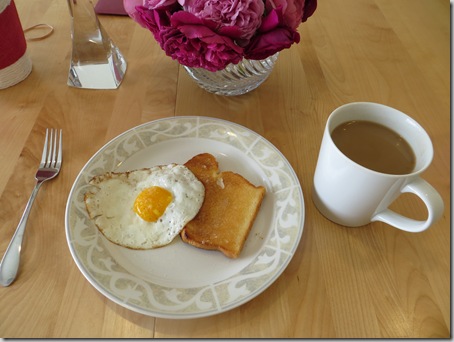 75% of my breakfasts look like this.
The other 25% are oatmeal mixes.  Or things like this…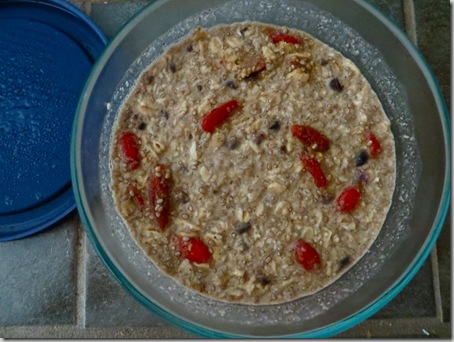 I am so stoked with how this turned out.  My intent was to imitate the vigilant eats cereal cups because I really liked them…so much so that I brought one to the hospital with me when I went into labor.  Priorities.
The vigilant eats cereal ingredient list includes GF oats and oat flour, goji berries, cacao nibs, hemp flour, coconut sugar, yacon powder, maple powder and cinnamon.
I used GF oats and oat flour, goji berries, cacao nibs, hemp protein powder, coconut sugar, chia seeds, and cinnamon.  I added hot water and stirred it up and then left it in the fridge to set over night.
I kinda winged it with proportions, but I'll be sure to measure next time.  The chia seeds made it thick and pudding like – just like my chai chia oat pudding actually.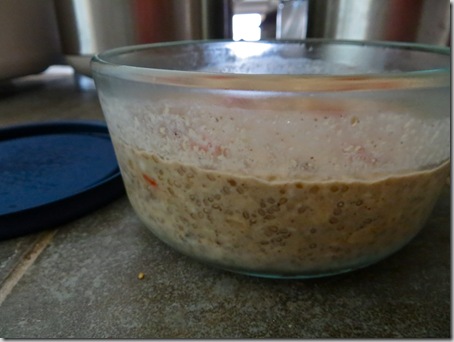 I'm not usually a big goji berry person but I think the trick is letting them soak and plump up.  That way, they're more sweet and chewy (like raisins) and not as hard and tart.  The cacao nibs add a nice crunch.  Super foods for the win!
Salad lunches are still going strong.
In case you are looking for some salad building ideas…
Spinach, carrots, brown rice, asparagus, baked tofu, almonds, sesame seeds & Bragg's aminos.
Spinach, avocado, carrots, vegan cheddar cheese, brown rice, & Bragg's aminos.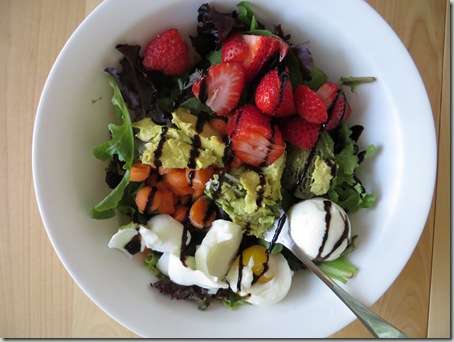 Spring lettuce mix, carrots, strawberries, avocado, soft boiled eggs, & TJ's balsamic glaze.
The same as the above plus corn.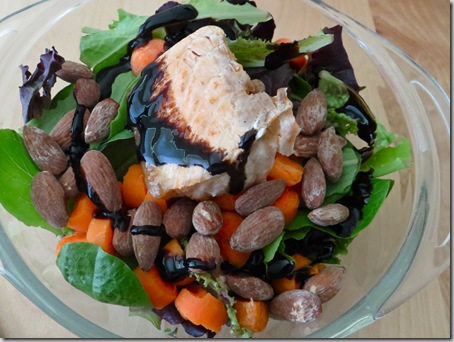 Spring greens, carrots, salmon, almonds, & TJ's balsamic glaze.
Plant strong 🙂
Since I'm usually running around doing various errands in the afternoon, I have barely any pics of my snacks.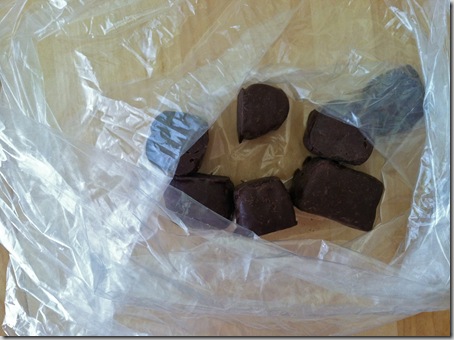 If my sweet tooth is calling, I go with a bar or dark chocolate (or both).  If I'm in the mood for savory, I choose nuts, Mary's Gone crackers with hummus or vegan cheese, or chips.
The chocolate nuggets above are these INSANE gems I found in the bulk bins at the Co-op.  They are dark chocolate covered coconut and basically make me want to ditch real food for dessert for the rest of my life.  I'm not even joking.  They're bananas good.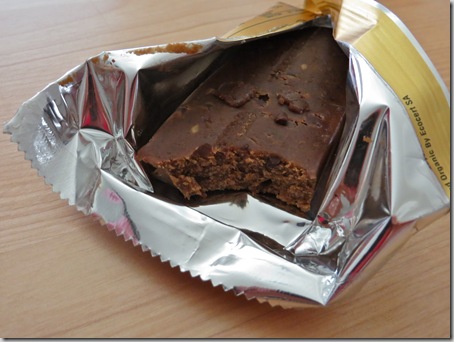 Almost on par is this guy.  Oh my gosh.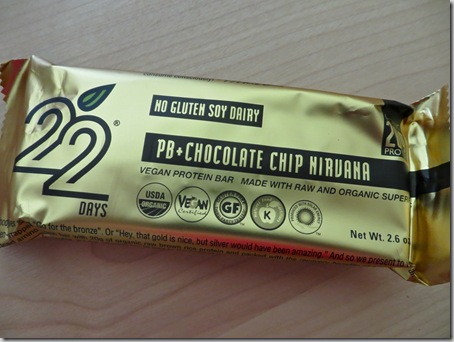 Full disclosure, 22 Days Nutrition sent me some of their bars to try out, and I'm SO glad they did because I'd never heard of them before and now I'm completely hooked.
PB chocolate nirvana is it's name, and the bar is exactly that.
The company has an awesome manifesto – read it!  They have organic, vegan, and gluten free bars and protein powder.  And most of them are FODMAPs friendly because they use hemp and rice protein, and coconut sugar and syrup.  I'm seriously seriously obsessed.  I haven't found a flavor that doesn't make me drool.  Ok, ok, I'll stop, but if you can find them in your local WF or Vitamin Shoppe, buy them!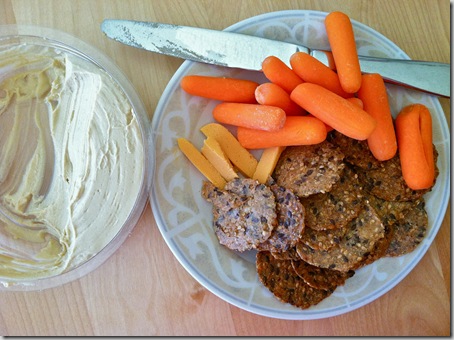 Savory snacks just aren't as exciting.
I will say, the Way Better snacks sprouted tortilla chips (geez, long name much?) were a lot yummier than I thought they'd be.  Salty and crispy and crunchy with lots of visible seedy goodness.  They're also gluten free and FODMAPs friendly, as are the Lundberg brown rice cakes and Mary's Gone crackers.
Dinners are all over the place.  Hippie bowls.  Pasta.  Big salads.  Repeat.  We made pizzas one night.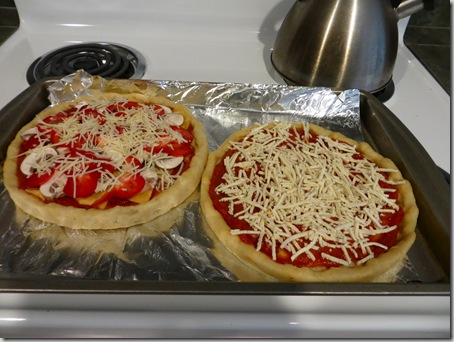 I am SO excited that I now have an oven that's big enough to fit my normal baking sheets.
At our previous place, the oven was from the 60's (seriously) and it was so small I couldn't use a lot of my baking/cooking ware.  So frustrating!  Part of the reason I was making granola around the clock was because I had to make such small batches!  Hooray for a big modern oven!
I raved about these Vicolo crusts before, and I'm glad to be able to find them here in Davis.  It makes sense since they are a San Francisco based company.  We used Newman's Own marinara, which is great for pizzas because it's really thick.  The company is one worth supporting anyway.  For FODMAPs people, garlic is one of the last ingredients in the tomato sauce and it's dried not fresh, so it should be tolerated in moderation.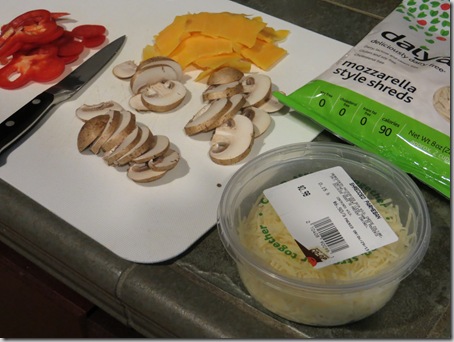 Kyle wanted cheddar (?) and parmesan on his, along with mushrooms and bell peppers.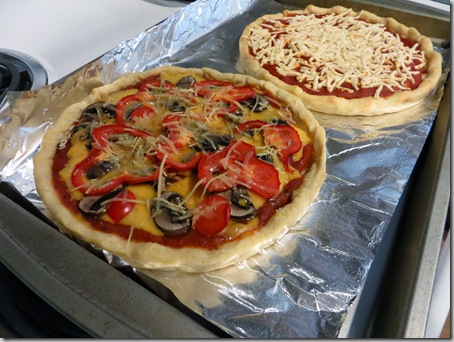 I went with the boring but classic (vegan) cheese pizza.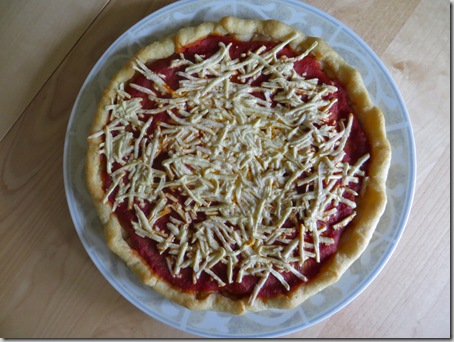 Just Daiya mozzarella.
I really tried to practice moderation and only eat a portion of it, but I finished the entire pizza.  And I wasn't full either.  I have one heck of an appetite I tell ya.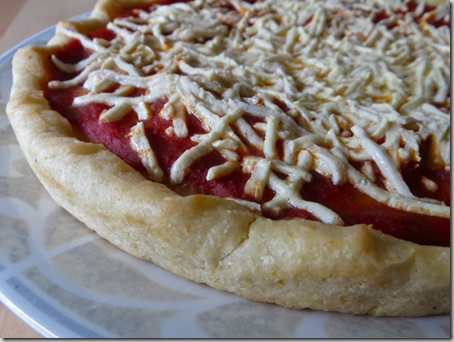 I had lots of baby carrots on the side to fill my meal's veggie quote.
Kyle finished his entire pie too, but he's a growing boy, so what do you expect?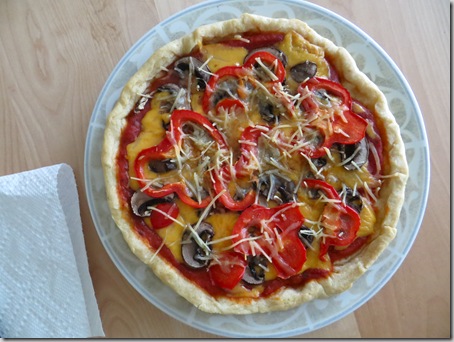 And before I peace out, here are some progress shots of the casa.
From top to bottom: the master bedroom, the nursery, the barely fitting washer & dryer (with cloth diapers [!!!] drying on top), and the kitchen's appliance row.
Elise May 4, 2013 22 days, avocado, big salad, chia seeds, chocolate, coconut, Daiya, eggs, fish, hummus, lundberg farms, Mary's Gone Crackers, oatmeal, pizza dough, tofu Read more >