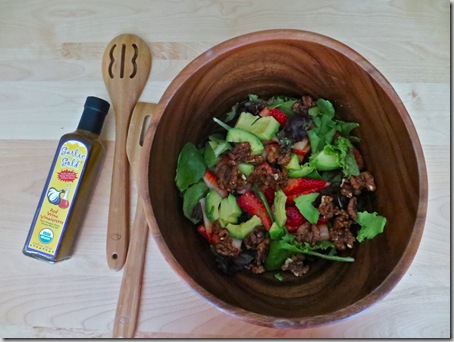 I love blogging. I love sharing my food, my recipes, (some of) my life…all that stuff…but there are parts of it that aren't my favorite. The judgment and unsolicited opinions aren't so awesome. Some of the time it can be helpful (and I do try and self-reflect on such comments), but there are other times when comments are intended to be mean and nothing else.
When I started HHH, I was in a different place. The blog was only about me so I really didn't care what others thought (I'm me – take it or leave it!). Now I have a family and a responsibility to protect them. As a parent, you get advice from family, friends, and strangers on the street. It's not an easy job! So opening myself up to critiquing by the whole web-enabled population is a decision I'm constantly reevaluating. Discussing my diet is one thing, but discussing my choices in how I raise my son is another.
So what does that mean for HHH? I'm still trying to decide. I feel like you guys are my friends and I want to be able to share stuff, but at the same time, it's a drag constantly feeling like I need to justify one thing or another. For now, all I ask is for your respect and understanding as I sort it out.
Whoa. I didn't plan on this post taking that direction at all…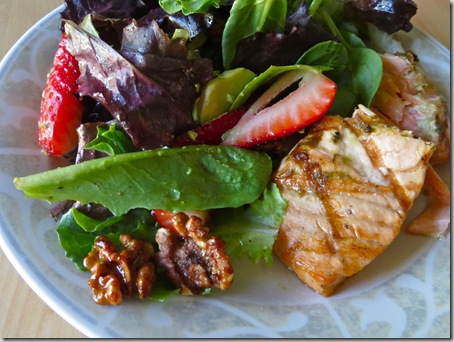 Let's get back to the meal at hand. Fish. I'm eating it again. Sparingly. I mentioned it previously (I even posted a salmon recipe here), so it's not exactly newsworthy.
I don't feel like I need to write some elaborate manifesto on why. I gave it quite a bit of thought and that's the decision I came to. Remember I'm more than a diet. This is a no label zone. 🙂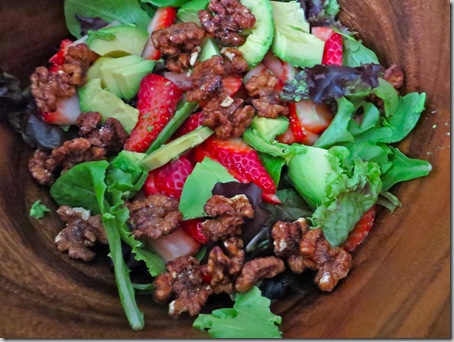 This salad was one of the first actual meals Kyle and I prepared in our new place. It's a favorite for sure. No real recipe.
Spring greens
Strawberries
Maple glazed candied walnuts
Avocado
Balsamic vinaigrette (or this sesame dressing)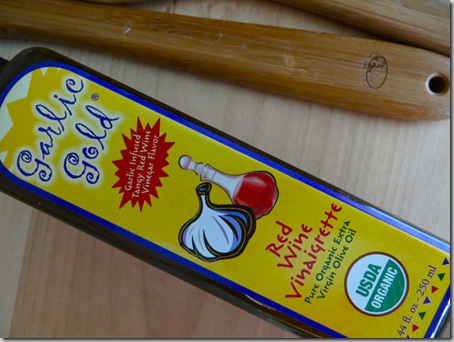 Instead of balsamic, I opted for this Garlic Gold red wine vinaigrette. It's existence was revealed during the clean-out-the-pantry-stat-because-we-are-moving-in-a-week phase. It's more olive oil than vinaigrette, so I think it's better as a marinade or dip (for bread) than dressing, but it was still good. I love olive oil so so much. It's also a great option for FODMAPs peeps because it has garlic flavor but it's infused in the oil, rather than present as an actual ingredient (thereby making it FODMAPs friendly).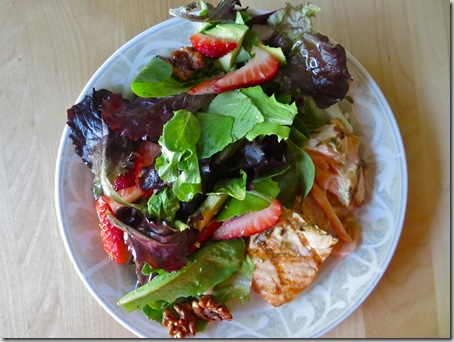 This is the recipe I use for making candied nuts, btw.
In addition to the salad, we had soy glazed salmon.
I had the leftovers of both for lunch (in a less attractive & more salad like form) with TJ's balsamic glaze. That stuff is amazing.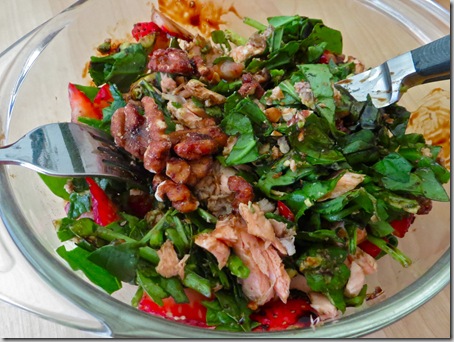 Elise May 13, 2013 avocado, big salad, fish, nuts Read more >