What an amazing weekend.  Not just because I got showered with love.  With or without Mother's Day, this past Saturday and Sunday were just plain awesome.
Kyle was down in LA on Friday for a conference, so I was solo parenting again.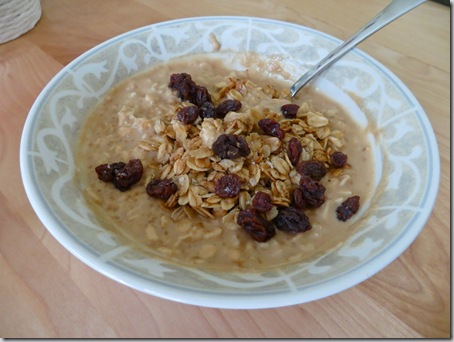 I broke the fast with a bowl of overnight oats.  Man, it's been a while since I made these!  I basically just added boiling water to some oats the night before, along with a few big spoons of peanut butter.  Then I stirred it all up and left it in the fridge so it was ready the next AM (totally a life saver when I woke up and didn't have to hassle with the stove).  I topped it with Udi's GF granola and raisins.
I spent the rest of the afternoon like this.  All the while making my way through the "family size" tub of classic Sabra hummus.
Carrots, Lundberg's GF brown rice cakes, Van's GF crackers, monster salad, spoon, finger…nothing was safe.
That salad had spring greens, carrots, tomatoes, avocado, hummus, and TJ's balsamic glaze.
I don't even know what I had for dinner because there's no photo.  It was probably another salad like the one I had mid-day.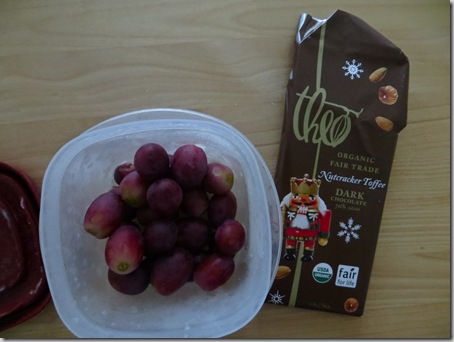 I do know what I had for dessert though.  I'm a hoarder of chocolate bars.  This (seasonal) Nutcracker theo bar is one of my absolute favorites.  I finished off the remaining 3/4 of the bar with some frozen grapes.  Probably way more dessert than anyone should eat, but totally delicious.
Kyle's flight landed well after midnight so both P and I were asleep by then.  Saturday marked the beginning of mommy celebration.
For breakfast I enjoyed a warm gluten free blueberry muffin, compliments of Udi's.  I topped it with peanut butter because I'd been dreaming of it since the middle of the night.  Seriously.  I dream about food.  Normal?
After breakfast we hung around the house enjoying family time.  At some point Kyle offered to change P and when he came back my little boy had on a new onesie.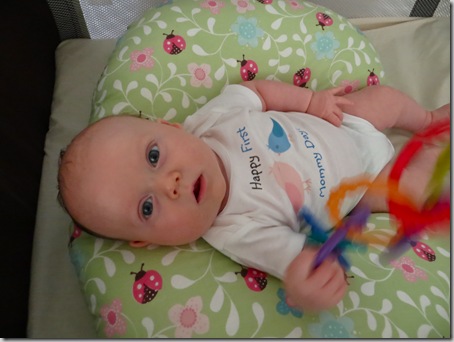 I know it's hard to read, but Frodo refuses to let go of the rings once he's got them in his grasp.  It says Happy First Mommy Day.  So cute right?
Once we were all clean, dressed and ready to go, we packed up the car and headed to San Rafael.  Kyle had a fun day planned for us that started with lunch at Radiance Cafe.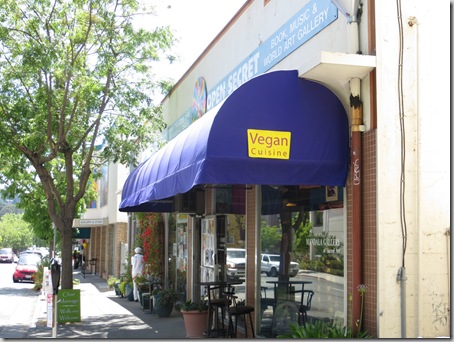 I don't quite know how to say this.  But this was some mega hippie sh!t.  He said he found it by googling vegan in Marin.
It's kinda attached to a bookstore, but it's also kinda in a bookstore.  The decor.  The vibe.  It was about as hippie as it gets.  We both agreed it was exactly how a vegan restaurant would be depicted (stereotyped) in a Paul Rudd movie.  The funniest part was P's face when we entered.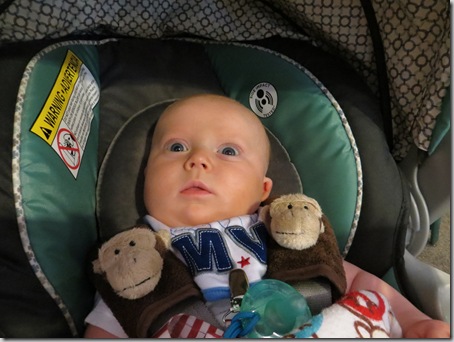 I cannot stop laughing because it's exactly how I felt as I took in the scene.
All jokes aside, the staff was super friendly and the food was awesome.  So really, there's no reason for me to make fun of the place.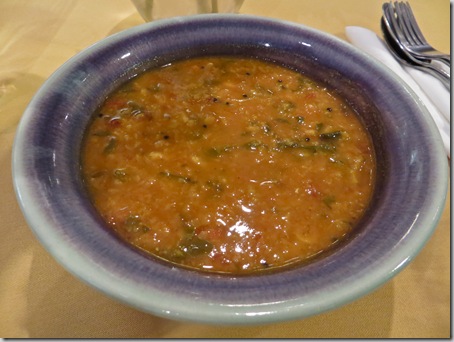 The menu is basic.  They have a grain of the day and a veggie dish of the day, and you either get them in a bowl form (macro-esque) or a plated form.  The plated form comes with a salad.
Kyle and I split the large radiance plate which had an organic salad, brown and wild rice (the daily grain), veggies with a white sauce and the soup of the day.
The soup of the day (above) was a curry lentil thing and it was super yum.  We both really liked it.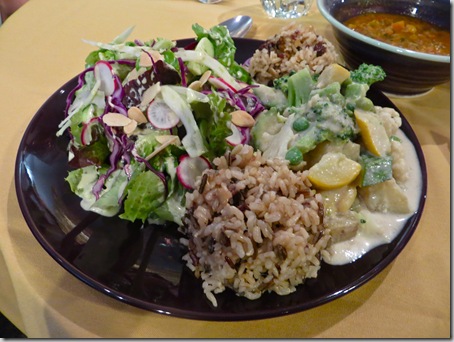 The salad was okay, nothing special.  It had a tangy dressing.  The veggies with the white sauce (seen on the far right of the plate) were the highlight for me.  I don't know what was in that white sauce, but it was gooooood stuff.  I mixed all the rice in with it to soak up the extra.
I regret not getting a cookie for dessert because I got hungry shortly after.
There was a cute little street fair going on in San Rafael, so we walked around for a bit before we went back to the car.
Kyle changed P's diaper in the trunk and then I fed him in the backseat…and then we were off…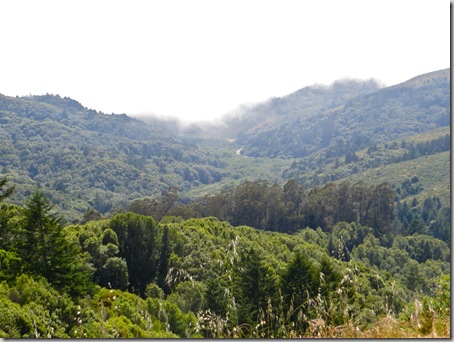 To Muir Woods.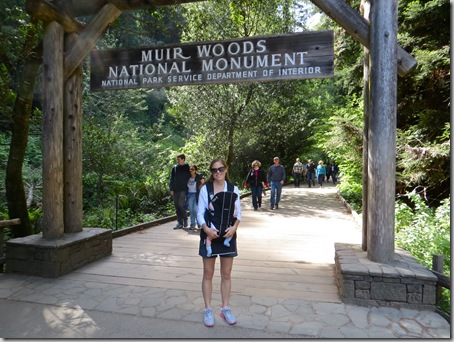 I love nature.  I love being in the beautiful outdoors.  It sounds cheesy, but it can really bring some zen into your life.  Being under 250 foot tall redwoods (that are over 1000 years old) makes you feel very small.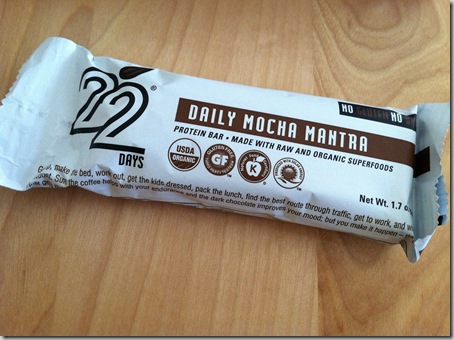 I ate this deliciousness before we went in.  Chocolate and protein and a little caffeine kick in the pants.  Hit. The. Spot.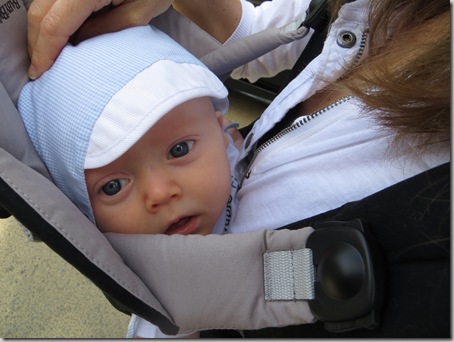 We need to invest in a sun hat because all we had to shade our little guy was this stupid bonnet.  It worked, but in the future, we should probably get something that's not quite as silly looking.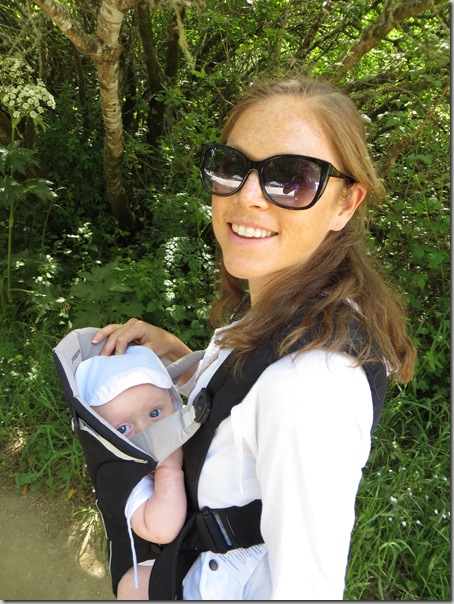 The place was super crowded and we ended up parking pretty far down the road, but the baby bjorn worked out great.  Stroller freedom!  And how cute does he look as a little koala clinging to me…those big blue eyes kill me.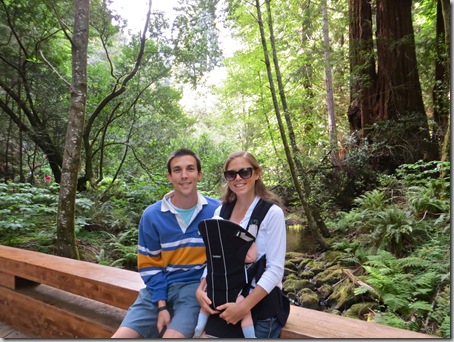 So pretty!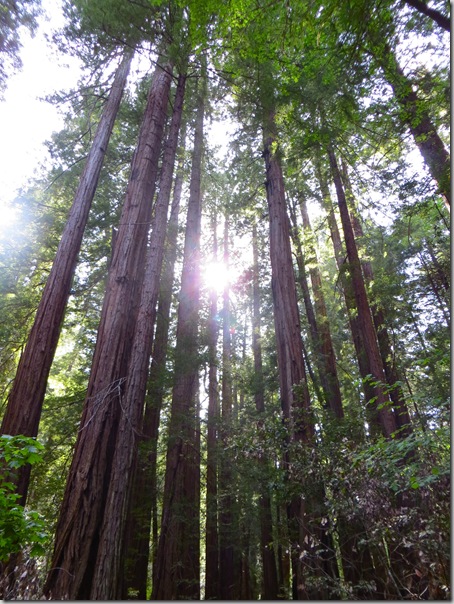 We asked someone to take our photo and this is what we got.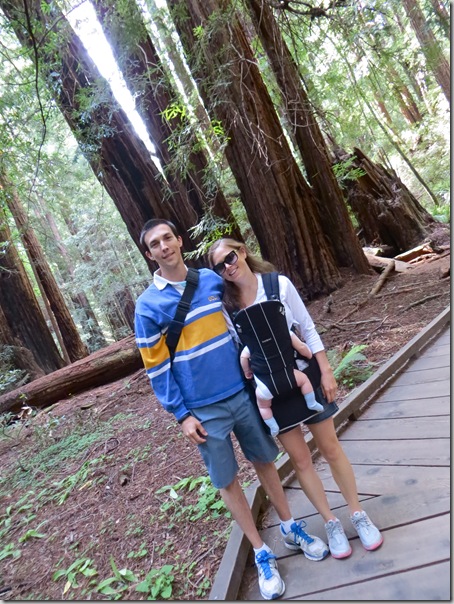 Hmmmm.  Artsy?
We did a short loop in and out so that we wouldn't be too damned if the baby carrier didn't work out, but P passed out for much of the walk.  He did seem to enjoy it when he was awake though (he's always mesmerized by light and the outdoors).  We left before it got too cool and unfortunately hit some traffic leaving the area, which meant we didn't get home until later in the evening.  I changed and fed (and then changed again) PAC man before we left the woods, so he wasn't hungry, but Kyle and I were starving.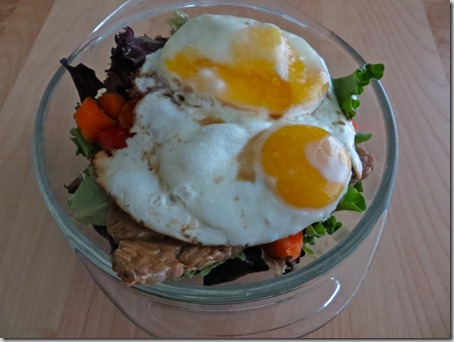 Kyle had a huge mac n cheese casserole that I had made him the previous day, so I just made myself a salad.
It had spring greens, smoky maple bacon tempeh, fried eggs, carrots, and tomatoes with Bragg's aminos.
Half way through I decided there wasn't enough fat in it, though, so I added a bunch of salty nuts.  I had more nuts for dessert, too.  Nuts for nuts.
We had nothing really planned for Sunday.  One of Kyle's friends was in town so he stopped by in the morning.  But aside from that it was just a nice mellow AM.
I had a messed up fried egg with a toasted Udi's bagel.  This is the mighty bagel and lemme tell you, it was hard to believe it was gluten free.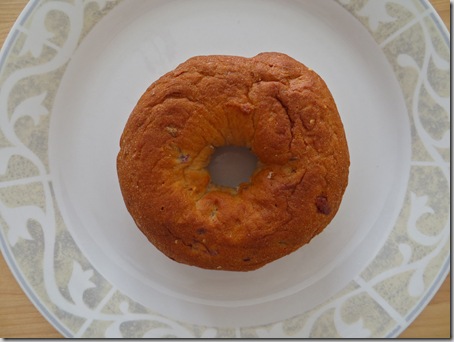 It's made with quinoa and millet, pumpkin seeds, sunflower seeds, and cranberries.  Packed with goodness!  Reminds me of my (former) favorite bagel from Noah's, the cranberry orange one that's only around during the holidays.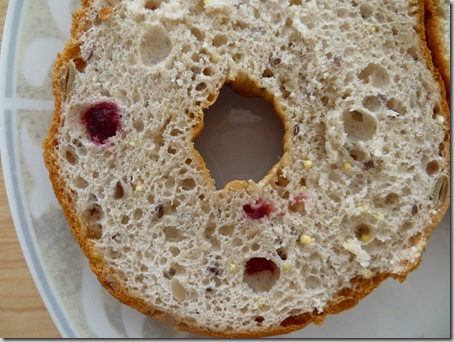 See all the stuff going on in there?  That's a far cry from the nutrient devoid gluten free stuff you normally see.
I digress…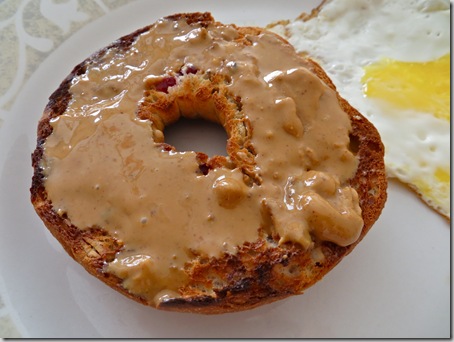 I had breakfast in parts.  The first half right when I woke up, and the second half an hour later.  Both with lots of peanut butter.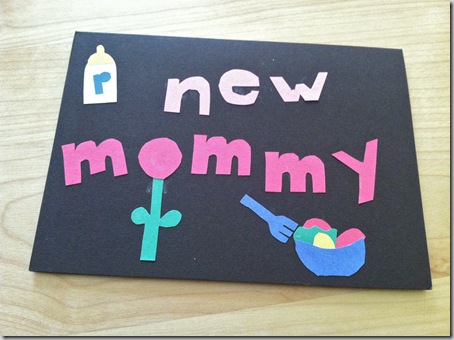 The rest of the morning was spent opening cards (yay!) and trying to figure out how to pick the cherries from our cherry tree.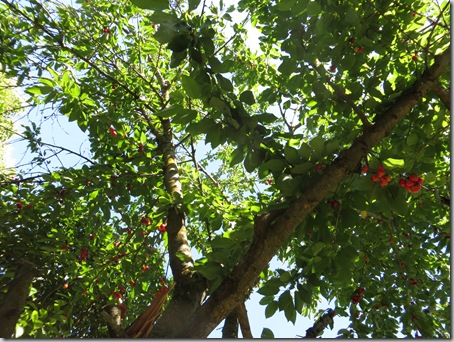 Yeah, apparently we have a cherry tree.  News to us!  We only just figured it out since they started getting ripe, but they are all so high up that the birds are stealing them before we can get them!  Boo.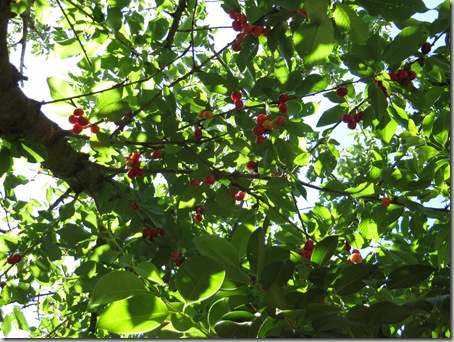 Kyle went into the shop to borrow a ladder foot stool thing, so we got a few branches worth.  And some oranges from our neighbor's free too.  They have figs and persimmons that we may get later on also.  Yay for free produce!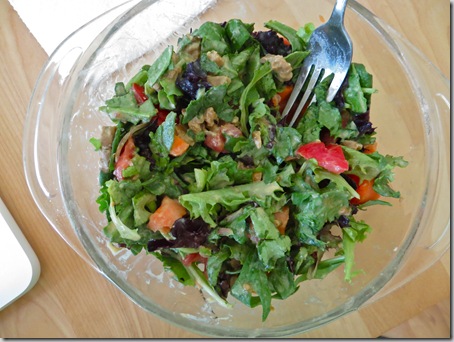 I got hungry around noon and decided to make myself a large salad.  I'm in a huge salad phase, can you tell?  This was lots of the same, greens, carrots, tomato, tempeh, and a hummus dressing (Sabra + Bragg's + water).  I had plain quinoa on the side.
A little bit later I heard the doorbell ring and since I was nursing, Kyle went to answer it.  Next thing I know my sister is walking into the nursery with flowers in her hand!  What!?!  Such an awesome surprise.  It is soooo cool that I live close to family for fun surprises like this.  Love love love being in Nor Cal.  🙂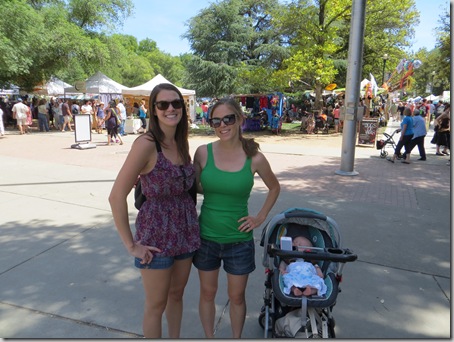 The three of us headed to UC Davis for the Whole Earth Festival.  As if my weekend could get any more hippie.  Oh boy was this a scene.  I loved every second of it, though.  The most tempting stand was one that sold kombucha mothers (as well as dried ones on necklaces).  The most ridiculous was one that had fairy wings.  There was food and music and had it not been 100 degrees and packed we may have hung out longer.  I did end up buying a hanging necklace rack thing.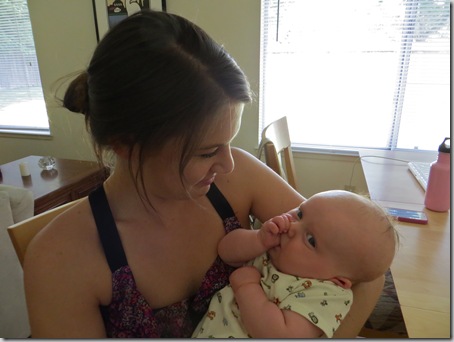 Back home, Auntie Marie played with her nephew.  And he showed off all his latest tricks.  Like trying to roll over and army crawl scoot (mega face burn with the latter).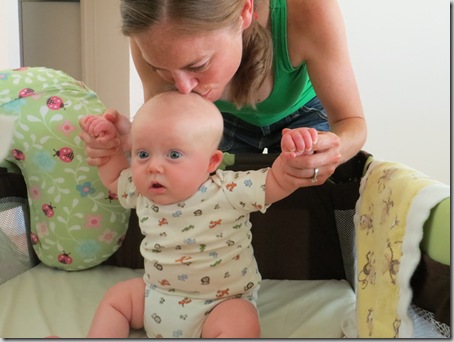 Okay okay.  He's only 3 months old.  He's really just mastering the whole neck support thing.  But he really does want to move move move.
The day got to be too much for him though and as soon as my sister left he conked out too.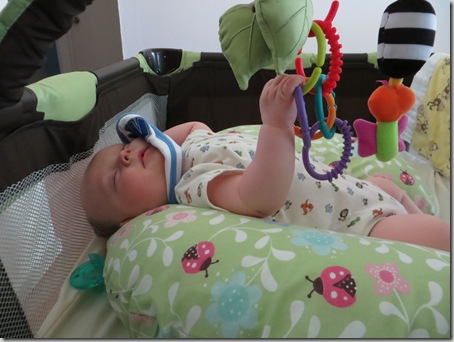 While holding the ring.  And his bib.  Watch out ladies, he's a grabber.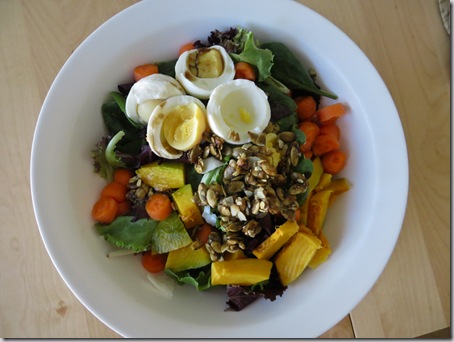 Dinner!
Another salad beast.  Greens, roasted kabocha squash, carrots, tomatoes, hard boiled eggs, and sprouted pumpkin seeds.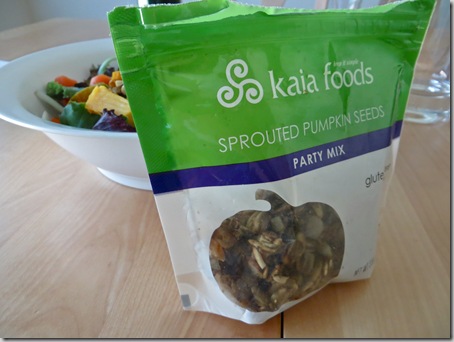 These pumpkin seeds to be exact.
What a salad!!  So happy with this guy.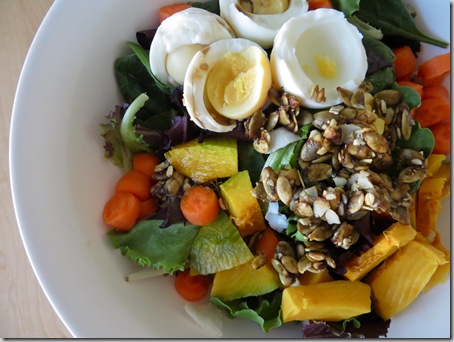 And I still have the rest of this squash to take down this week.
I ended the weekend by enjoying too much trail mix (damn you Costco and your bulk yummy goods) but oh well.
Life is good.  PS Thanks for the super supportive comments on my last post.  Reminded me why blogging is awesome and totally made me want to keep it up.
Elise May 14, 2013 22 days, avocado, big salad, chocolate, curry, eggs, granola, hummus, kaia, lundberg farms, oatmeal, peanut butter, pumpkin, sabra, squash, tempeh, udi'srestaurant review Read more >