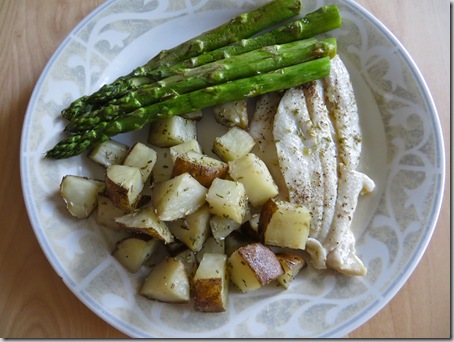 I have been making legit dinners lately.  It's good to be back in the kitchen – planning weekly menus and grocery shopping.  Much more wallet friendly too.
Oddly enough, I now despise going to the grocery store.  Which is SO weird because it used to be one of my favorite things ever.  I used to love browsing the aisles.  I took my time and relished in the fun of perusing products.  Now I'm all about efficiency, get in, get out.  And even then, it's after a few days of creating food out of thin air because I have managed to put off the errand altogether.  Blah.  I don't wanna blame it on mommyhood, but yeah, it's not quite as easy as it used to be (cart plus stroller notsomuch).  And when Kyle is around to help, it seems like a waste of together time.  When it's the three of us I'd rather be not grocery shopping.
Okay, random rant over.  The point is that I've been sucking it up and hitting up the store enough so that we can have home cooked meals again.  And our bank accounts, bellies, and everything else is very happy too.  Completely worth it.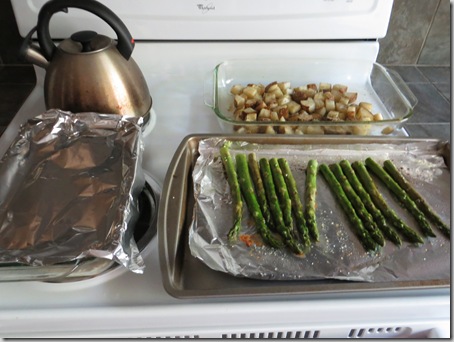 The asparagus was actually the most expensive thing in this meal.  But I try to get a "treat" ingredient with every trip to the store because otherwise I'll get too anal about our grocery budget and I'll miss out on the fun of cooking.  Usually I choose strawberries or Kombucha or a fun bulk bin item.  But the asparagus was looking so pretty.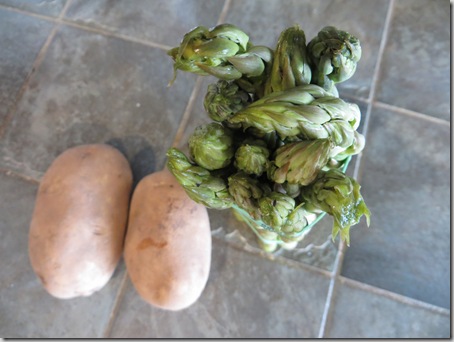 Potatoes cost like nothing.  So it balances out.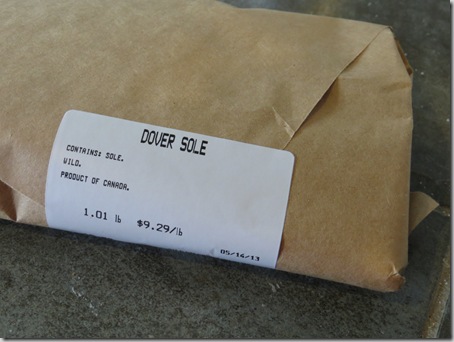 Last but not least, the fish.  Contains: sole.  I love an ingredient list with one thing on it.
We got 6 filets of wild Dover sole for under $10 at the Co-op.  Seems like a good deal to me, but what do I know about buying seafood.  It was on sale and fresh and looked good.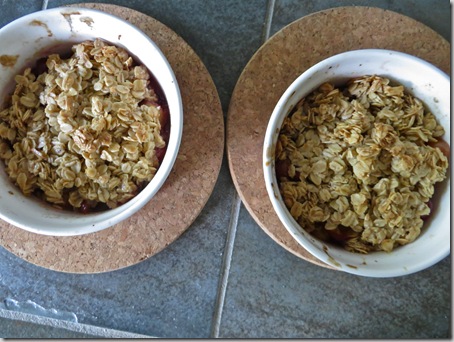 I figured I may as well go all out and make dessert too.  I was feeling very Betty Draper-esque.
So here's how the meal came to be.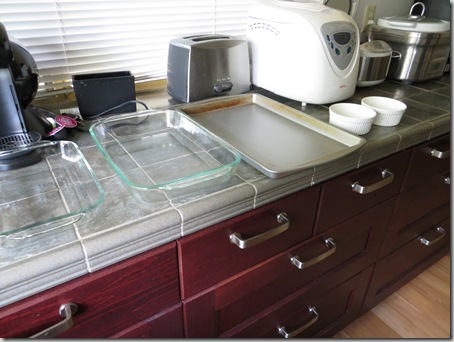 This is the cooking-ware line-up…all set out so I could prep once P took a nap.
Since the potatoes take the longest to cook (~35 minutes), followed by the asparagus (~20 minutes) and then the fish (~15 minutes), I put them in the oven in that order.  The dessert I left til the end, so it baked while we ate dinner (~25 minutes).
Roasted Rosemary Potatoes
Ingredients:
2 russet potatoes
2 tbsp olive oil
1/2 tsp truffle oil (optional but delicious)
1/2 tsp dried rosemary
1 tsp salt
Directions:
Pre-heat oven to 375 degrees.
Scrub and dice potatoes, then toss in oil.  Add to greased pan and sprinkle with seasonings.
Bake for ~35 minutes at 375 degrees F.  [Time variations depend on the size you cut the potatoes]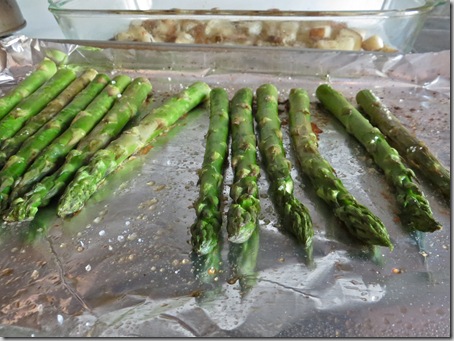 Roasted Asparagus
Ingredients:
10 –15 asparagus spears
1 tsp truffle oil (or olive oil)
1/2 tsp flaked sea salt
Directions:
Wash and trim woody base off the spears.  Place on greased baking sheet.  Drizzle oil on top and then sprinkle on salt.
Bake in oven at 375 degrees F for ~20 minutes.  [I like mine on the crispy side, so I removed them once they were slightly bronzed on the tips]
I don't know much about cooking fish, but we have this book so I skimmed through the beginning intro stuff and then skipped ahead to the part where they talk about sole.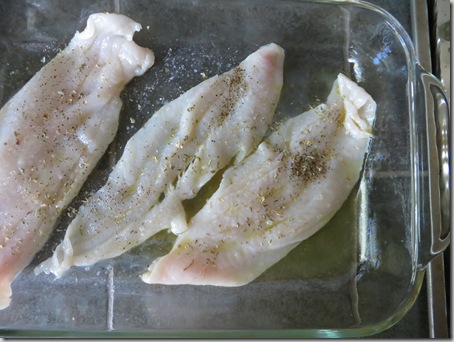 Dover sole is a delicate buttery fish with lots of flavor.  To me that means, don't mask it with a bunch of stuff, just let it do it's thing.  So I kept it simple.
[FYI, I recommend the book.  I plan on reading more and trying some of the recipes out too.  There's a Caribbean crab cake recipe bookmarked already.]
Back to the sole.  The recipe in the book was for sole meuniere so I just did my own thing instead.
Even though they're small, 6 filets seemed like a lot, so I only baked 3 of them.  I saved the other 3 using that press & seal sticky paper stuff.  It didn't actually stick that well, but I just took care to fold the paper nicely in thirds and put them in a ziplock before I froze them.
Basic Baked Dover Sole
Ingredients:
3 Dover sole filets
1 tbsp olive oil
1 tsp lemon juice
1/4 tsp dried parsley
pinch of salt and pepper (+/- to taste)
Directions:
Pre-heat oven to 375.  Combine olive oil and lemon juice in baking pan.  Add filets and flip so that both sides get covered.  Sprinkle parsley, salt and pepper on top.  Cover with tin foil (prevents fish from drying out).  Cook for 15-18 minutes.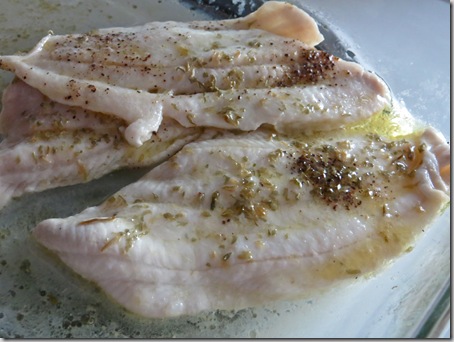 Voila!  Juicy, soft, buttery.  Just plain awesome.
I was shocked at how quickly these cooked, but they are really thin, so I guess that's why it took no time at all.  When I pulled them out, they all slid on top of one another, so that's why the photo isn't great.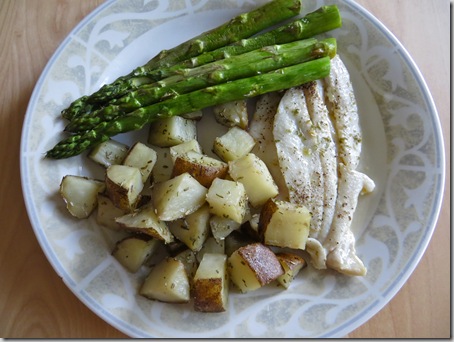 Dinner!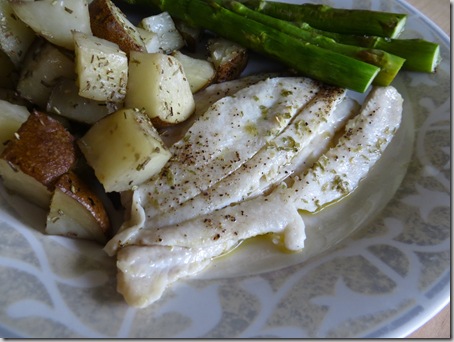 I now know why they call Dover sole a buttery fish.  It was so soft and buttery, there's no other way to describe it.  It literally melted in your mouth.  And yet it was so light.  I'm definitely a fan.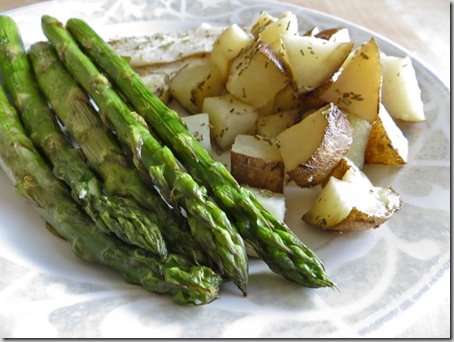 Kyle's iffy on asparagus, so I got to eat the heads off of his.  It's kinda funny because growing up, I was iffy on asparagus too, and my parents would eat the heads off of my spears.  Over time, my taste buds matured and I realized the tips are the most flavorful part!  Yum.  I gladly accepted his reject portion.  I'm just happy he's open minded about the specific veggies that aren't typically his thing.  Zucchini is still (and will forever be) a lost cause.
[FYI, asparagus does contain FODMAPs and the recommended "safe" serving is 2 spears.  I had more than that, but they were my only source of FODMAPs for the day.]
And now for dessert!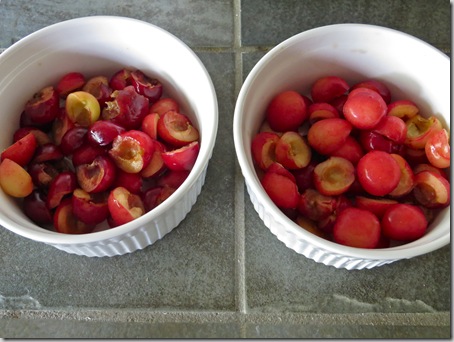 Guess where the cherries came from?  Our tree!
Kyle and I have been getting pretty clever resourceful in getting these babies down, but there are still SO MANY way up high and out of reach.  We'd need a professional machine of some sort to get them, which is a bummer.  Such a tease.  Anyway, I used the ones on the left, which I think was ~35 (the ones in the tupperware are the extras).
Two Cherry Crisps [vegan, gluten free, makes two 6" ramekin servings]
Fillings Ingredients:
30-40 cherries, halved & pitted
2 tbsp brown rice syrup (or maple syrup, agave, honey, etc.)
1/2 tsp lemon juice
Crisp Ingredients:
1 cup whole rolled oats
3 tbsp Earth Balance (or coconut oil)
2 tbsp brown rice syrup (or maple syrup, agave, honey, etc.)
(large) pinch salt
Directions:
Pre-heat oven to 375 degrees and spray 2 ramekins with nonstick (or grease with butter/oil).
Wash, halve, and pit the cherries.  Combine with brown rice syrup and lemon juice and then divide evenly between the ramekins.
In a separate bowl, make the crisp topping.  Cut the butter into the oats and salt, then mix in the syrup.  Don't over-stir, it doesn't have to be completely mixed, chunks of butter are fine.  We'll call it rustic.
Distribute the topping over each portion of cherries evenly.
Bake for ~25 minutes at 375 degrees F.  The top will get slightly bronzed depending on where it is in the oven, but you can broil for a minute at the end to get a really nice crust.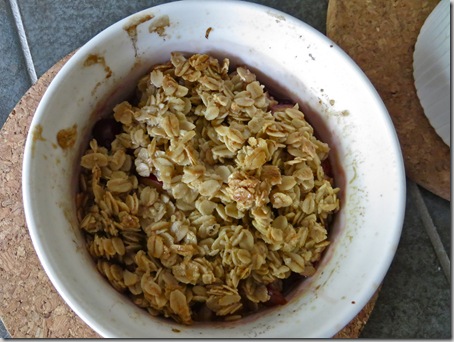 Bon appétit!
I had mine for breakfast the next day instead of dessert because cherries have FODMAPs and I'd already maxed mine out on the asparagus, but it's awesome whenever you decide to eat it.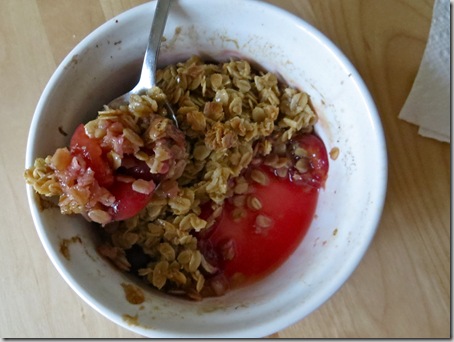 I recommend topping with coconut whipped crème or coconut ice cream.
Elise May 21, 2013 cherries, dessert, fish, potatoesrecipe Read more >