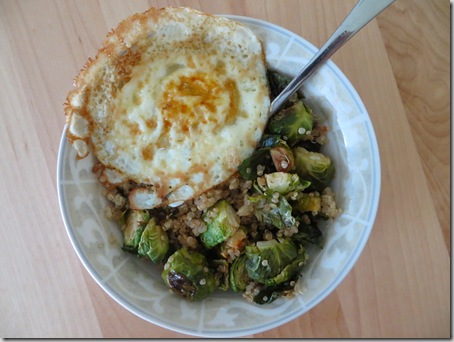 There's nothing I love more than being gifted food.  I'm a simple girl foodie.
Seriously.  To all the people reading this who plan on buying me presents in the future, take note.  [Crickets]
My mother in law actually traveled with Brussels sprouts in her luggage.  And then left them with me.
Ummm…I'm not sure who's the bigger weirdo in this scenario…her for bringing produce as a carry-on, or me for being over the moon about it…close call.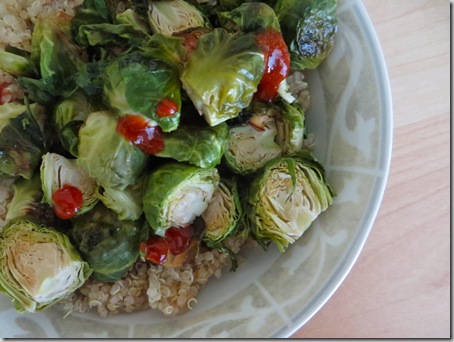 I think Brussels sprouts are delish.  I think people who don't like them (ahem, Kyle) are close-minded losers who have no clue what they're missing out on.  Fine by me.  I'll take your share.
Here's what I did with my stinky green present.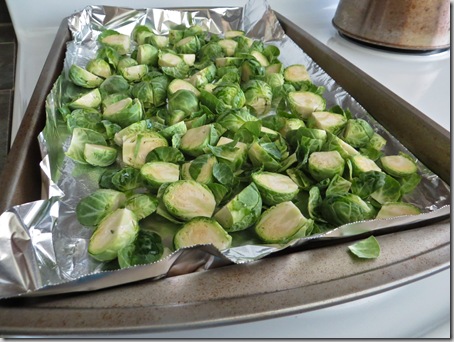 Tossed in EVOO and roasted.
Served over quinoa with tamari and a few dots of sriracha.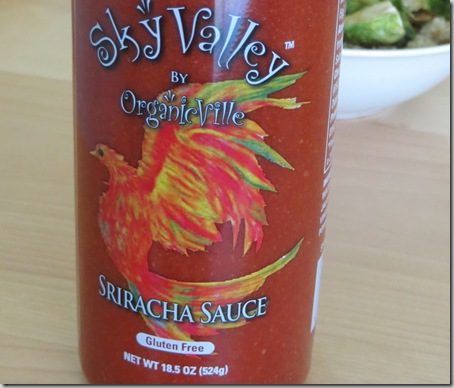 Have you seen this brand of sriracha?
I have only tried a few Organicville products before (mustard and ketchup) so I didn't really know what to expect, but it's good stuff.  My palate isn't refined enough to discern how it compares to the OG sriracha, but it's plenty spicy that's for sure.  I know TJ's has sriracha under their own label now too.  Anyone tried it?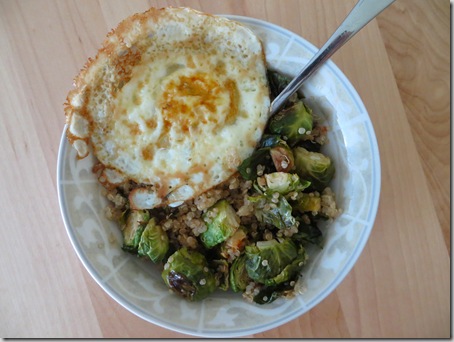 Just for kicks I topped the whole meal off with a fried egg.  Sorry to deny you yolk porn…I dug in quickly after taking the photo and never looked back.
So.  Good.
Elise May 25, 2013 brussels sprouts, eggs, quinoa, sriracha Read more >