Breakfast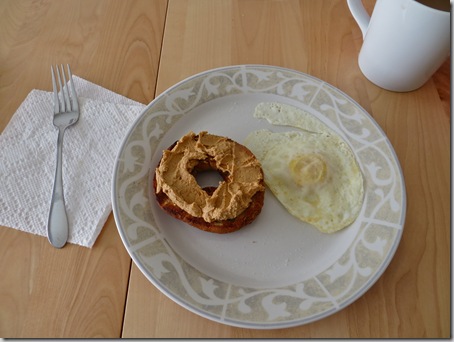 Udi's mighty bagel with organic peanut butter and a fried egg.  I had the second half of the bagel a couple hours later.  Also with PB PB.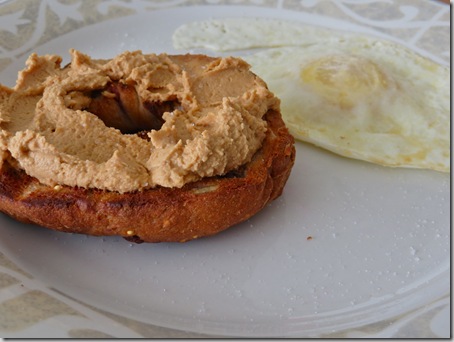 I'm seriously obsessed with these bagels.  They are so hearty and full of seeds and whole grains, you'd never know they are wheat and gluten free.  Definitely the best GF baked good I've tried so far.  What sets it apart though, is the fact that it actually tastes like a bagel.  Not eggy bread.  Not nutrient devoid buns.  Not cardboard crap.  Real ingredients!  I can SEE the stuff I recognize on the label.  Love this product.
Lunch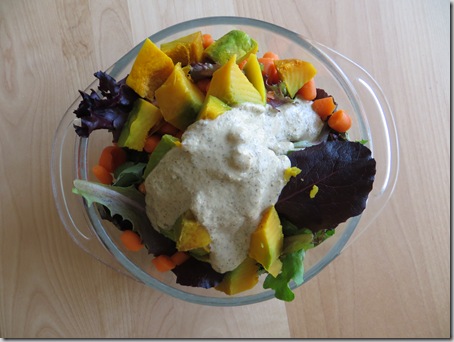 Basically this salad is all about the dressing.
If you haven't made my vegan, gluten free, FODMAPs friendly Caesar dressing you are missing out.
The rest of the bowl was packed with spring greens, carrots, and roasted kabocha squash.
Dinner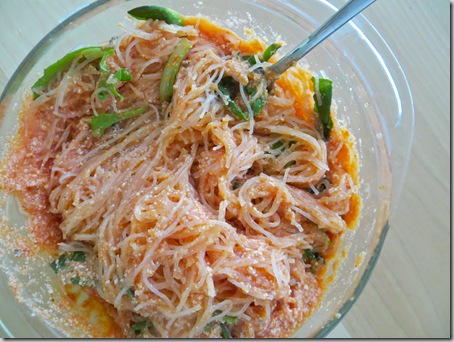 Rice noodles with creamy tofu marinara and spinach.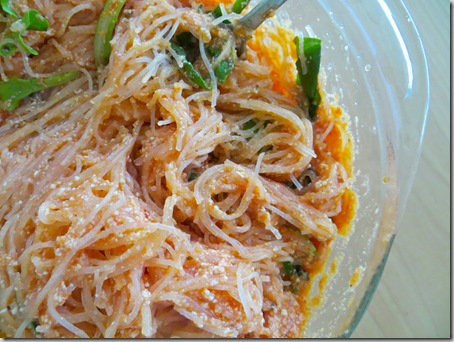 There's really not much to this recipe.  I usually protein-up tomato sauce with TVP but I decided to switch things up and blend in a box of silken tofu instead.  Kinda like a vegan vodka sauce of sorts.
Creamy Tofu Marinara [vegan, gluten free]
Ingredients:
2 cups marinara sauce
1 aseptic box silken tofu
1/2 cup nutritional yeast
salt & pepper (to taste)
Directions:
In a food processor or blender, pulse tofu and marinara until well mixed and tofu is pureed.  [For a creamier sauce, puree the tofu separately first.]
Add in nutritional yeast and pulse some more.  Salt as needed.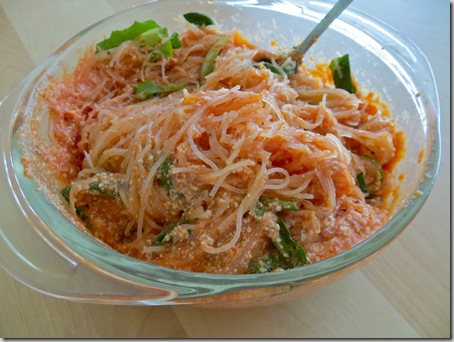 I used rice noodles because they're GF.  They cook in seconds so it's really easy to make mine first and then make Kyle's wheat noodles after without the addition of much cooking time.
I then add hot noodles to fresh spinach and let the spinach wilt into the cooked noodles.
Then top with tofu marinara sauce and serve.  [I added even more nooch on top.]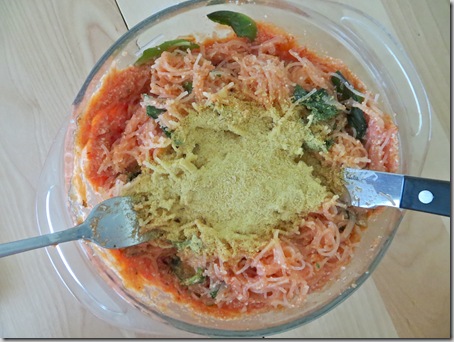 Snacks [no pics]
banana with sunflower butter
Mary's Gone crackers
Dessert [no pics]
decaf tea with almond milk
dark chocolate covered acai berries
So there you have it.  Low FODMAPs doesn't have to be boring or low carb or grain free.  It certainly can be.  But it doesn't have to be.  It can also be veg-centric.
Sometimes I push the boundaries a touch and sometimes I'm really strict (there are different styles that I tweak to fit my schedule).  I'm not on the elimination phase, so I just have to keep my overall FODMAPs load low.
The marinara sauce (with garlic) is something I rarely do.  For a more FODMAPs friendly version I just use canned tomatoes instead.
Squash is also a eat in moderation ingredient that some handle better than others.  Different squashes are tolerated better than others, so for a more FODMAPs friendly salad, exchange the squash for something else.