Summer salads are best served chilled with a cold beer am I right? 
Or wine if you're too fancy for B minus.  Or champagne if you're Heather Dubrow.  <— yep, I'm getting my Real Housewives fix on bravotv.com
For the record, I'm not hating on Mrs. Dubrow.  I happen to love the bubbly myself.  And even though she's nicknamed "fancy pants", I bet you she'd like this salad.  But I digress.  You're here for food not my take on D-list celebs.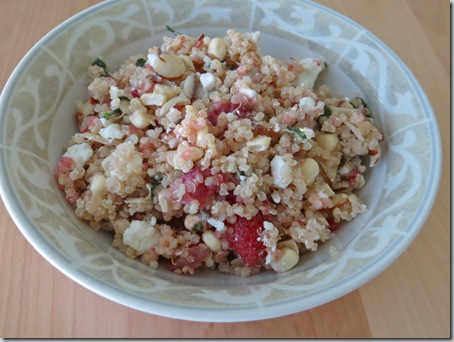 I don't know what the heck to call this dish since every ingredient shares in the spotlight equally.  How do I decide which is more worthy than the other?  Don't worry, these things don't keep me up at night, they just prove the fact that I'm never going to be a professional food blogger.  Cause we all thought that was happening… [sarcasm alert]
Creamy Strawberry Basil Quinoa Salad [vegetarian, FODMAPs friendly, gluten free]
Ingredients:
1 1/2 cups (uncooked) quinoa, cooked and cooled (I used my rice cooker)
1/3 cup vegan mayo (I used Nasoya whipped nayonaise)
1 large lime, juiced and zested (approx 2-3 tbsp lime juice)
1 small handful basil leaves, chopped (somewhere between roughly and finely chopped)
1/2 pint strawberries, sliced
2 ears of (raw) corn on the cob
1/2 cup slivered almonds
4 oz. goat cheese
1/2 tsp salt
Directions:
Cook quinoa in water and let it cool.  [If you're using a rice cooker, remember that a rice cooker cup is actually 3/4 cups, so use 2 of those cups and then fill the water to the indicated line for 2 cups.]
In a large serving bowl, combine lime juice, zest, mayo, and chopped basil. 
Add in strawberries and corn and mix.  Then add in quinoa and mix.  Next add in almonds and mix.  Finally top with goat cheese and salt.  Toss salad and serve.
This would be such a fabulous thing to bring to a summer picnic.  Or a 4th of July party.  It's filling enough as the main dish (which is how we had it), but could easily be a side dish if you want.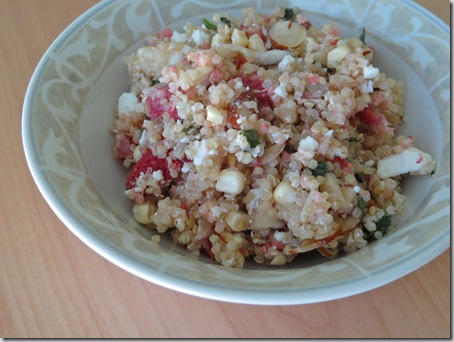 Notes:
This is a very flexible and forgiving recipe, so feel free to sub as you want based on what you have in the kitchen. 
No almonds?  Use pecans! 
No strawberries?  [sucks for you, but] Use peaches! 
No quinoa?  Use farro, millet, or couscous! 
Grilled corn will work too, but there's something so amazing about the fresh crispy crunch of raw corn. 
To make it vegan, just nix the goat cheese and add avocado instead.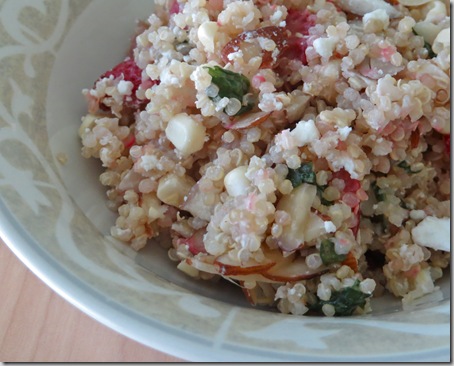 Now go get a beer.  Or whatever cocktail your heart desires.  A Moscow mule perhaps? 
Happy summer. 🙂