Alternative title for this post: the day I ate an entire avocado.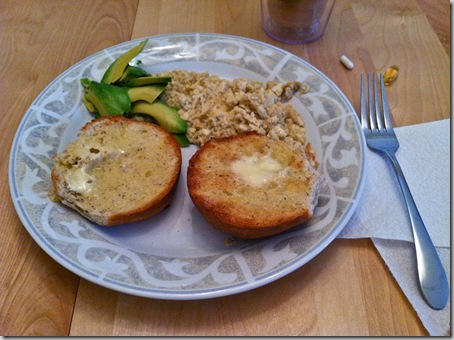 Oh look!  A non-egg breakfast! 
We were out of eggs, so the night before I made a vegan alternative. 
Just silken lite tofu, nutritional yeast, & Bragg's liquid aminos. [Lots of nooch]
Then in the morning all I had to do was add it to a hot pan (sprayed with non-stick) and wait for it to get warm and kinda crusty (I don't know a better word to describe it).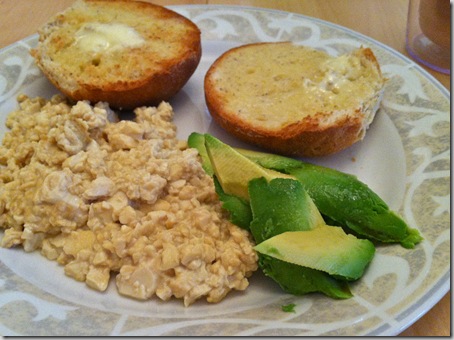 In all honesty, I usually use extra firm tofu in scrambles, but the silken tofu was easier to mash and really egg-like.  The more nutritional yeast the better. 
I added avocado to it, but I think tomatoes would have been a nice addition too.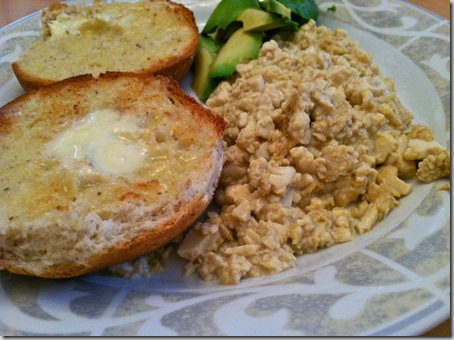 Oh, and that's (another) Udi's GF bun with Earth Balance. 
After breakfast, I went for a run.  A light jog is a more accurate description.  Whatever.  I wasn't overly hungry for lunch, so I waited until 1 and then made myself a salad with some things that needed to be used.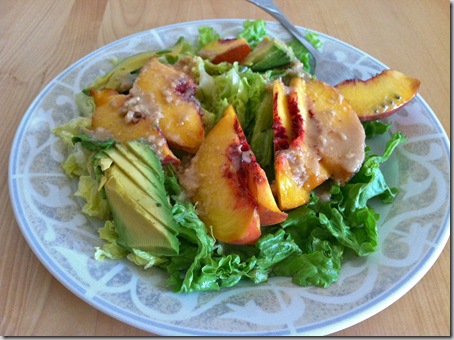 I had baby gem lettuce and kale, but I went with the baby gem.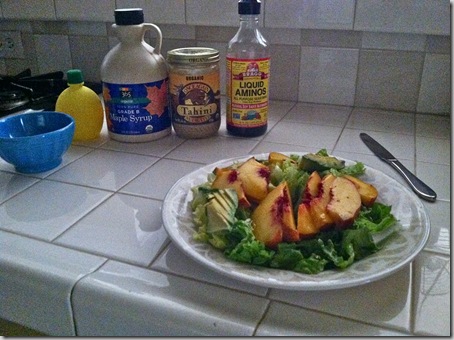 1 small head baby gem lettuce
1 peach
1/2 avocado
lemon tahini dressing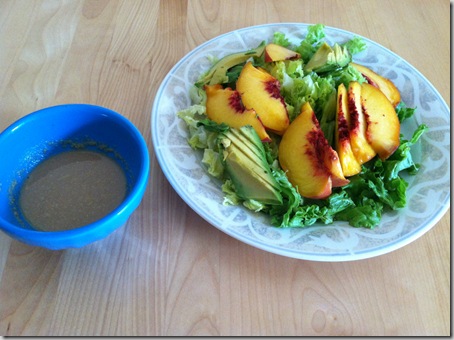 I know you're going to ask for the recipe for the lemon tahini dressing, but I didn't measure anything.  It was mostly tahini, and then equal(ish) portions of lemon juice, Bragg's aminos, maple syrup, and water.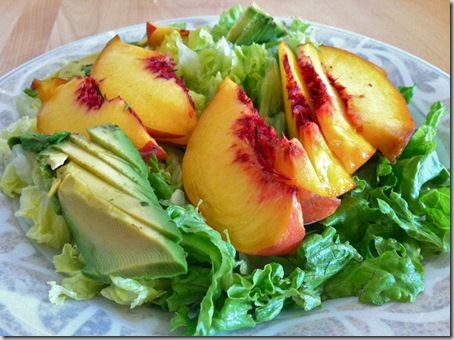 I just stirred it until it was semi-mixed, but a blender would have made it chunk-free.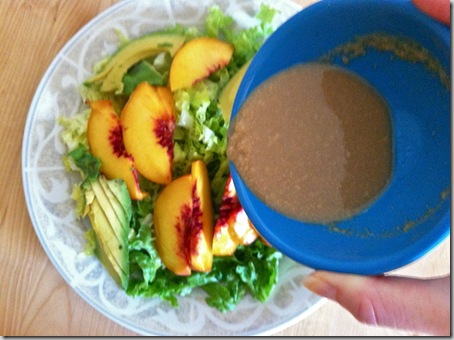 This was so light and perfect.  Sweet and savory and just…yum.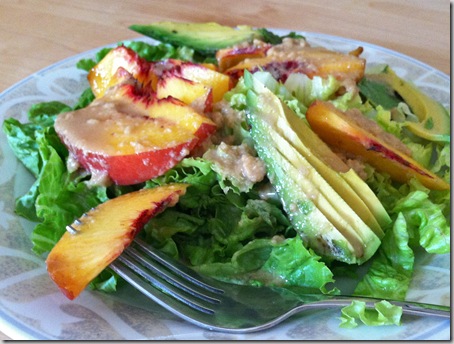 I don't think there's a single thing I would have changed about it.  Hit. The. Spot.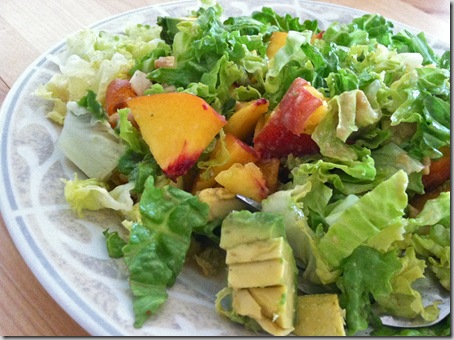 After lunch I dilly-dallied for a bit, called my mom, played online, etc. and then decided to make some zucchini bread.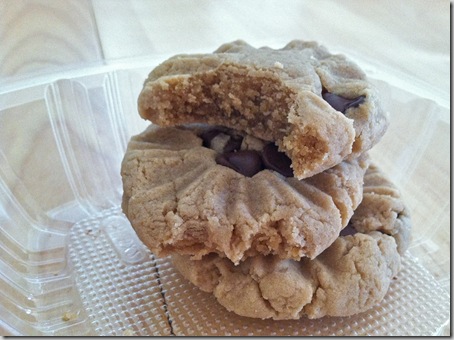 Oh wait, I had dessert first.  Let's call it an afternoon snack?  The last three cookies from the box of Livia's peanut butter chocolate chip cookies I got at the Brentwood Farmer's Market.  It's amazing they lasted for more than one serving.  I think I had them in three sittings – a miracle of self control on my part.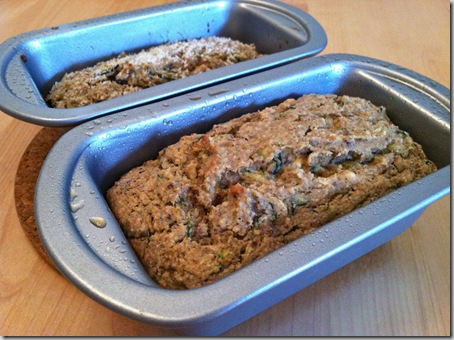 So anyway, this is the zucchini bread I made and I'll share the recipe at some point.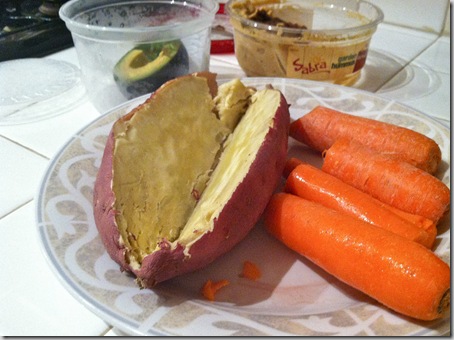 Look at those lovely B-carotene loaded blank canvases!!  For dinner I had a sweet potato and carrots with hummus and avocado.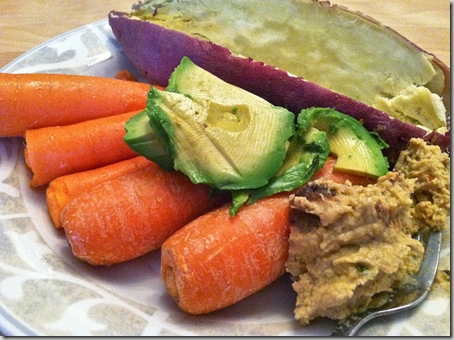 I went back for more carrots and hummus, but the avocado was all gone.  🙁
Last but not least, my dessert.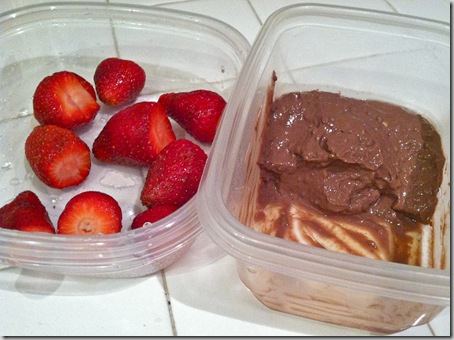 I finished off the perfect puddin' and the farmer's market strawberries.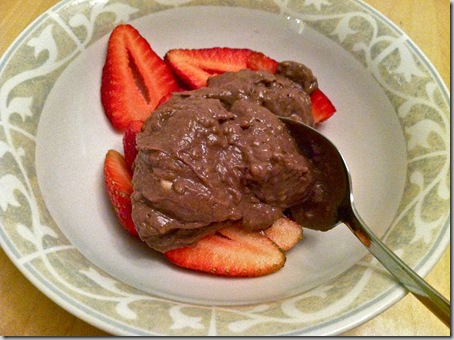 Happy GFV day! 
It wasn't on purpose (not that I am not mindful of my choices).  I'm used to eating a lot of vegan food, obviously.  And I'm definitely trying to limit the wheat in my diet.  But until I uploaded all these photos, I had no idea I was entirely gluten free and vegan all day long.  Win!