Well guys.  I caved.  Apparently it takes just two weeks of solo parenting for you to give up on financial self control.  I went to farmer's market last night and my friends literally coerced me into ordering the instant pot on the spot.  Had I not forgotten my phone I'm sure I would have done it then and there, but I promised them (practically signed with my blood!) that I'd text them a photo of my order that night.  So I did it.  I talked to Kyle on his layover in Heathrow and he told me to definitely go for it.  And now I have all kinds of weird emotions about it.  A little bit of buyer's remorse, but at the same time, I know for sure I'll use it because HELLO I have a food blog and I love food and recipes and no kitchen gadget will go unused under my watch, but you know me and spending money…blah.  I think I just feel weird because I haven't had my partner around for so long that my exhaustion is just manifesting itself in a bunch of different ways.  Anyway, to spare you from a full therapy session, I will quickly change the subject to my breakfasts.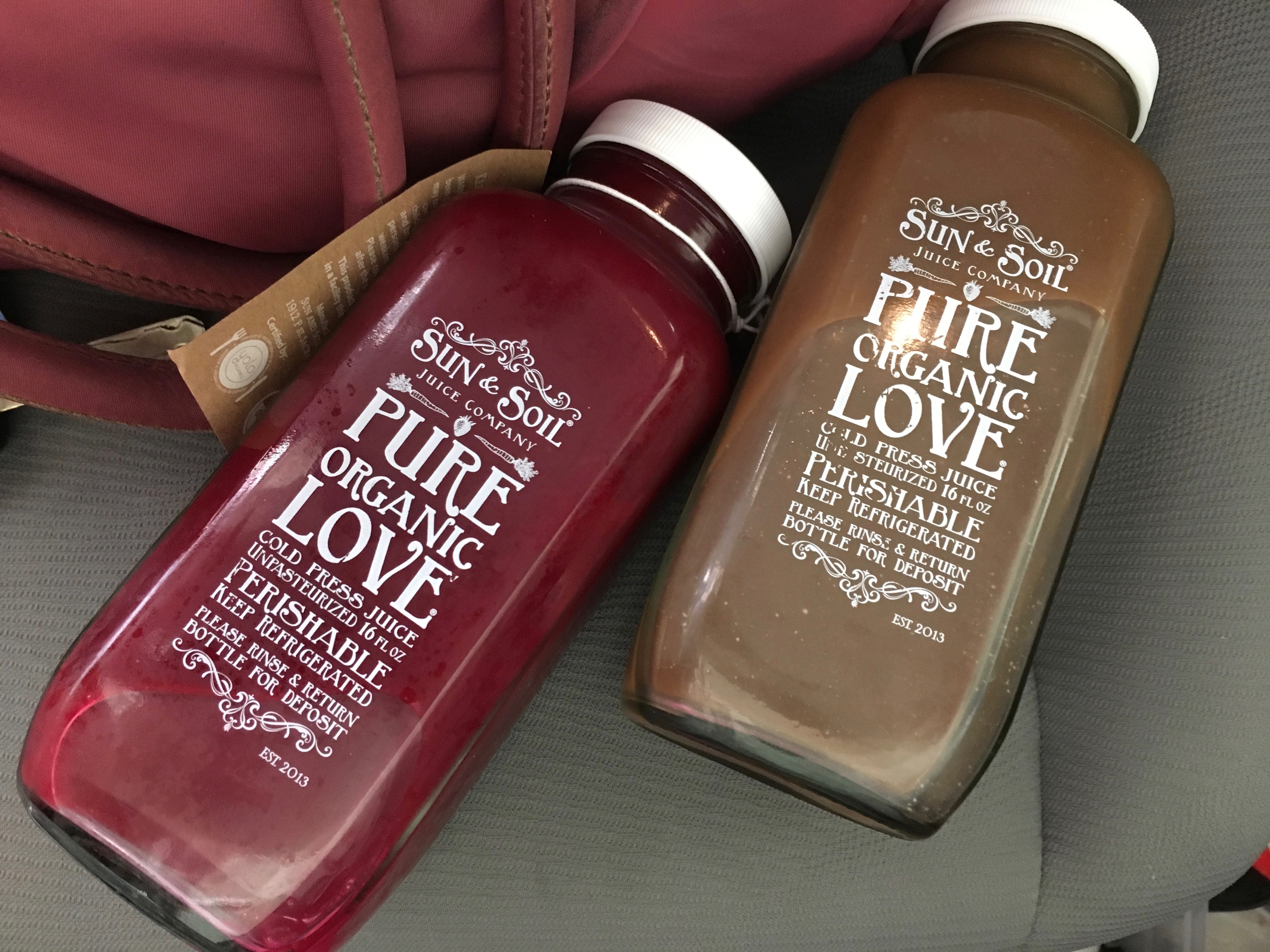 I had coffee before and after stroller strides.  The chilled one was home-made I just reused the sun and soil bottle.  The other juice is beauty and the beet (a beet, carrot, ginger, greens combo).
We had music class and then I raced over to get P from school and brought along their lunches.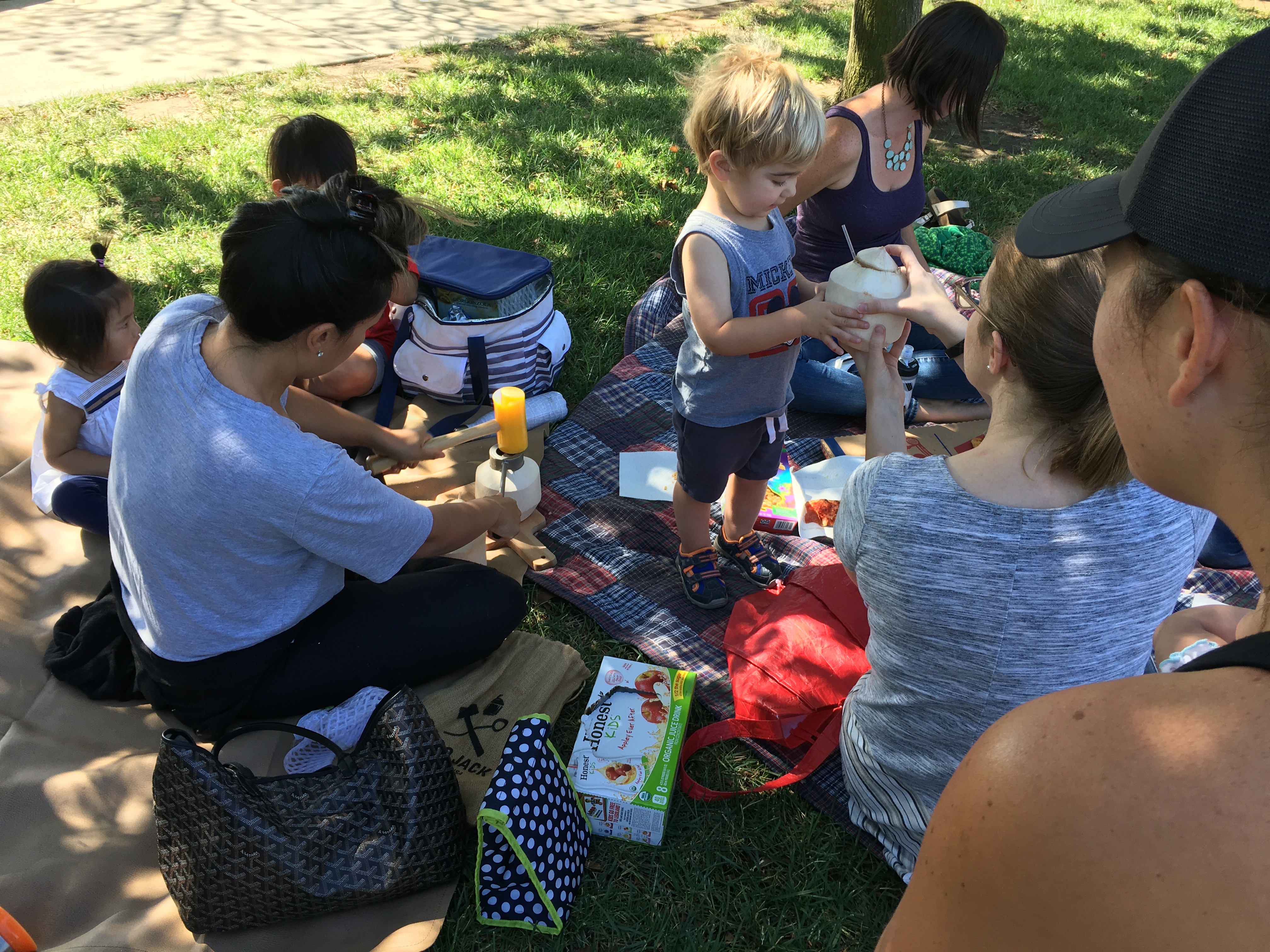 Every Wednesday is a picnic on the lawn at school after they get out.  People pack their own (nut free) lunches to bring and the moms and kids all socialize.  It took me a month and half to get my act together and pack lunches the night before, but we finally got to picnic with everyone.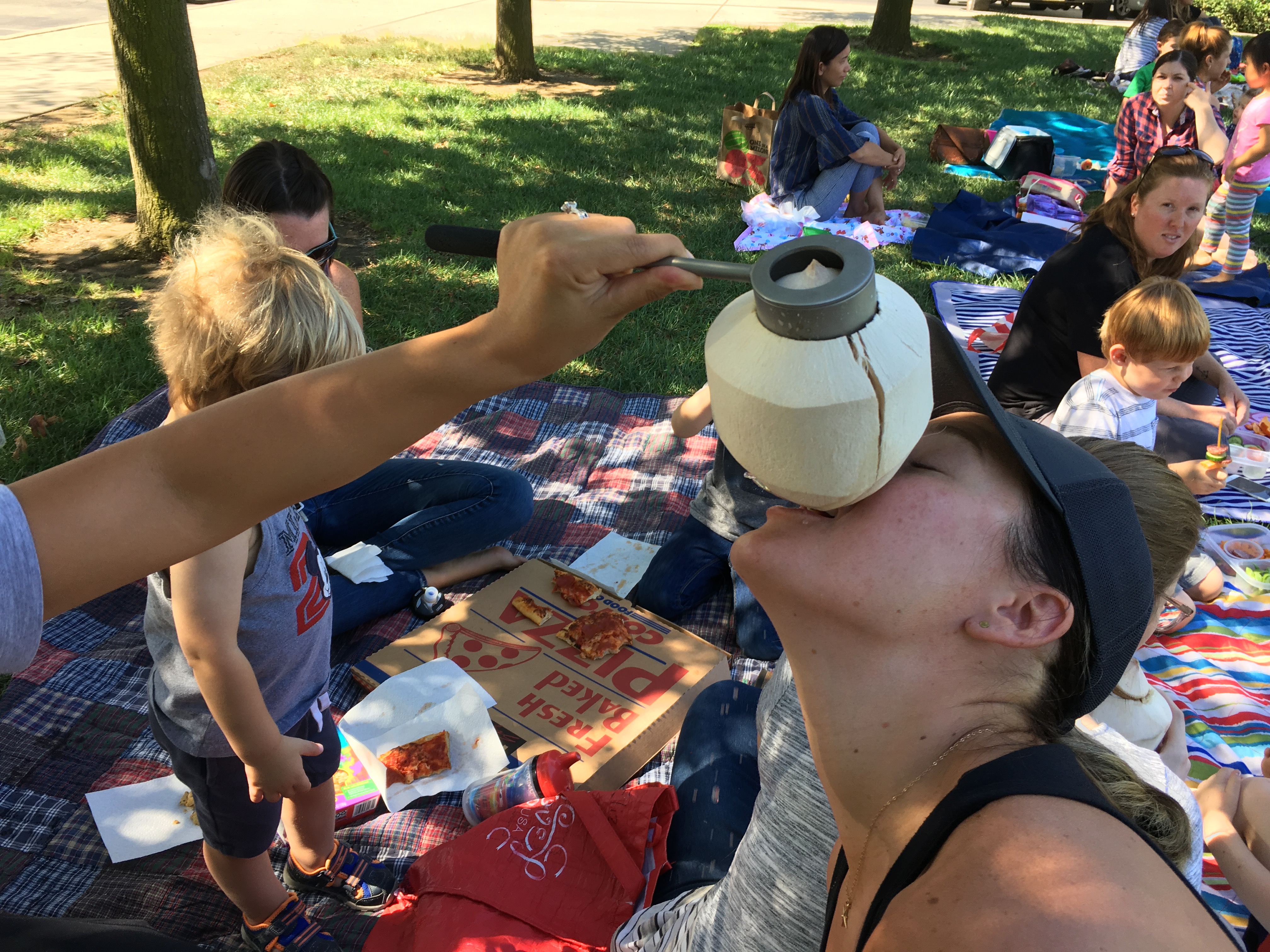 One of my friends brought a bunch of coconuts and cracked them all open for us to have fresh coconut water (and then I ate the meat off the top).
Anyway, it was super fun and I'm going to try to do it with more regularity because both kids love it and I definitely enjoyed hanging out with my fellow mamas.  All five preschool classes do it (the 3s and the 4s) and it just further builds the community that is already so strong.  But man oh man, I wish I didn't have so many things already on Wednesday mornings because it's non-stop from the second I drop him off at school.  Maybe the instant pot will help me when I realize last minute on Tuesday night that I need something to pack for lunches and everything is frozen.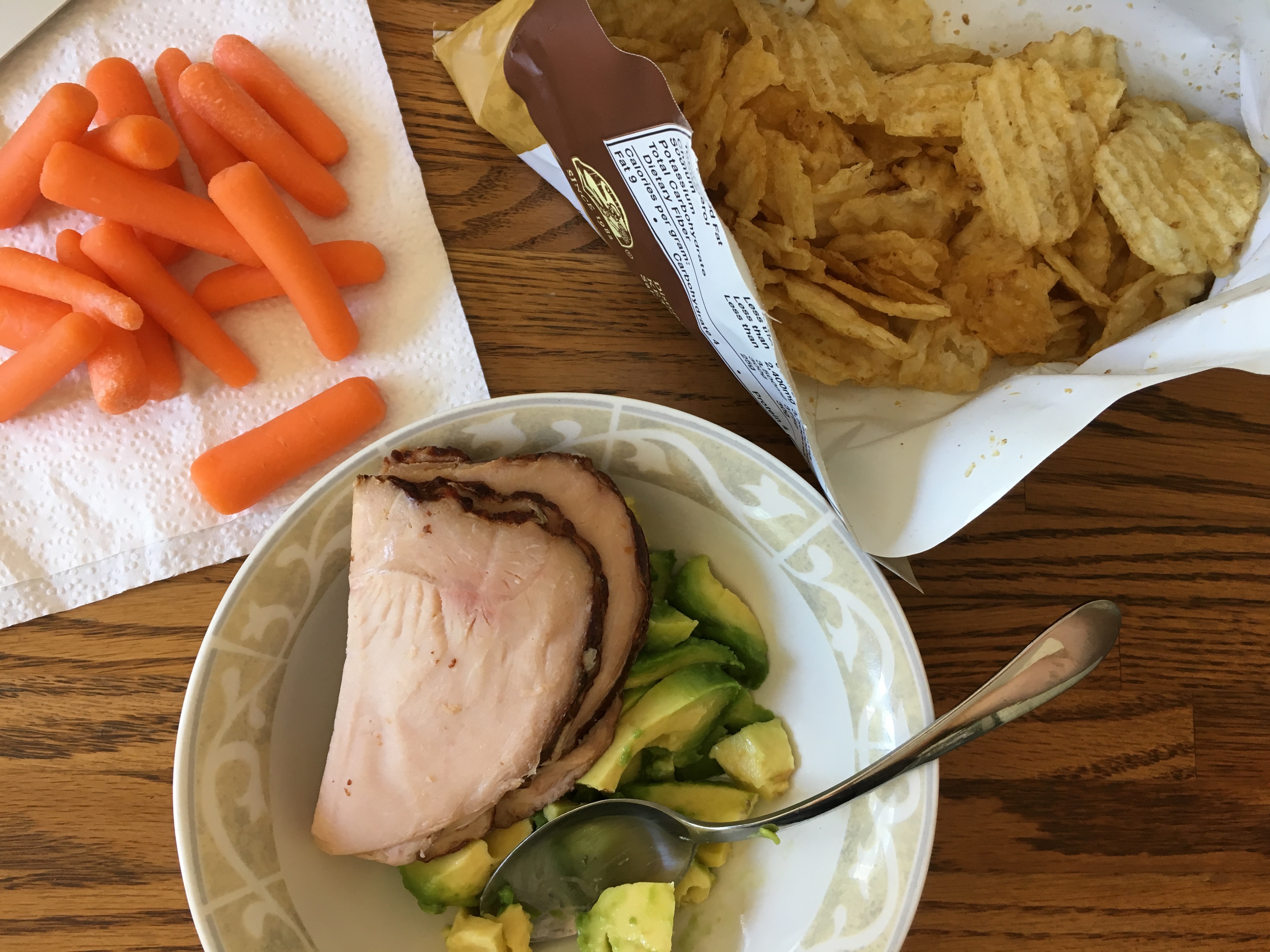 I had food when I got home.  Finished off those chips right thurrrr.
And those are the only pics I have for the day because I left my phone at home when I went to market.  It was SO FUN.  I love when the weather is good, our friends are there, the kids dance their hearts out, and – the coolest part of all right now – we can buy food for us all!  I didn't pack anything for the kids and they chose what they wanted and it was all safe and good and they happily ate every bite. V got pizza (and took down the entire massive slice), P got a hot dog (ate the dog first and then the bun second) and I got a spring salad with tri tip (it had bleu cheese which I thought I didn't like, but maybe I do???) and it was really really good!  I helped the kids eat first and ate my food after they were done and off dancing.  That's also when the instant pot harassment went down.  Oy.  My friends really do love me.
Breakfast winner. The recipe is here.
With cashew butter.
You can see how much I ate the day before too.  My goal is to make the whole thing last four servings. I have to actively stop myself though, or it would be 1-2 servings.  It's so gooooood.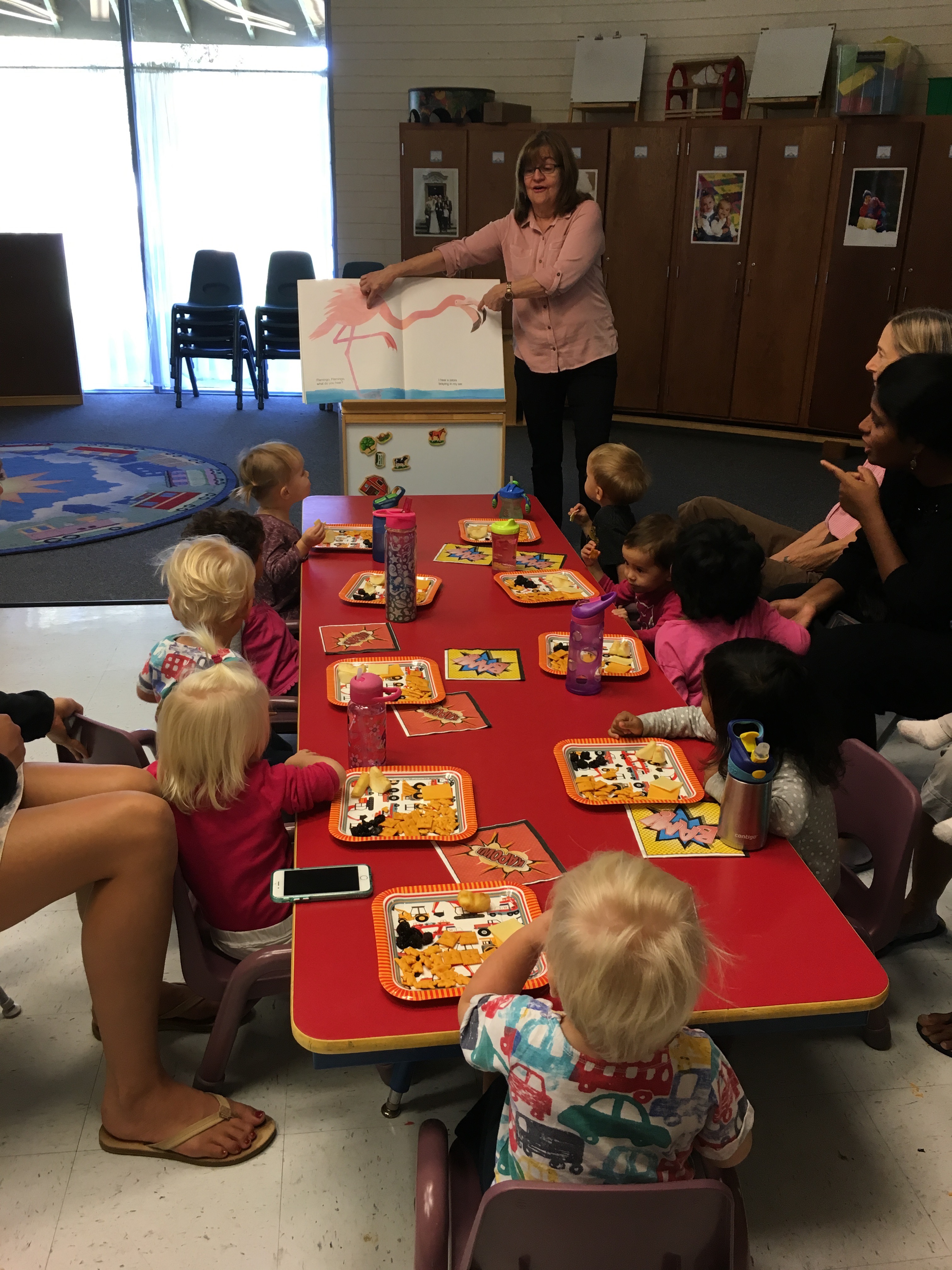 This snack break at "school" combined two of Valley's favorite things, reading books and eating (at the same time!!!).  She was pretty happy with that.  Followed by circle time and then outside play.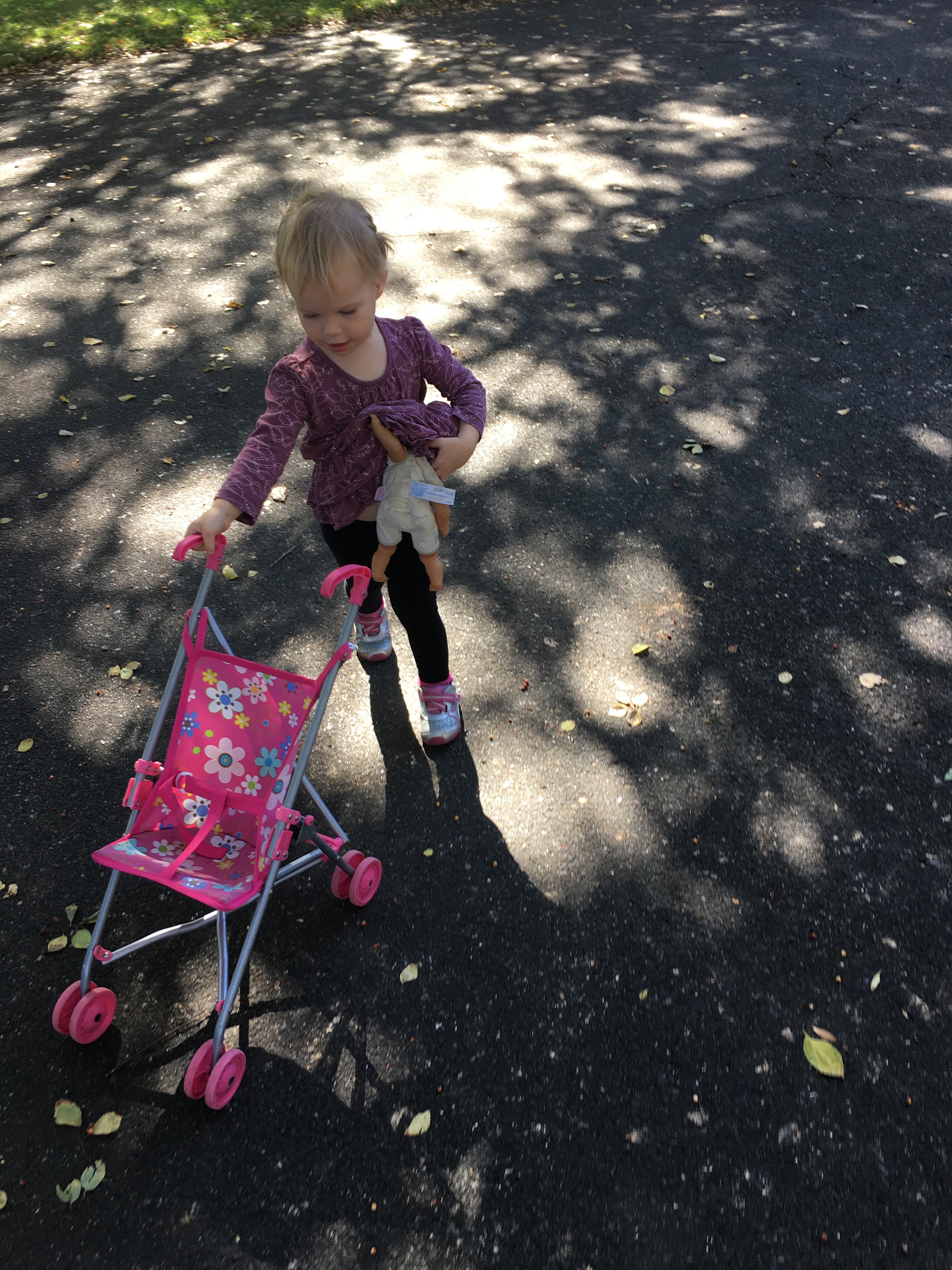 Where she always races to get a stroller and baby doll.  This time she nursed her doll on the go. Multi-tasking a little young, but whatever. 😉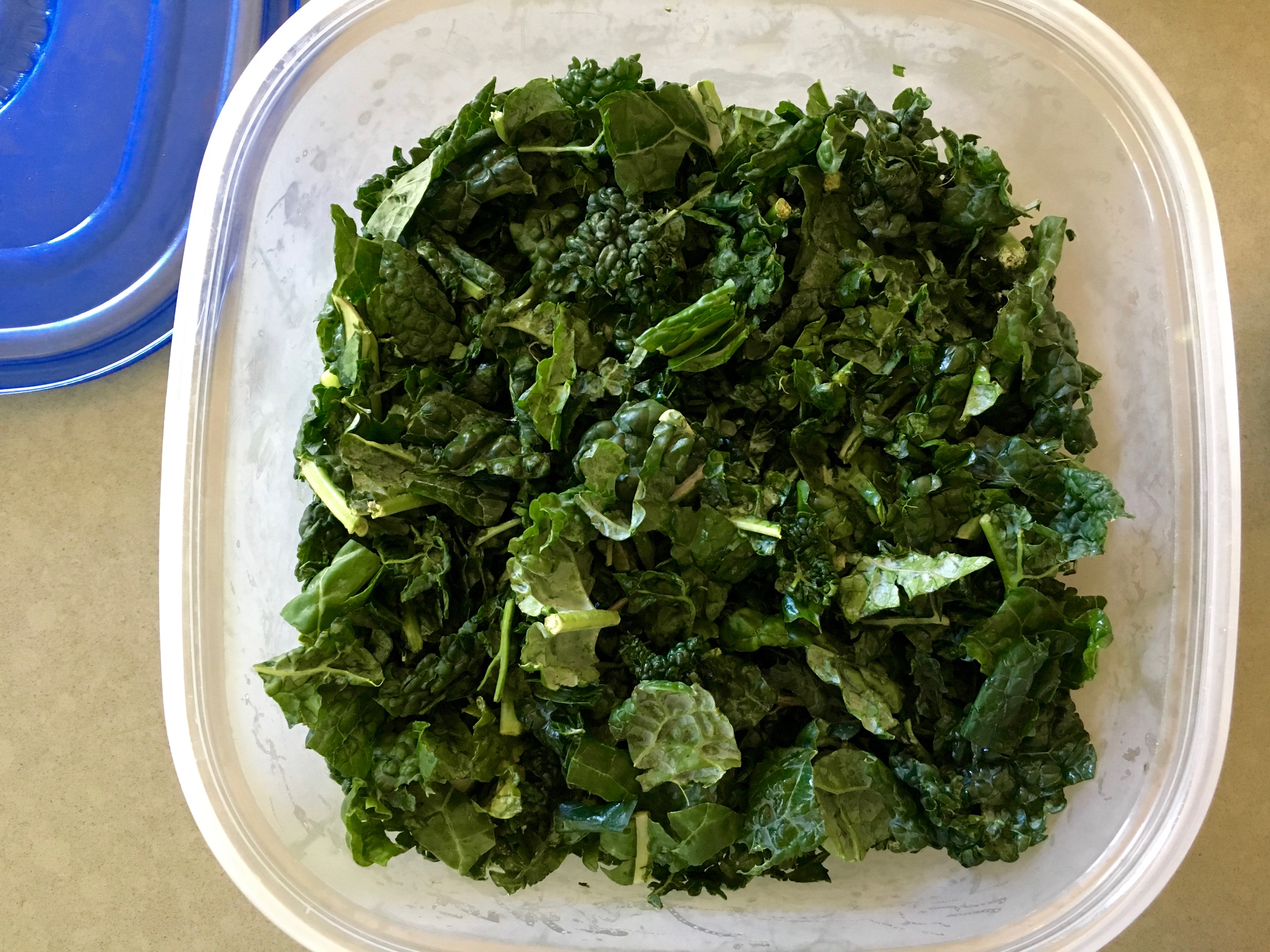 I had massaged this huuuuge amount of kale the night before, so I was all ready to make a salad with it after the kids were done with their lunches.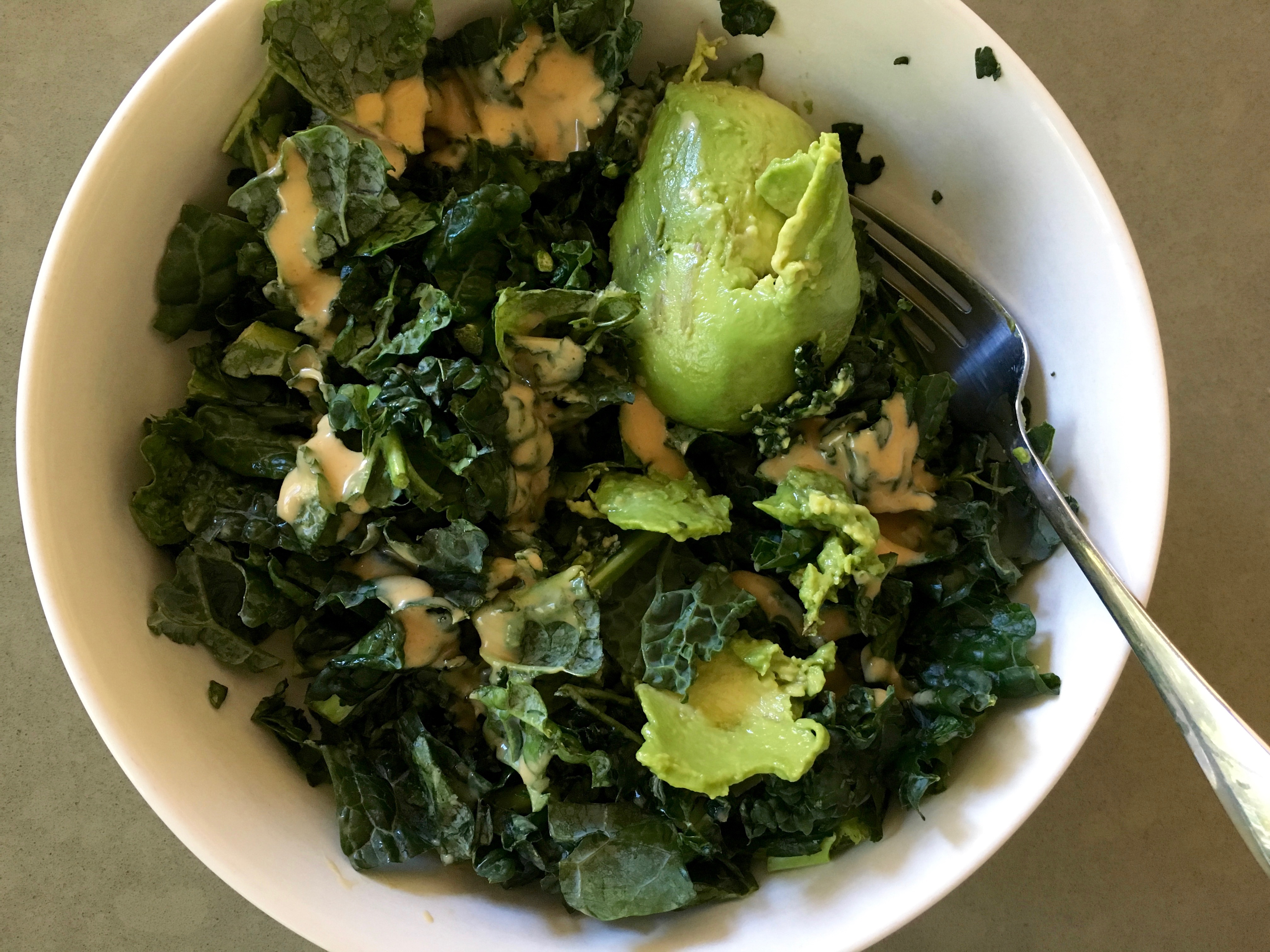 Our fridge is really quite barren at the moment but I went pretty simple anyway.  I didn't feel like nuts so much, so stuck to miso dressing, avocado, and carrots on the side.
I was definitely hungry by the time we got to my parents' place later that evening.  We left for the East Bay straight from Pacman's soccer practice and hit lots of traffic on the way.  Yuck. Normally it wouldn't matter if we were late going to their house, but I had a 6:30 book signing in Oakland to get to.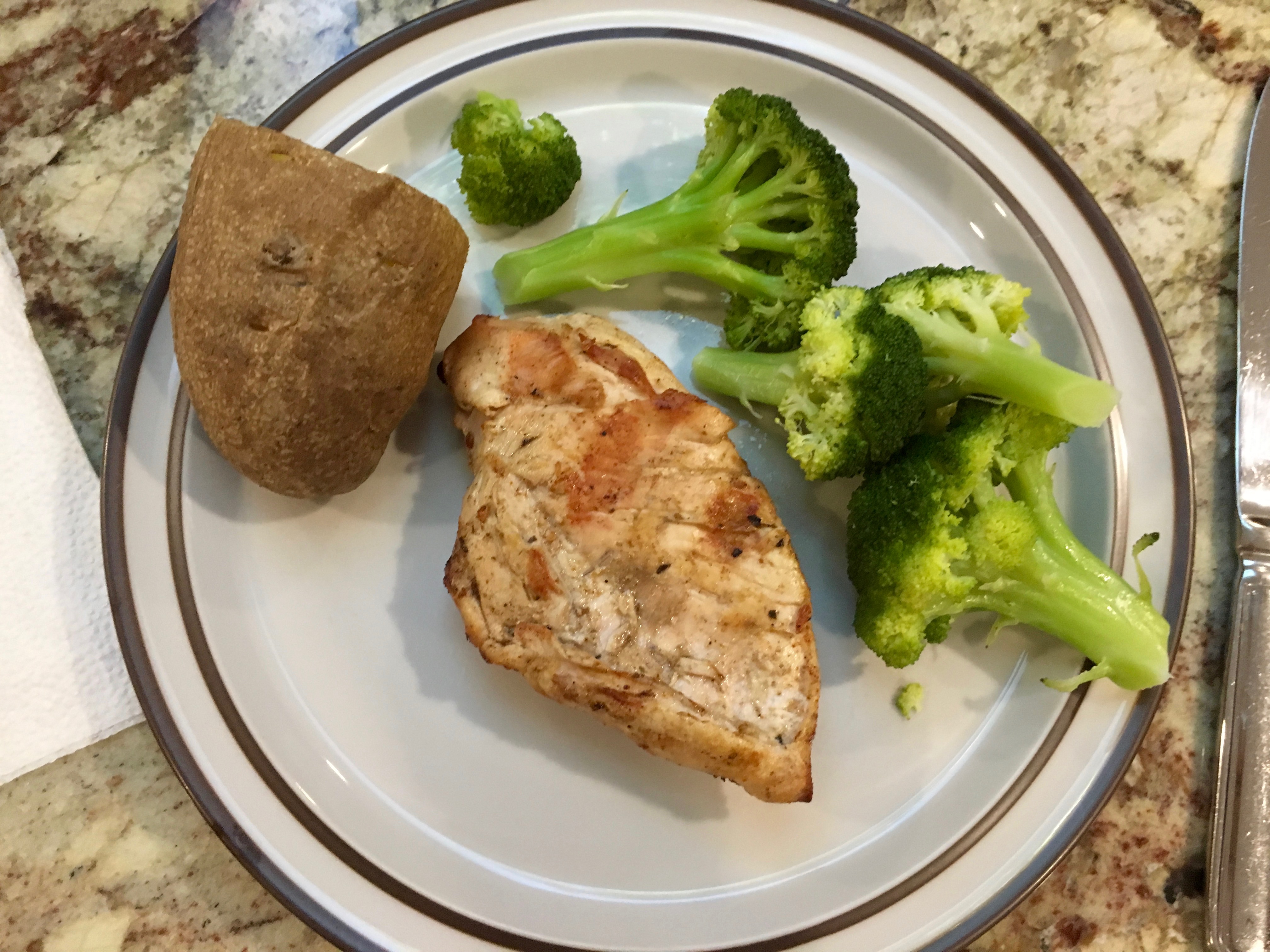 My parents had dinner all ready for me so I could skedaddle out the door asap.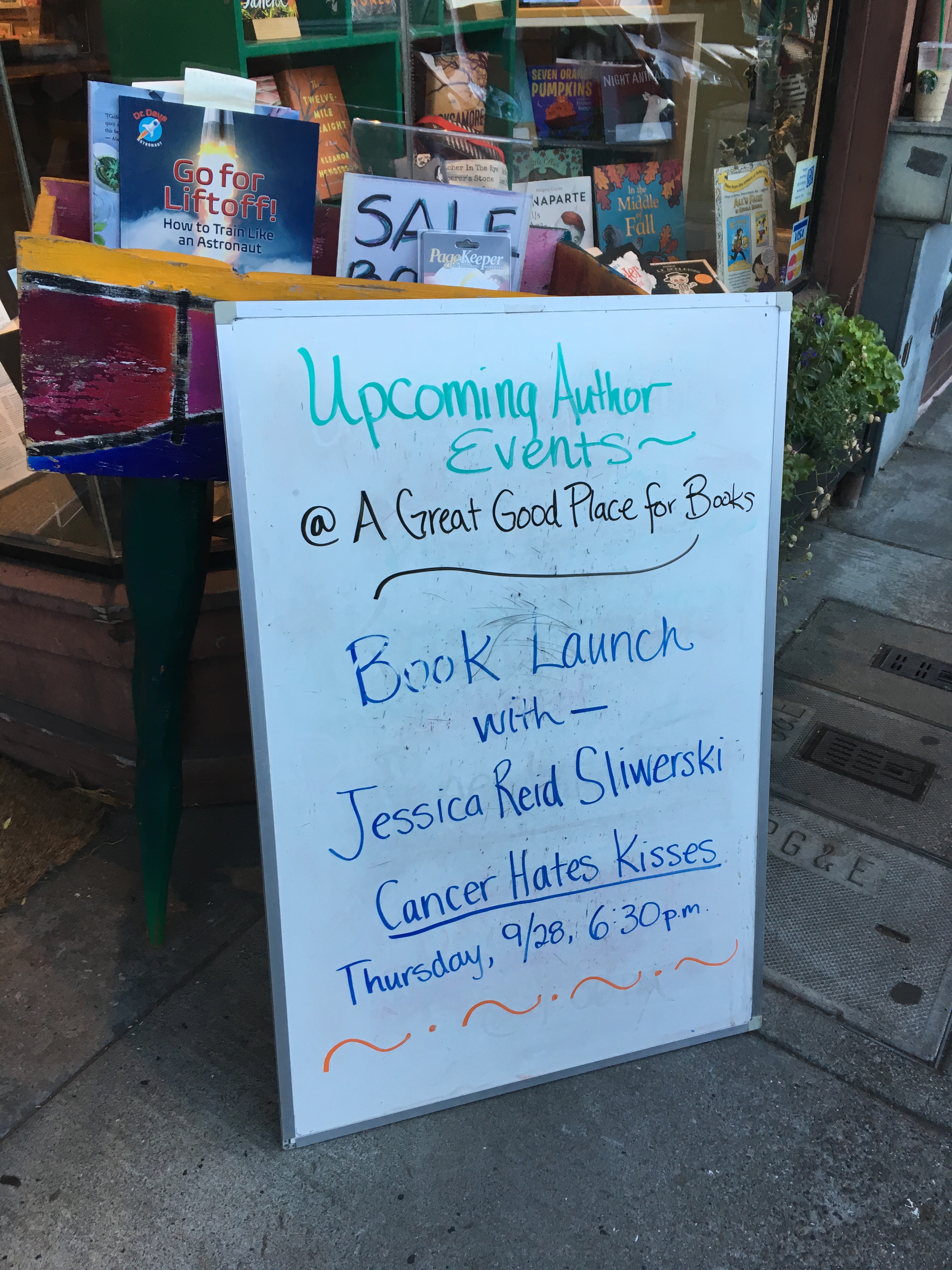 My bestie is an author 🙂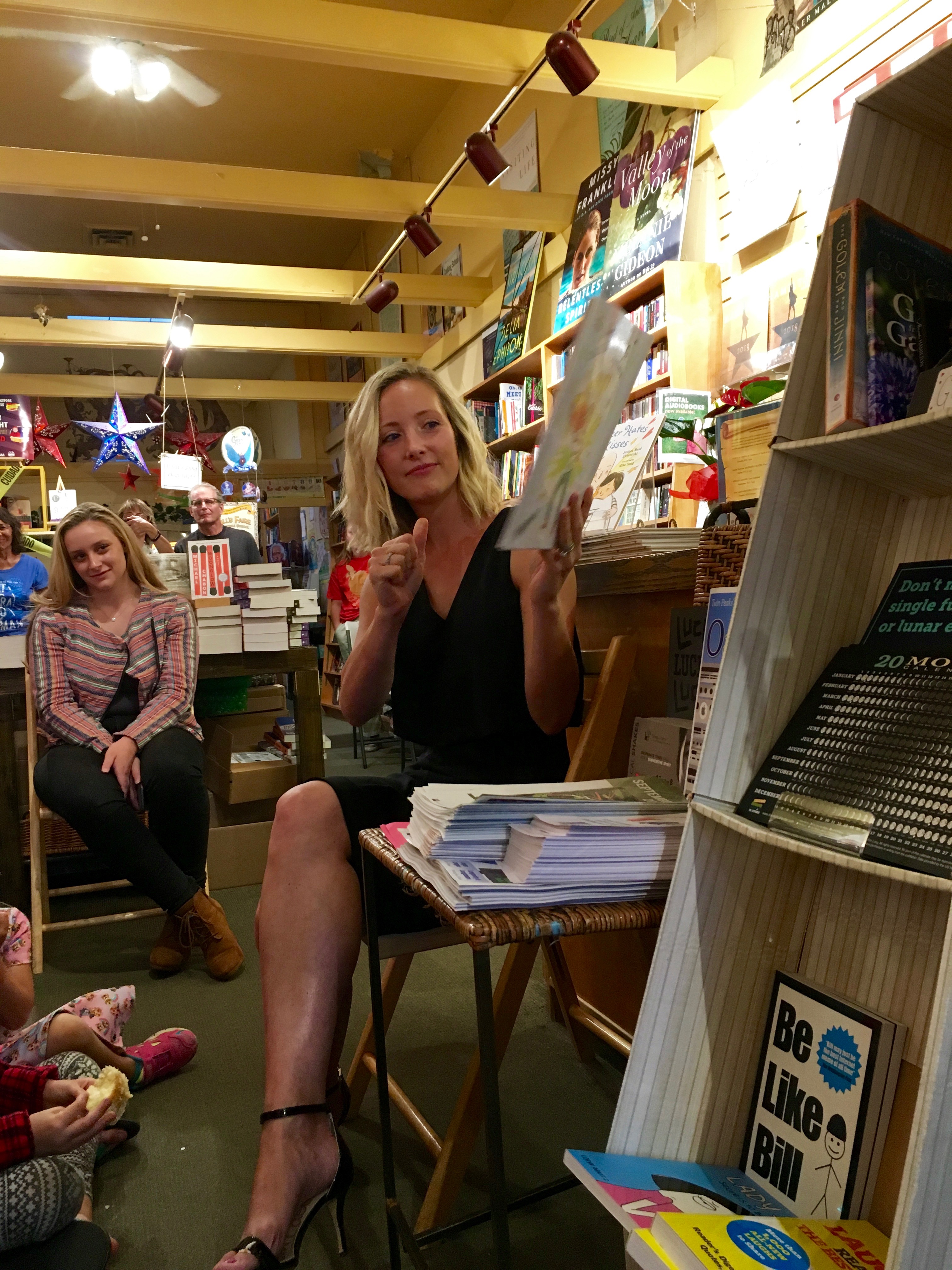 Remember how I visited her a few times last year?  It was a post chemo celebration for her.  And now she has written a children's book to make something positive come out of her sh!tty experience. She is amazing.  And a good reminder to keep from throwing in the towel on life.  Because crap happens, and you can respond with a brave and fierce attitude (much like V and her broken leg) or you can throw a pity party.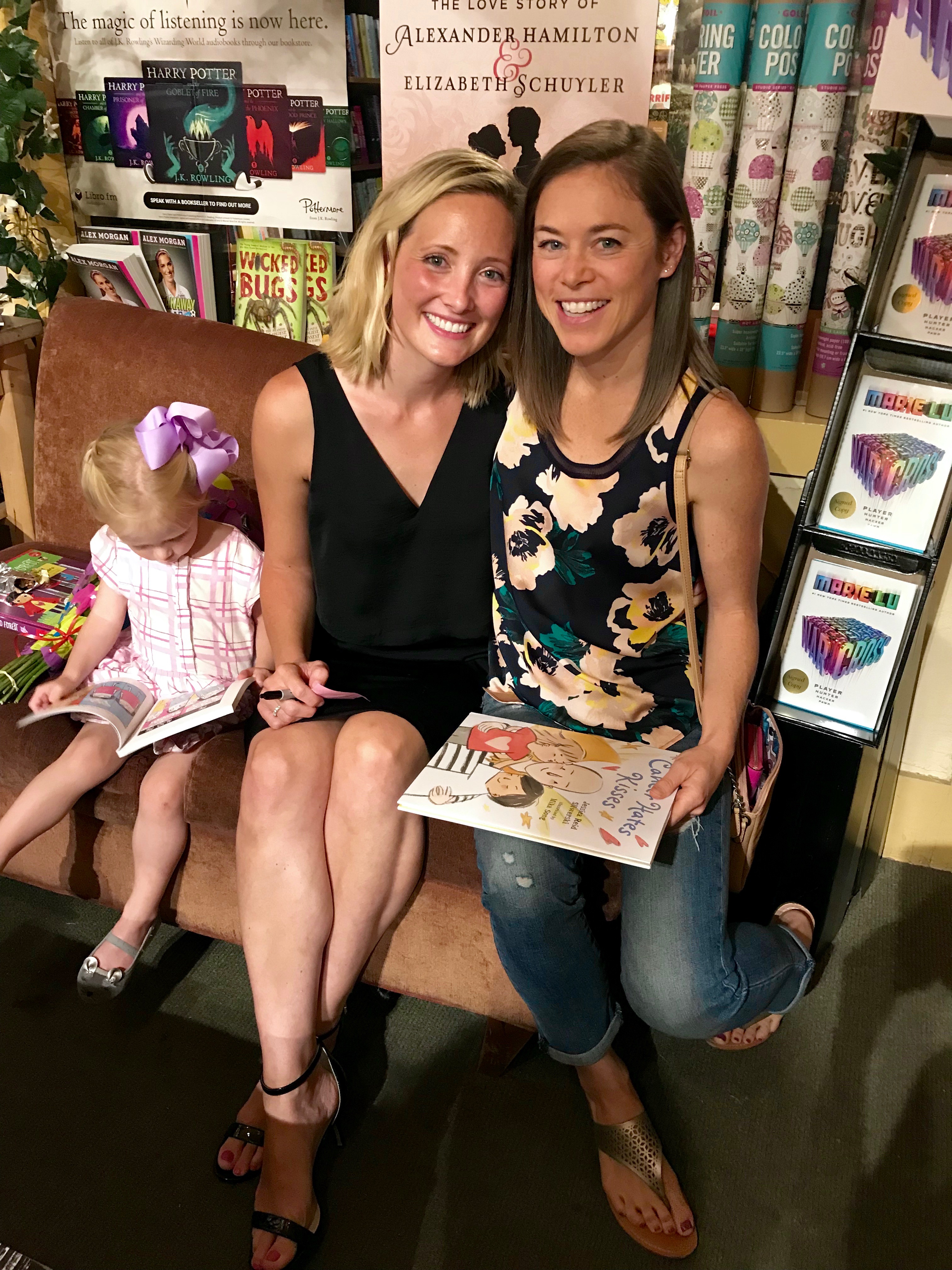 I came home after and ate chocolate covered cashews while watching the Packers. AND GUESS WHAT!?!  My husband is back!!!  Hooray!  Now P and I are back in Fremont for OIT after 3 weeks off.  So happy our family is reunited.  Happy weekend everyone.