Monday Monday Monday.
In nursing, there isn't really the same stigma for the various days of the week because every day is (potentially) a work day. Fridays don't mean the next two days are off. Wednesdays aren't a half way mark. And Mondays aren't the first day back after a break. So why do Mondays still have that baggage for me? Probably because spending the weekends with both my boys are so awesome. And I hate that it has to end.
I also usually do grocery shopping on Mondays and I truly have come to despise grocery shopping.
This Monday I did laundry, vacuumed the house, prepped food for the week, went on a walk, and studied acute care nursing. <— my brain has been taken over by Elmo's world and I need to get my mind back into the world of ABGs and vent settings
It was also P's 4 month doctor's appointment.
And because of all that, I didn't have time to blog about any of these yummy eats…until now (let's pretend four days didn't pass between now and then, okay?).
Breakfasts.
Overnight oats with the usual suspects…and a fun new ingredient too.
Oats, chia seeds, hemp seeds, goji berries, almonds, almond milk…and Reginald's hazelnut amaretto peanut butter.
The amaretto flavor is STRONG. I wasn't super into it as a part of the oats, but I think it'll be really good in a baked good. Yes yes yes. That's the plan.
Udi's GF bread (omega flax & fiber) with almond butter (fresh grind from the Co-op) and a fried egg.
This bread is way heartier than their white bread. Similar to the mighty bagel it tastes like a wholesome real food.
L: overnight oats again. R: Van's GF waffles with almond butter and banana slices.
Lunches.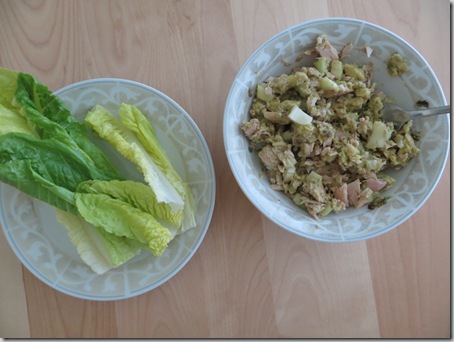 Lettuce wraps with avocado tuna salad.
All I did was mash 1/2 an avocado + 1 can of tuna + 1 sliced celery stalk + salt + pepper.
And since my face wasn't satisfied with lettuce alone, I took down a huge amount of tortilla chips as well. I've been really good about minimizing the sugar in my life, but salt is apparently just as sneaky of a beast. Once I start…oof…game on.
These veggie "chips" are another example of how moderation is not my bag.
I bought a ton from the bulk bin at Nugget market and ate them all in two servings. They're a perfect snack plate addition; when eaten in normal portions. Eggs, strawberries, carrots and leftover shrimp have been other snack time regulars.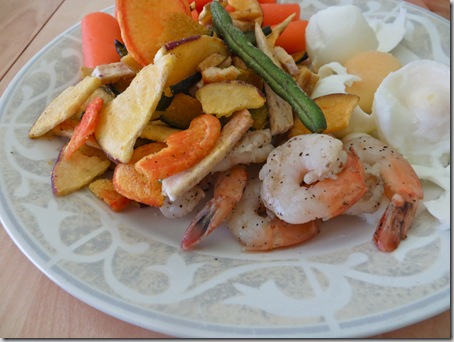 Dinners.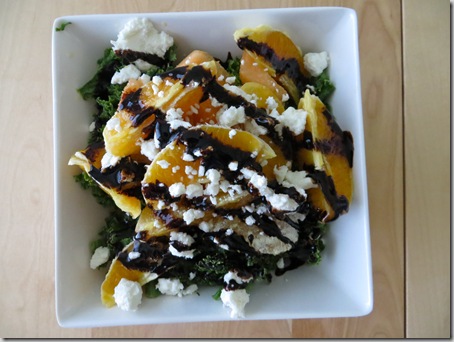 A repeat of the Fruit & Goat Cheese salad I shared previously.
Only this one had oranges (from the neighbor's tree) and kale. Citrus and kale worked my taste buds like whoa. Plus it's total superfood business. I felt like a grown up eating it, which basically cancels out my veggie chip binges.
I massaged the shiz outta this lettuce. It's better on my gut when I steam it first (and don't eat very much at once), but I was lazy. Massaging it a few times does help break things down pretty well though.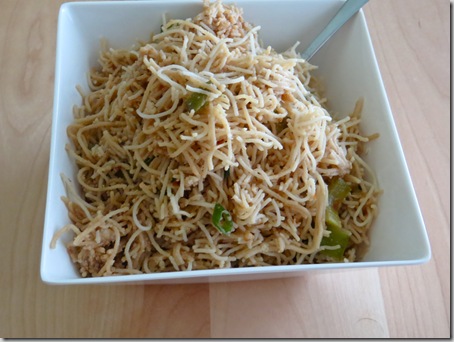 Bon Appétit noodles tweaked like so.
Desserts.
Chocolate. Duh.