It rained over night and was expected to rain throughout much of Thursday so we planned to visit the aquarium this day.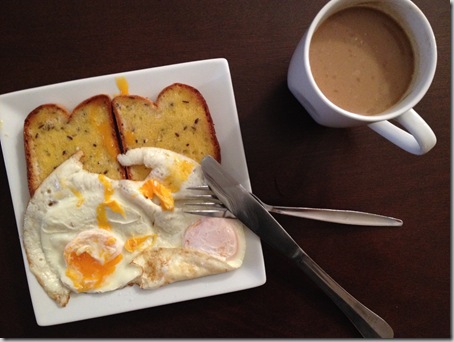 Our morning routine was the same.  I took a quickie run after nursing P, going up the steps towards Elizabeth Bay (that we went up the previous morning) and then back home.  It was like doing the stairs in Santa Monica.  Then I made the three of us food – eggs all around.  P napped for his usual 2 hours while I journaled and once he woke up we figured out the best means of transportation to get us to the CBD.  We ended up taking the train in and grabbing lunch at a burger spot called Grill'd in the same area as Din Tai Fung.  Lots of power lunching going on.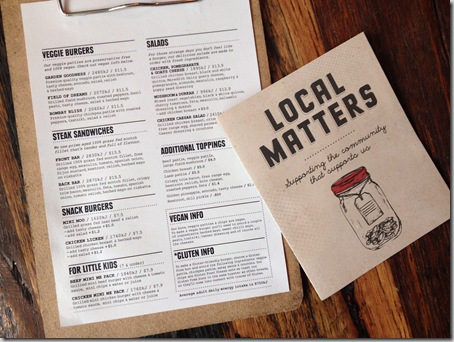 Similar to Moo Burger, this place focused on quality ingredients with a range of burger options.
Kyle got the Steak Sandwich (above) and I got the Simon Says (below).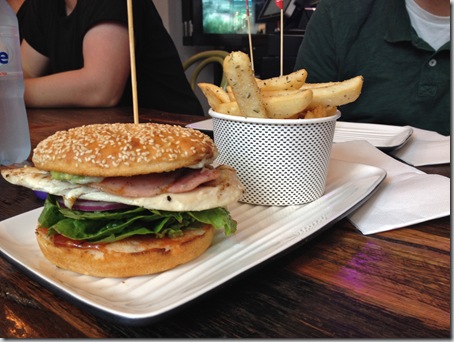 P had puffs and pouches (banana coconut prune – watch out!). 
My gluten free bun had sesame so I'm not sure avoiding wheat was even worthwhile in terms of Patricks allergens.  I was fairly lax on vacation – even though I always try to avoid nuts, I was still eating bits of soy and wheat here are there – and we definitely started to see an increase in his overall eczema with dry red splotchy skin around his neck as a result.  I really wanted to just enjoy the vacation and eat what I craved and not give ordering a second thought, but that's not very practical given our situation.  That said, I didn't want to spend years over-analyzing every single menu item either.  I tried to find the happy medium, but I think P had some skin flares as a result, which made me feel kinda guilty.  I just kept telling myself that I'd get back to my allergen free eating again post-vacation and in the meantime I should try to enjoy the local cuisine.  I didn't want  to be "that American" (with all the foods I was eliminating) and yet I didn't want P or my GI tract to suffer.  It's a tough balancing act.  Incidentally, my gut was virtually symptom free in Oz (except for two acute moments) which is just insane considering how much foreign stuff I'd been eating.  Definitely a noticeable change from my usually picky stomach.  I wish I knew why it was so happy in Sydney!!
Anyway, we also split herbed fries and aioli.  The fries were way good.  Packed with salt and rosemary.  Mmmm, salt.  The burger was good but since we had Moo Burger to compare it to, I'd say it wasn't quite as impressive.  The difference was that at Grill'd the toppings for the burger weren't as generous.  I still polished off every last bite though.  P slurped down his meal and then we set off for the Aquarium.  Oddly enough he fell asleep in the ergo on the way (pretty early as compared to the timing of his other afternoon naps) so we just stalled by hanging out in Darling Harbor.
We walked across the bridge and went into the mall for some cool air and window shopping and about 30 minutes later Patty-cakes woke up and we entered the Aquarium.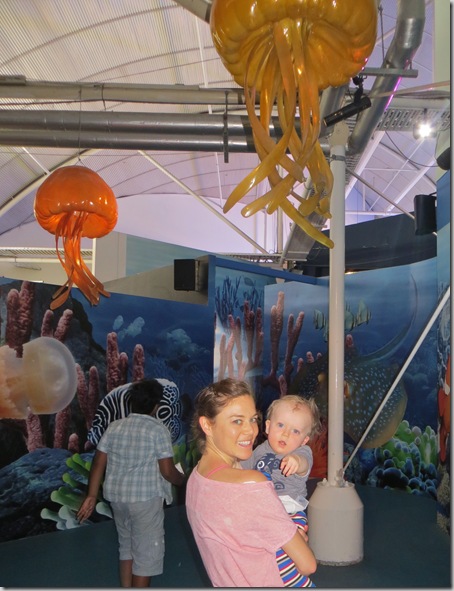 We had free passes from Kyle's friend Julie (that she won in a work auction) so we skipped the line and went right in.
It was kinda cool seeing all the fish.  My little water baby was really into it and would hardly pose for photos (lest we interrupt him looking in the glass at the turtles and fish and stuff!).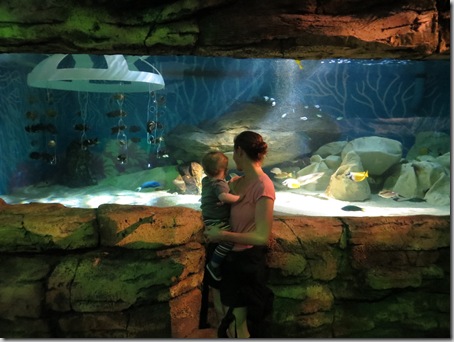 We saw a ton of small fish, as well as shark eggs and penguins, and just when I was getting a touch bored with it we got to the cool part where you go under water and see all the manatees and sting rays and sharks swimming all around you and over your head.  Scary.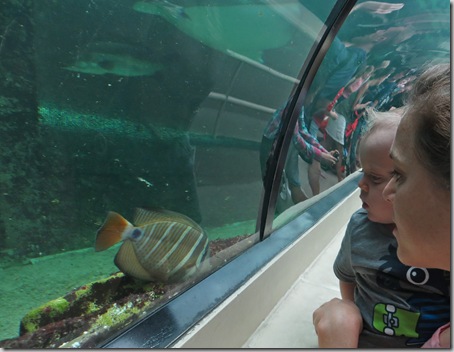 After the aquarium we went back downtown to grab a Starbucks and free wifi but at some point Pacman got exposed to something that caused him to break out in hives on both arms.  I cleaned him off and kept an eye on it but he didn't seem bothered by it and it never progressed so who knows.  It was a good reality check because I think I kinda forgot how careful we have to be.  I mean, I've obviously been wiping down every single table and high chair he gets into, but I've been more relaxed with the other stuff I let him touch (aquarium glass, plants, trees, flowers, etc).  I am so torn in just letting him be a kid and explore and keeping him safe and protected.  I don't want  him to be a bubble boy but it was scary seeing his arms all puffy and red so far away from home and our (pharmaceutical/medical) safety net.  Anyway, since he'd been in the ergo for so long we took the train to The Rocks to let him play in the grass a bit before dinner.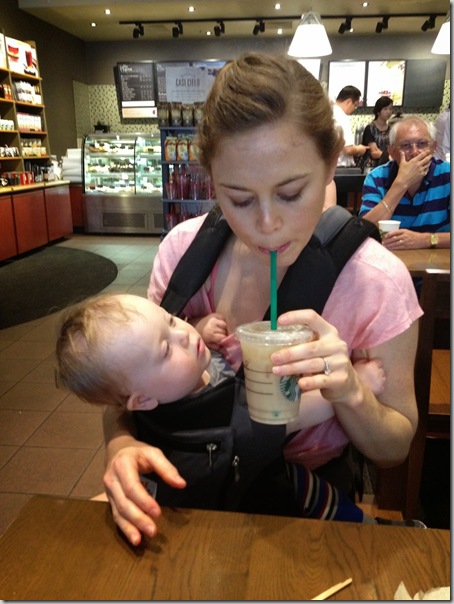 He crawled all over trying to chase down the birds (and trash).  His hands were covered in dirt and of course he put them right in his mouth.  Such a boy.  Dirt he eats, but broccoli gets the side eye?!?  Really!?  I fed him more puffs and a banana and pouch and then we went to meet up with Laura for our dinner date.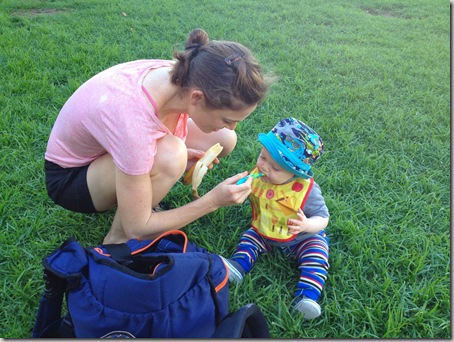 We went to Mr. Wong, another place I had read about in Bon Appétit.  It's kinda hidden in a little alleyway but based on the line that was already formed at 5:15 it's well known for how good it is.  They don't take reservations for groups smaller than 6 and they only save half the restaurant for walk-ins so you have to line up early to get in once the doors open at 5:30.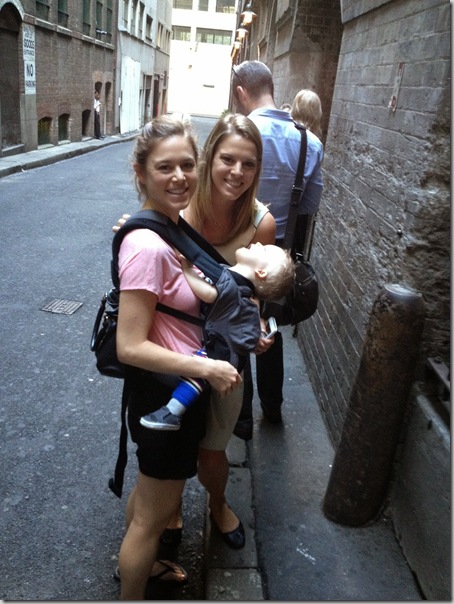 Two words. Worth. It.  [!!!!]
Sorry in advance for the sub-par iPhone photos.  What can ya do?
P was sorta having a melt down during the meal but we did push his limits by keeping him out so late (we were seated at ~6).  I thought the open kitchen view would be distracting enough but he was in mama mode and I ended up feeding him puffs between my own bites.  This food was probably the best of the trip thus far.  I know that's a lot of hyperbole since I've raved about every single meal but that's because they've all been so good.  We haven't had a bad meal yet (or even a so-so one!). 
In order from top to bottom and left to right…  We started with duck pancakes.  I love plum sauce.  I don't think I've had duck more than twice in my whole life (maybe not even?) but it was delicious.  Tasted just like the dark meat of chicken to me – not gamey like people describe it (truthfully, I still don't know what "gamey" means as I have yet to try most meats that are described that way).  The other dishes we got were crispy fried tofu, green beans with pork mince in xo sauce, beef short ribs, and roasted crispy chicken.  A lot of firsts for me at this meal, including the pork mince and short ribs.  The tofu looked like it was going to be bland but it was sooooo not bland.  The outside was way good.  The green beans were also exceptional thanks to the awesome sauce.  But the short ribs were the best thing on the table.  I thought the garnishes looked silly all piled on top but the way they worked together was like magic.  Every single component was mmmmmm.  I ate a ton of them.  So full.  I'd love to try the whole menu given how stellar the ones we ordered were.  But P was barely hanging on and I didn't want to be the rude person with a fussy baby in the restaurant.  Fortunately it was really loud and nobody noticed him at all.  I had already called ahead to ask if they were baby friendly or not and they had high chairs and there were other kiddos there too so I don't think it was a big deal.
We took the train back home and put Pacman down after he ate a little bit of ground turkey (I thought he could use some protein since he seemingly lived on fruit, pouches, and puffs while we were out and about all day).
Elise March 29, 2014 asian tofu, potatoesbaby, restaurant review, travel Read more >