HOW!?!
Seriously, how do SAHM / bloggers do it?
I'm only 3 days into Kyle's 10 days out of town and pretty sure I'm going to turn into an almond by day 5 at the rate I'm pounding through this Costco tub of roasted nuts.  And I haven't written a single new post aside from this one I'm working on now.  Which may or may not go live before Kyle returns.
Suffice it to say, I'm not exactly excelling in either the cooking or the blogging area.  Hopefully I'm doing better in the mom department, but I'm not so sure.  P is now totally sick of the pack n play and I'm totally sick of the music on his entertainment center.  We are at an impasse.
Or at least we were…until I decided to put him on the floor to "play" and let Sesame Street assist me in distracting him.  I feel like a totally horrible mom for admitting that (tv and media screens are the devil right?).  But omg I'm really impressed with Sesame Street!  And I'm not alone – my little monkey is all about it, too.  I guess there's a reason they're on their 40th season.  Bless you Netflix.  Bless you PBS.  Bless you Elmo.  Thanks to you I can actually eat food in peace.  The rest of the day's entertainment is on me.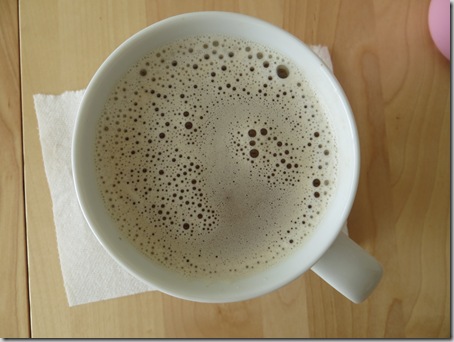 This coffee is frothy because I made my own almond milk.  Not by choice.  We ran out and I didn't have the energy (read: I was in PJs and looking like a hot mess) to go to the grocery store for more.  So I added a few tbsp of marcona almonds and water to the magic bullet, whizzed away until it was as smooth as it was gonna get, and strained it through a sieve right into my mug.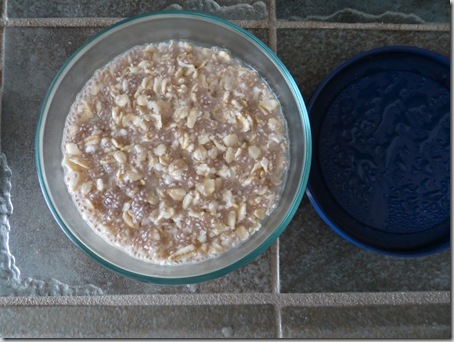 Overnight oats + chia seeds.  Blank canvas.
First comes love, then comes marriage peanut butter, then comes raisins.
Then comes the spoon!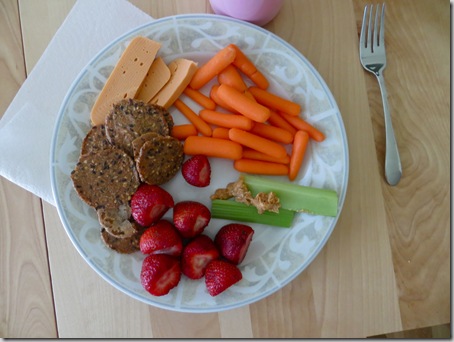 Lunch was this plate x3 because I was grazing while parenting.  Is it just me or did something change about Daiya's wedge cheddar?  It was softer than I remember it being in the past and tasted different somehow.  Not sure.
The strawberries from the farmer's market are insanely juicy.  I can't believe how good they are.  I'm ruined from all other berries now.
Speaking of produce straight from the plant…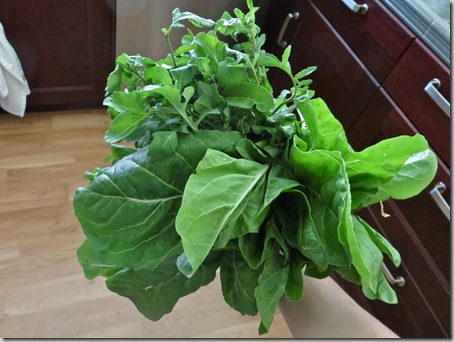 Last weekend on our walk, one of our neighbors hooked me up with a TON of arugula and swiss chard from her garden.  You can't tell by the photo but it was a lot lot lot of greens.  So nice having neighbors with green thumbs!  Her garden is really amazing, so I'm pretty stoked.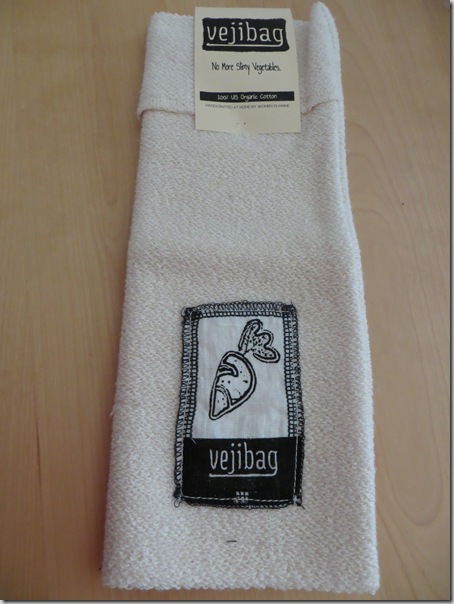 Anyway, I already had a lot of greens in the fridge, so in order to keep these fresh I used this cool bag.
I thought the concept sounded bizarre at first – you wet the bag and wring it so it is just damp before adding your freshly washed veggies in the bag.  Then you just store them in the refrigerator (keeping the bag damp by sprinkling it every few days).
There's something about the humid environment that keeps the greens hydrated without getting slimy.  And it really works!
I didn't get around to using the chard until almost a week later and they were still crispy and looked the same as the day they were picked from the ground!
Holler for the vejibag.
I started prepping the chard before I really even knew what I was going to do with it.
P was napping so I was taking my time, but of course the second I poured the olive oil into the pan he woke up.  Figures.  So my dinner got sidelined while I changed and fed him.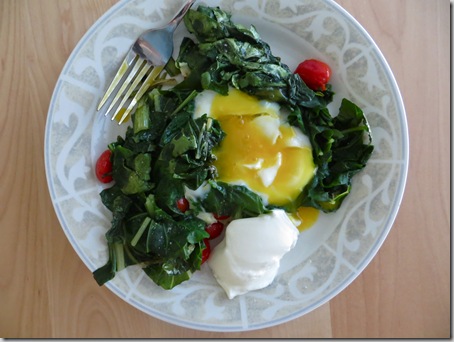 But afterwards, I made myself this beauty.
This isn't so much a recipe as a process…so I'll just tell you what I did.
First I added a couple of tbsp of olive oil to the pan along with cherry tomatoes.  Then I added in the chopped chard and cracked three eggs on top.  My intention was to let it wilt a bit and then scramble it all together.  But instead, I placed the lid on the top, turned the heat down real low, and waited for the eggs to barely turn white on top.
No stirring at all.
Once the egg whites weren't clear, I slid the whole pan full onto my plate.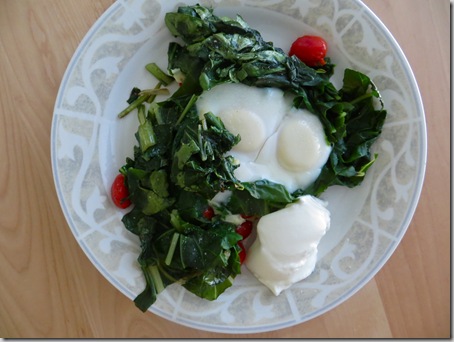 Added a dollop of plain lactose free yogurt on the side.
Since discovering I tolerate goat's cheese I've been eyeing other products to test on my gut.  Green Valley makes lactose free kefir and yogurt, plus they are local and sustainable and a really awesome company.  Happy to report this didn't affect me negatively at all and I had zero symptoms.  Mind blown.  As you can see above, the ingredients are completely clean and pure and FODMAPs friendly.  Win!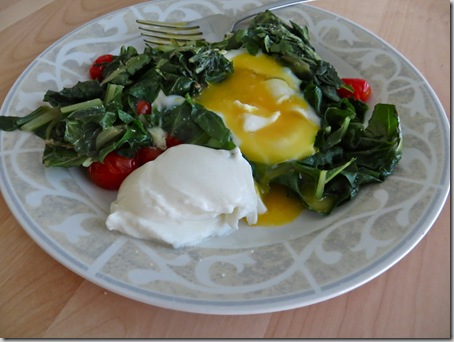 This dinner was legit.  The chard was soft and flavorful, with a crispy underside thanks to the olive oil.  The tomatoes gushed hot seedy yum.  And the yolks were perfectly runny.  With an accent of yogurt, it was a doozy of delish for my mouth.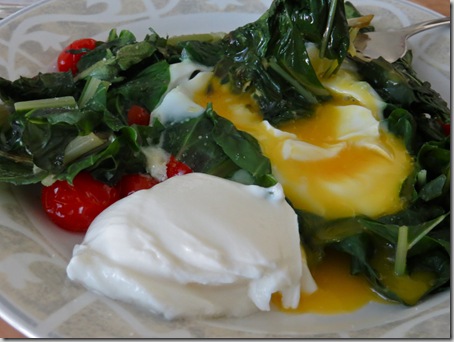 I snacked a little more later on.
These Blue Diamond chips are decent.  They taste like a cross between a corn nut and a rice cake, if that makes sense.  It's confusing for my taste buds, but I would probably buy them again.  They were on sale (I'm a sucker for the displays at the end of the aisle) so I thought why not.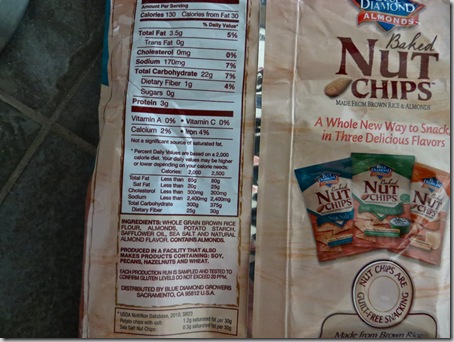 I've checked out the other GF Blue Diamonds products (namely their crackers) and they all have this weird butter flavor ingredient in them.  Total turn off.  These, however, have a nicer ingredient list with only things I recognize.
After I did bath time, story time, and nursed P to sleep, I went to the kitchen to try to get ready for the next day.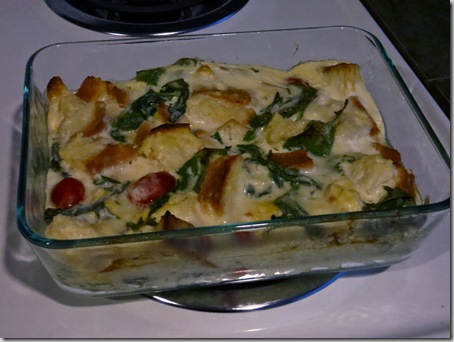 I made a strata (recipe coming), prepped overnight oats, and set up the coffee maker with decaf.  It's nice to make a massive pot for me while Kyle's gone, as opposed to using the French Press.
My recent dessert plates look like this (and rarely get photographed for some reason).
Chocolate + nuts + fruit.
In the fruit department, frozen grapes and oranges from the neighbors tree are on rotation.  Although I just bought a cantaloupe, so maybe that'll be a new addition.
I'm worried I'm going to OD on nuts because I snack on them ALL.  DAY.  LONG.  Like there is literally a 1 cup minimum in my daily diet.  I'm obsessed and they are easy to munch on while I'm doing stuff with the PAC man.  So I tend to eat fewer nuts at night because I prefer treating myself with other things, like chocolate.
The Bissinger's bar is going fast (it's probably gone by the time you read this).  It was a Valentine's Day present from Kyle when I was in the hospital.  It must have gotten lost in the post-partum shuffle, but I found it after our move and it's really good.  Just the right amount of cacao for me (aka a person who prefers milk chocolate but doesn't tolerate dairy and therefore uses dark chocolate as a crutch).
I'll leave you with a photo of my cutie pie. 🙂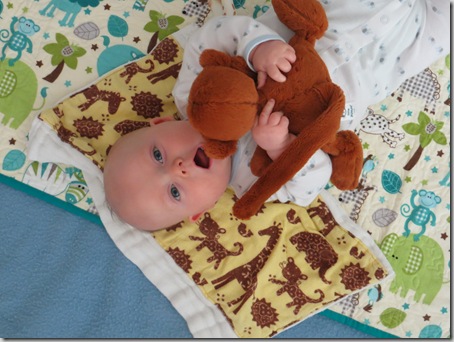 Loving on his monkey.
Elise June 1, 2013 almonds, blue diamond, chia seeds, chocolate, Daiya, eggs, Mary's Gone Crackers, nutbutter, nutmilk, nuts, oatmeal, peanut butter, yogurt Read more >