Baby (food) post coming 'atcha.  If you have no interest, just close the browser.
Here are a few new tricks and trials I have to share…
-I've discovered a way to make apples (and hard/unripe pears) the perfect consistency for P to eat without the work of cooking them.  I just chop the fruit and freeze it (raw).  Once it's been frozen for at least a day, I thaw it and voila!  It's soft and semi-mushy and I can feed it to him straight away.  I have frozen fruit for two months and it still works, but I tried it with only one night of freezing and it wasn't quite soft enough so I think anything longer than 24 hours is ideal. I first discovered this because I was trying to save a bunch of apples I got for cheap before they went bad.  Turns out, it was one of the most useful mistakes I ever stumbled upon. Apples are now a huge fave – almost as much as bananas!
-I got the nerve to try hemp and it was totally fine.  After the success with chia seeds, I was pretty sure hemp would be fine as well.  The more I read up and learn about sesame, the more I'm convinced they are in their own category when it comes to allergens and we shouldn't punish all the seeds, if that is in fact the case.  I have yet to test sunflower, pumpkin, or flax yet.  Baby steps.  For now, I'm just happy that we have another vegetarian protein source that he tolerates!  It also makes the breastfeeding weaning process a little less anxiety-filled since I now have a milk alternative that I feel good about offering him (since dairy, soy, and nut milks are all allergens).  He's fine with water, but ideally something with protein would be good too.  He hasn't tried it as milk yet [update: yes he has] , so we will see how (if?) he takes to it [success].  Pretty much the only way he's had hemp so far is in his oatmeal (hulled with fruit and cinnamon).
-I'm dipping into my freezer stash of breast milk and making purees and such with it.  I was waiting until he showed some interest in smooth textures since he wasn't a fan of it at all before.  But the pouches that we used on our trip may have turned the tide in our favor.  Fortunately I had some reusable pouches to fill with my own creations.  The first thing I tried was a breastmilk, prune, apricot, pear, cinnamon concoction.  I let the dried fruit soak overnight in my pumped milk (that had been frozen then thawed).  I used just enough milk to cover the dried fruit so it got all soft.  Then I pulsed it in the bullet until it was fairly uniform in consistency.  Then I spooned it into the pouch and refrigerated it until we needed it.  The next day I had to run out around noon and figured it would be the perfect thing to give P – enough oomph to hold him over for a while.  He loved it and it worked like a charm.  I had extra that I added to oatmeal, which he also lapped up with enthusiasm.  I've since done a number of dried fruit mixes and they've all been winners.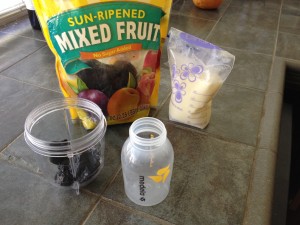 The bigger bags of milk get divided…half to the bottle, half to the bullet…
If it doesn't all fit in the pouch I just stir the extra into oats or quinoa or something.
If anyone has tips for making broccoli and beans enjoyable, please share!  I can sometimes sneak a bit of broccoli into avocado bites, but he's pretty savvy at separating the foods he doesn't like from the ones he does in his mouth and then spitting only the "yucky" portion out.  Sneaky guy!
Elise April 12, 2014 apples, avocado, beans, broccoli, dried mixed fruit, oatmealallergy, baby Read more >