This past weekend was all kinds of awesome.  We hung out with new friends who I'm certain will become old friends.  P got a taste of his first slip 'n slide.  I ate a vegan ice cream sandwich that blew my mind.  And we got to enjoy some quality family time before Kyle went away for work.  Summer is his busy season so the sporadic posting often has to do with me being a solo parent while he's off at random solar sites.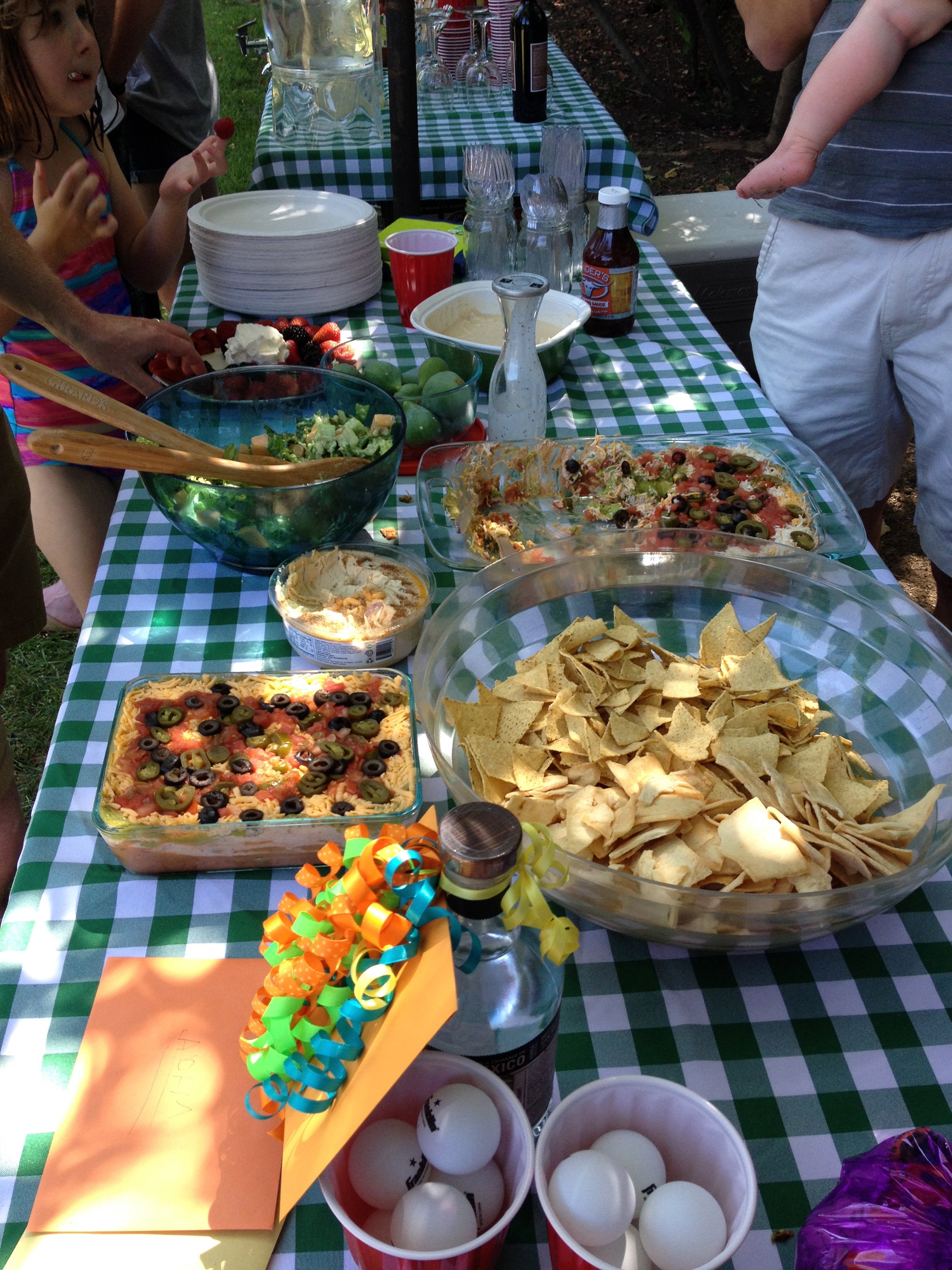 That's a separate mexican layered bean dip for the lactose free folks (!!!!).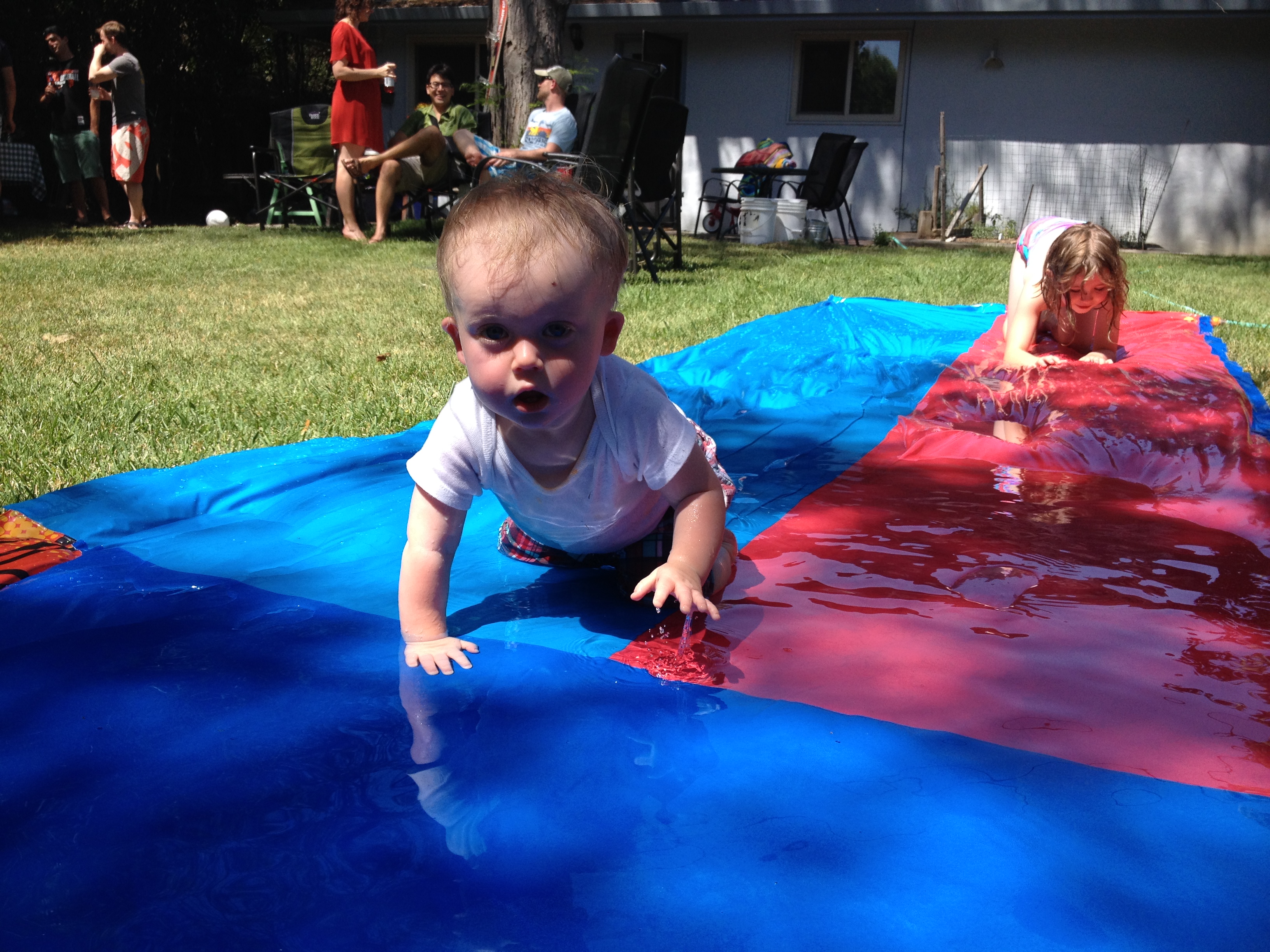 We forgot a swim suit but he didn't care that he was soaking wet.  On the contrary, it probably helped him beat the (100+ degree) heat.
P helped me harvest  (and eat) the first yield from the garden (green beans!).
I'm happy we are in Davis.  It's a good place.
Anyway.
I also got to do lots of stuff that others may deem "chores" over the weekend, but they are the kinds of things that make me happy.  In addition to doing our grocery shopping, I vacuum religiously every weekend, and clean the house from top to bottom, while Kyle and P have their boy time (pacman is scared of the vacuum).  I also make hemp milk, quick breads, and prep whatever else.  This especially has to happen when Kyle is going out of town because if I don't have him to pack meals/cook dinner for I often get lazy and eat whatever (because by the end of the day I'm wiped).  Let's not analyze what it says about me that I'm willing to put in the extra time to make food for everyone but myself.
So this weekend I made a massive tub of veggie and salmon pasta as well as tuna salad (for quick lunch options).  And I baked a russet and sweet potato.  And I made some overnight oat/chia/seed bowls.  And I made bacon and (the following) brussels slaw salad.  And a batch of decaf chai tea.  Definitely helps to go into the week with a stocked fridge.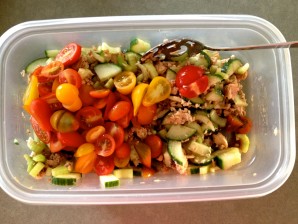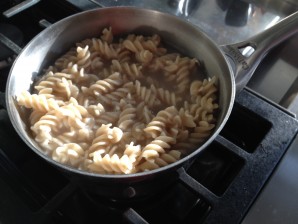 I've blogged about
this pasta dish before
(and made it tons since adding fish back into my diet) because it's so easy and so good.  I just use whatever veggies I have on hand.  Sometimes I bake the salmon and sometimes I cheat and used canned salmon.  Sometimes I make my own vinaigrette and sometimes I cheat and use bottled dressing.  Either way, it's good stuff.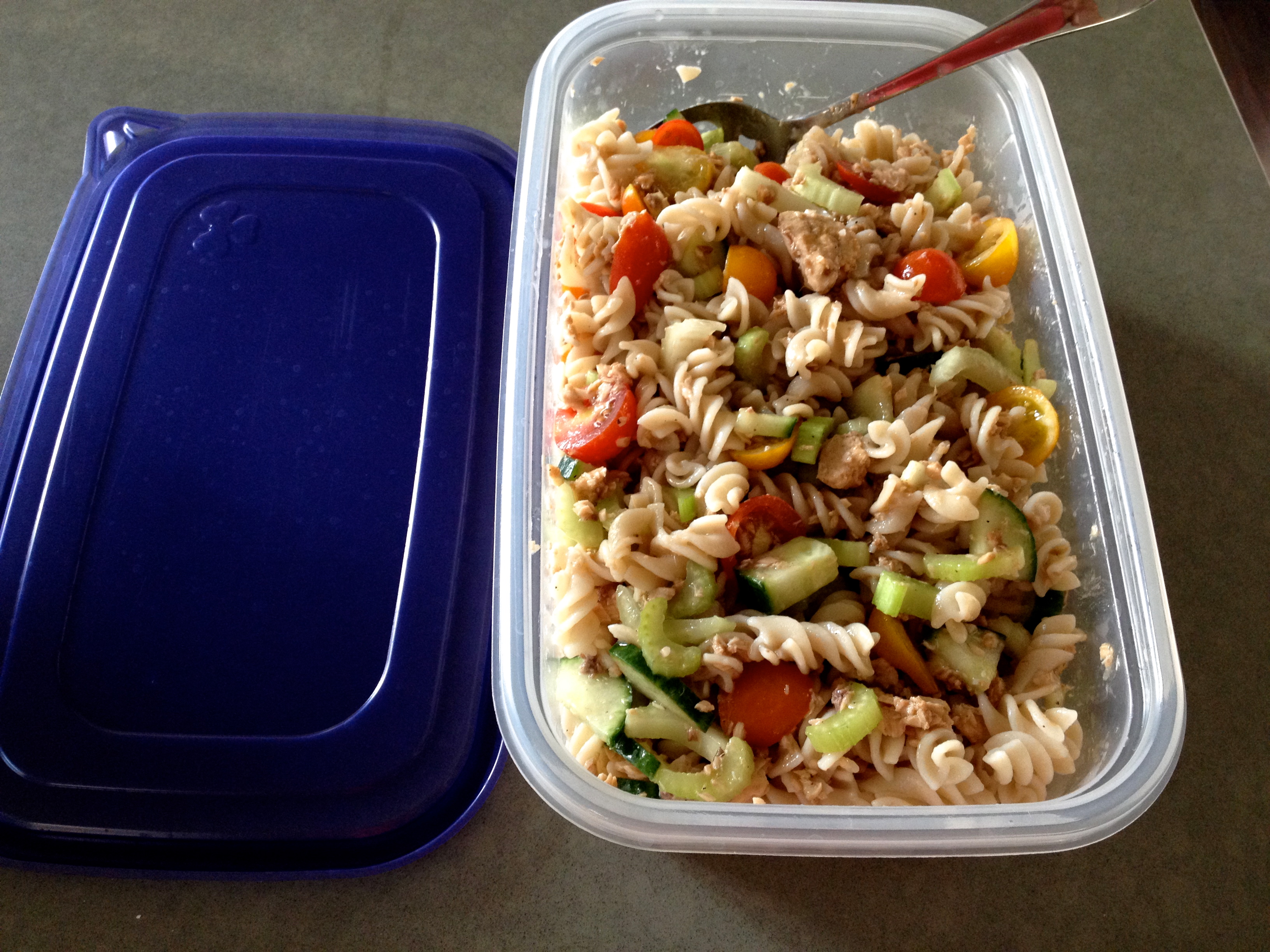 That's a big freakin tupperware – so the pasta will last for dayssss.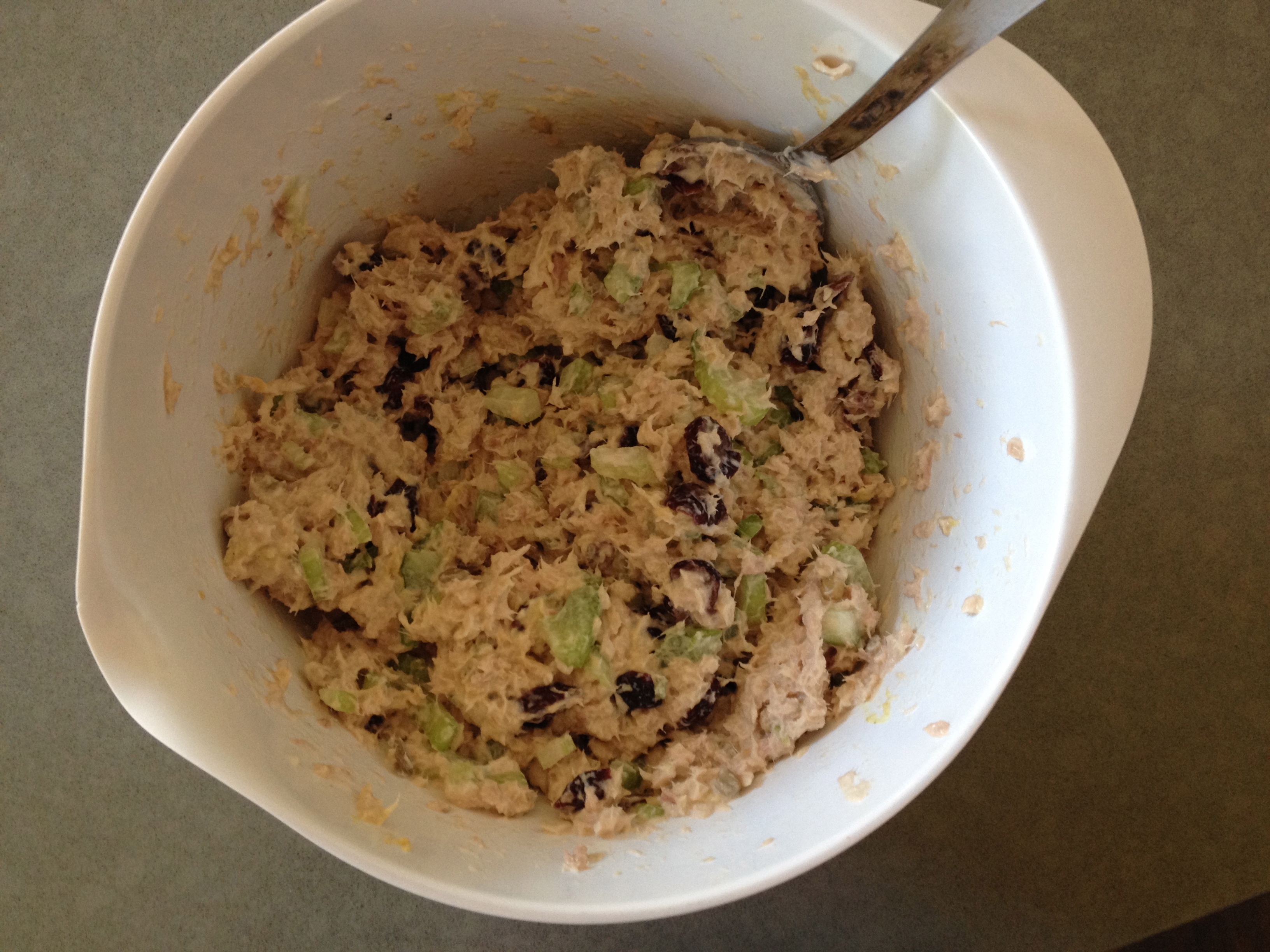 1 can tuna + 1 can salmon + 2 stalks celery + 1/4 cup dried cranberries + 1/4 cup salted sunflower seeds + 1/4 cup mayo + 2 tbsp dijon mustard + salt + pepper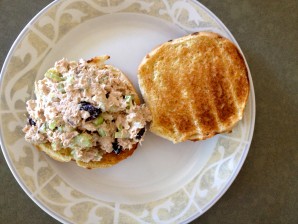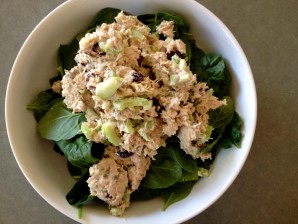 Good on a bun or atop greens.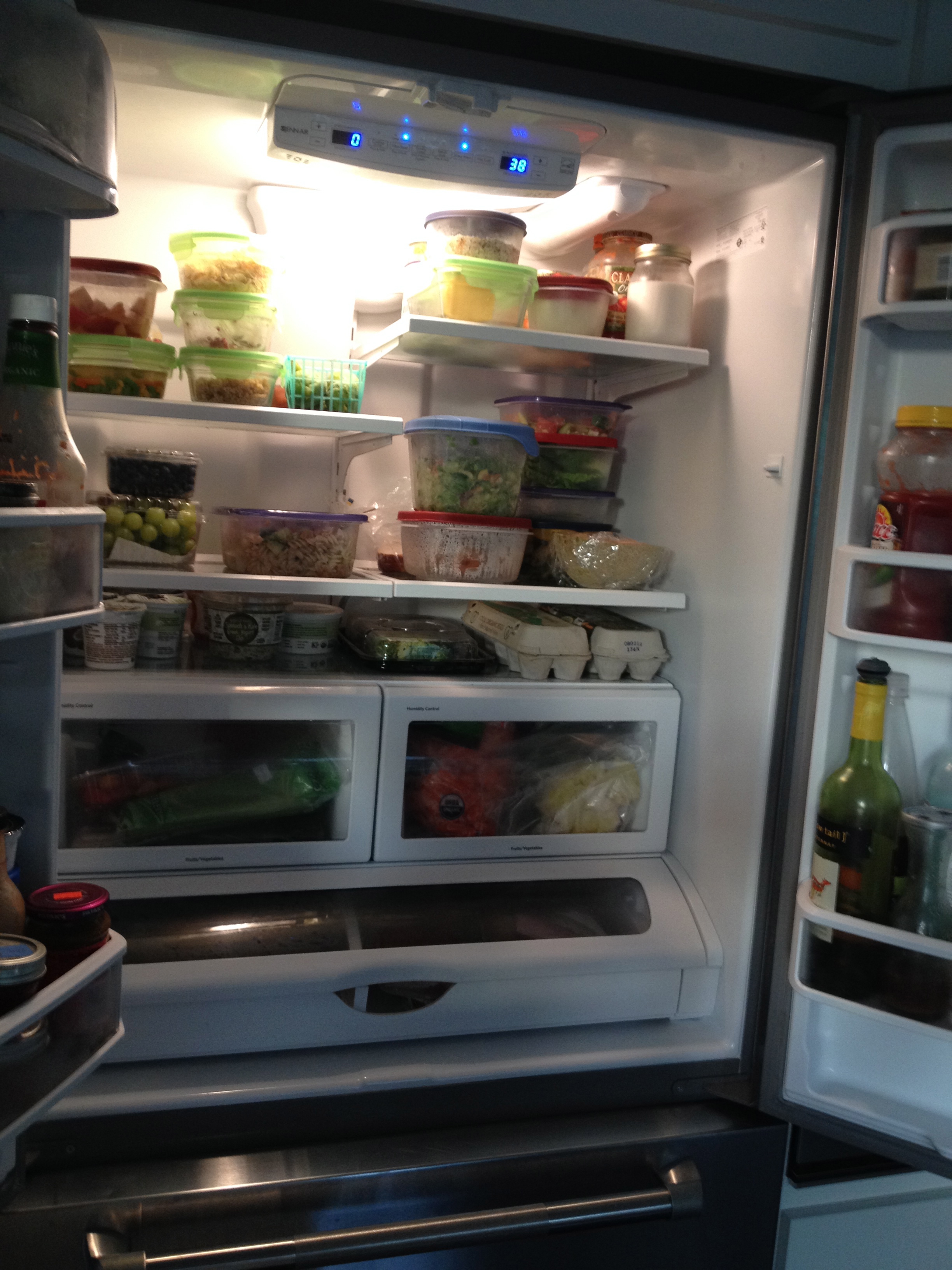 Happy dance.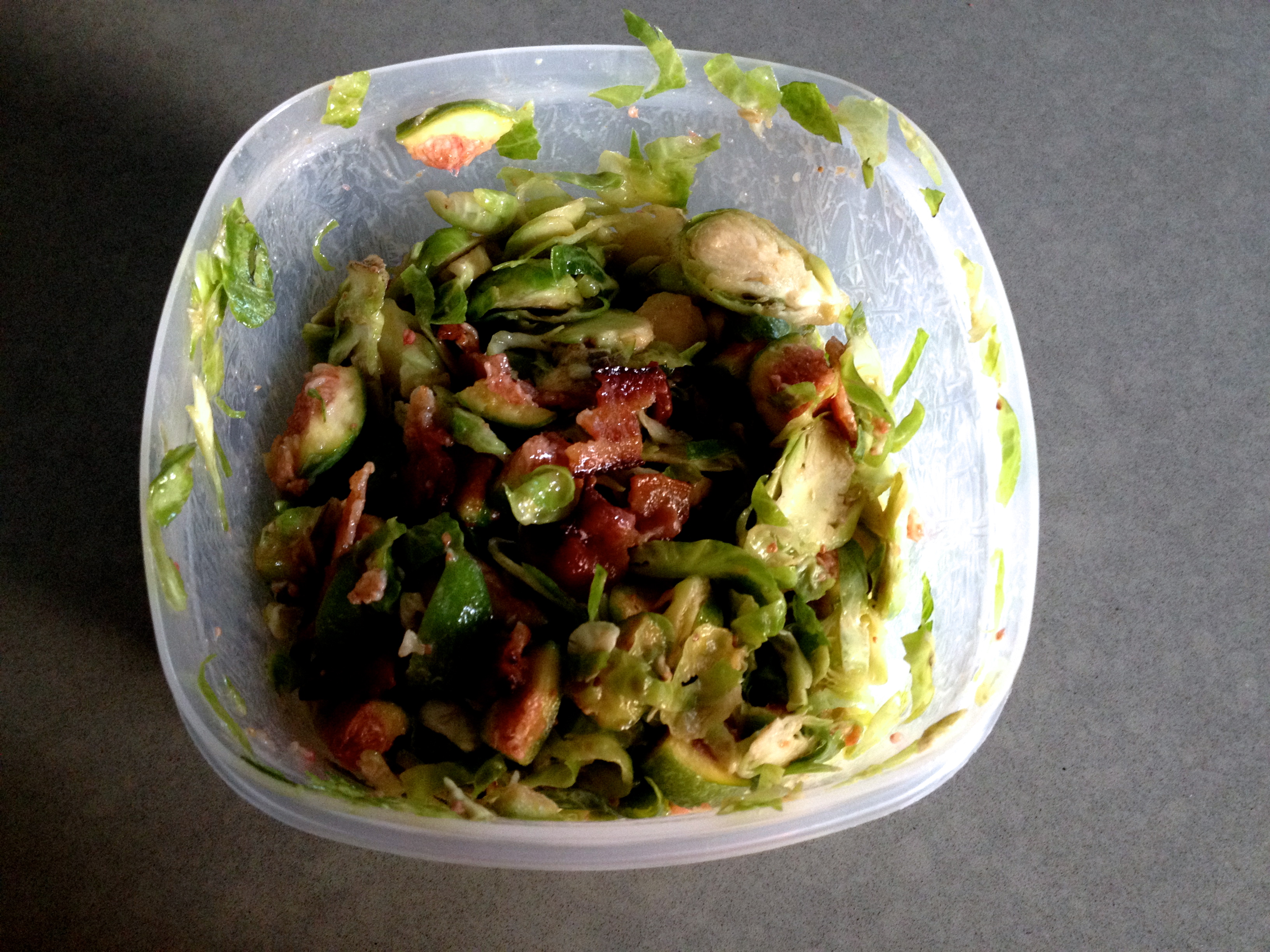 Let's get back to the recipe at hand.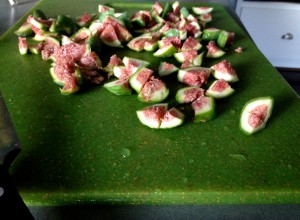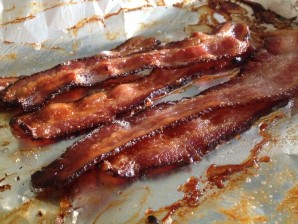 Bacon and fig Brussels Sprout Slaw Salad
[gluten free, dairy free, soy free, nut free]
10 oz shaved brussels sprouts
4 slices of bacon + bacon fat (~1/4 cup)
2 tbsp dijon mustard
1 tbsp balsamic vinegar
7 figs, chopped
salt + pepper (to taste)
Directions:
For the bacon-
Pre-heat oven to 400 degrees F.
Place foil on a large baking sheet, then line up the bacon slices on the foil.
Bake for 15 minutes.
Remove from oven and let rest while you prep the rest of the salad.
For the slaw-
Shave the brussels sprouts (unless you cheated and bought them shaved like I did – yea for TJ's) and add them to a large mixing bowl.
Fold the foil with the bacon in half, so as to form a little spout, and pour the bacon fat directly into the bowl of sprouts.
Toss until the sprouts are coated in hot oil, then add in the mustard and vinegar and toss again.
Finally add the chopped figs and crumbled bacon and fold until combined.  Salt and pepper to taste.
Try not to die of taste bud spasm.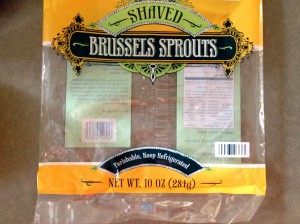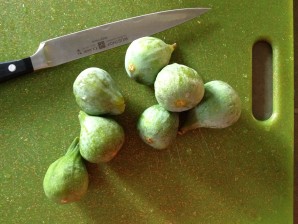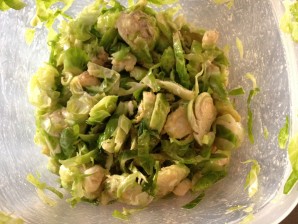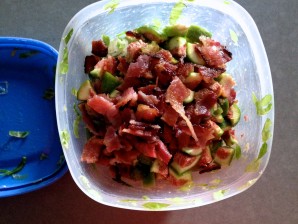 Notes:
If you don't want to use the bacon fat that's fine you can sub another oil of your choice (olive, canola, etc.) but it's kinda amazing to infuse bacon flavor all up in the sprouts.  Also the hot oil helps wilt the sprouts so you may need to work another (colder) oil into it a bit more to achieve the same softening effect.
Tempeh bacon, turkey bacon, etc. could be swapped to honor dietary choices.
I used green figs because my friend's tree is booming with them, but any figs will work – probably dried figs too!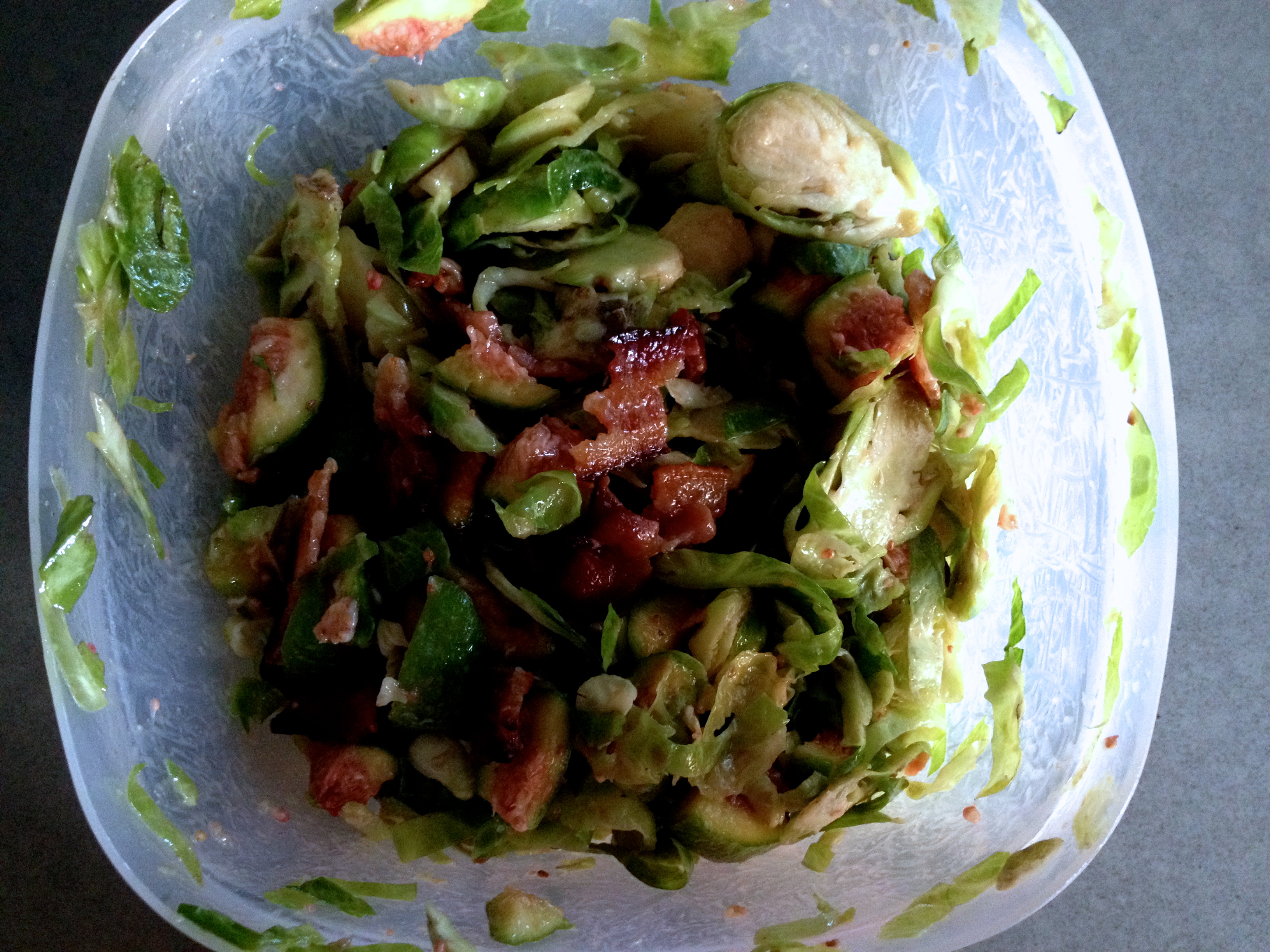 Sorry I don't have too many great pics of this, it was DEVOURED by my face.
I'm pretty proud of this recipe because it's the first one with animal products that I've created on my own.  Since meat re-entered our diets, I've been sticking to the experts' recipes (Bon Appetit, Food52, and fancy pants blogs).  This was a solid win.
P likes figs so-so and bacon a LOT.  Dijon mustard is usually safe for people with food allergies, but be sure to check the kind you buy because there can be wheat in some (I know!).  Also, mustard seed allergies do exist (they're the same family as chia seeds so if you react to one, you'll likely react to the other) but they are pretty rare.
Elise June 10, 2014 bacon, brussels sprouts, figs, fish, trader joe's, Uncategorizedrecipe Read more >