Since we are heading out of the country, I wanted to try a bunch of new foods before we left, to maximize the options for P.
As you can probably imagine, I'm not really keen on the idea of trying various foods for the first time while we are oceans apart from our MD (and the coverage of health care).  I am bringing 3 epi-pens with me and I'd like to return with the same amount.  Benadryl can fill in the gaps if there's cross contamination, but for the 2 weeks we are gone, I'm not going to press our luck with expanding his palate.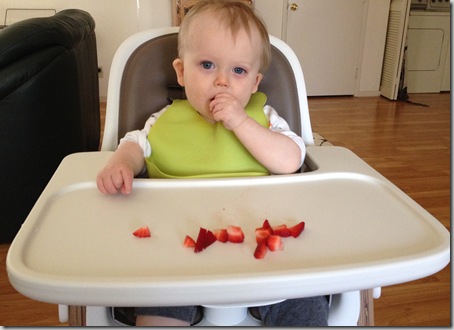 In the past week he's tried strawberries, pineapple, mandarin oranges, tomatoes, and chia seeds.
I know SEEDS!  I was seriously nervous feeding him chia seeds because we had been advised to avoid all nuts and seeds until he was 2 years old and was able to get re-tested.  I did a TON of research but couldn't find a single scientific study or article that concluded anything about the cross reactivity of chia, flax, and/or pumpkin seeds amongst people with sesame allergies.  This is something that is likely due to the recent increase in prevalence, so I'm still hoping there will eventually be more information over the course of P's childhood.  The reason I wanted to clear these in particular, though, was because several of the puree pouches that I was looking at had salba chia seeds in them.  I could have avoided those specific flavors, but the rest of the ingredients looked so nutritious and delicious and I wanted to have as diverse a range of options for him as possible away from home.
Anyway, I mixed a teaspoon of chia seeds into his oats with cinnamon and mashed up banana.  And I gave him a few bites.  He loved it and would have eaten a lot more, but I thought it best to go slow.  After he ate, I watched him carefully for a while – no rash, no hives, no labored breathing, no wheezing.  No change in demeanor whatsoever.  Sigh of relief.  I put him down for a nap a while later and even though I have a video monitor, I still put my ear to the door to listen for breathing a few times.  I realize I sound like a nutcase, but he's my little everything and I don't usually go against the MD's advice.  I have since given him chia seeds several times without any reaction.  Hooray!  The pouches now have the green light.  Hopefully he won't turn up his nose at every single one of them.
Strawberries and pineapple were less of a concern for me, since those seem to be more of an acidic issue than allergy thing.  He did get a little redness on his chin the first time he tried both of them, but he didn't seem bothered by it.  Incidentally, both the strawberries and pineapple were a huge hit the first time, but he wouldn't have anything to do with them the second time I offered them to him.  Weird kid.  I have since tried both a few more times without any luck in the strawberries.  Pineapple he refused a few times but then finally gave in…and inhaled them, so much so that he broke out in hives all over his hand and arms (due to excessive contact with the acidic fruit).  It freaked me out at first because the rash was bright red and raised, plus he was clearly bothered by it, scratching himself where the skin was inflamed.  But there weren't hives anywhere else and as soon as I washed off his skin it went away.  I believe it's purely contact dermatitis* given how quickly it resolved, but I'm hesitant to push pineapple (and any other citrus) much more.  For now, I don't care if he eats these acidic fruits or not (they won't go to waste on my watch!) but at least I know he doesn't have an anaphylactic response when he ingests them.
He hardly ate the oranges and tomatoes I offered him, even though the tomatoes were cooked into his scrambled eggs, so I can't be sure about his skin's reaction to the acid, but he got enough to clear him from having an allergic reaction.  I may try tomato sauce on some gluten free pasta next to see if that's something he likes or not.  Marinara could open a whole world of meals for us (him), although I will still have to be hyper-vigilent about any added ingredients because I think gluten can get hidden in there sometimes.  Maybe even nuts and/or seeds, too.
*ETA: He got the same hives (in the same location) after another meal that didn't include pineapple, so I'm not sure what caused it but we now have more trial and error planned for the next few meals.  I need to buy stock in Benadryl. 
Next up?  Beets, kiwi, and maybe (but probably not quite yet) flax?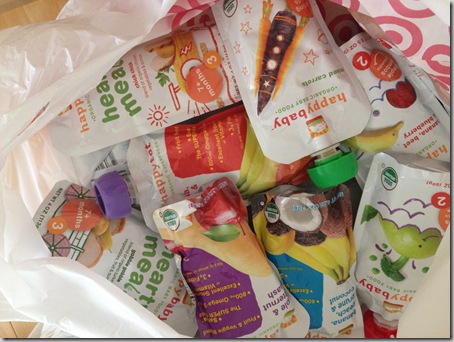 Look at all these happy baby products!  I bought tons of flavors from a few different lines, including the starting solids (1), simple combos (2), homestyle meals (2), and hearty meals (3).
FYI, I emailed the company about what's in the chicken stock just to be sure.  I have yet to hear back, but I'll update once I do.
From the company "We use several different facilities for our products – most do not use peanuts, tree nuts or sesame, but a few do. Our Super Toddler bars are produced in a facility with peanuts and tree nuts present, and our Munchies Rice Cakes are produced in a facility with sesame present. Otherwise, the only tree nut used with shared equipment in our pouch production facilities is coconut.  Our chicken stock is made from chicken and water, there are no additional ingredients."
Elise March 3, 2014 chia seeds, strawberriesallergy, baby Read more >