Happy 2011 everyone!  I know I promised the giveaway winners today, but I'm not quite ready yet…
Since I've been MIA for the past few days, I have some catching up to do first.  Even though I got the 31st and 1st off of work, I was still at the hospital for the rest of 2010.  And so before ringing in the New Year, I packed up my lunches as per usual.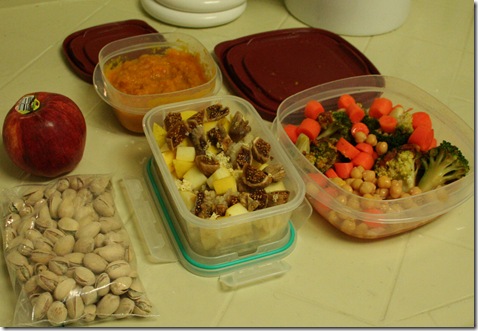 The above is what I call operation use-up-leftovers. 
Chopped NutsOnline dried figs + golden delicious apples + quinoa seasoned with stevia and cinnamon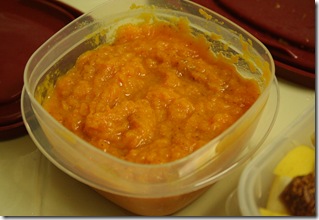 Pureed butternut squash with vanilla soymilk and cinnamon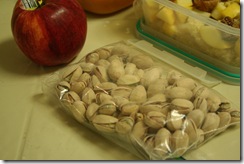 Apple + 'stachios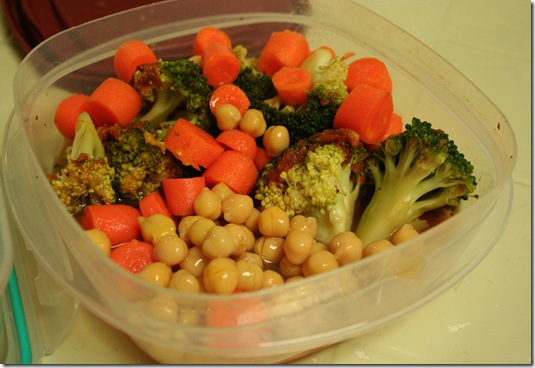 Broccoli, chickpeas, and carrots with marinara sauce.  If that's not the most leftovers sounding combo, I don't know what is.  It still kinda worked.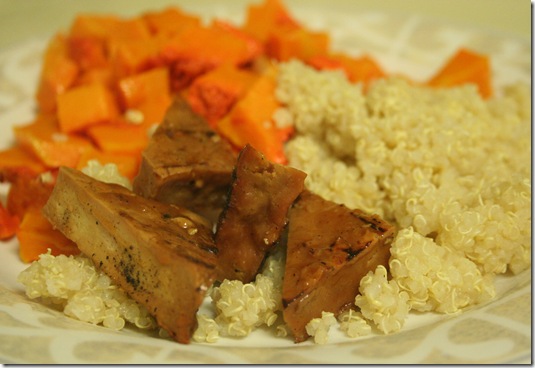 Leftovers were the name of the game for dinner.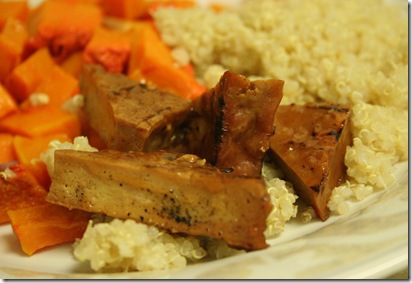 Asian tofu (WF hot bar) with butternut squash and quinoa.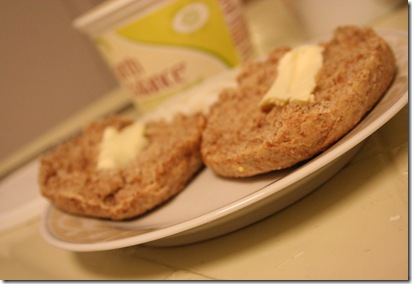 Ezekiel english muffin with Earth Balance a la mode.
I enjoyed a dessert plate of PB stuffed medjool dates (sprinkled in shredded coconut) as I packed my bags for my trip to Nor Cal.  Sigh.  While I love heading home, this is my second weekend in a row of driving up the I-5.  Can you believe we have put 5,000 miles on our car in 3 months?!?  My "commute" to work is only a mile, so that mileage is literally ALL from driving up and down the CA coast.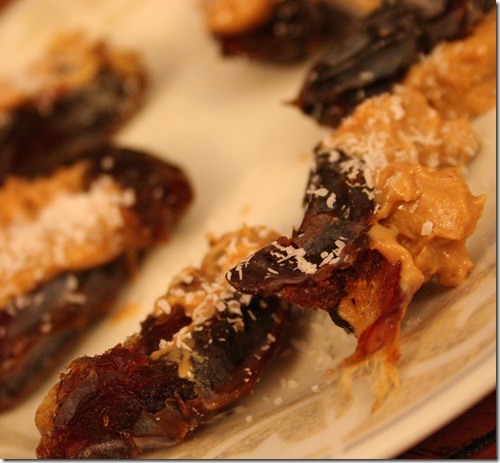 Drool.
I was talking on the phone with my mom all the while, so the clothes I packed ended up being not so coordinated. 
I also had to pack up my lunch for work the next day.  And since we were leaving as soon as I got off work, that meant I would be taking whatever I had with me at the hospital along with me to Nor Cal.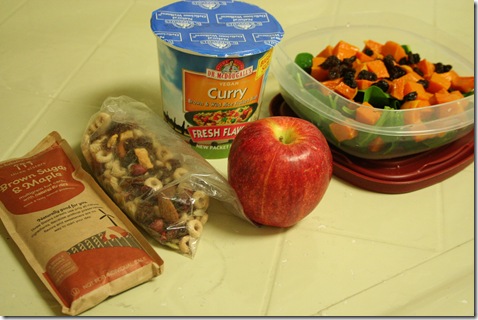 Not wanting to have dirty tupperware with me 'til 2011, I opted for the most portable eats with the least amount of containers.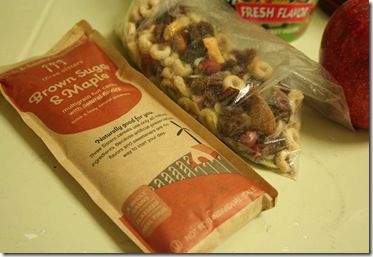 For breakfast I made oats with a packet of Three Sisters Brown Sugar & Maple oats.  I used some of my home-made trail mix for add-ins (almonds, dried fruit, carob chips, etc.).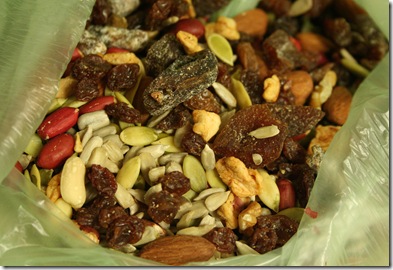 I had another bag of trail mix from the Westwood Whole Foods' bulk bins section.  There were soooo many kinds of trail mix that I had a difficult time choosing which to try first.  I forget what this mix was called but it has dried dates, apricots, raisins, walnuts, almonds, peanuts, pepitas, sunflower seeds, and who knows what else.  Super nutrient packed. 
For lunch I had soup and salad combo.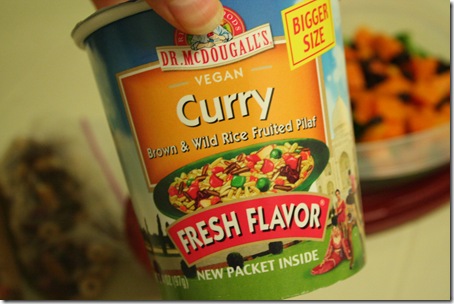 Ok, it was really more of a pilaf. 
Dr. McDougall's sent me a ton of products to sample and I have been waiting for the day to dig in.  You see, while I love packing my own lunches, I also know myself and I know that sometimes I have lazy days that I want to be able to turn to packaged food.  Unfortunately, finding packaged food that's healthy and not full of fat and sodium can be hard.  On top of that, finding vegan options is even more difficult. 
Not to exaggerate or make huge claims of greatness, but I honestly think that Dr. McDougall's Right Foods are the most convenient vegan products on the market.  They are decently sized portions, not too big, but not leaving you wanting more.  The ingredients are as pure as a packaged product can be (yes, there are still dried and dehydrated veggies and seasoning packets), but they are nothing like those nasty MSG laden Cup 'O Noodles.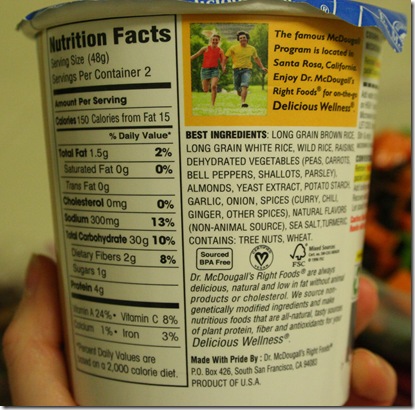 I do find it annoying that one cup has 2 servings, but aside from that, I have no issue with the ingredients (and I'm very picky about that stuff).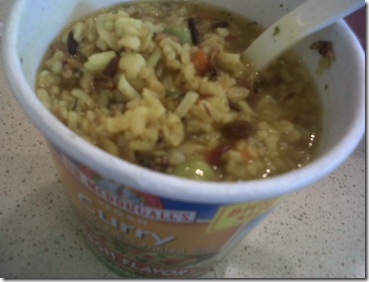 In the hospital cafeteria I added boiling water, then I closed the lid, ate my salad, and within ten minutes I had a hearty, well seasoned dish. 
[Sorry about the ugly cell phone pics]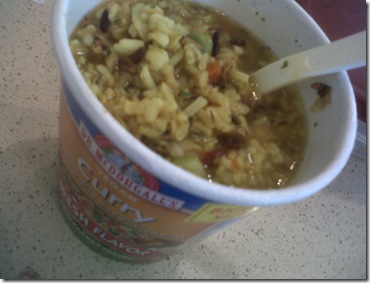 I'm fairly impressed (dare I say, surprised?) that this Curry brown & wild rice fruited pilaf tasted as good as it did.  It was flavorful with a nice balance of grains to other ingredients.  There weren't too many veggies, which I didn't mind, and the accent of slivered almonds and raisins offered a sweet crunch every once in a while that I really liked.  As you might expect with a just-add-water item, the rice was a bit more crunchy than a regular pilaf.  But I wasn't expecting much so I was pleasantly surprised that it wasn't so hard that it got stuck in my teeth or completely mushy. 
I will definitely be buying these again.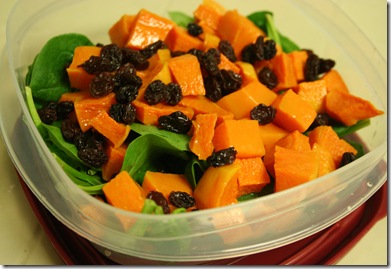 This spinach, butternut and raisin salad was the one tupperware I did bring.  With my sweet tooth cycle in constant motion, I'm finding veggies are the craving I have most often.  My body must know how to to auto-correct itself or something. 
After work, Kyle picked me up and we hit up Whole Foods for dinner…and then we were on our way up north. 
Two of my patients had strokes that day, so I was beyond exhausted.  As soon as I let myself relax, I started nodding off.  Not good when you are only an hour into a 6 hour commute.  I demanded a Starbucks stop (gas station coffee is unacceptable plus they don't have soy milk).  When we finally found one, I swear I almost cried tears of joy.  Turns out, it was the worst visit.  The employees were rude and horrible.  They were out of soymilk and didn't care one bit. 
What's that slogan again? 
Oh right.
And yet, the employees refused to give me what I wanted or compensate me in any way.  How hard is it to give me a free coffee?  It's not even about the 50 cents either, it's the principle. 
Starbucks should know better than to piss off such a loyal customer.  Especially a gold card holder with a food blog and obsession with twitter. 
I'll be back later with the winners of the Three Sisters cereal. 
Elise January 1, 2011 asian tofu, butternut squash, chickpeas, coconut date rolls, curry, dates, nuts, oatmeal, peanut butter, quinoa, spinach salad, Starbucks, Stevia Read more >