Kyle's coworkers tease him (in a fun, non-mean way) about his healthy vegetarian lunches.  Apparently he's the organic, non GMO hippie of his office, just like I am in mine. 🙂
Now his colleagues are wondering when I'm going to start packing food for all of them.  Which I'm considering a victory for veggies everywhere.
Thanksgiving leftovers on quinoa.  Oatmeal & snacks.
Spaghetti.  Crock-pot potato chowder (recipe coming).
Pita SB&J with organic Swanson sunbutter and home-made pluot plum jam.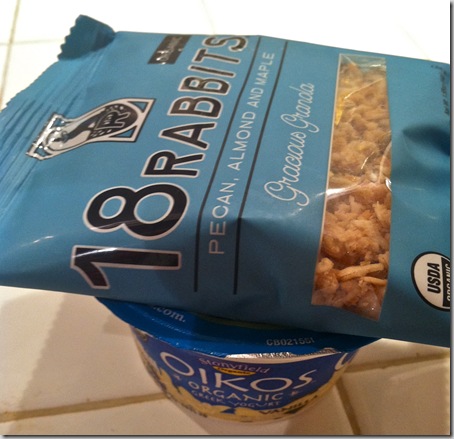 18 Rabbits gracious granola packet with organic vanilla greek yogurt.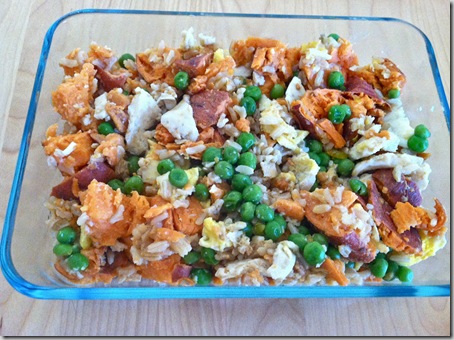 Scrambled mish mash made from the leftovers of a fried rice dinner (below), enhanced with a steamed and chopped sweet potato.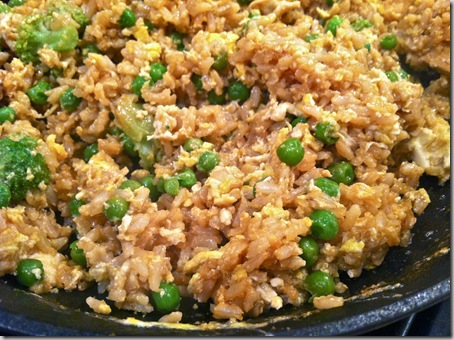 Rice, peas, broccoli, eggs, sesame oil, and soy sauce.  Made for dinner, but with extra servings on purpose, for both Kyle's lunch and mine.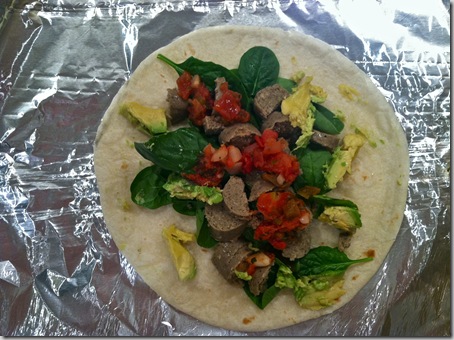 Burrito with spinach, tofurky kielbasa sausage, avocado, and Sabra's garlic salsa.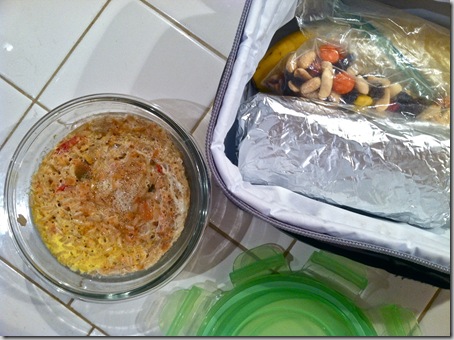 Breakfast quiche with brown rice, eggs, TVP & Sabra's garlic salsa.
People always seem to love when I write posts about packing lunches and meal prepping.  The truth is, it's really easy as long as you set aside the time to do it.  Don't plan to do it in the morning before you go to work because that's crazy and will never work.  Pack things up the night before, when you're making dinner for that night. 
The best tip I can give is ALWAYS MAKE EXTRAS.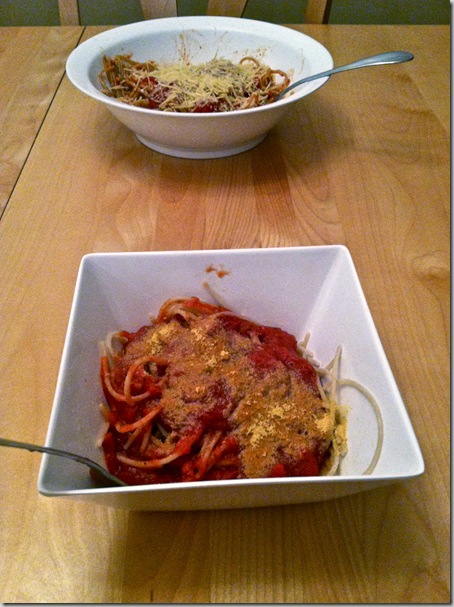 For this dinner I made spaghetti with marinara.  I made his with organic whole wheat noodles and mine with De Boles GF brown rice noodles.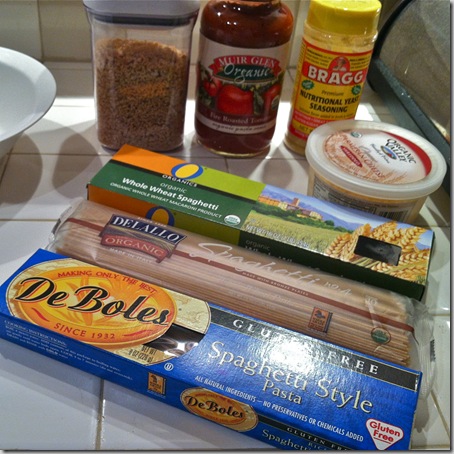 It wasn't laborious in the least.  I just made two huge pots of pasta, and served half for dinner and served the rest right into the tupperware for a meal the next day.
Left side is dinner, right side is pre-packed for work lunches.  Top row is Kyle's (hence the parm), bottom row is mine (with the nooch).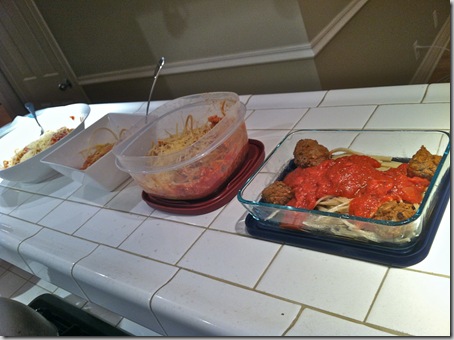 I don't mind being his lunch lady.  In fact, I like it.  Packing his meals is far from a chore.  I do it because I love him and I want him to eat nice balanced meals, with quality ingredients, a range of micro and macronutrients, and yummy flavors.  Ever since he's gone vegetarian, he's been learning more and more about nutrition, asking me questions often and taking in all the info with enthusiasm.  So I know it's of interest to him (as opposed to a forced conversion).  Makes me happy to see him satisfied and content. 
It also makes me think about raising a kid (and how I'll approach nutrition and diet with a baby boy).  Obviously I've given it some thought – I mean, it's ME – but at the same time, I'm still pretty unsure about a lot of stuff.  Naturally, Kyle and I have discussed it as well.  Will he be vegetarian?  Vegan?  Milk free?  Dairy free?  Etc.  Similar to my birth "plan" I have a rough idea of what I definitely do and don't want, but for most other things, I'm just going to wait and see. 
I was a tofu loving babe, so maybe he will be too.  I've certainly given him plenty of variety in plant based eats while in utero (which they say he can taste and will therefore prefer once he's eating solids).  Every time I go grocery shopping or browse a restaurant menu or plan out lunches and dinners, I think of what new things I can expose him to.  Hummus was the most important, of course. :) 
In the summer I was going melon crazy, while juicing with veggies and fruits on the regular.  Basically, he's been eating kale since he was days old.  And of course there were those first trimester tomato cravings. 
Once fall hit, I switched gears to roasted roots, like squash and sweet potatoes.  And apples, naturally.  FODMAPs be damned, I want my son to like apples. 
But those are just the main players.  I've made sure he's tasted everything from dates, papaya, and hemp seeds, to nooch, ginger, and berries.  And that's all I can do.  Fingers crossed it's enough to make a mini hippie. 
Of course it won't be the end of the world if he doesn't like brussels sprouts.  But wouldn't it be great if he did?  🙂
Elise December 4, 2012 avocado, de boles, eggs, granola, greek yogurt, mexican food, oatmeal, pasta, pitas, potatoes, quinoa, root veggies, stir fry, sunbutter, tofurky, tortilla wrapwork meals Read more >