There was a lot of food in the house on Thursday.  And the Wednesday before.  Actually, the Tuesday before too! 
We set off for my parents' house after I got my hair cut (finally!!!) on Tuesday evening, so by the time we got there P's bed time had come and gone and he was not thrilled in the least.  Fussy pants was quickly soothed by the heaps of attention he received once more relatives arrived.  Family!
The house was jam packed with people, so the 3 of us shared a room which meant sneaking in and out was kept to a minimum.  Praise the fact that we have a good sleeper because the house was the opposite of quite the whole week.
Anyway, this is a food blog.  How about some food?
After we put Mr. P down on Wed, we ordered Indian food for the masses.  My dad told me "whatever you're planning on ordering, double it".  So I did.  And it was ridic.
The amount of food we had was actually enough for a wedding.  There were huge trays of catering style foil containers that held so much food it was embarrassing.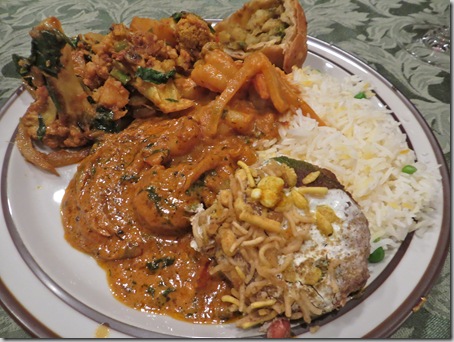 We ordered from Swad, my family's fave spot in town.  There were almost as many vegetarians as meat eaters, so the ordering was pretty easy. 
As you can see, my stomach was growling when I served myself. 
I can't recall everything I sampled, but there was definitely aloo gobi, vegetarian vindalu, veggie samosas, and a few curries.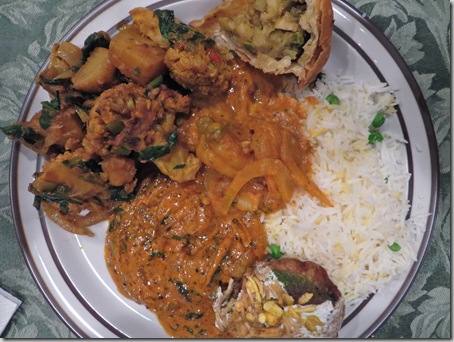 The next day we woke up to get our Thanksgiving prep going.  My mom had set up the rice cooker to make steel cut oats overnight, which worked out perfectly.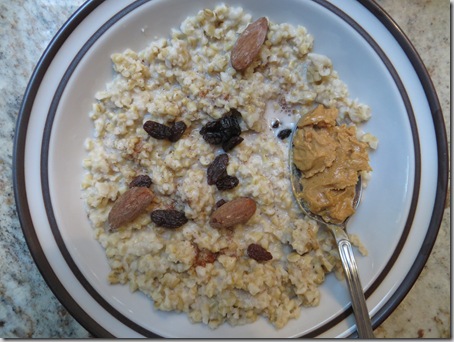 Mine had nuts, raisins, cinnamon, and peanut butter, with some extra almond milk to thin it out.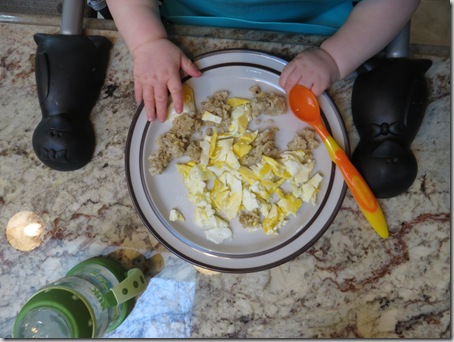 Steel cut oats in the rice cooker end up the perfect consistency for munchkin meals.  I made eggs and oats for my little man.
We took a break from pie making for lunch. 
In the name of eating quickly, I simply fried two eggs and served them over a sweet potato and carrots with some goat cheese.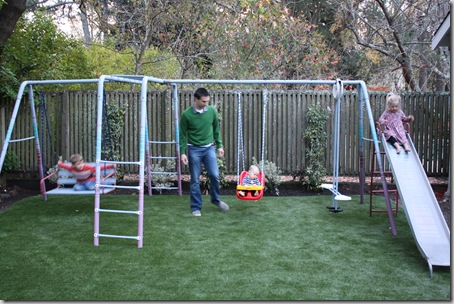 We also played on the new faux grass my parents just had installed under the swing set.  I can't believe the next generation is now using the swings and slide we grew up on.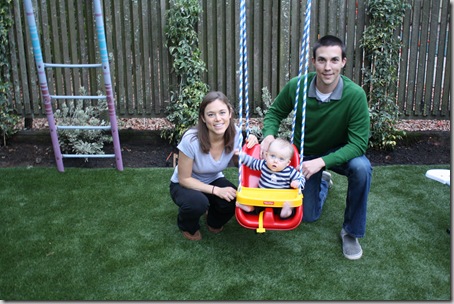 Got the kids worn out for naps and then it was back to the kitchen!
Once we had a handle on the prep for Thursday we switched gears to prepping for dinner that night (Wednesday).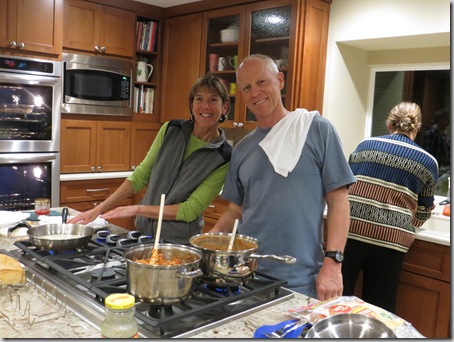 Taco night!  Just like last year, we did a Mexican feast the day before Thanksgiving.  Because why give yourself a break when you can stuff your face two days in a row? 
Mom fried the shells, dad made the beans, I sautéed the bell peppers and helped with the Mexican rice.  Kyle and Marie chopped and grated.
Mine started as a soft taco in a corn shell and ended up as a taco salad without lettuce on an open faced tortilla.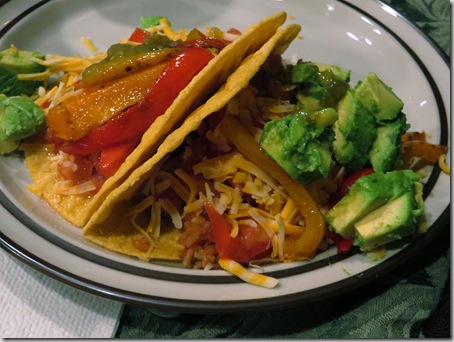 Kyle was more traditional with his fried shells. 
BTW, we made these cranberry margaritas to accompany the meal.  Bon Appétit is a major source of inspiration in our fam.  And for the record, you don't really need to strain the mixture.  We were lazy and it still turned out fine even with the berry skins. 
After dinner it was back to the prep.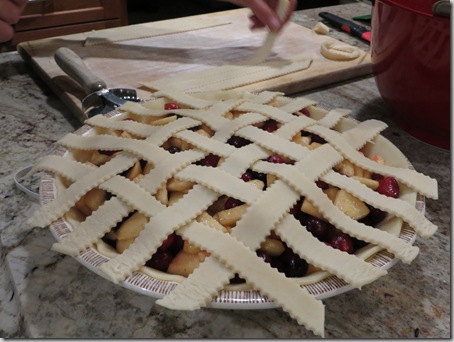 With the dessert and dinner stuff done, we moved onto Thanksgiving brunch.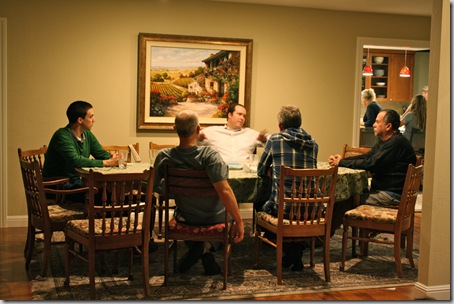 The boys chatted in the other room.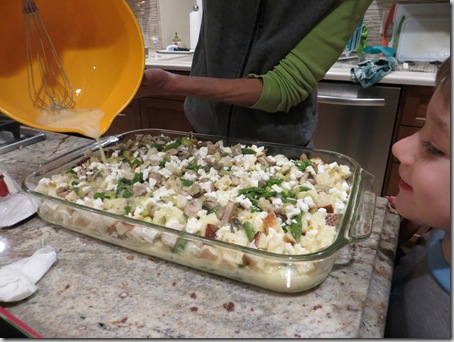 This strata was on the menu for the next day and Finn even left his legos to take it in.  That was the last bit of prep!  Bed time. 🙂
P woke up around 5 am, so I nursed him and brought him into bed with us and we all fell back asleep for another hour before our early wake up call.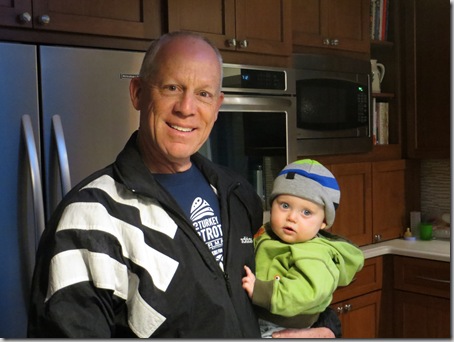 Turkey trot!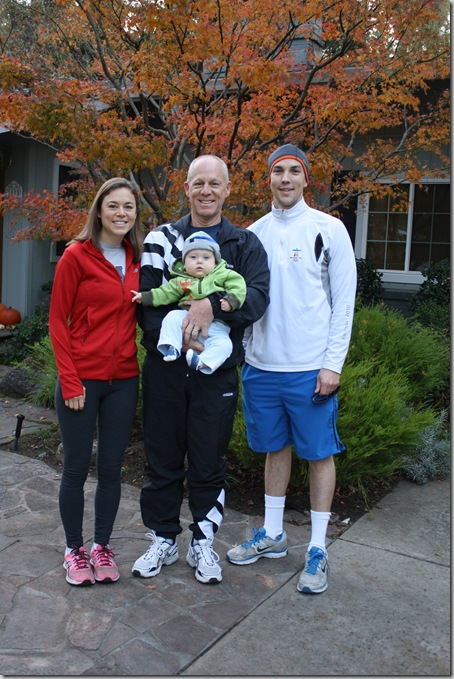 I actually roped Elaine (plus her hubby and kiddo) and my dad into joining me and Kyle in Walnut Creek's 5K.  It started at 8 am, so it wasn't terribly early, but it was pretty cold.
We all had a good time, except for patty-cakes who is pretty much over the stroller at this moment in time. 
Afterwards we rewarded ourselves with Peet's lattes.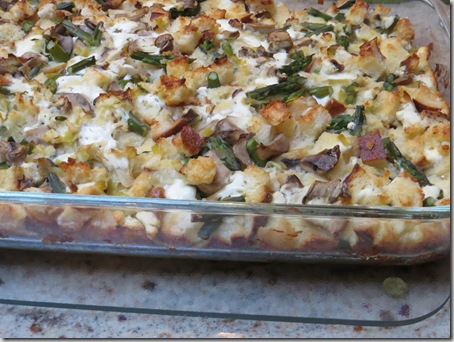 And the strata of course.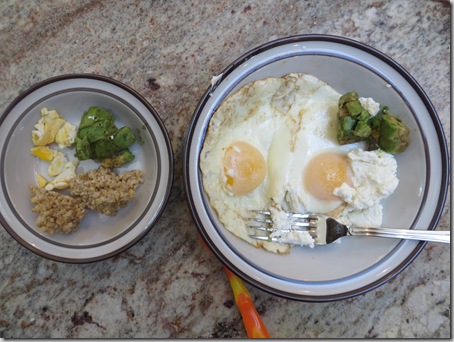 I didn't want any wheat (saving my FODMAPs for dinner) so I made separate meals for me and P.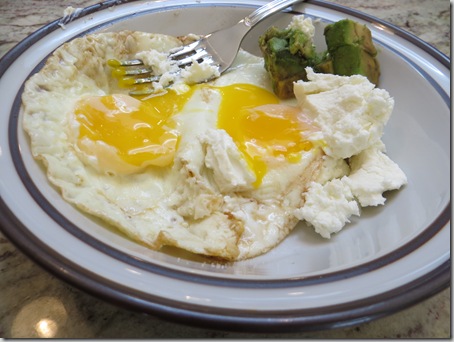 Eggs, goat cheese and avocado x2.
Clearly that run left him exhausted because he fell asleep in Marie's arms while swinging.
I don't have pics of the snack scene because I was helping cook and/or playing with the little ones for much of the afternoon.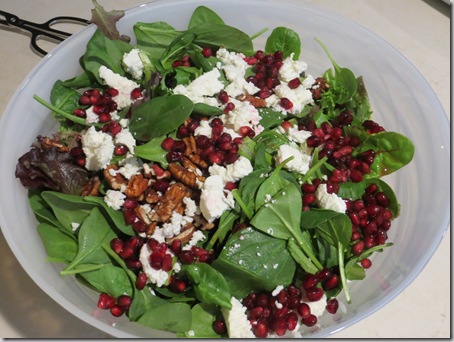 I was in charge of the roasted root veggies and the salad. 
This guy had spinach and spring greens, goat cheese, pomegranate seeds, pecans, and balsamic vinaigrette.
My normally non-picky eater decided that mashed potatoes were not happening, so his Thanksgiving dinner included roasted veggies, banana, avocado, and leftover scrambled eggs.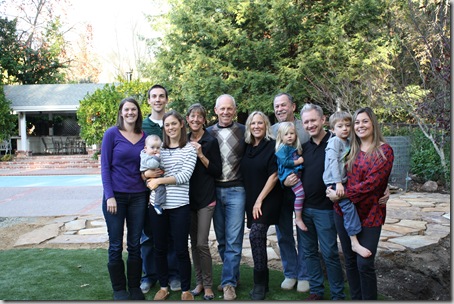 Here's a decent shot of my moms' side of the family.  Why didn't we take any of my dad's side?  Weird. 
We were aiming to eat at 4 pm, but didn't get to feasting until after 5.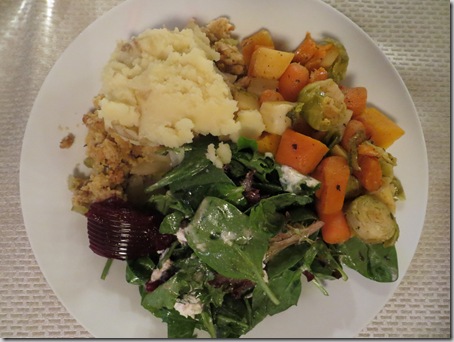 P was nearing melt down mode thanks to the early wake up call but he was a trooper and made it through the meal.  At least my first portion.  😉
Most of my family's tradition recipes for Thanksgiving have been previously posted here. which includes the roasted veggies and the mashed potatoes (made without dairy) below.
We had two stuffings this year.  My mom's traditional one (recipe here) and a cornbread sausage one (from this month's Bon Appétit).  My mom separated some of the cornbread stuffing prior to adding in the sausage so the vegetarians had two options as well.  I thought it was great!  She left out the fennel because she doesn't like it (neither do I) but even without the sausage and fennel I enjoyed it.  She used store bought cornbread and thought it would have been better if she had made the cornbread herself, but that's just her being picky.  It was nice to have a gluten free option. 
I'm all about the canned cranberry sauce.  Oceanspray ridges baby!
My uncle brought rosemary bread from Acme Bakery again this year.  And then there was a simple green bean dish with melted Earth Balance and slivered almonds.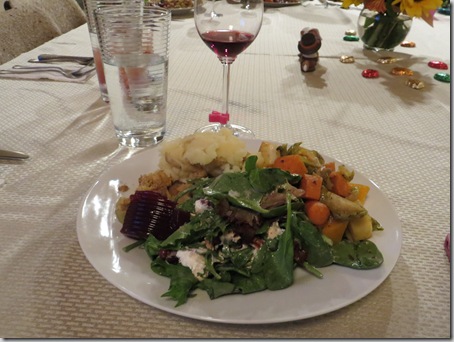 Boom!
Served with my absolute fave vino, Roscato.  It is just SO good.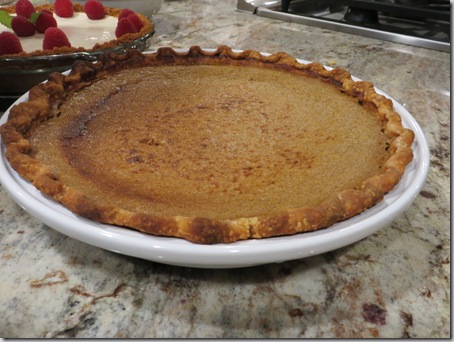 Intermission between dinner and dessert was filled with a bath, story, and nurse session.  And then it was pie time!!!  That's the spicy pumpkin pie above.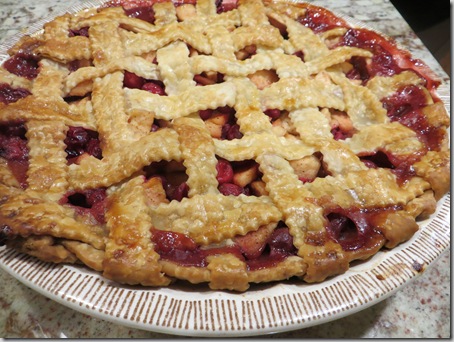 And this is her apple cranberry (I've never posted the recipe, but this is my vegan version).  She used the other half of the gluten free crust (left over from the chocolate pecan pie) for the bottom of the apple cranberry and then used wheat crust for the cross pattern.  Ideally we would have gotten another GF pie crust but I didn't get my mom's text until I'd already left the grocery store.  We don't have any celiacs in the fam, but for the wheat avoidant (aka me) we figured it would be easier to pick that portion off.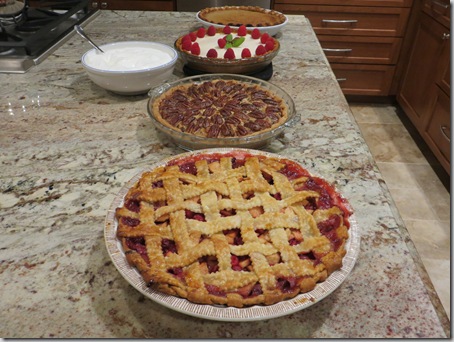 And of course there's her cheesecake (world famous – I should def post the recipe at some point).  And the chocolate pecan I shared yesterday.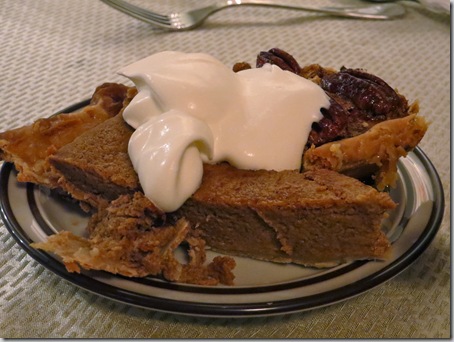 Kyle had a slice of both the pumpkin and pecan (he's obsessed with my mom's pies) and I had a huuuuge piece of chocolate pecan.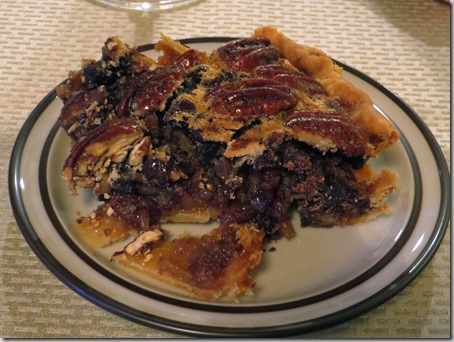 I was perfectly satisfied, not too full, not hungry enough for another serving later on. 
That night was another wakeful one for Mr. P.  We brought him into bed with us again, just to keep him quiet for the rest of the house (still packed with relatives in every room).  Ugh.  The next day he was super fussy and we finally put two and two together and realized he's teething.  Same as last time, he was cranky all day as well as snotty and poopy.  It's a wonderful trifecta, but for my otherwise angel baby, it makes it pretty obvious what's going on.  Poor kid.  We haven't seen the top ones come through yet, but it's looking like any day now.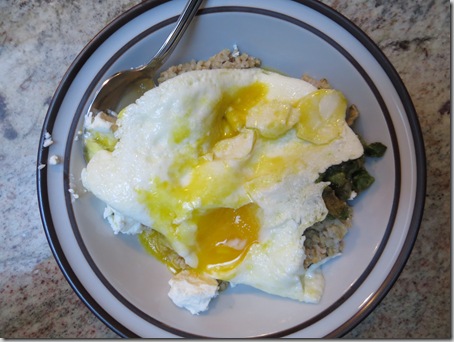 Breakfast for me was leftover steel cut oats with eggs, and avo.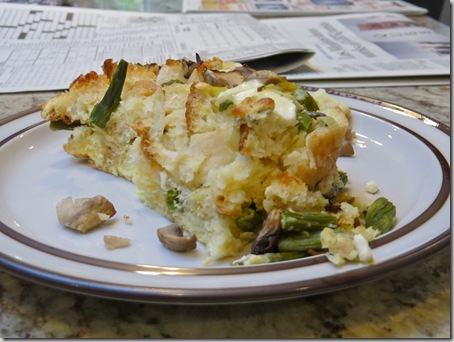 Kyle had leftover strata.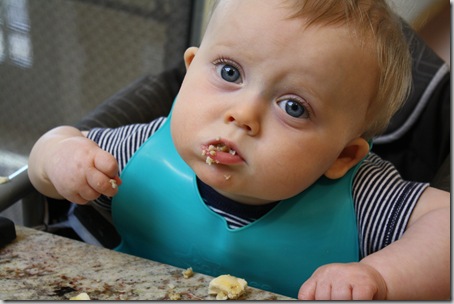 P had oats and banana. 
His new thing is pointing.  He does it all day long.  So cute.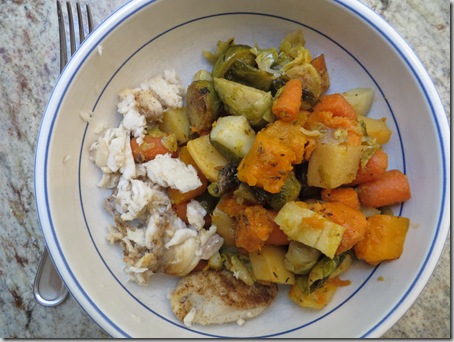 P and I had the same thing for lunch – leftover tilapia (from taco night) and roasted veggies (from Thanksgiving).
We had a date in the afternoon with Alene, which included dragging P on a walk around the Lafayette reservoir.  He was fed up half way around so I carried him the rest of the way.  Hello workout!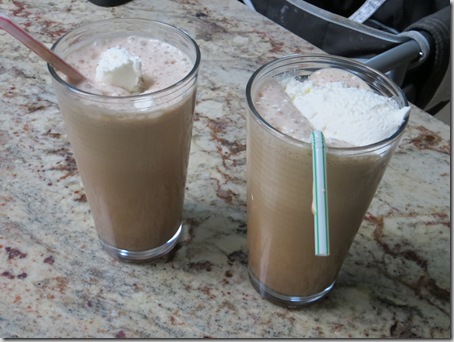 Once we got back home I showered and made a snack (Mary's Gone crackers with daiya and roasted almonds).  Then I made a frappucino for Kyle because he was dragging from the previous night's wake ups.  I made too much though, so my mom got the extra portion.  I topped them with fresh whipped cream leftover from the Thanksgiving desserts.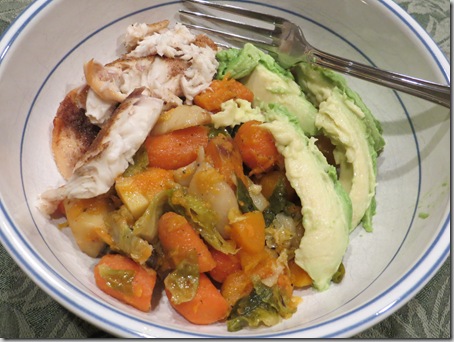 Dinner was (duh) leftovers. 
Since we had three meals to choose from – taco night, Indian take out, or Thanksgiving – we were all over the place. 
I had a repeat of lunch (fish and roasted veg) with added avocado.  Time two.
After dinner we started to watch Flight, but P woke up crying with 20 minutes left so I didn't see the ending.  Don't worry, I still squeezed in dessert. 
P was up on and off all night and Kyle and I both felt majorly sleep deprived the next morning.  It was kinda awful so I went to the store and got Baby Orajel Natural tabs.  I also ordered amber teething beads from amazon.  I dunno…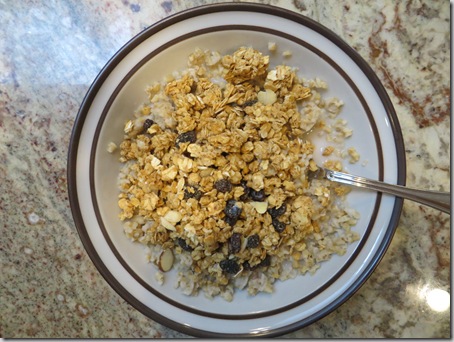 I had steel cut oats topped in granola for breakfast then plopped myself on the couch to watch football.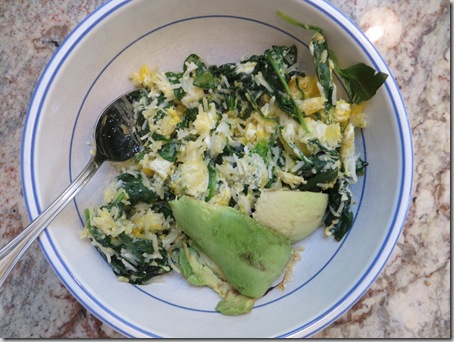 My lunch creation was a stir fry of sorts with Indian rice, spinach, eggs, and avocado on the side.
Good stuff!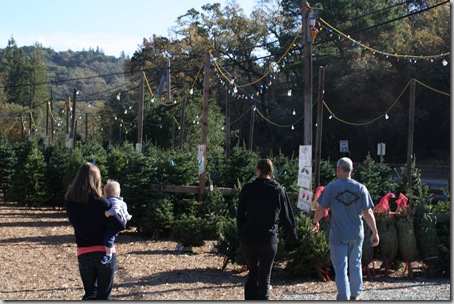 Fueled up, we all set off to get the Christmas tree.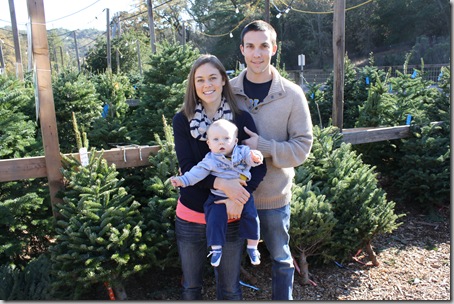 Holiday card potential.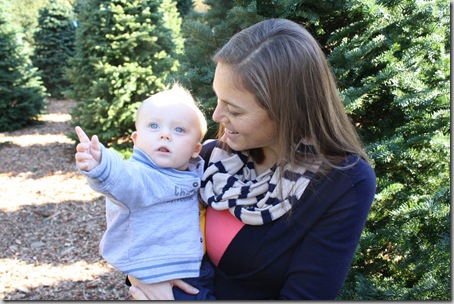 My little pointer said I want that one!  And so that's the one we got.  🙂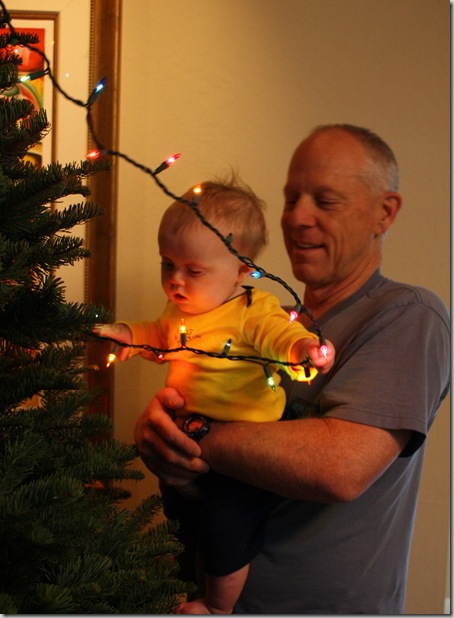 Turns out, pine needles are a close second to hair in terms of favorite "toys".
Such a good decorator eater.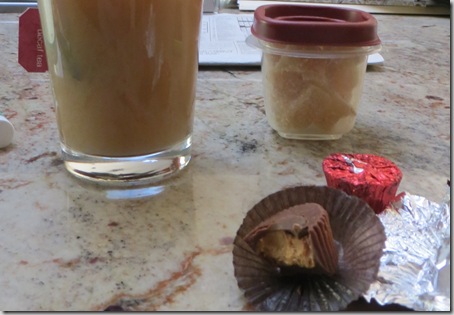 We listened to Christmas music for a bit, but then put on the UCLA v. USC game.  Go bruins!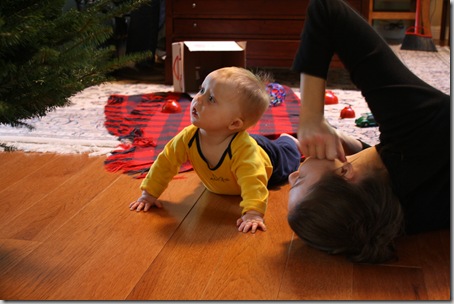 Instead of leftovers, I made the same spinach, goat cheese, pom salad from Thanksgiving.  I made a ton so everyone had a bit.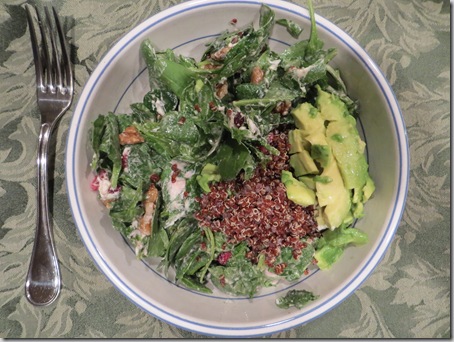 I simply added red quinoa and avocado to mine and called it a meal.
Dessert was chocolate peanut butter cups and candied ginger.  It's a good thing I had some too because it was another looooong night with pacman. 🙁
It was so miserable, in fact, that we solicited my parents to help us around 7 am because Kyle and I were both in bad shape.  Thank goodness for my parents!
The next day was our last one at their house…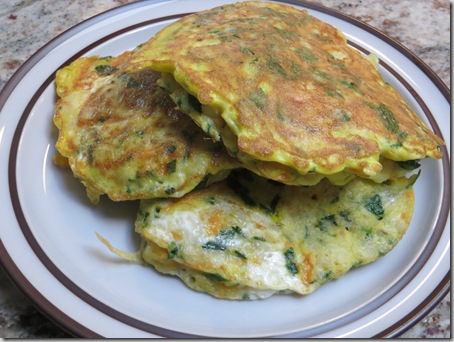 More on this breakfast to come.  Hint: it involves leftover mashed potatoes!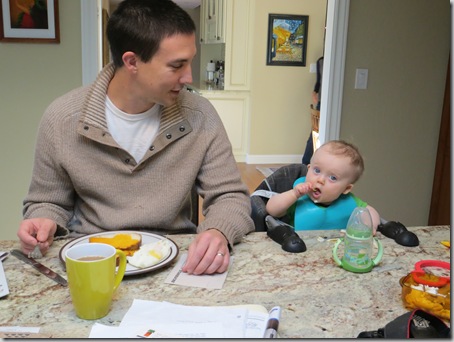 Happy Thanksgiving!
Elise December 3, 2013 apples, avocado, chocolate, dessert, eggs, fish, goat cheese, granola, Indian food, mexican food, oatmeal, potatoes, pumpkin, root veggies Read more >