Last week I took photos of my whole day of eats – something I rarely do anymore – and then I just forgot about it.
But they were good meals worth sharing so I'm posting them now because it's food related and this is a food blog!
It's pretty atypical for me to have oats in the mornings nowadays, so this creation is more of an anomaly than the norm.  I was in the mood for peanut butter but I used sunbutter instead because I'm still nervous about eating nuts when I'm around P.  Even though I'm super careful it's still scary.  It also had coconut and cinnamon for days.
My lunch featured Quorn chik'n tenders which are easy to have in the freezer for random protein emergencies (because we all have those?!?! what??).  Anyway, I was in the mood for a salad with some oomph so I thawed some chunks and kinda worried they'd be weird.
They looked like chicken with freezer burn, but tasted shockingly good!  The ingredients list isn't short, but despite appearances, it's all decent.  It's actually mostly egg protein, and yet it doesn't taste eggy at all.  I liked it more than gardein and many other mock meats.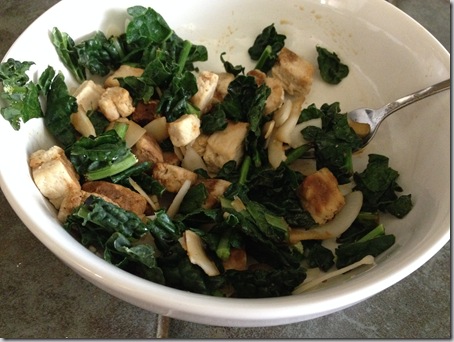 I tossed it with steamed kale, coconut chips, and tamari – a quickie take on this salad (again).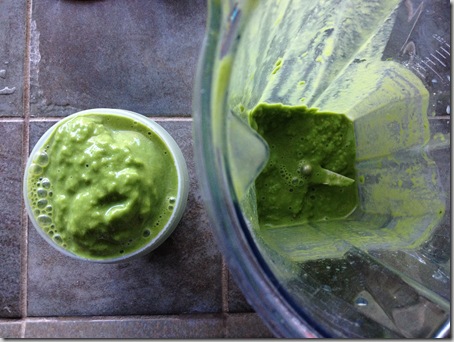 My afternoon boost was green – thanks to the frozen spinach.  The rest of the smoothie had coconut milk, frozen banana, nutribiotic vanilla rice protein powder, and ice.
Dinner was more kale (I can't get enough lately) with salmon.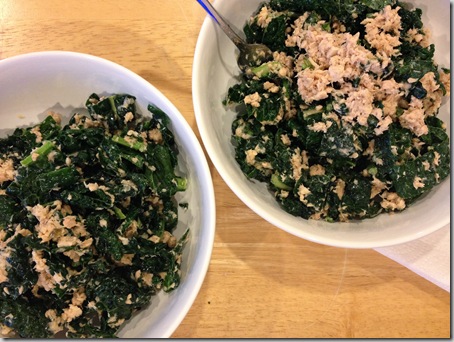 I definitely phoned it in with this meal, but sometimes you need simple ones to balance out the more time consuming ones.  I know which days are going to be busier in advance so those days are the ones that I bust out the crock pot or turn to big salads.  Kyle loves kale salads too so it's a win win.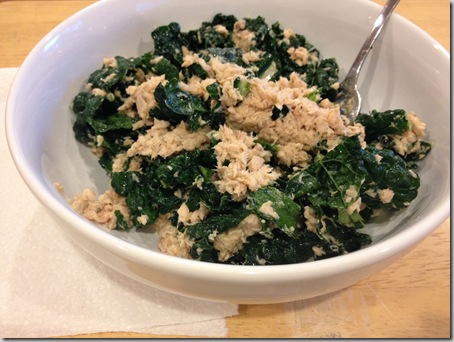 This one had kale (massaged with olive oil and avocado), quinoa, and white beans.  I used canned salmon from TJs so it was ready in minutes.
P still refuses to have anything to do with beans.  It's breaking my hippie heart.  🙁  I'll just keep trying…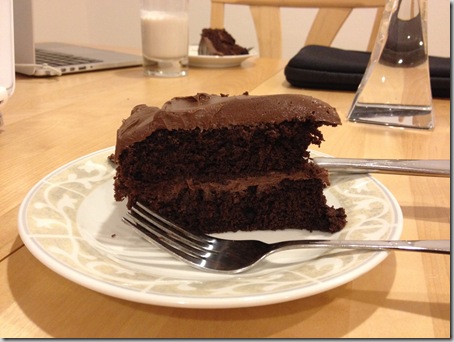 Kyle and I finished off his birthday cake while watching Girls.  We flew through all 3 seasons in a matter of days.  Now it's on to the next season of Mad Men that I saw just popped onto our Netflix queue.  Woo hoo.
Elise April 10, 2014 avocado, banana, beans, chocolate, chocolate cake, coconut, kale, oatmeal, protein powder, quinoa, quorn, salmon, smoothie, sunbutter, trader joe's Read more >