Hey!  I'm alive!  Ish.
This week was crazy.  [Life is crazy]  So many emotions.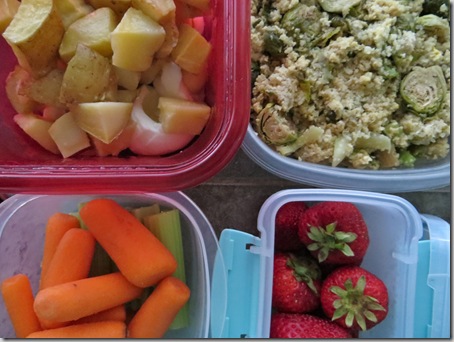 Adjusting to working again after maternity leave is one thing.  Adjusting to a new hospital and orienting to the new unit environment is another.  And adjusting to spending the day away from my love is yet another.  All these changes require me to be flexible and cool with change, which isn't my strong suit. 
I'm a creature of habit with a bit of OCD mixed in (what nurse doesn't have OCD/Type A tendencies, tell me that).  Sometimes this is a good thing (like in an ICU setting), but it's also something I have to be aware of (so that I don't let it ruin the spontaneity of life).  Anyway.  None of this has much to do with this post, but it's just worth noting since I'm now navigating all these new routines and schedules and re-evaluating my roles in life, as a working mom.  Trying not to freak out when things don't go the same way they've been going for the past few days/weeks/months is something I have to consciously work at.  I'm sure it's a natural and passive part of most people's persona, but not mine.  It's enough to have a new kiddo who is changing each and every day, but adding in moving to a new city, starting a new job, and all that jazz.  Lots of variables for a new parent!  As soon as I get in the groove, something else changes.  I like things just. so.  [Type A alert!!]  I'm getting better at adapting and just rolling with the things that are out of my control…mostly because I don't have a choice and I can only micro-manage so much. 
Clearly, I'm a nut job.  Clearly. 
Instead of going on and on about my neuroses, how about I show off my packed up work food? 
For breakfast I had an AB&J bagel.  The almond butter is fresh-grind from the Co-op and the jam is raspberry (home-made by my mom).  The bagel is an Udi's mighty bagel.  So good.
[Mom, we're on the last jar of jam, so I need to get more next time I'm home! Remind me!!]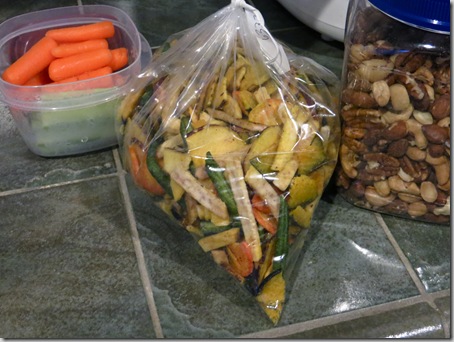 Snacks: carrots/celery, nuts, veggie chips, hard boiled eggs, strawberries, and a Larabar lemon pound cake ALT bar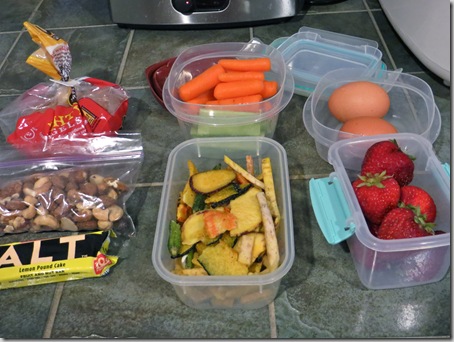 The ALT bars are on sale at the Davis Co-op and I think the lemon pound cake is my favorite flavor.  I'm really into citrus (especially lemon right now).  May have something to do with the fact that I stare at my neighbor's orange and lemons all day long. 
By the way, the above packed food was for a half day's worth of eats (hence the absence of a real lunch). 
This is how you do a savory breakfast!  I made a cauli-egg stir fry before the week started, so I had it ready to go. 
On the side I chugged down some decaf.  I had the first half of the french press while pumping (I leave before P wakes up so I pump and leave the bottles for Kyle).  I take the second half of it with me to the hospital.  With almond milk and stevia.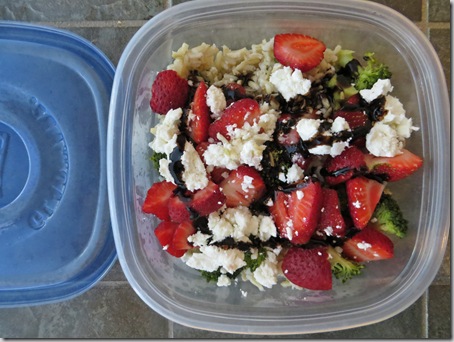 Lunch!  Brown rice, goat cheese, broccoli, strawberries, & TJ's balsamic glaze.
Snacks not pictured?  Who knows where the rest of the stuff went.
One of the things I've realized is that I am less able to eat my meals with a fork/spoon (because I pump on my breaks) so hand-held things are preferable. 
Sandwiches and bars are much easier when it comes to multi-tasking, so until my pumping days are over, I suspect I'll be eating fewer things with silverware.
See?  Look at all the nut butter and jam sandos!  I only had 3 slices of Udi's bread left, so I made 1 1/2 sandwiches.  The half was sunbutter & raspberry jam, the whole one was (the last of the) almond butter & raspberry jam. 
I ate the half in the car before work.  I ate the second one while pumping.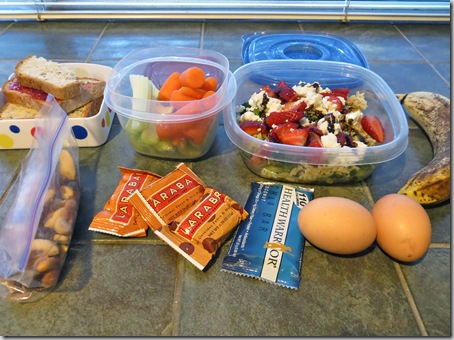 Bananas are another good thing to snack on while pumping.  We have a bunch at the perfect stage of brown right now (I love 'naners with brown spots, no green ones for me thanks).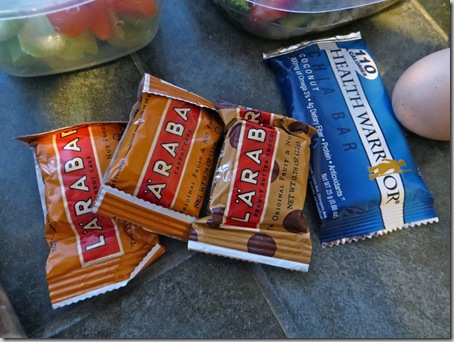 Mini Larabars are also perfect bite-lets.  I wish they sold the sample sizes.  I have no idea where these came from, but I have a few more in my bar stash.  Carrot cake is not a typical Larabar flavor for me to buy, but it's really good!  I'm thinking it may replace cashew cookie as my fave right now.  Although the chocolate ones are pretty awesome too.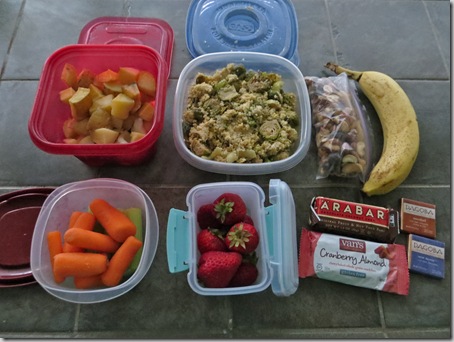 Another day's eats!
As you can see, breakfast was roasted potatoes (made in advance) and hard boiled eggs.
Lunch was cauli-egg stir fry.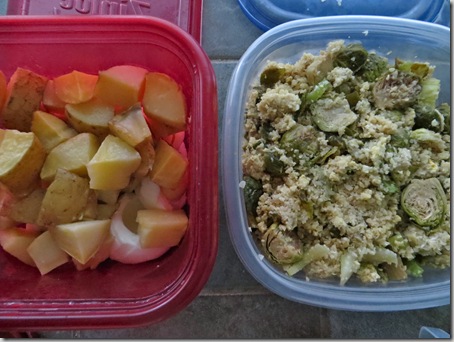 Snacks were carrots/celery, strawberries, banana, nuts, Dagoba chocolates, chocolate coconut chew Larabar (!!!), and a Van's cranberry almond bar that I didn't end up eating.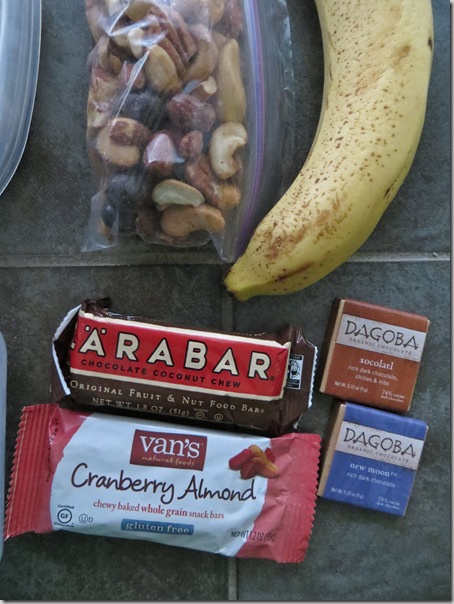 Voila!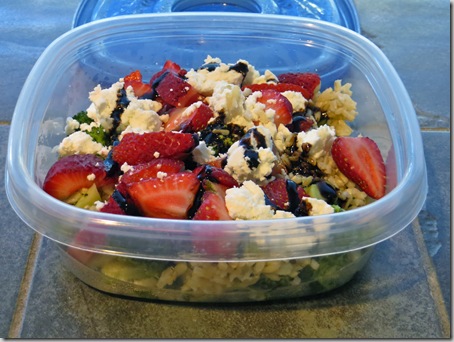 Three key things that have helped ease this transition process? 
Food prep /meal planning
Having a supportive spouse and family
Picking the right job
I could (and should) write a whole post on how fantastic Kyle is.  I know I did a lot of prep before the work week started, but he was still amazing at executing the plan to his Type A wife's specifications.  Super dad.  He also brought P to visit me at the hospital on my lunch break so I could nurse him in person rather than pump.  These are the perks of living and working in a small town.  I love it. 
Child care is another discussion that deserves a more detailed post, but suffice it to say, my family has been wonderful in offering up their babysitting services.
As far as picking the right job goes, I lucked out that I found the perfect fit for me both in the location of the hospital as well as the position.  For now, it's rough because I'm new and on day shift, but soon enough I'll be on night shifts and everything will fall into place.  Then I won't have to miss days with this guy.  It certainly doesn't hurt that I live super close to the hospital and the staff is awesome. 
Even though I did cry a bit (and there will probably be more tears to come) the first week+, I also feel really happy at the end of my shifts.  I'm proud of the work I do and I'm excited to come home to my family.  It's a win win if you look at it the right way.  But it's definitely a balance, because I don't want to spread myself too thin.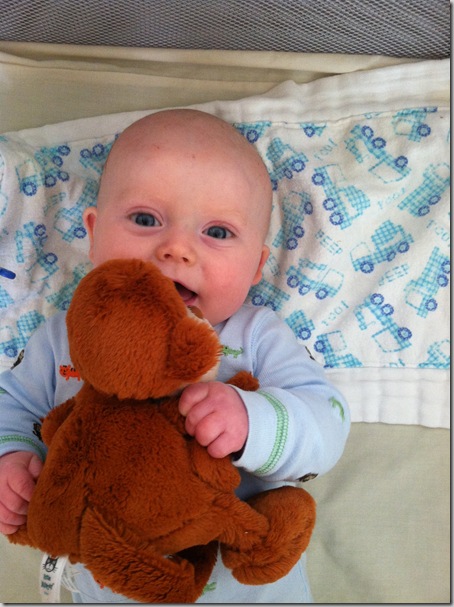 I mean, look at this face!  I don't wanna miss anything! 
Elise June 29, 2013 banana, cauliflower, eggs, goat cheese, larabar, nutbutter, nuts, p.b. and j, potatoes, stir fry, strawberries, udi's, van'sbaby, work meals Read more >