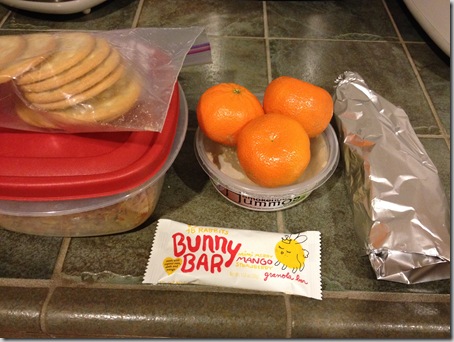 Sometimes Kyle has lunch meetings and sometimes he's home for breakfast so what I pack for him varies.  I just ask him about his schedule the night before and what meals he wants.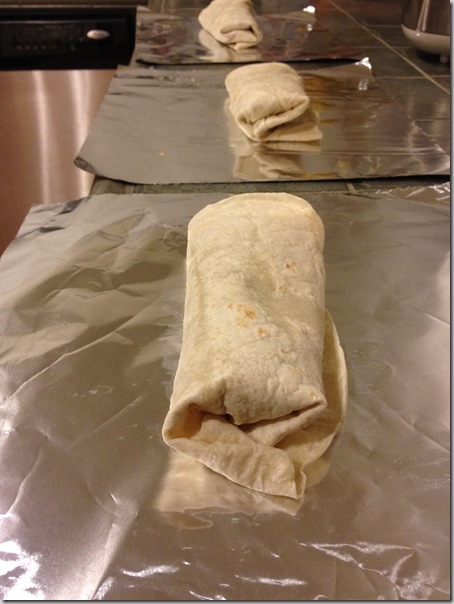 Last week I made a bunch of breakfast burritos for Kyle.  I assembled them and rolled them up in foil all at once so I could just throw them in his lunch box the night before.  So easy.
I am seriously sorry about the photos, but there's only so much you can do with an iphone at 9 pm. 
For the burrito insides, I used the rice cooker  and made brown rice + black beans together, then I tossed in lots of salsa.  The tortillas are flour ones from TJ's (not whole wheat, because they don't stretch as well and get soggy).  The only thing I added to them was cheese.  So easy.
It's kinda rare that we have leftovers from dinner, but when we do I give thme to Kyle for lunch the next day.  Like the lasagna above.
He also likes bars, but I try not to rely on them too much.  Other staples are crackers & cheese or veggies & hummus.  And fresh fruit.  He goes through phases with fruit (often because we buy bulk things from Costco and then OD on them).  Right now he's in a cutie phase. 
Sandwiches are the alternate lunch option.  I only make him PB&J when he's going to be out of the house all day (otherwise I'd make him something allergen friendly so he can play with P).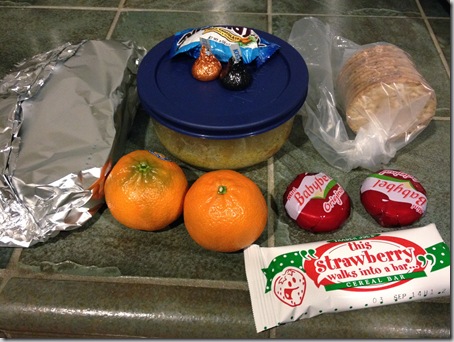 That mini candy bar is leftover from Halloween.  Still.  Eye roll.  
Other sandwich faves: tuna salad, salmon salad, and hummus and pesto.
And then there's the breakfast grits.  So simple and such a pleaser – just corn meal, water, salsa, cheese (and occasionally a fried egg or beans on top).
Elise March 1, 2014 beans, cornmeal, eggs, hummus, lasagna, mexican food, p.b. and j, salmon, trader joe'swork meals Read more >