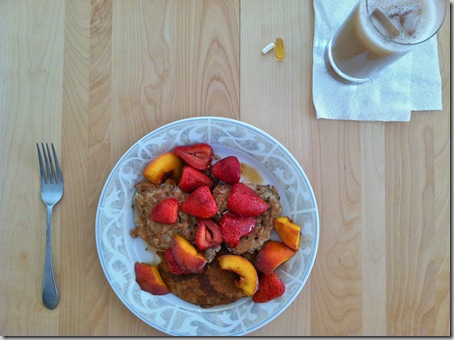 I feel like I'm clinging onto summer with this breakfast.  Home-made banana pancakes with strawberries and peaches.  This was my first sweet breakfast in a long time.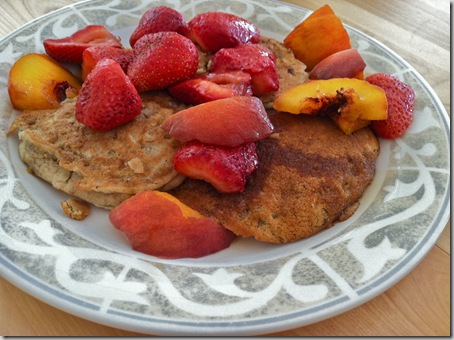 I finally finished off that massive batch of vegan gluten free pancakes that I made a while back, so I had to do actual work in the morning for these. 
The effort was worth it, but I wish I'd had the energy to make a huge batch so there were leftovers.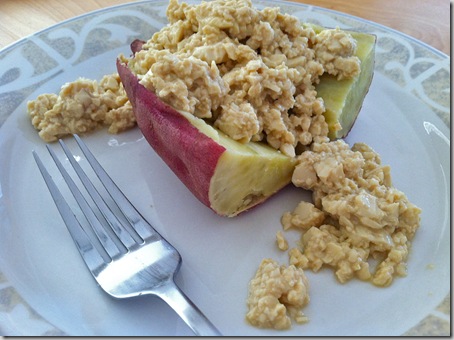 Part one of lunch was half a sweet potato with tofu scramble.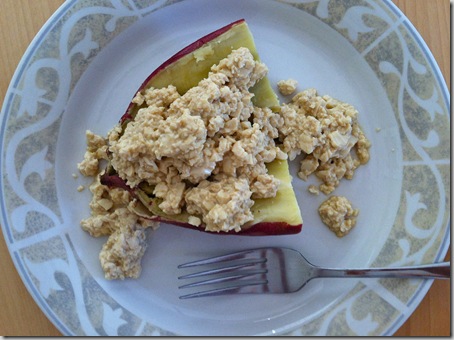 I've been on a nutritional yeast bender.  Better than a donut bender, right?
Part two of lunch was a berry smoothie with frozen banana, almond milk, orange juice, plain greek yogurt, frozen raspberries, ice, and maple syrup.  No measuring. 
After I went on a run I snacked on figs and cookies (vegan, gf).
By the time dinner arrived, I wasn't really hungry, but I knew I wanted something cold.  Oddly, I felt like romaine lettuce with lots of salad dressing.  It's a bizarre thing to crave.  Since we were due for a grocery run, Kyle and I decided to hit up WF for dinner too.  Lazy much?  And although I tried pretty hard to find something in the hot bar that piqued my interest, I just kept coming back to that lettuce salad.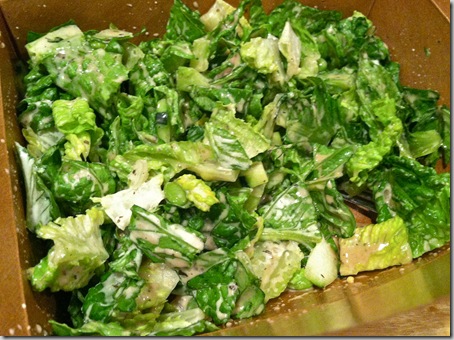 And so I present to you, the most boring salad bar purchase I've ever made.  Romaine, edamame, cucumbers, and lots of Follow Your Heart's vegan dressing (both honey mustard and balsamic vinaigrette).  I really wanted the vegan Caesar or vegan Sesame Miso or vegan Ranch, but none of them were available.  Bummer. 
For dessert, I was still in the mood for more savory (salad dressing) fare.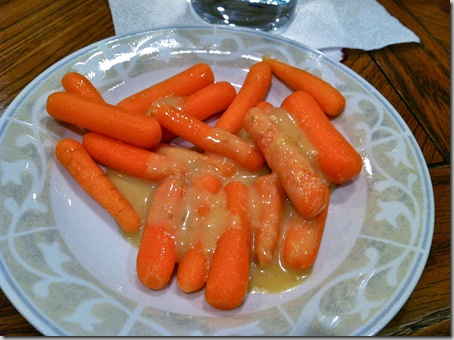 So I had carrots with Galeo's Miso Caesar dressing.  I love Galeo's dressing.  I find it amusing that they were sued earlier this year for claiming to be a low calorie/low fat food.  It's salad dressing people.  Of course it's going to have fat and calories.  At least it doesn't have HFCS.  And the ingredients aren't four feet long.  Can't people just do their own research and read labels?  I mean, if a bottle of salad dressing says it's "the world's best dressing", are you going to sue them if you find a better one?  It's like that lawsuit over coffee being too hot.  Or nutella being healthy.  Are we really so litigious of a society that we refuse to think for ourselves?  Ugh.  If you eat something without doing your own research, that's on you.  Advertising isn't honest scientific reporting – it's advertising.  Anyway, random vent session over. 
After that I packed up both Kyle and my lunches for work the next day.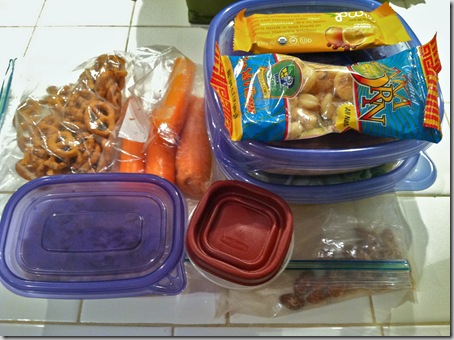 Excessive options, just in case.
I definitely snack more (and eat more in general) on work days.  Gotta keep my appetite balanced in that middle area of not too hungry, not too full. 
I had the (last of the) Glutino pretzels and a few horse carrots with babaganoush.  I never thought I'd actually finish off that whole tupperware, but I did!  Once I ran out of dippables, I just ate it plain with a spoon.  It's by the Pita Pal brand from Costco (I brought it back from my parents' house).
Breakfast (#1) was a chunk of zucchini bread eaten  in 6 am pre-work darkness (sorry for the bad lighting).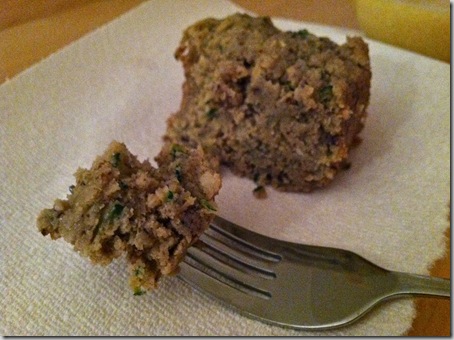 This is gooey gooey bread.  And the zucchini is not at all detectable.  It kinda tastes like cake batter.  I don't know how that's possible but since I still owe you the recipe, you'll simply have to take my word for now.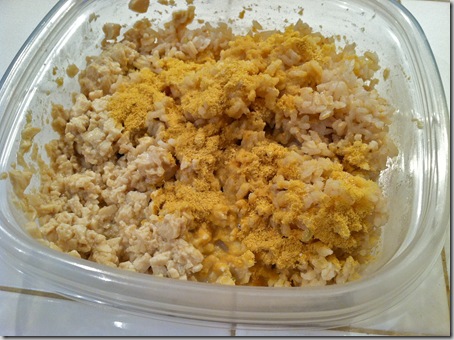 For breakfast (#2) I had brown rice and scrambled tofu.  With extra nooch on top.
Lunch was eaten in parts, starting with the eggplant dip and ending with this romaine & miso dressing salad.  The rest of the previously shown snacks were scattered throughout the day too (Pure bar, corn nuts, almonds, etc.).
Kyle's food was catered to what I know he likes.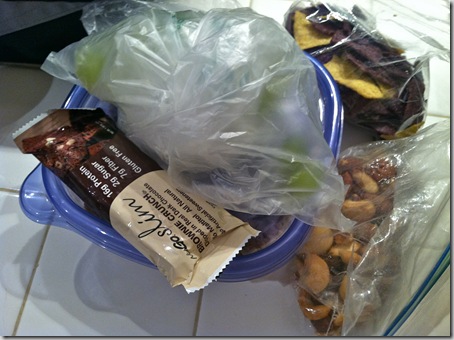 Snacks: grapes, roasted nuts, tortilla chips, and a NuGo bar.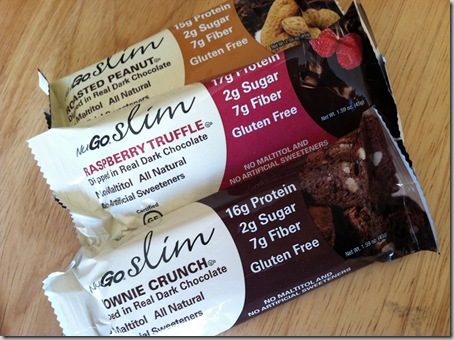 I got these from the company a while ago and Kyle has been the one to test them out.  They have added protein in them, so I let him have them.  For his manly protein consumption. 😉
I made him a PB&J on Sun Flour Wyoming sourdough for breakfast.  We both love SunFlour bread.  They don't have a GF options though, so Kyle's been doing most of the damage on it, while I stick to Udi's or non-wheat grains.  That's my mom's home-made pluot jam by the way.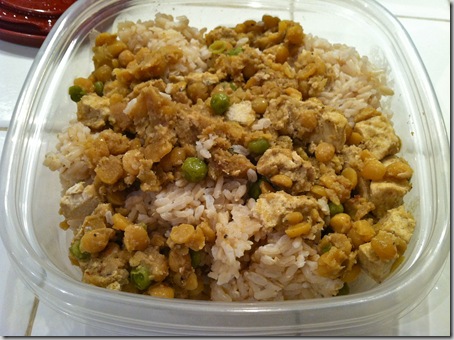 His lunch was curry leftovers over brown rice.  Huge portion.  Happy Kyle. 
He beat me home from work, so he did his own thing for dinner (pasta I guess).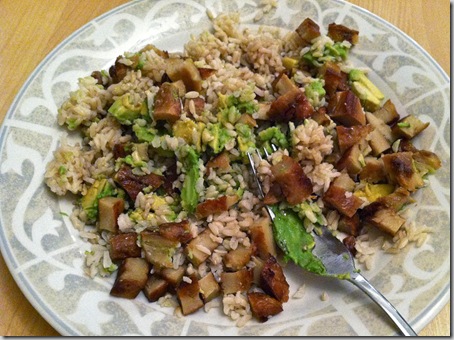 I threw random fridge things together for a hippie bowl of brown rice, seitan, and avocado.  Lacking in veggies, but I had lots throughout the day so I'm not too upset by it. 
Dessert was (more) zucchini bread for me.  And almond bites for Kyle. 
Elise September 17, 2012 avocado, big salad, curry, eggplant, follow your heart, glutino, lentils, nugo, p.b. and j, pancakes, peaches, peanut butter, pluot, potatoes, pretzels, seitan, smoothie, tofu, zucchini Read more >