The whole shebang of last week in one post.  Here goes.
Breakfast on Monday was the last of this savory bread and fried eggs.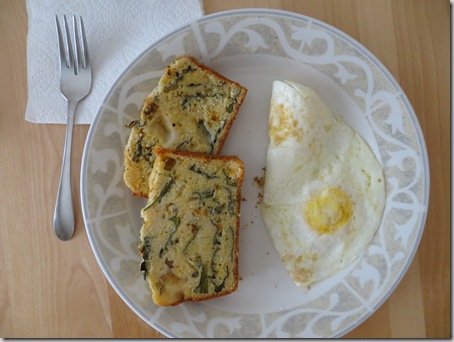 Breakfast on Tuesday was out – I had a savory crepe with hash browns at Crepeville.
Because Crepeville's portions are awesomely massive I had leftovers for breakfast on Wednesday.  Which I paired with two fried eggs.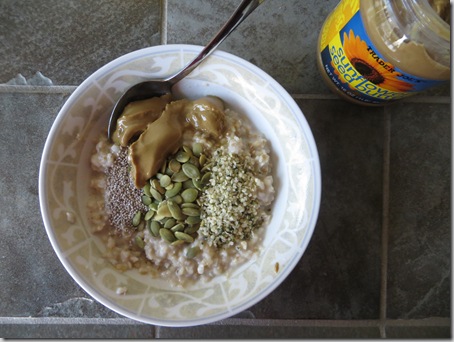 Thursday I made steel cut oats in the rice cooker (the crock pot was already occupied) for our whole family.  I topped mine with a bunch of non-nut things (aka seeds galore) – including chia, hemp, and pumpkin, plus sunflower seed butter.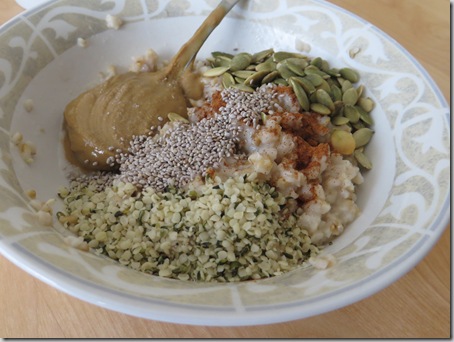 I had the same thing Friday too.  With even more sunbutter.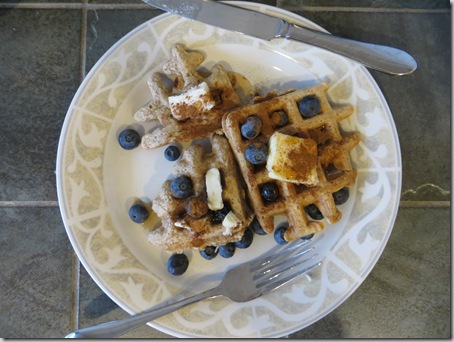 Saturday was a leisurely morning with Kyle home.  So, Waffles!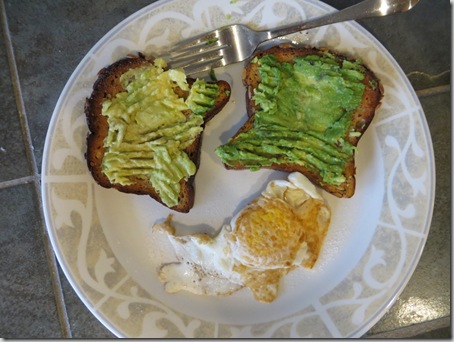 On Sunday eggs were back on the menu!  We finally got groceries – we were down to the last of the fridge bits and pieces – but now I have to wait a while for all 8 avocados to ripen.  Fortunately we still had 1/2 of an avo left, which I split with P for breakfast.  Mine was on GF toast, his was plain.  
On to lunches!
Monday I made an egg & avo mash, which I heaped over spinach and carrots.
And partnered with glutino pretzels.  Costco had these!  I did a happy dance when I saw them and then tried not to get too excited since they'll likely be discontinued by the next time I go (as is the case with all the good GF things I fall in love with).
On Tuesday I made an old school hippie bowl – seitan, quinoa, butternut squash, spinach, carrots, and avocado topped in Bragg's aminos.  Classic Elise meal. 
I bought lots of this brand of seitan when I was in LA because it's my fave.  I miss all of the Healthy Times products.  I wonder if they ship?  Hmmm…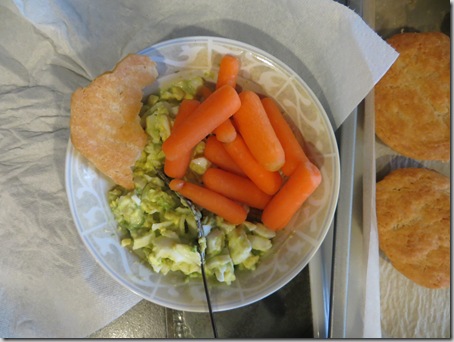 Wednesday's lunch was on the smaller side because I ruined my appetite on (failed but delicious) biscuits.  I paired them with avo/egg mash and baby carrots.
I had the exact same thing on both Thursday and Saturday so I didn't bother to take a pic.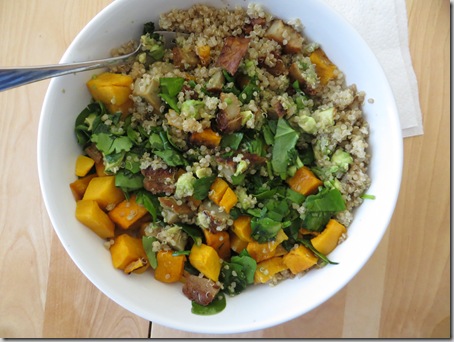 Friday was another seitan salad.  Same ingreds as the previous bowl.  And then again on Sunday.
My lunches are so snooze.  I love em, but they aren't interesting because I like what I like and so I just eat it again and again. 
And now for the main meals.
Monday night featured spaghetti squash! 
How did I wait 'til half way through January before getting my faux noodle face on!?!  I love you I love you I love you.  Kyle had regular noodles because he doesn't share in the fiber love affair.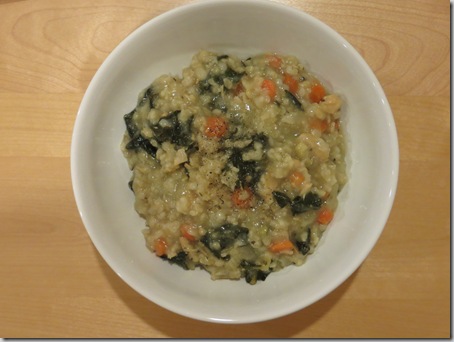 On Tuesday I made use of the crock-pot.  I was aiming for a stew but I guess I didn't add enough liquid with the rice because it ended up more like a risotto.  No problem in my book, it still tasted awesome.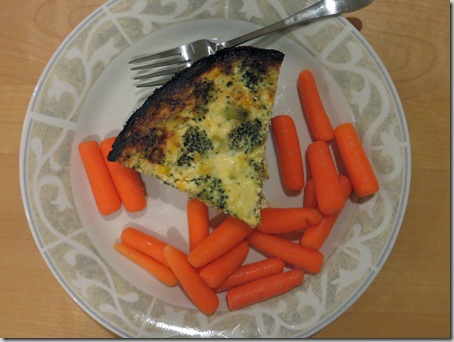 Wednesday was all about the quiche magic.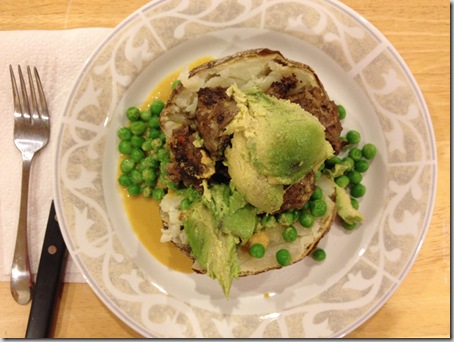 On Thursday I made baked potatoes with the works.  I've posted about it before here.  This time I ditched the faux cheese and used plain goat's milk kefir.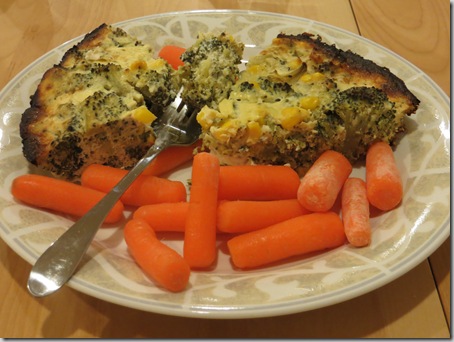 And Friday's dinner was leftover quiche.  The rest of it.  Yep, I ate it all by myself in two servings. 
Saturday night we had leftover stew.  And Sunday we got our weekly sushi fix.  🙂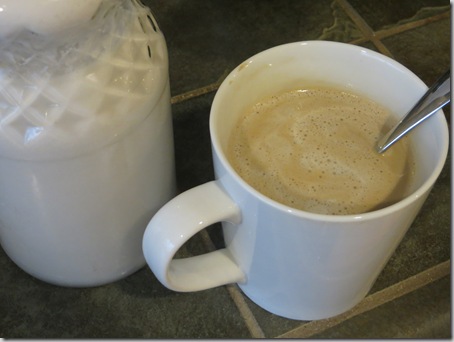 Drinks, snacks and desserts go largely undocumented.  I don't know why since they're the best part of the day.  😉
I switched to coconut milk (from the can) to see if it helped with patty-cakes' allergies.  I made the above with one can of coconut milk (this brand has nothing but coconut and water and it's organic and BPA free…and $$).  I then added another can's worth of water to dilute it a bit (read: make it last longer).  It's tasty!  So far so good. 
I drink at least a dozen cups of decaf or tea over the course of the day, so, ya know.  Better for the little man. 
Here are a list of my fave snacks: kettle corn, chocolate, chocolate, popcorn, corn nuts, banana chips, chocolate…ummm, did I mention chocolate??  It's hard to think of non-nut snacks.  I need to get more creative.  I do have nuts in my desserts though because I know it will be several hours before I nurse P, which is enough time for the allergens to clear out of my breast milk.
Meal planning win.  Onto the next week!
Elise January 13, 2014 avocado, big salad, butternut squash, chia seeds, chocolate, coconut, coconut milk, crepeville, crock-pot, eggs, glutino, goat cheese, hemp, kale, kefir, nutbutter, nutmilk, nuts, popcorn, potatoes, pumpkin, quinoa, seitan, squash, sunbutter, the essential baking co, waffles Read more >