IS TODAY!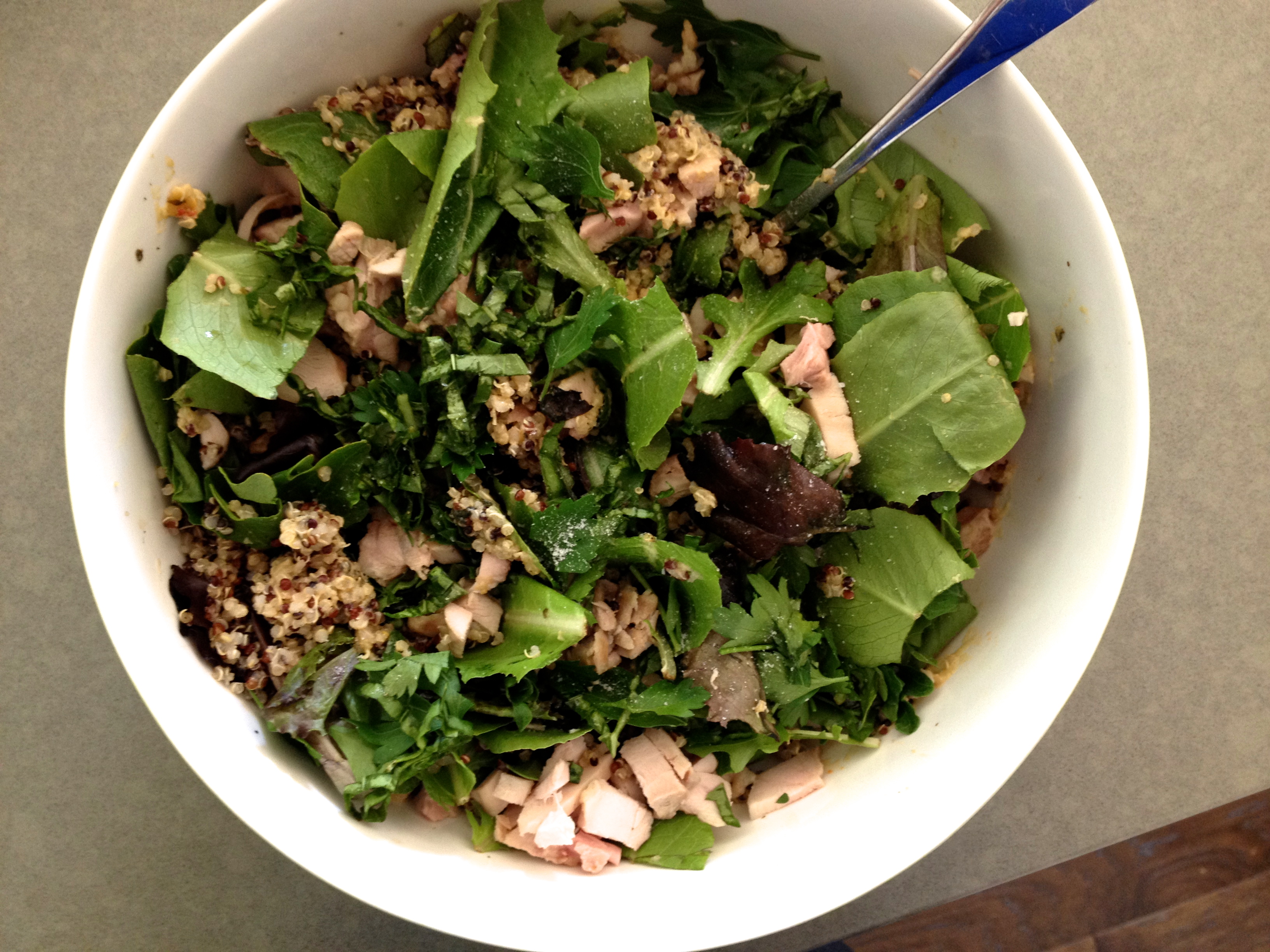 Ok, who is excited about this one!?!  I know I'm not alone here.  Hummus is basically the best food on the planet.  The real shame is that I can't enjoy it as much as I want these days since my son has a sesame allergy.  Any long time readers know I used to live on hummus.  It made up 50% of my diet on a conservative day, and I'm not exaggerating.  And it all started back in NYC with the introduction of Sabra.  Taste buds meet heaven.  And then there were wedding bells. 🙂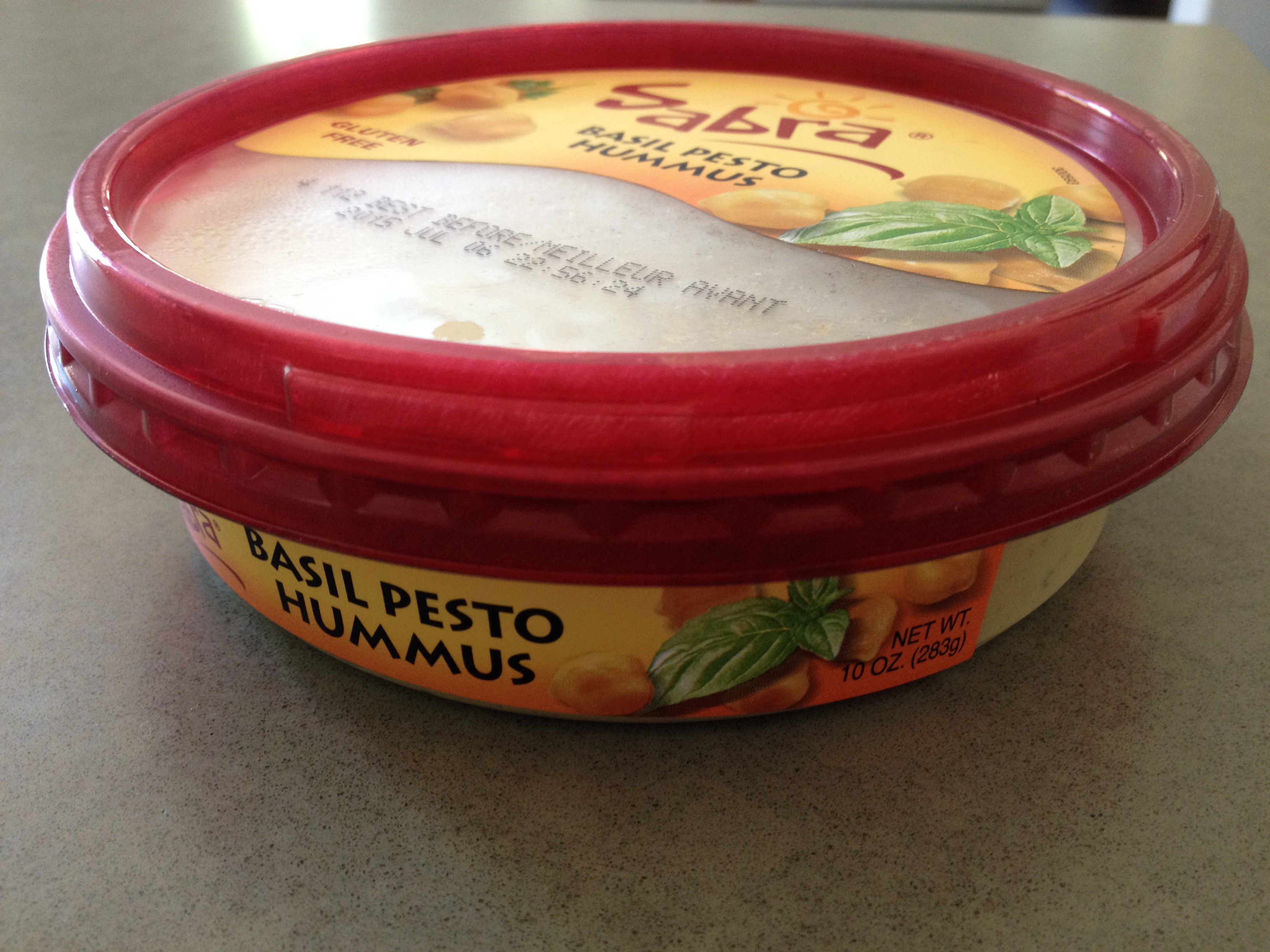 We even went on a honeymoon together.
Anyway, I've been eating hummus again.  I just couldn't stay away.  Like a junkie I got a teeny taste back when V was born and since then I've been sneaking it whenever P is asleep.  Having sesame in the house is a tricky situation but we have a fridge in the garage that has now become "the allergen fridge".  And you would not BELIEVE what it looks like right now.  Sabra bursting from every nook and cranny!  I'm so happy!  My lunches are made!  Dip life to the fullest, amiright?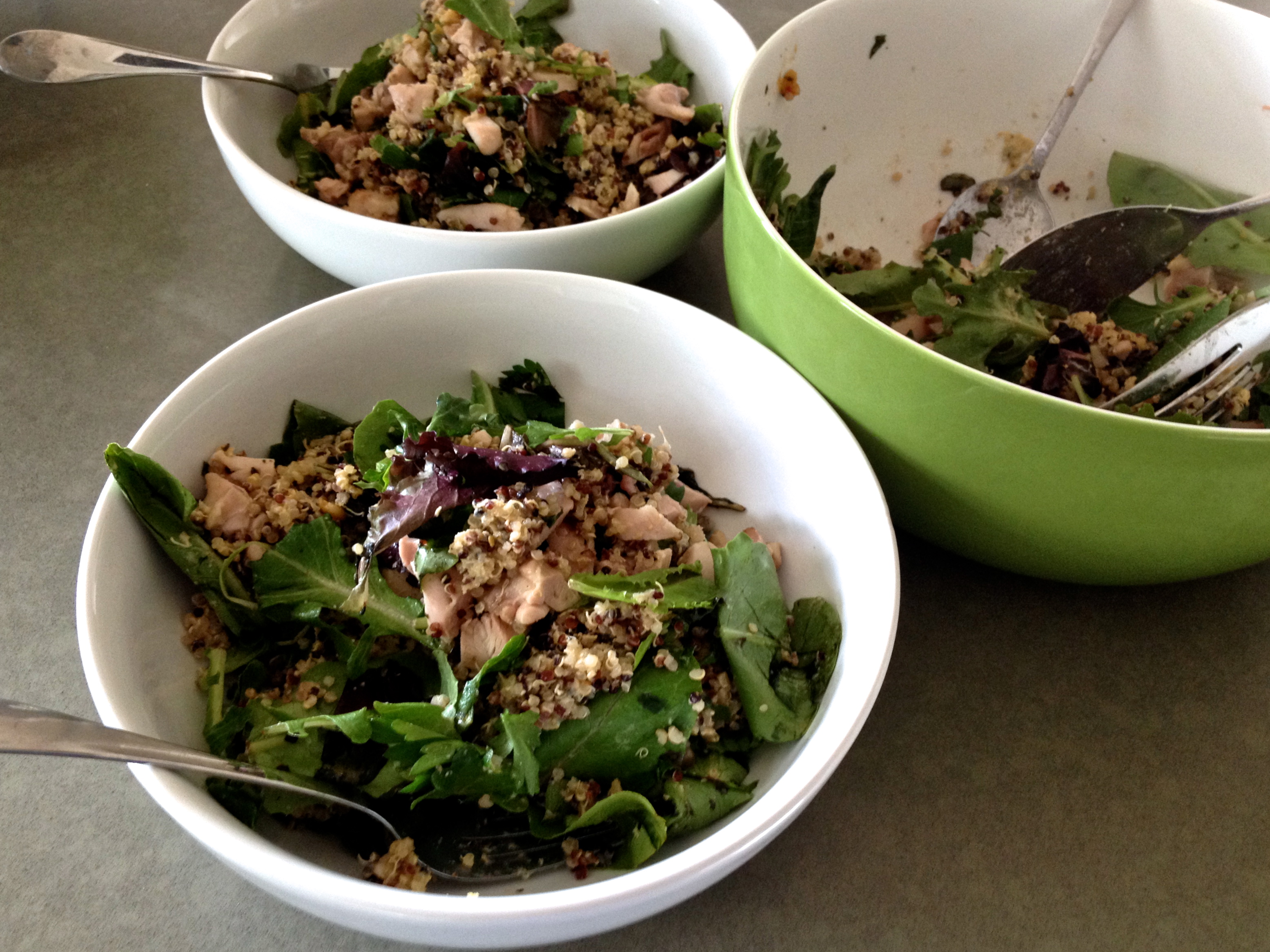 So in honor of National Hummus Day I made this yummy quinoa salad for dinner last night.  That's the cool thing about Sabra's flavors – beyond making a meal on their own, they can just as easily be used as a sauce that takes simple ingredients to the next level without any effort.  I chose the basil pesto hummus because it's spring-y and I like rocking with seasonal flavors.  Plus our garden is booming with parsley and basil right now so it seemed a natural choice.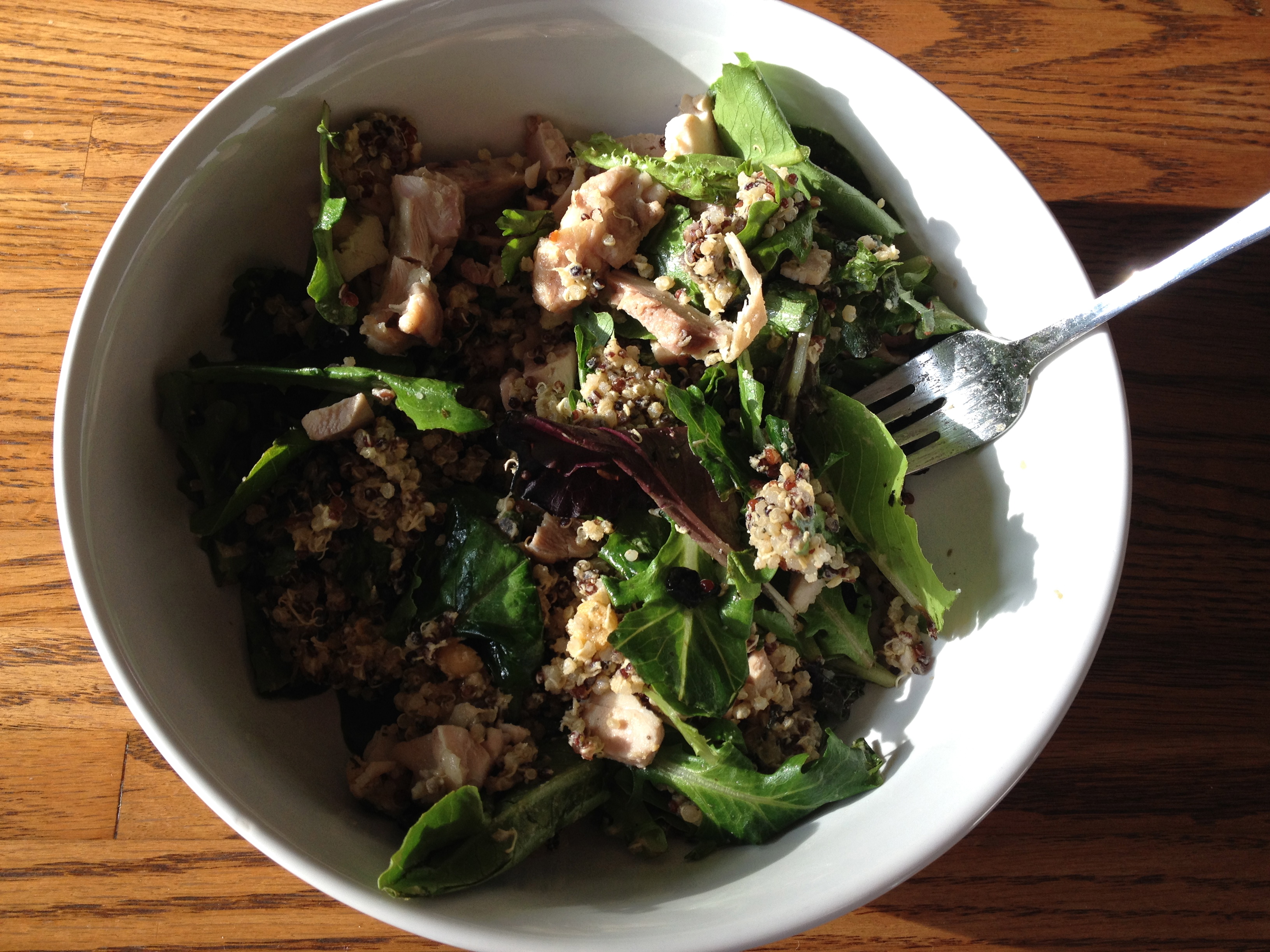 Pesto Quinoa Chicken Salad with Herbs [gluten free]
Ingredients:
1 cup tri-color quinoa
10 oz basil pesto hummus
2-3 cups spring greens
3 chicken thighs (grilled, baked, prepared however you want)
8-10 basil leaves, chopped chiffonade
bunch of parsley, leaves removed (some stems are fine too)
salt and pepper, to taste
Directions:
Cook 1 cup tri color quinoa (1 cup quinoa to 2 cups liquid simmered until cooked).
Prepare chicken thighs however you want (pan fry on the stove, grill on the BBQ, or bake in the oven).  Once they've cooked and cooled, chop them and add to quinoa.
Mix in spring greens, then add hummus and toss until salad is well coated in hummus.  Salt and pepper as needed.
Finally add chopped herbs on top and serve.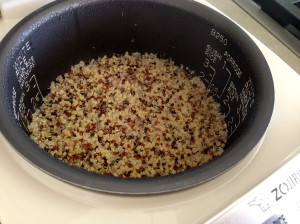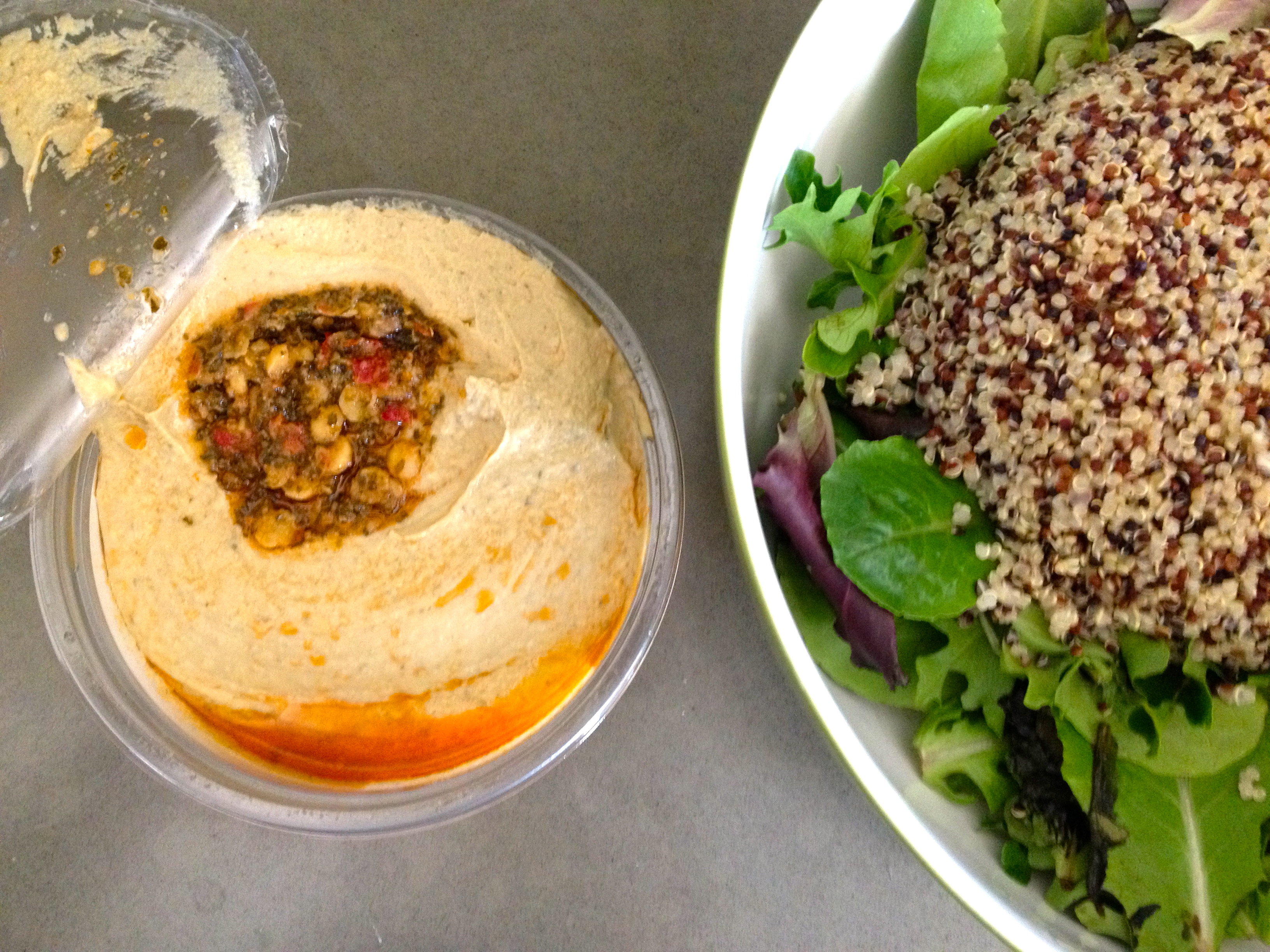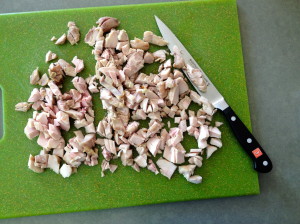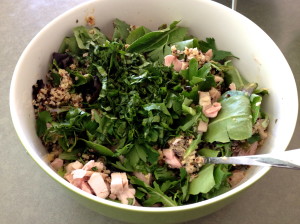 I have this handy tool for basil and I totally love it.  I've had it for years (I got it at my wedding shower) and I use it daily over the summer months.
Don't skimp on the hummus…you could thin it a little to make it more saucy (I do this for salad dressing ALL THE TIME).  Just mix a drizzle of olive oil with lemon juice and then whisk in the hummus.  It can be as thick or thin as you want, just taste as you go so you don't mess up the delicious hummus flavor.
This grain + green + protein combo can go so many ways.  What is your favorite hummus flavor?  Feeling in the mood for chipotle?  Me too.  That's def one of my favorites.  It wants corn + rice + pulled pork.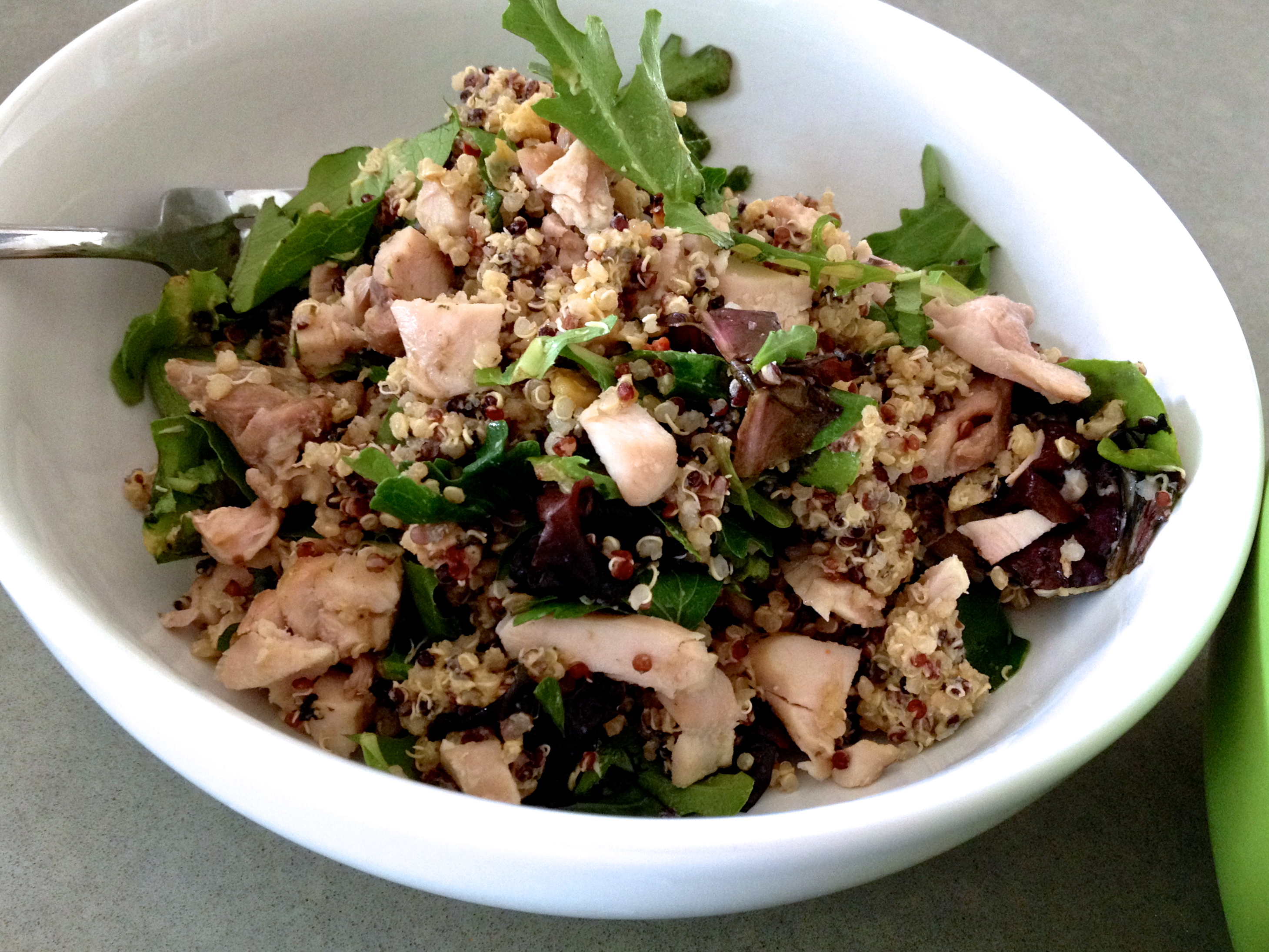 So now some fun stuff to share…
On May 21st, Sabra will be giving away coupons to celebrate National Hummus Day at nhd.sabra.com.  #HummusDay
Set your alarm on your calendar so you can GET YOURS!