My birthday week started last weekend with apple picking.
After that we headed to lunch at Mendocino Farms.  As much as I love the place, it's not conveniently located for me.  But since we had already been in the car for well over an hour, we figured what's an extra few miles out of the way?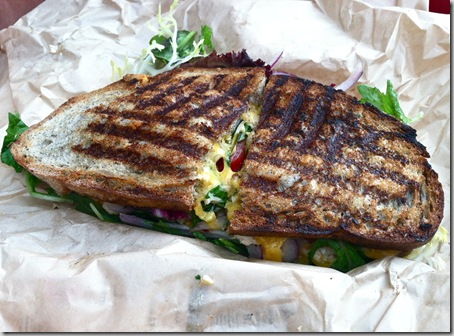 Kyle got the Modern Tuna Melt which has "all white Albacore tuna with fresh herbs, farm house cheddar, vegenaise, housemade pickles, red onions, tomatoes, Scarborough Farm's greens on panini grilled buckwheat."  He nixed the pickles, obviously, and deemed it the best tuna melt he's ever had.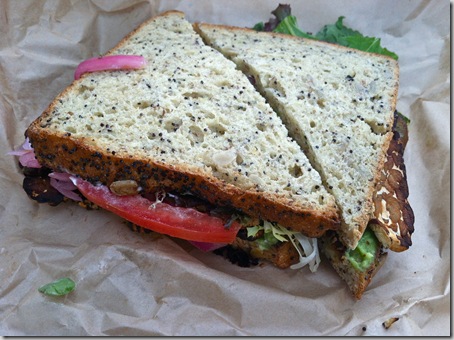 I got the Traditional Vegan Club which has "house marinated organic vegan tempeh bacon with smashed avocado, vegenaise, pickled red onion, tomatoes, Scarborough Farm's greens on buckwheat."  Only I swapped the buckwheat for the gluten free bread, which was a delicious poppy seed thing.  Yum!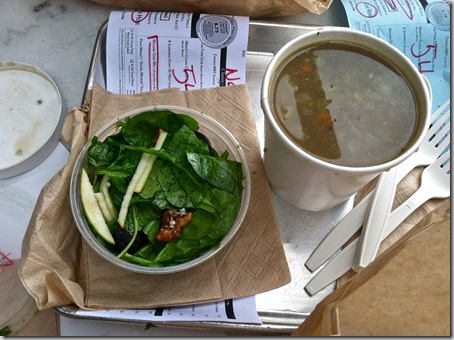 We also split the lentil soup and spinach salad.  Good stuff.
The rest of the weekend was relaxing and I even won my fantasy football game.  My team is (maybe) making a comeback????
I used my apples and baked some cinnamon rolls stuffed with peanut butter and vegan nutella and sautéed apples.  I know I keep teasing you, but I will post the recipe soon.  Pinky promise.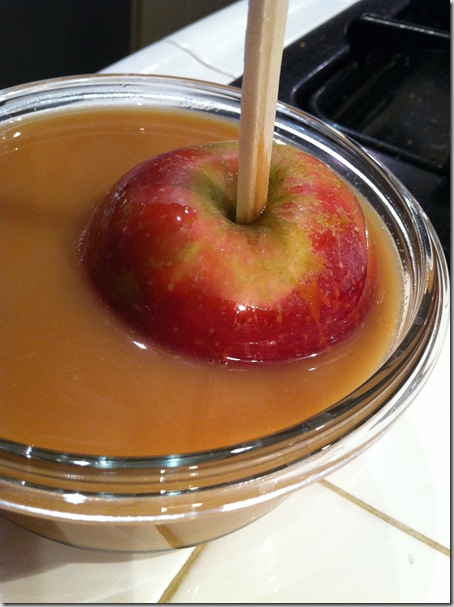 I attempted vegan caramel with brown rice syrup and almond milk, but it didn't work at all.  Way too thin.  I tried to get it to thicken and added a ton of chia seeds, but it was a no go.  Oh well.
Unfortunately, this kitchen failure meant my sweet craving was left high and dry.  So I had caramel apples on the brain for the rest of the night…and then the whole next day.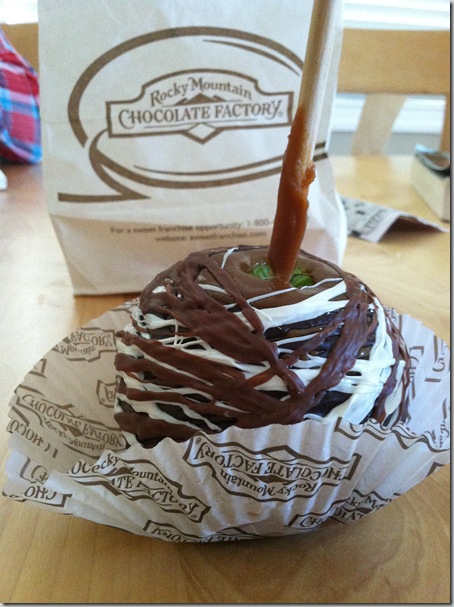 So I remedied the situation. 🙂  I ate this in a few servings because I didn't want to pound my body with all that sugar at once.  At the time I thought I was being so good, eating my treat in moderation.  Little did I know I'd failed my glucose tolerance test the day before.  So now that I'm dealing with that, I don't know how many more sugary treats I'll be enjoying for the remaining few months of this pregnancy (it's not like I was doing that before but whatever).  I guess I'll know more once I take the fasting glucose tolerance test.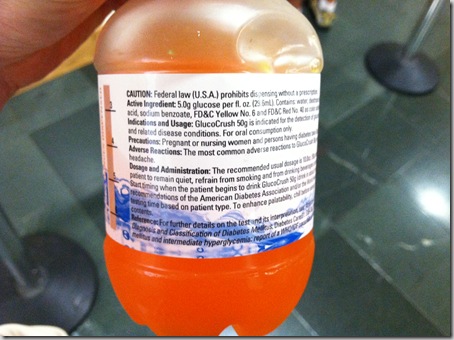 To be perfectly honest, I'm pretty annoyed I had to drink this nasty sh!t.  Of all the times to ingest fake chemicals and food dyes.  Ugh!  I can't believe pregnant women are required to do this!  Can't they figure out a more natural way to serve up glucose?  The worst part is I have to do it all over again now in a few days.
Ok, I'll stop whining about it now.  Back to birthday week stuff.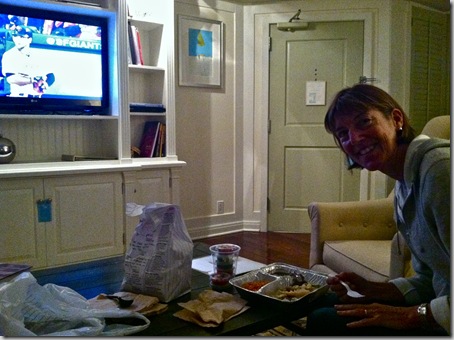 Here we are watching the Giants seal the deal against the Cards.
The next morning was my real birthday so I woke up and opened presents with my mom.  Then we went to brunch at Shutters on the Beach.
They have a few restaurants, but this was their right-on-the-beach-front breakfast spot, Coast.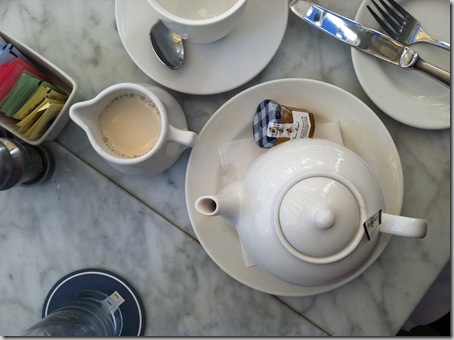 I got chai tea with soy milk to drink (which I only steeped for 30 seconds so it wasn't very caffeinated).  To eat, I got the Coast vanilla waffle with strawberries and bananas and a fried egg.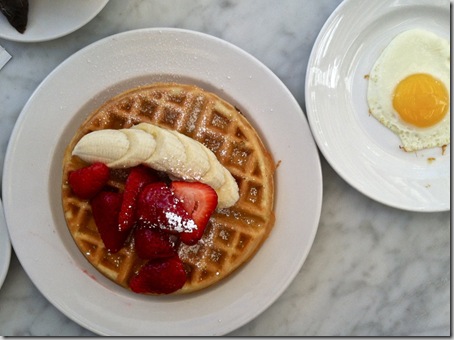 My mom got the Lemon ricotta pancakes with berries and a latte.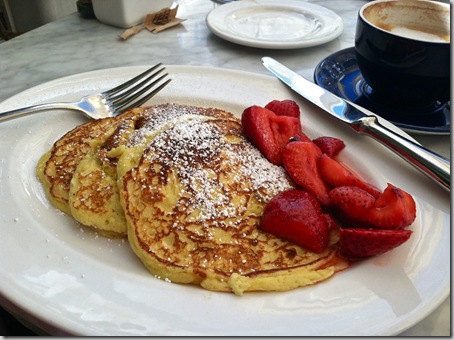 Lovely start to the day.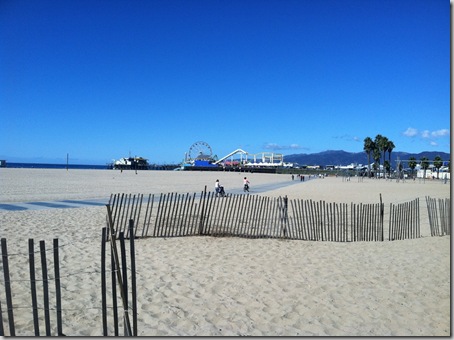 And the weather could not have been more perfect.  We walked back home along the beach, stopping at the Pier on the way.
The rest of the day was mellow.  I went for a run and before I knew it I had to get ready for my dinner date.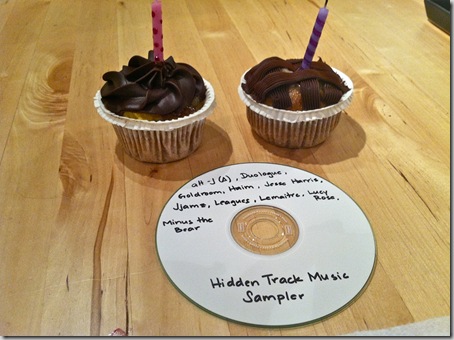 I drove out to the Silver Lake/Echo Park area to see my bestie Ethel.  She surprised me with vegan cupcakes and a mix cd (both of which I forgot at her place – oops!).
After we shared a pre-dinner banana cupcake from Lark Cake Shop (I was still freshly freaking out about my high blood glucose test, so I only had a few bites), we headed to dinner.
We were so excited to finally hit up Cru, a highly recommended raw vegan hot spot.  But when we got there it was closed!!!!  No!!!  The website is still up and doesn't indicate anything about it being closed, so I'm unsure if this is a permanent thing or not.  Apparently it was open a month ago, so I'm not sure why or when this happened, but it's definitely a loss for LA.  Cru was one of the few restaurants that (supposedly) rivaled Pure Food & Wine and the likes.
In any event, the area has plenty of vegan options, so our plan B was hardly a disappointment.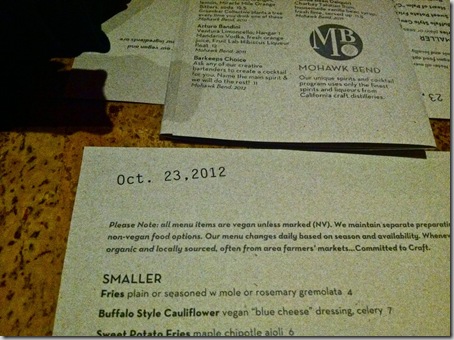 Mohawk Bend is a restaurant and bar in Echo Park that focuses on fresh and locally sourced fare.  It's been on my radar for a while because it's sister restaurant, Golden Road Brewing, is really close to where Kyle works and my cousin's family lives.  They've all been there and raved about it (insert a bit of jealousy).
The owner (of both places) is vegan which is why the menu is loaded with animal-free options.  Unlike most restaurants, Mohawk Bend's menu says it's vegan unless noted otherwise.  Love it!
My lovely date.  🙂  I was going to go with water, but I decided to live it up (since it was my birthday and all).  So I got a lemon/lime soda water spritzer thing.  It was sweetened with agave and tasted so refreshing.  Ethel got a ginger beer.  Mmm.
I'll have to go back once I'm not pregnant because the beer menu is massive.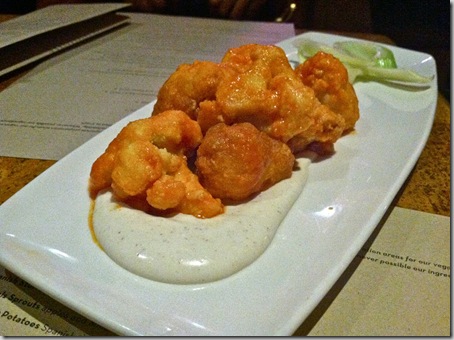 Since Ethel had been to Mohawk Bend previously, she knew that an order of the Buffalo Style Cauliflower was a must.  It came with celery and a vegan "bleu cheese" dressing.  OH. MY. WOW.  I want this recipe.  I've never tasted cauliflower like this.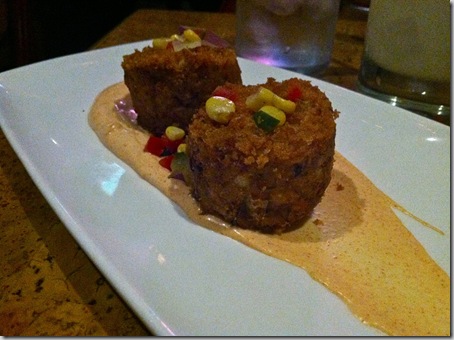 Next we got the Hearts Of Palm "crabcake" with corn relish and smoked paprika aioli.  Fabulous!  I didn't taste much heart of palm actually, but it did taste crab like.  Somehow.  No clue.  I tried to figure out what it had in it – if I had to guess it was a potato-seaweed-esque flavor.  Definitely good with a crispy fried exterior and soft "crabcake" inside.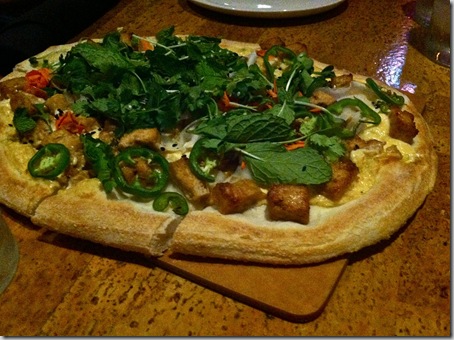 Finally, we split the Vegan Banh Mi pizza.  It had marinated tofu, pickled carrots & daikon, jalapenos, herb salad, and sriracha aioli.
It was really really really good, but there was one issue.  The jalapenos.  Can you see them above?  Probably not since they're hidden below the mint and cilantro, but there were tons and I made the mistake of eating one.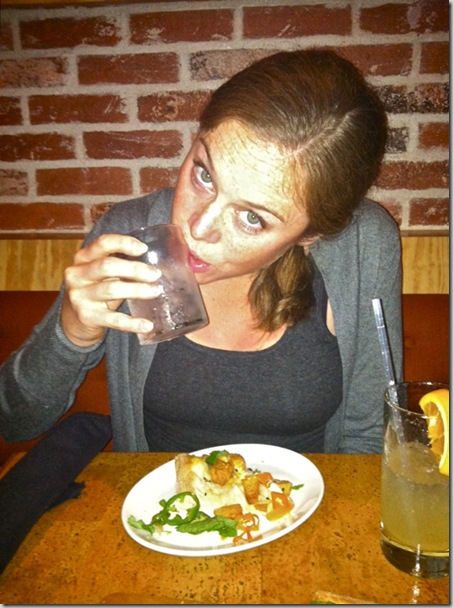 And ended up having to ice my lips for 15 minutes to recover sensation.  So much tingling!  Ethel had the same problem and we were both rendered helpless for a significant portion of the meal due to the numbness.
We picked off the rest of the jalapenos for sure.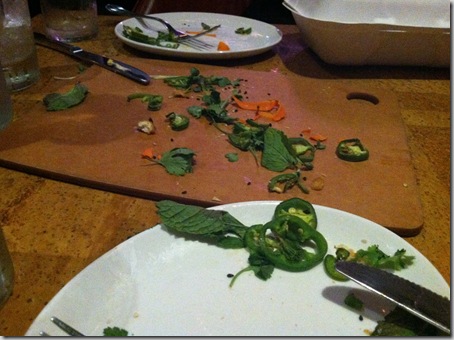 After dinner we were off to the concert.  Ethel took me to see Shiny Toy Guns at the Echoplex and even though they got off to a (way) late start, it was a fun concert and I'm glad I finally ventured away from the westside for this fun.
I was worried about the volume but my baby boy was kicking away the whole night.  I think this counts as his first concert.  🙂
I didn't get back to Santa Monica until 12:30 but then I had to pick up Kyle at his hotel (he had a business thing all week) because he forgot dress socks.  We swooped by our house and then went back to the hotel, which meant my bedtime was the latest it's ever been since this whole pregnancy began.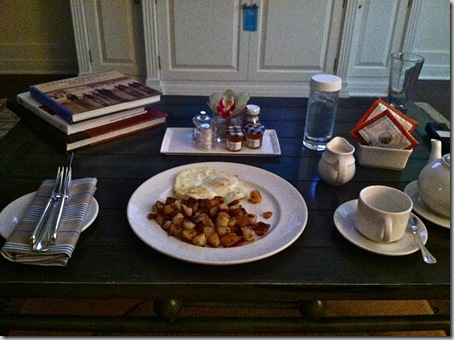 Since I slept over at his hotel I decided to take advantage.  Room service!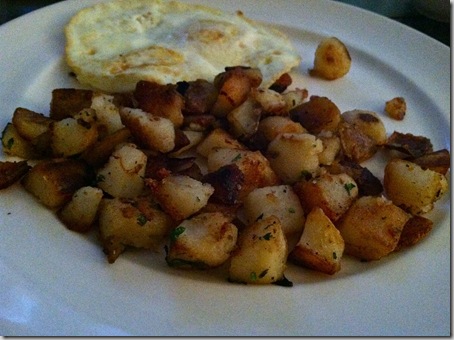 Fried eggs and home style potatoes with chai tea and soy milk.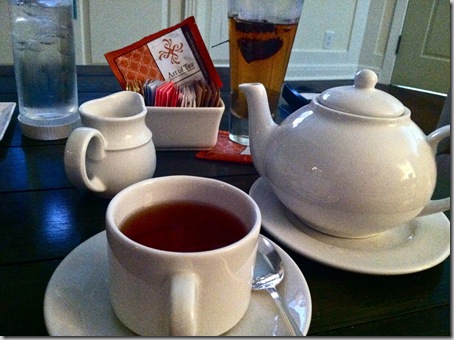 What more can I take advantage of while Kyle's at work?  How about the gym!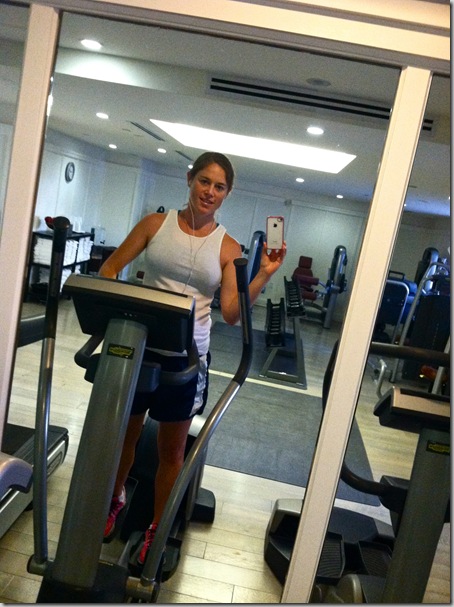 I can't remember the last time I went to a gym.  It was fun to zone out on the elliptical to crappy tv.  I put in a good 30 minutes and then walked to WF for lunch.
Left: birthday present from my parents
Right: tofu stroganoff with mega veggies and quinoa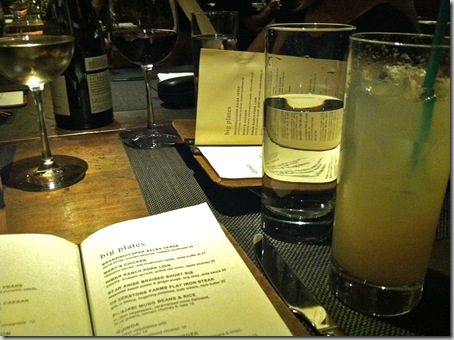 Later that night I met back up with my mom for another birthday dinner at Akasha in Culver City.  She brought my g-ma (she'd been visiting with her while I did the concert/hotel thing) and my aunt and cousin also joined.
I had such a great time, but that's because I have the best family ever.  It didn't hurt that the Giants game was on at the bar area.
I got the ginger lemonade to start (it was stellar).
And then we got two orders of the frog hollow farms pear salad to share.  It had pomegranate, mizuna, toasted pumpkin seeds, and a pear lemon vinaigrette.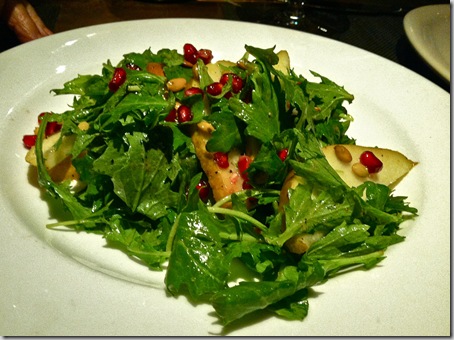 Light and lovely.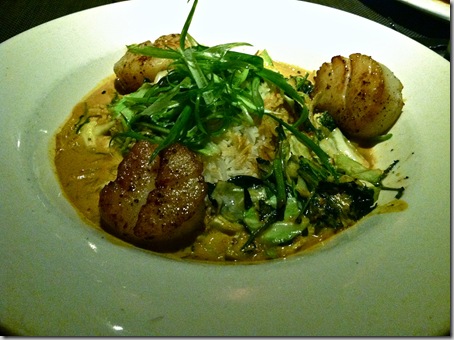 For my dinner I chose the special which was a coconut curry scallop dish.  It had rice and greens and three scallops swimming in the most flavorful coconut curry sauce.  It had quite a kick at times, but I loved it.  I only managed to get through half of it though.  Leftovers!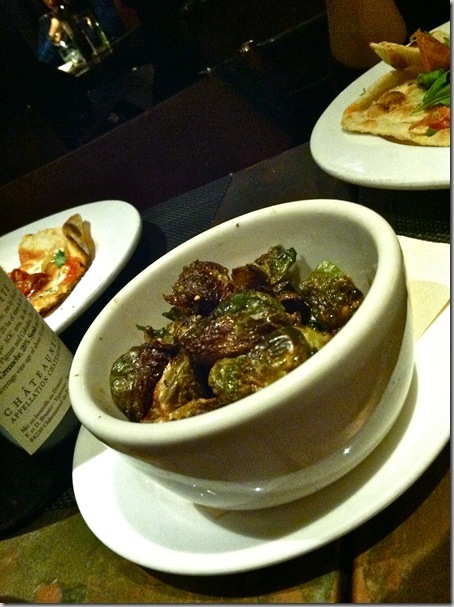 We also split a side order of the brussels sprouts, which were almost the best thing I ate all night.  Whatever they did with the balsamic and mustard seed marinade was amazing because they managed to make Brussels sprouts taste like light fluffy potato chips.  So good!!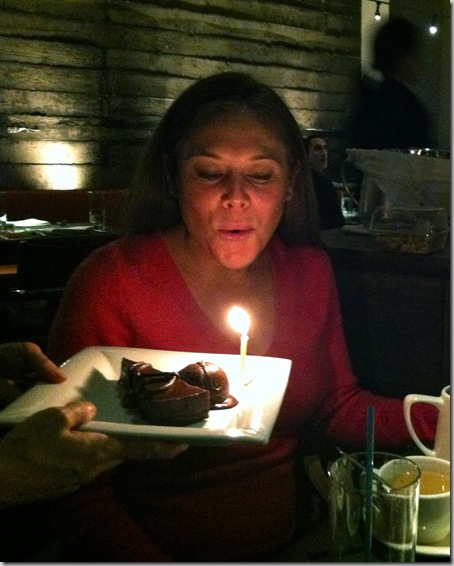 But what's a birthday without a candle to blow out (and your family mortifying you by singing at the top of their lungs?
We got two desserts, including the salty chocolate peanut bar (which I sampled liberally) and the dark chocolate torte.  The first had a chocolate spelt crust, candied peanuts, sea salt, caramel, and peanut butter gelato.  There's no greater combo than salty and sweet, is there?  The second was one of the daily specials and basically looked like chocolate heaven.
Such a fun night.
The next day my mom and I slept in and walked to Huckleberry for breakfast.  I can't believe it's been so long since I ate here.  We used to live right across the street, but since we moved (a whole 3 blocks further) it's not as frequently on our radar.  Well, that and we're really trying to save money, which means restaurants on special occasions only.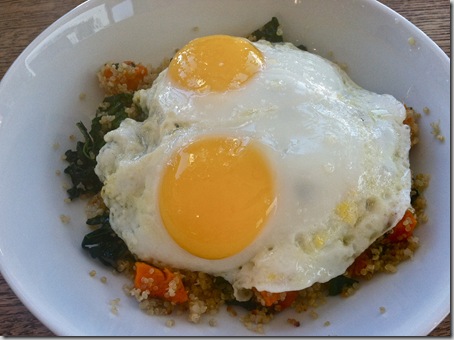 I've gotten this dish before.  It's quinoa, kale and butternut squash topped with two sunny-side up eggs.  I actually ate the entire thing, too, which was definitely an anomaly.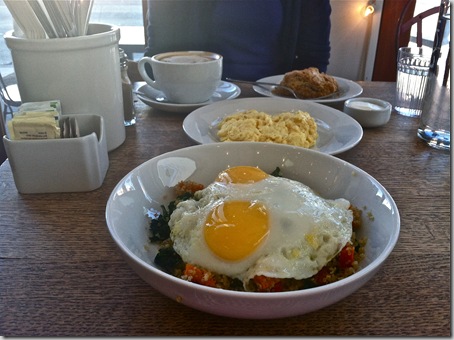 My mom got a blueberry scone, two scrambled eggs, and a latte.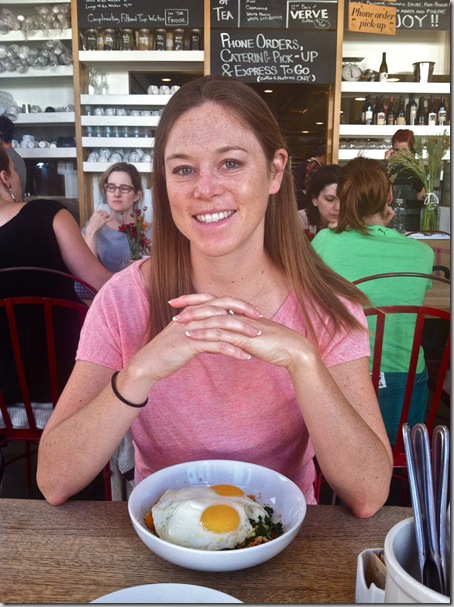 After breakfast we had a few errands to run, but eventually ended up at the mall for some maternity clothes shopping.  Oh boy.  It's really nice to finally have some diversity in my wardrobe.  I was getting pretty sick of wearing the same few things on rotation, so now I'm set for a while.
It was pretty funny trying things on because they had a pillow to strap around your waist that supposedly added 3 months.  In other words, the pillow makes me full term and ready to give birth.  Yikes, that seems soon!!!
The rest of the day was mellow.  We went for a long walk.  Stopped by giggle to look at baby stuff.  Hit up WF for dinner and groceries.  Watched the Giants win (again!).  And then I got ready for work the next day.
What a week!!
I'm so glad my mom was in town to make my 30th birthday as fun as it was.  To say I'm excited for the year(s) ahead is an understatement.  I don't feel like I'm 30 years old, but I'm as happy as can be right now, and feeling very blessed to have a wonderful husband, family & friends, a baby on the way, a beautiful house near the beach, and a job that I enjoy.  I pinch myself every day.
Elise October 27, 2012 akasha, big salad, brussels sprouts, chocolate, chocolate cake, curry, eggs, fish, huckleberry, kale, lentil soup, mendocino farms, mohawk bend, pancakes, pizza dough, potatoes, quinoa, shutters on the beach, soy milk, spinach salad, squash, tea, tempeh, tofu, vegan cake, waffles, whole foodsrestaurant review Read more >