Wednesday morning was pretty much the same – family walk to the store to get eggs and bananas, then we cooked and played with P until his morning nap.
We tried to hit up Bird and Bear Boathouse for lunch (a place that I read several great reviews about) but once we got there we found out they weren't serving food, just coffee and cookies.  It looked like a great place to sip coffee with pretty views but we needed more than cookies to tide us over.  It was a hike getting there from Double Bay.  So instead we headed further inland (and uphill) and stumbled upon Elizabeth Bay Cafe. 
They didn't have high chairs but they did have a menu that sounded yum and (per usual) gluten free options aplenty.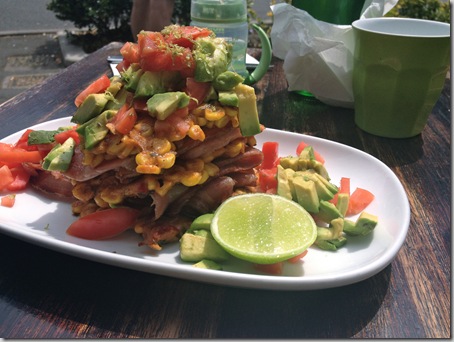 We split two things – including the corn fritter stack (above) and the chicken, bacon, avo sandwich on gluten free bread (below).  The owner was super friendly and the food was amaaaazing.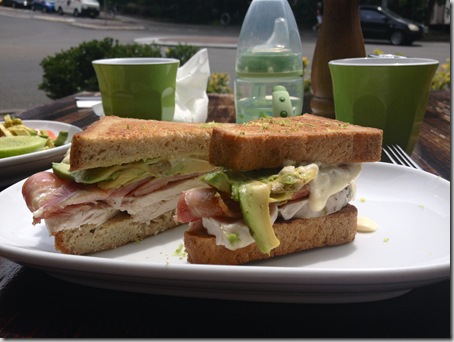 Every single meal I found myself swearing it was the best one yet.  Seriously.  Do they even have bad mediocre food in Sydney?  I think not.
We alternated holding P and eating.  The lime zest on the meals gave it a real zing and I just savored every bite.
After lunch we went through Elizabeth Bay to Potters Point and then to the Kings Cross station to catch the train to the CBD.  We walked through what is he equivalent of the financial district in Sydney, past the Town Hall building and then down to The Rocks. There we let Patty-cakes play in the grass and eat his lunch (he refused his pouches at the restaurant for some reason).  He spent almost as much time chasing pigeons and trash, but he did eat something too.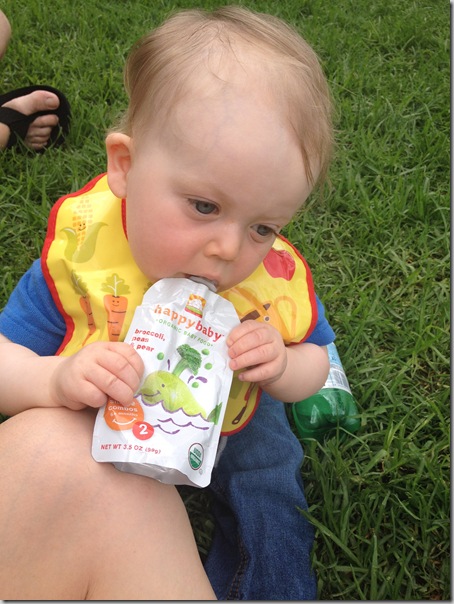 Back in the ergo we walked around The Rocks some more going to the base of the bridge and scoping out our dinner spot.  P fell asleep and woke up just as we boarded the ferry home.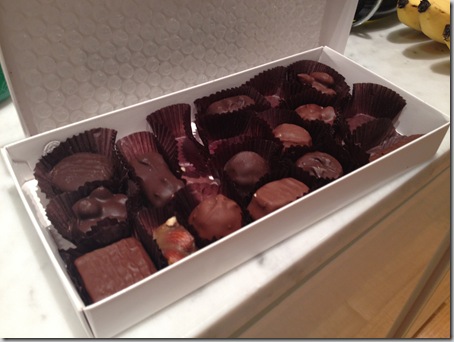 I had some of my sister's See's chocolates to hook up my sweet tooth cravings, while Kyle cracked a beer.  I feel like we have way too many pics of our child begging for beer.  Hmmmm.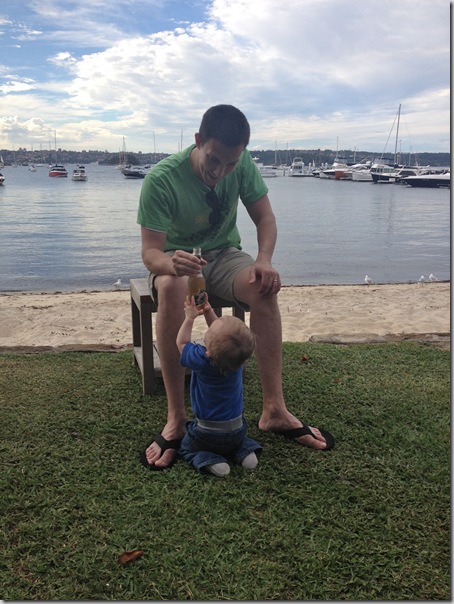 We played in the yard and let the little man get his fill of garden and flower fun (he's a botanist in the making) and then got showered and ready for our date night out.
Laura and Chris got us a Christmas/30th birthday present gift card to Yukis, a Japanese restaurant on the fourth floor in Circular Quay with amazing views.  We sat outside and watched the sun go down reflecting off the opera house.  So pretty.

They babysat P back and home we felt naked without our babe.  I'd been craving sushi (but when am I not?) so it was the perfect dinner spot.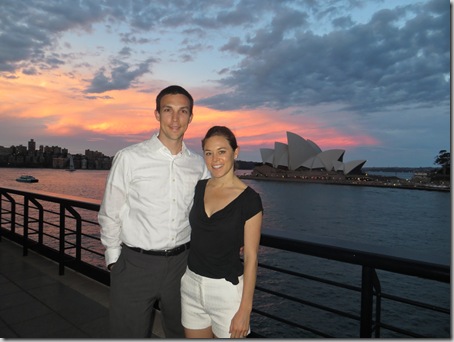 To start, we got a shrimp and avo salad with a yummy miso dressing.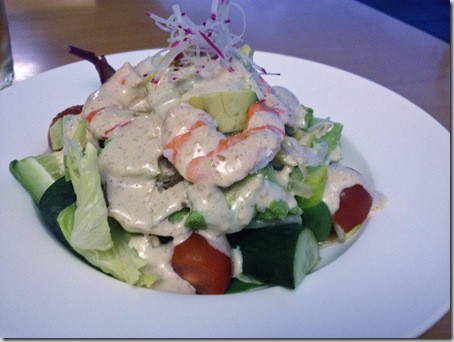 Then a few rounds of rolls – eel, soft shelled crab, salmon and then two more crab.
We ended up ordering a couple of rolls to-go too because they wouldn't let us keep the remaining balance on the gift card (weird but whatever).  We ended up saving the extra food for the airport (which was perfect since our flight left at 2 pm – and it was still good, even several days later!). 
We caught the last ferry home and P hadn't made a peep the whole time. 🙂
Elise March 27, 2014 avocado, chocolate, crab, fish, shrimp, sushibaby, restaurant review, travel Read more >