Everyone says the holidays are so much better through a child's eyes but it's absolutely true.  I feel so cliché, but my first Christmas as a mom was just about the best one I've ever had. 
The other cliché about kids enjoying the wrapping more than the actual present is also 100% accurate.  Tissue paper > anything and everything.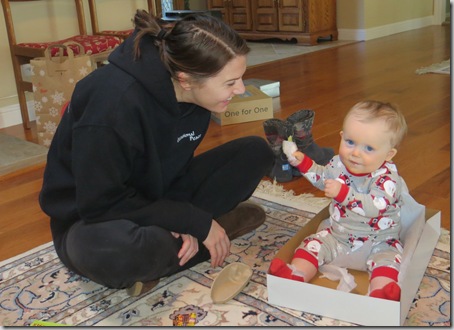 Last weekend, Kyle and I celebrated our own holiday with just the three of us here in Davis on Sunday.  Santa came and filled our stockings and we exchanged our gifts to each other.  We decided to go big this year and really spoil ourselves because we both worked very hard in 2013 and we should enjoy the fruits of our labor.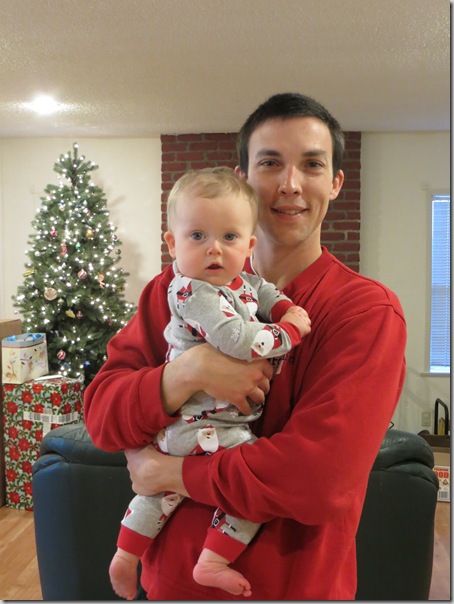 First thing after we woke up, I nursed P and then did Jillian's Shred.  Then Kyle did the Shred.  And then we coffee-d ourselves up.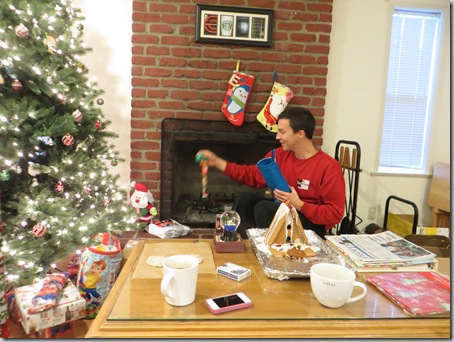 Stockings!!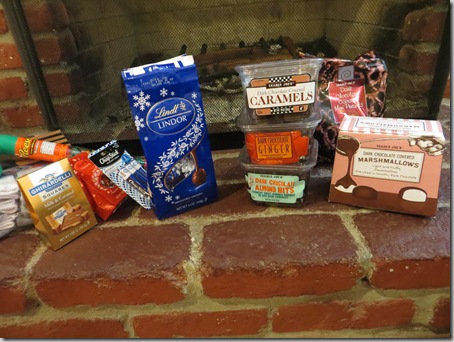 I think it's safe to say, we are chocolate lovers. 
Even though I fully intended on eating sweets for breakfast, I decided to get something more substantial in my belly too.
I really need to figure out how to use my (new) cast iron skillet because our breakfast hash turned into mashed potatoes and I nearly ruined my pan.  🙁
I was so pissed because I ended up having to use soap and water and scrubbing it rather vigorously (both no-no things for cast iron maintenance).  I re-seasoned it afterwards with olive oil, but I'm scared to use it again now.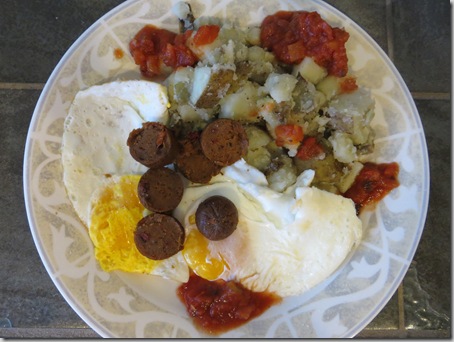 On the breakfast menu: Tofurky Italian sausage, eggs, and potatoes.  All fried thankyouverymuch.
Salsa for him.
After grubbing we watched football and P fell asleep on Kyle.
All that excitement from his stocking alone!  Ha!  He successfully made the transfer to the crib and continued to snooze so we opened some presents in the meantime.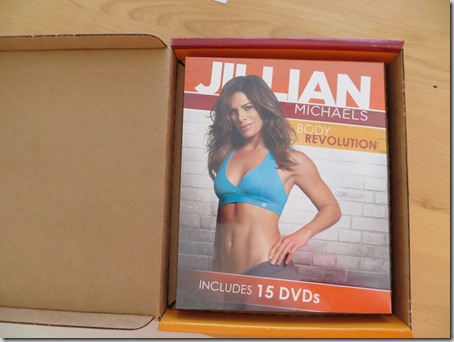 OMG. Yes.
Anyone who knows me knows this kind of torture is right up my alley.  Dear Jillian, I love you and I hate you. 
I can't even wait to start the body revolution – it has 15 (!!!) DVDs and it designed to be a 90 day program so I'm gonna be set for a while.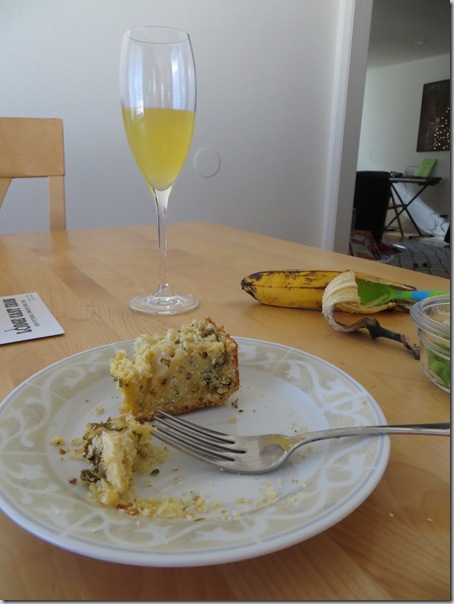 After P woke up I fed him and myself.  My nice well balanced lunch included leftover sushi, chocolate, savory quick bread, mimosa(s), and more chocolate.  Role model, I think so.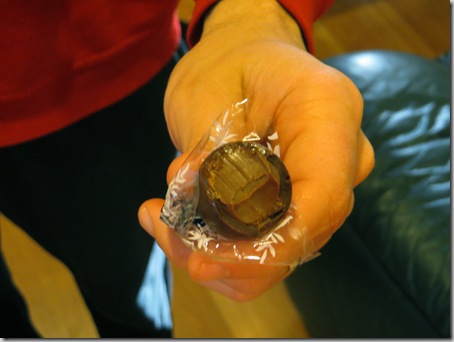 Kyle was on board, so at least we were all in the holiday spirit together.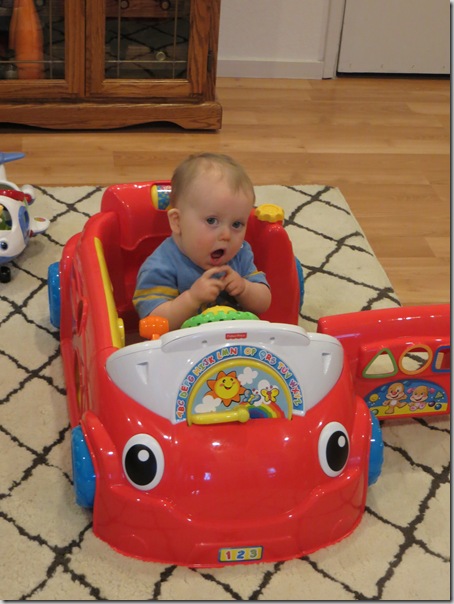 This car took me almost an hour to put together and I was sweating by the end of it but it was SUCH a huge hit.  Patty-cakes was playing in it non-stop for the rest of the day we didn't even bother opening the rest of his gifts!  Thanks grandma and bumpa!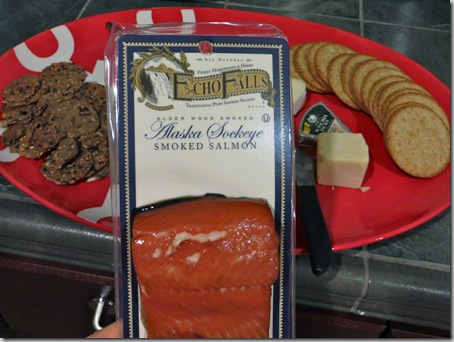 After P went to bed we had dinner "al fresco" style (lots of nibbles) which had all the usual suspects including olive oil and sea salt roasted almonds, crackers (GF & wheat), assorted artisanal goat cheese, smoked salmon, carrots, and hummus.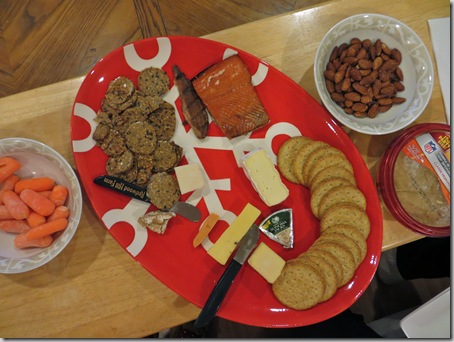 Now that peanuts, tree nuts, and sesame seeds are out (and a few other things but I'll talk more about all that later) we try to eat eat them only when P isn't around.  Lots of changes around these parts.  I am still taking it all in and processing what this means for our diet as a family going forward. 
Thank goodness for Redwood Hill Farm.  I still feel fancy with my Mary's Gone crackers and raw milk feta and camellia.  The feta is so salty it's phenomenal by itself or with a little something sweet (dried fruit!) and the camellia tastes complex and rich, almost like brie.  Kyle actually preferred it to the cow's milk brie he had (leftover from my parents' holiday party).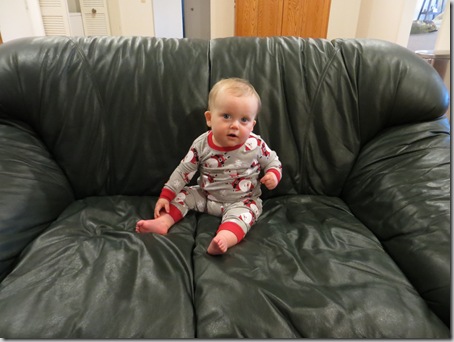 And that was only part 1!
The next day we hopped back down to the Bay to spend the 24th and 25th with my parents.  Stay tuned…
Elise December 27, 2013 almonds, chocolate, eggs, goat cheese, hummus, Mary's Gone Crackers, potatoes, salmon, tofurkybaby Read more >