Yesterday was my friend Alene's birthday so we decided to celebrate at Disneyland.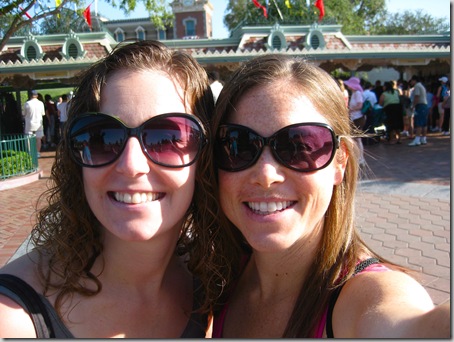 You're never too old for Disney.  We only got a few looks throughout the day (people looking to see if we had our kids were nearby or if we were really two 20-somethings enjoying a day of childhood magic).  Obviously, it was the latter. 😉
We were actually going to spend the night before at my G-ma's so we could have an easy morning commute to Anaheim, but after Monday's looong work day I was pooped and didn't feel like I could do any late night driving.  Instead, I crashed in my bed and woke up a bit earlier. 
My work eats the day before were pretty identical to the previous day's.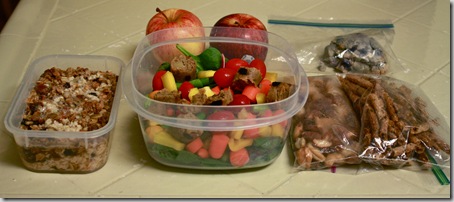 See?
I had another salad with farmer's market veggies and vegan sausage.  And Mary's Gone sea salt Sticks & Twigs.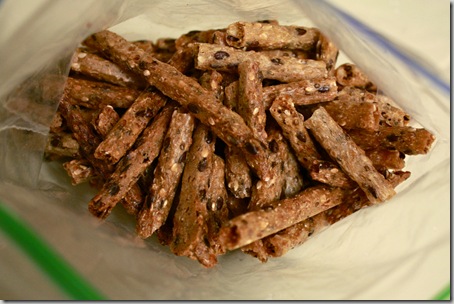 The first time I tried these (last month), I wasn't that into them.  But for some reason I am now borderline obsessed with them.  They don't even need hummus (if you can believe such a statement)!  They are salty and seedy and while excellent eaten on their own, they also make a great salad topping.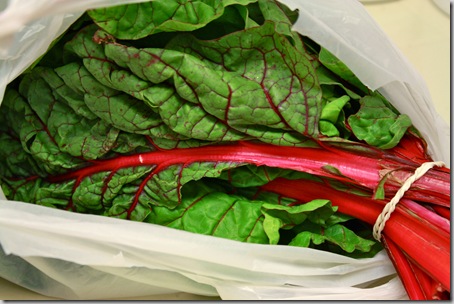 Can you even believe the colors going on here?  If I were ever to eat lettuce plain, it would be from a farmer's market.  Unbelievable. 
Prior to heading to the hospital I had a scone.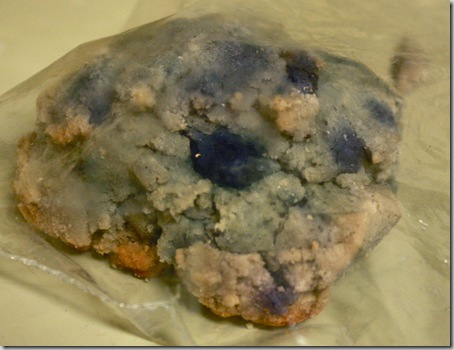 I wanted to show you guys the perfection going on with this guys' underside.
Looks like a cartoon whale to me.  Maybe that's the Disney talking though.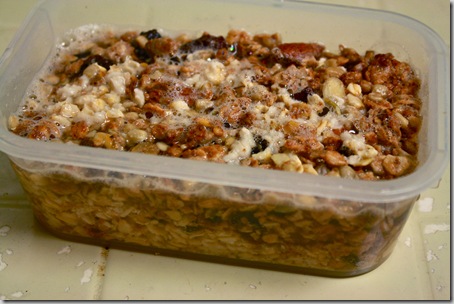 At work I had the usual – oatmeal with a lot of granola baked into it.  It's an easy way to bulk up the flavor without much effort.  Extra dried fruit and nuts?  Yes please.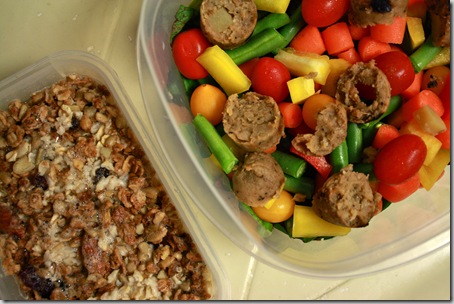 I had the Mary's Gone sticks and salad for lunch, which was eaten rather hastily since I had to go on campus to buy Disneyland tix.  I'm not a huge fan of multi-tasking on my lunch break, but it saved me a bit of $ so it was worth it.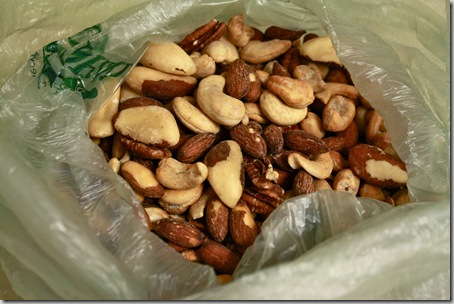 My main snacks on the afternoon were apples and nuts.  I'm going through a really big phase right now in which roasted nuts are what I crave constantly.  Since the obsession hasn't subsided in the last few days, I just started keeping this huge bag of salted roasted nuts in my work locker.  I probably average a pound a day.  I only pick out the almonds and cashews though, so the rest will eventually get brought home for Kyle.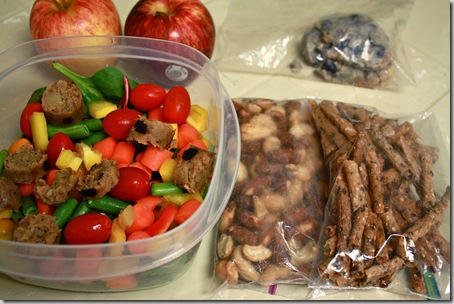 Anyway.  Like I said, I was overwhelmingly exhausted when I got home, and couldn't fathom cooking anything complicated for dinner.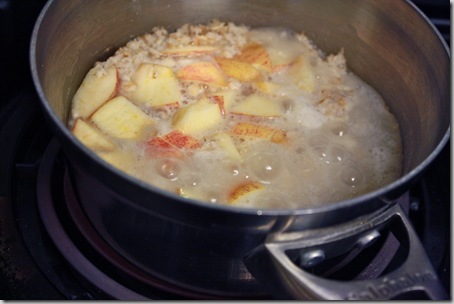 In such scenarios, it's best to go with what you know.  Oatmeal is what I know.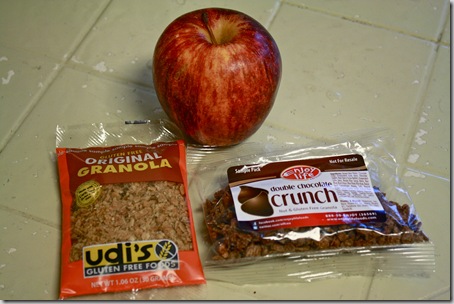 Toppings!  I cooked the apples with the oats, then added the two different granolas on top afterwards. 
Granola cliff-notes: Udi's gluten free foods original granola (amazing) and Enjoy Life's dairy and gluten free double chocolate crunch (uh, is this dessert or dinner?).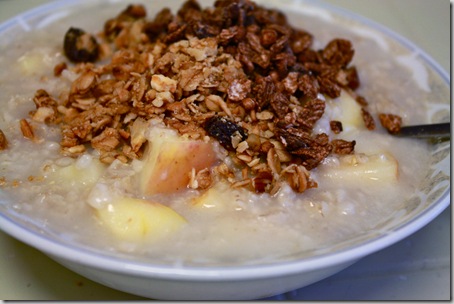 This was the first of two bowls. 
The second serving didn't have as much granola because I was heavy handed with the first (and as a result there wasn't too much left), but I added So Delicious' French Vanilla Coconut Creamer to boost the flavors.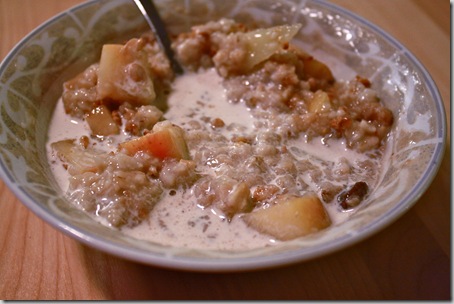 So now, back to the land of Disney.  We left Santa Monica at 7 am, and arrived at the park just in time for the 8 am opening.  Carpool lane, what what!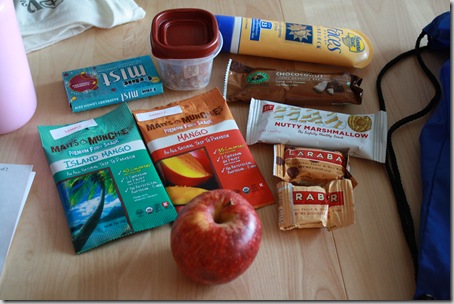 Being a Disneyland pro, I knew to pack extra goodies.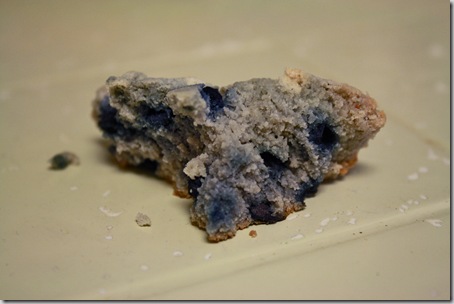 I had a scone before I hit the road and packed the last one for Alene.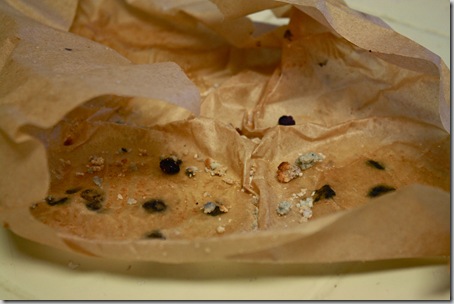 All gone!  :( 
When we first got in the park, we made our way to Space Mountain (thank goodness because the line was 75 minutes long for the rest of the day).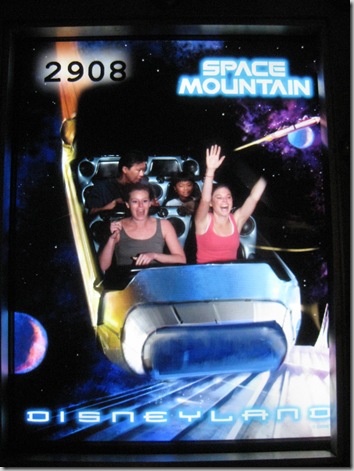 I'm not sure what happened to my left arm in this photo, but I promise it was not amputated mid-ride.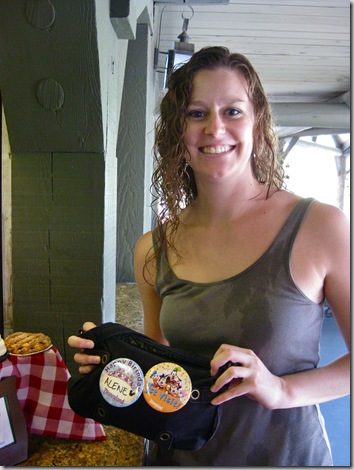 Ordinarily Alene doesn't look like a drowned rat, but this was after Splash Mountain.  We felt like babies with wet diapers, waddling around the next 30 minutes.  Check out her pin collection!  Haha.
We dried off a bit while eating lunch.   Hungry Bear has veggie (Boca) burgers that aren't listed on the menu, but they are available if you ask.  I got one last time I was at Disneyland. 
The rest of the menu had changed a bit though, so I happily tried a new dish.  This salad came with chicken, but I asked for it without, which they had noted as a vegetarian option on the menu.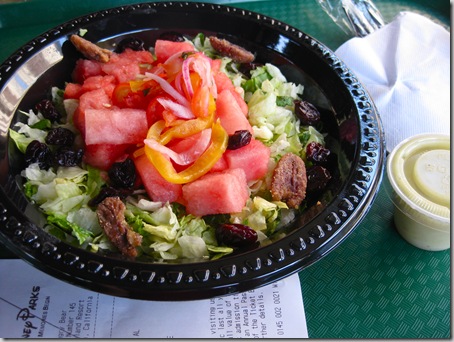 Aside from the lame shredded lettuce, it was actually really good (and surprisingly creative for a theme park meal).  The watermelon was juicy and the mix of dried cherries and candied pecans were taste bud treats for sure.  The pickled red onions and bell peppers with the mustard honey lime vinaigrette dressing brought it all together.  Not too shabby Disney!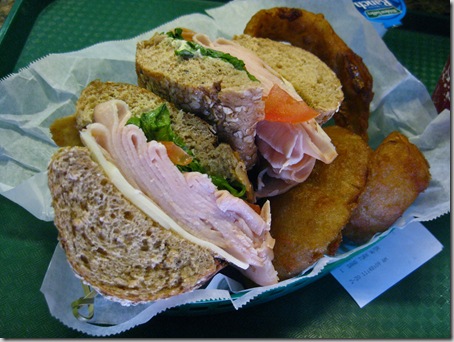 Alene got a turkey sammie with a side of onion rings.
After lunch it was back to the rides!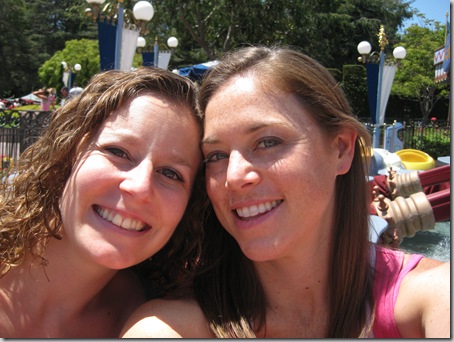 Dumbo.  🙂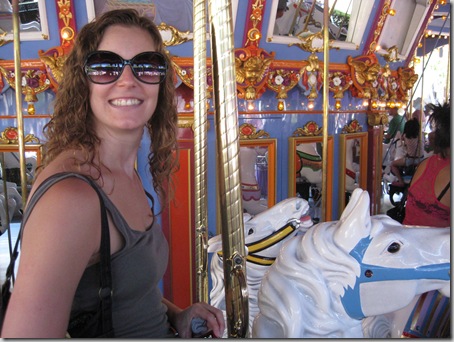 Merry-go-round.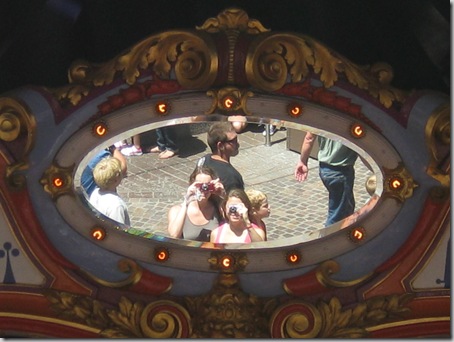 We were having so much fun.  Aside from the Matterhorn (which was closed for the day) we hit up almost every ride. 
Thunder Mountain seriously rattled my brain!  I'm thinking it wasn't the best choice post-neck/back injury. 
For dinner we left the park and went to Downtown Disney, which had yummy dining options aplenty.  How did I miss this last time I was at the park?  We had a hard time narrowing down our choices.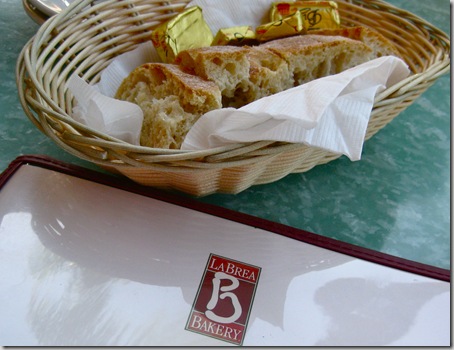 In the end we decided that La Brea Bakery sounded super yummy.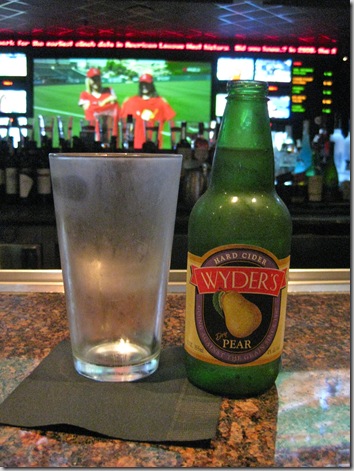 But first, drinks at the ESPN Zone!  Since it was hot as balls outside, the idea of chilled glasses full of pear cider couldn't have been more perfect.  Ahhhh…hit the spot, although I could've done without the two dudes blatantly checking us out every 6 minutes.  We skedaddled before they could get the courage to engage in conversation. 
Back at La Brea Bakery, we started with a bread basket.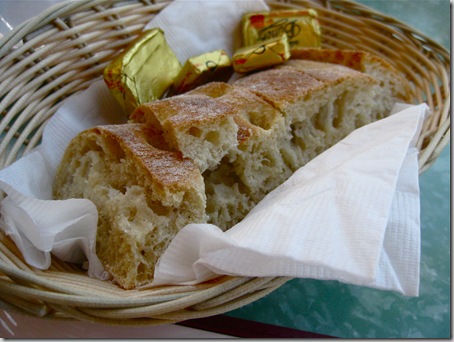 Fact: I like carbs.  Fact: When buzzed I reallllly like carbs.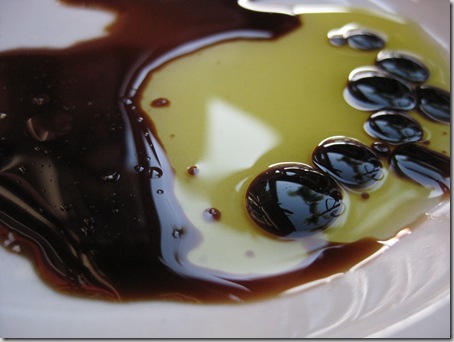 I grabbed the oil and vinegar from the table next to us for optimal bread dipping.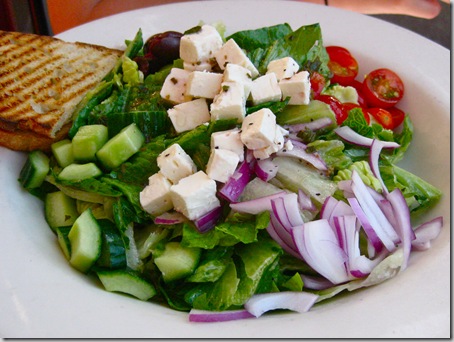 Alene got the Greek salad, I went with the Asian salad.  We're so multicultural.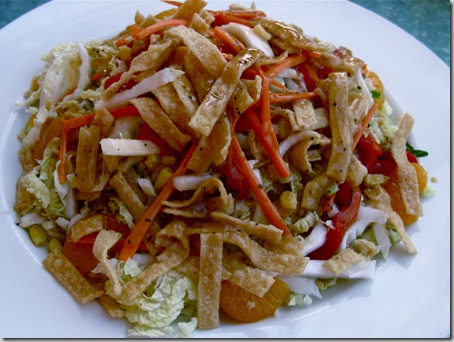 At first I was thinking it would be the same pale shredded lettuce situation as lunch, but as I dug deeper into the mount of veg, I was happy to see there were darker greens underneath.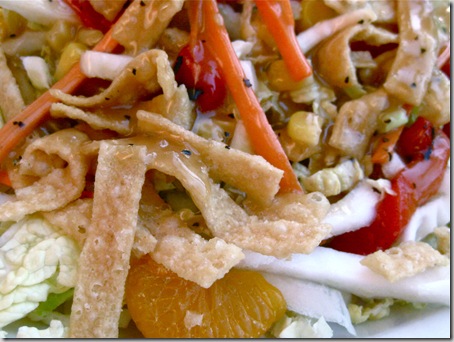 It was exactly what I wanted in the heat – cool and crisp.  The fried wontons and dressing were both in excess, but Alene helped take care of business.
After dinner we went back into the park, dodging the parade route and weaving through the crowds, to get to Space Mountain.  GAH!  Still a 75 minute wait.  We went on Thunder Mountain again instead.  And then another time.  And then, as if I hadn't already put my neck and back through enough for the day, we decided to race on Autopia.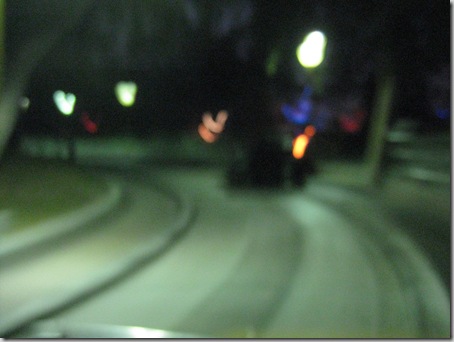 Kids, don't text photograph and drive.  I was laughing so hard throughout this ride because Alene was stuck behind foreigners who most definitely don't know how to drive.  While she was attempting to keep the required car-length between her and them, I was slamming her bumper repeatedly, thereby bumping her into the stalled car in front of her repeatedly.  Eventually things got worse when the car behind me caught up and created a four car pile up.  I'm sure we were quite a sight.  I doubt all the bumping and whiplash were great for my ailing spinal column, but I blame it on Disney.  My inner child was out to play for the day, so I had no choice but to play along. 
We left the park when it got dark and after I dropped Alene off at home, I ate a spoonful of peanut butter and hit the sack.  I was so tired I didn't even wake up when Kyle got back from the Dodger's game. 
Have you been to Disneyland?  What's your favorite Disney movie, ready set go!  I love Beauty and the Beast and growing up I always wanted to be Belle.  Little Mermaid is also at the top of my list.  And Aladdin.  Gah!  Too many!!