Guess what blog trend made it's way to hippie-ville?  The flashback series!  Ok, not really series, since this is the first (and only) installment. 
It just so happens that last year, on March 28th, my best friend asked me to marry him.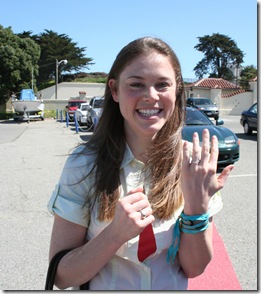 Happiness.  Shock.  Pure.  Elated.  Love.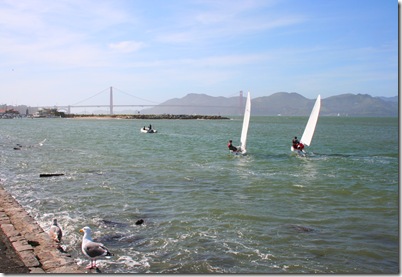 Crissy Field, San Francisco.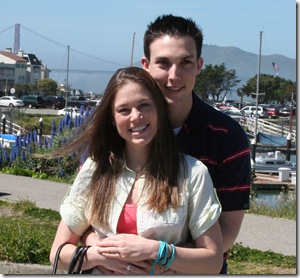 It was a gorgeous day in the Bay, and Kyle and I were headed to lunch…or so I thought…
I'm pretty dense, so Kyle's secrecy was probably all in vain, but still, he did a great job planning the best surprise of my life.  I thought we were going into the city to meet up with his parents, as his Dad was in town for a "business trip."  My sis lives in S.F. so we decided to stop by and say hello. 
We climbed up to her rooftop to check out these views…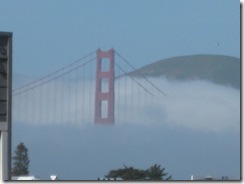 The reason I mention this random fact is because we were actually hugging when I commented to Kyle that his heart was POUNDING.  He laughed it off, making fun of me for being a "cardiac nurse" and thus noticing such things, but I realized later just why his heart was racing…
Anyways, after dropping by my sister's apartment, Kyle got a call from his Mom saying they were actually right in her neighborhood and we should meet up with them for lunch.  How perfect!  (It all seems so obvious in hindsight, but I was really clueless).
We started walking…I had no idea where…I just assumed Kyle had discussed it on the phone with his Mom…
Kyle was making a bee line toward the water at an Olympic speed-walking pace, and I was like, "slow your roll homie, I can't keep up!"  Turns out he was nervous as could be…next thing I knew he cut off the sidewalk into the middle of the grass.  I was so confused.  "Where are we going?" 
I just kept thinking, "we are in the middle of this massive lawn at Crissy field, how are we ever supposed to find his parents?!?"  I even told him to call his Mom back and ask where EXACTLY she was.  And that's when Kyle pulled out a ring, and told me we weren't meeting up with his parents…he was asking me to marry him! 
I basically blacked out at this point and (fortunately) the rest of what happened was documented on film and/or retold to me after…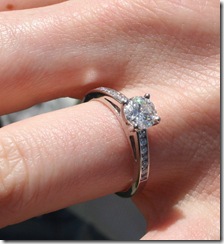 The key point is that I said yes…well, actually what I really said was "I guess so."  I may never live that phrase down.
I immediately called my parents, who were (ever so conveniently) in the car with Kyle's parents around the corner.  They met up with us, as well as my sister, and we all had a celebratory lunch at Greens Restaurant.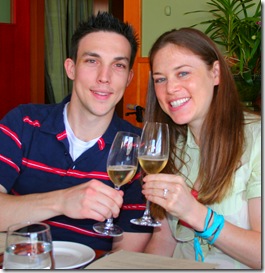 Cheers.
We all spent the day in the city…then we went to dinner at Kokkari.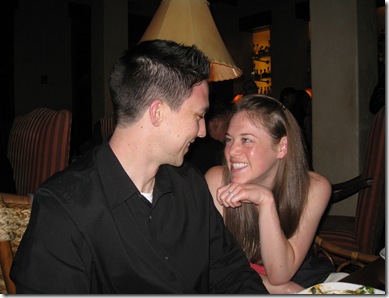 Favorite picture.  Ever.
Hope you enjoyed this flashback Friday.  I wanted to share the best day of my life with you all (so far)…and now it's only 4 months 'til the wedding.