Before I post about my last day in Paris, I wanted to take a brief moment to share all the research I did prior to visiting this gorgeous city.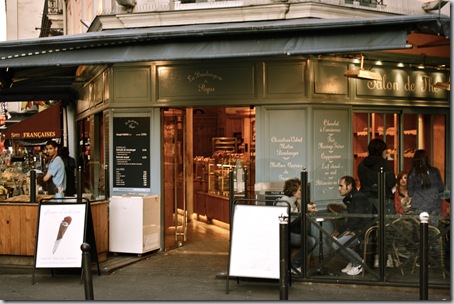 Paris, oh Paris, where to begin.  With your ham and cheese filled cuisine and head-strong chefs, it's no wonder vegans find themselves in deep water when dining in your fair city.   
There are a few exceptions though…you just have to do your research. [And be with fellow travelers that are ok with doing the veggie thing] 
While I personally didn't go out of my way to track down these vegan gems, I did do a considerable amount of research that I feel obligated to share…to any fellow vegans traveling to Paris in the future, here are some places you may consider trying:
*Warning: unlike in the US, most traditional restaurants are not keen on changing dishes on the menu.  Altering preparations of an item is frowned upon, so unless you are dining at one of the following vegan restaurants, don't expect a non-vegan restaurant to be able to accommodate your dietary needs.  Seriously.  They won't.  Consider this my one piece of advice: order a dish as it is, and make adjustments to it after the plate arrives.  In my weakest moment, I ordered a ham and cheese sandwich and then removed both the ham and cheese.  And trust me, it was better than arguing with the chef about just getting a plain baguette.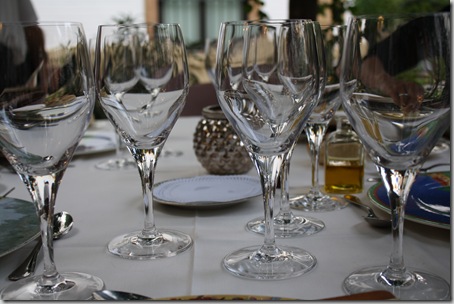 Restaurants
Saveurs Végét'Halles
41, Rue des Bourdonnais, Paris 75001
Métro: Chatelet or Les Halles
01 40 41 93 95
This restaurant is almost exclusively vegan with only one non-vegan item on the menu, the lasagna.  Situated in the former location of La Victoire Suprême du Coeur.  Great crispy fried tofu.  Plenty of vegan desserts.  Oriental feel.  Food is well presented. 95% vegan food.  70% organic.  Gluten-free available. Wheelchair accessible.  Open 10.00-15.00 and 18.00-23.00
Le Potager du Marais
22, Rue Rambuteau, Paris 75003
Métro: Rambuteau
01 42 74 24 66
Organic, with all-day long service.  Small, cozy, rustic and charming ambience.  Gets busy weekend evenings (so call for a reservation).  Serves traditional French cuisine made vegetarian with one page of vegan selections (vegan soups, tarte, pate, patty, gratin, moussaka, desserts, and more).  The pastry chef prepares all vegan desserts including lemon bars, carrot cake and blueberry bundt.  3-course dinner menu available for about 25 euro.  Accepts credit cards. Open Mon-Fri 6-10pm, Sat-Sun lunch and dinner.
Pousse-Pousse
7, rue Notre-Dame-de-Lorette, 75009
Métro: Notre-Dame-de-Lorette
01 53 16 10 81
World-class raw cuisine in the heart of Paris in a small and friendly location. Offers raw food as well as cooked using ingredients including sprouts, seaweeds, fresh pollens, mixed herbs. Also has organic bread and raw dried crackers, hot chocolate cake, panna cotta made with agar-agar and rice milk, fresh fruit salad with lucuma cream, one cooked soup and one raw soup each day. Gluten free and mostly vegan. Has outdoor seating. Open 11.00-15.30 and 16.30-19.30.
Au Grain de Folie
24, Rue la Vieuville, Paris 75018
Métro: Abesses
01 42 58 15 57
Closed Monday mornings.  A little nook of a place with helpful service and standard macrobiotic fare. 
Piccolo Teatro
6, rue des Ecouffes, 4th arrondissement
01 42721779
Metro: St-Paul 
Combine good vegetarian food with romance in Piccolo Teatro.  This place is hidden away on Rue des Ecouffes in the Marais district.  Intimate setting with Italian and Indonesian cuisine.  The menu provides a mix of hot soups, salads, curries, pasta, and organic red wine.  Main courses cost 10-15 € (special tasting menu for first-timers).  Reservations are recommended.
Le Paradis du Fruit
1 Rue des Tournelles, 75006
01 40279479
Metro: Bastille
Part of a chain of restaurants, this French cafe offers a tropical atmosphere and an innovative menu. While not exclusively vegetarian, it's worth a mention as there are plenty of healthy, meatless options to choose from, including soybean salads, skewered tofu and pineapple, and Indian vegetable curry. Main courses range from €10-€15. Inventive ice creams, juices and smoothies average at €7, and are a must for any visit here. Great for a refreshing spring or summer meal.
****The Gentle Gourmet ****
21 Rue Duret, Paris 75016 (at Ave de la Grande Armee, Ave Foch, near Arc de Triomphe)
33-01-45004655
Vegan, International, Western, Organic, Beer/Wine
This is actually an entirely vegan B&B.  They offer private dining experiences and even have a cooking school located above their store in a pretty courtyard.  They serve set menu bistro and gourmet meals.  Menus are made from changing seasonal foods available and are as organic and local as possible.  Dishes include traditional and contemporary vegan fusion cuisine from across the globe.  All special diets (non-gluten, low-salt, nut-free, etc.) can be catered to.  Mon, Wed, Fri, Sat are gourmet vegan meals (40 euros without wine, 50 euros with wine) with an optional hands-on cooking class beforehand (45 euros). Tue, Thur, Sun are the 25/30 euro bistro meal. Reservations must be made before 2pm the day of the meal but preferably earlier as only a maximum of 10 people will be served per night.  Many other cooking classes are offered during the day, and the entire program and calendar can be seen on their website.  Accepts credit cards.
Loving Hut
92, Boulevard de Beaumarchais, Paris 75011 (at Train: Saint-Sébastien Froissard / Line 8)
0148064384
Vegan Chinese infused French cuisine.  Part of international chain of vegan restaurants opened by followers of Supreme Master Ching Hai, an advocate for vegetarian living (there are several US locations in Nor Cal but I've hear it is kind of like a cult?).  Accepts credit cards.  Open Mon-Thur 12noon-3pm and 6:30pm-10pm, Fri-Sat 12noon-3pm and 7pm-10:30pm, closed Sun.
Voy Alimento 
23 Rue des Vinaigriers (75010)
0142010344
Vegan, Organic, South American juice bar and plant shop.  The juice bar features hot and cold beverages made from the plants and products sold in the shop, such as purple corn, urucum, cocoa, acerola, klamath.  At lunchtime it is also a vegan restaurant wherein a large range of the plants and micro-algae are represented in the recipes.  Vegan brunch on weekends.  Location is on a street next to Canal Saint Martin with outdoor seating available. Wheelchair accessible.  Accepts credit cards.  Open Mon-Sun.
Oh! Bio 
58 Rue Rambuteau (75003) (at Métro : Rambuteau / Square des Halles)
0144611967
Vegan-friendly, organic take-away with French food and beer/wine.  Everything is 100% organic. Located in front of the Georges Pompidou Centre, in the heart of Paris.  Has outdoor seating.  Accepts credit cards.  Open daily 10am-9pm.
Saravana Bhavan
170 Rue Du Faubourg, Saint Denis (75010)
0667281313
Metro: Gare de l'Est.  Paris Indian restaurant serving vegetarian cuisine.  Accepts credit cards. Open Mon-Sun 8am-10:30pm.
Soya  
20, rue de la Pierre Levée (75010)
01-48-06-33-02
Vegan-friendly and 100% organic.  Offering mezzé and couscous.  Saturday brunch costs around 28€.  For vegan dessert options phone ahead. Outdoor seating.  Open Mon-Sun 1200-1530 and 1900-2300.
Tien Hiang 
92 Rue du Chemin Vert (75011) (at Rue St. Maur, between Metro Voltaire and St. Maur)
0143558388
Vegan-friendly, Chinese, Buddhist vegetarian restaurant.  Menu is in English and includes mock-meat options.  No eggs or alcohol used.  Average price per dish is around 5.5-7 euro, or around 7.5-10 euros for a 3-course. Accepts credit cards. Open Tue-Sun 11.30am-3pm, 6.30-10.30pm, closed Mon.
Tien Hiang 2 (second location) 
14 Rue Bichat (75010)
0142000823
The second Tien Hiang location (also Asian vegan food). They offer vegetarian cuisine with dishes from Thailand, China, Malaysia.  The chef is very experienced in vegetarian cooking.  Accepts credit cards. Open 11.30am-3.30pm, 6.30-10.30pm, closed Tue.
Le Végétarien
65, rue du Faubourg Poissonnière, Paris 75003
Métro: Poissonnière
06 60 97 16 12
Small restaurant serving simple, hearty meals like falafel, lasagna, quiche, soups.  Food can be eaten in the restaurant or be taken out. Service is quick.  Full menu with drinks for under 10 euro.  Caters mainly to the people working in the area.  Accepts credit cards. Open Mon-Fri from 12pm, closed Sat-Sun.
Le Grand Appétit
9, Rue la Cerisaie, Paris 75004
Métro: Bastille
01 40 27 04 95
All vegan restaurant.  Macrobiotic and hippie with a no frills experience.  They serve soups, veggie sushi, vegetable platters, lemon tart, and other vegan foods.  Great grocery store next door.  Open Mon-Thur 12-9pm, Fri 12-2.30pm.
La Victoire Suprême du Coeur
27-31, rue du Bourg Tibourg, Paris 75004
Métro: Hôtel de Ville
01 40 41 95 03
All vegan restaurant.  Run by devotees of Sri Chinmoy.  Recently introduced a wine list.  Sunday's lunch buffet is very popular.  Great location for people watching.
Les Cinq Saveurs d'Anada
72, Rue Cardinal-Lemoine, Paris 75005
Métro: Place Monge
01 43 29 58 54
Great macrobiotic plates. Very friendly staff and in a charming part of the Latin Quarter.
Le Grenier de Notre-Dame
18, Rue de la Bûcherie, Paris 75005
Métro: Saint-Michel
01 43 29 98 29
or
Rue des Deux-Ponts, Paris 75004
Métro: Pont Marie
100% vegetarian.  Welcoming, macrobiotic oriented, Paris institution.  Serves vegetarian versions of French peasant food (ie vegetarian paella).  Nice atmosphere.  English spoken.  Prices moderate to expensive.  Outdoor seating available.  Accepts credit cards. Open daily lunch and dinner 12-14.30 and 19-23.0
Maoz Vegetarian
8, Rue Xavier Privas, Paris 75005
Métro: Saint Michel
01 43 26 36 00
or
36, Rue Saint-Andre des Arts, Paris 75005 (at Rue Seguier)
Small falafel place (part of a chain). Close to vegan except for a few cheesy items and the mayonnaise in the coleslaw.  Order at the counter, fight for one of the three tables or walk to the Seine with your sandwich.
Guen Mai
6, Rue Cardinale, Paris 75006
Métro: Saint-Germain-des-Prés
01 43 26 03 24
Name means "brown rice" in Japanese.  Macrobiotic.  Counter service and dining.  Tucked behind St.-Germain-des-Prés with sidewalk café tables.
Bob's Juice Bar
15, Rue Lucien Sampaix, Paris 75010
Métro: Jacques Bonsergent
09 50 06 36 18
A lovely juice bar that also does green juices.  Vegan salad and soup options everyday. Deemed "the best juice bar in town".
Bob's Kitchen 
74, Rue des Gravilliers, Paris 75003 (at Rue de Turbigo)
0144556677
Métro: Gare du Nord or La Chapelle
Ovo, Lacto, Western, Juice bar, Take-out.  More vegetarian than vegan selections.  They offer lunch and Sunday brunch options.  Super friendly staff.  Two long communal tables for seating. Fast service. Cash only. Open Mon-Fri 8am-3pm, Sat-Sun 10am-4pm.
Krishna Bhavan
24, Rue Cail, Paris 75010 
01 42 05 78 43
Southern Indian/Sri Lankan, vegan friendly with great prices (be sure to ask for dishes without milk dips or yoghurt dips).  Open Tue-Sun 11.00-23.00, closed Monday. Accepts credit cards. 
Green Garden
20, Rue Nationale, Paris 75013
Métro: Porte d'Ivry
01 45 82 99 54
Another Buddhist Chinese restaurant with a big menu.  It's right in Chinatown.
Aquarius
40, Rue Gergovie, 75014 Paris
Métro: Pernety
01 45 41 36 88
Vegetarian with basically nothing for vegans. *Now may be replaced by Le Marais (see below).
Le Marais
54 Rue Ste-Croix-de-la-Bretonnerie, 75004
01 48874871
Metro: Hôtel de Ville or St-Paul
Formerly Aquarius, this restaurant is one of the best-known among the Paris vegetarian community. The menu is a combination of salads, wheat pancakes and savory tarts, with fish dishes also a feature (puritans beware!). Organic wine is on the menu but smoking is not, making it one of the few restaurants to offer a smoke-free environment pre-2008. Vegans should check with wait staff before ordering. There have been some reports of unfriendly service here.
Joy in Food
2, Rue Truffaut, Paris 75017
Métro: Place Clichy or Rome
01 43 87 96 79
Hole in the wall place open for lunch on weekdays only.  A popular restaurant with a small but varied menu of salads, soups, vegetable tarts, ragouts over rice, desserts, and organic wine (vegan option for each course).  Home-style cooking.  Open Mon-Fri lunch only, weekend dinner by appointment.
Veggie 
38, rue de Verneuil
0142612861
Vegan-friendly, Ovo, Lacto, Organic, Western, Mediterranean, Beer/Wine.  Take-out and delivery vegetarian food made with all organic products.  Seasonal and daily changing menu.  Specialties are vegetables pies, risotto, and curry.  Also offers apple pies, crumbles, and chocolate cakes.  Accepts credit cards. Open Mon-Fri.
Abyssinia  
5 Rue Martin Garat (75020) (at Rue Belgrand)
0140316642
Vegan-friendly Ethiopian/African food with non-veg (meat) options, but has veg courses available.  Reservations required. Wheelchair accessible.  Accepts credit cards. Open Mon-Sun 12-2pm, 7-11pm.
Cojean
Many locations (see link above)
Offering take-away or dine-in options of soups, salads, wraps, etc.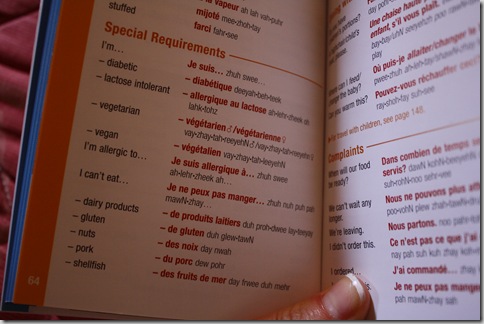 Groceries
Naturalia organic food stores are located all over the city and they have a good range of lentils, quinoa, and veggie salads already prepared, which are convenient for take-away.  Unfortunately, it is semi-pricey. 
There are also many organic food co-ops around town, but you have to keep your eye out for those.  Prices are a bit better, they have lots of bulk options, and more interesting variety. 
Izrael
30 rue Francois-Miron
Metro: Pont Marie
Bulk bins of nuts, dried fruit, olives, spices, etc.  Spices spices spices.
Rendez-Vous de La Nature
Organic food store on Rue Mouffetard with a wide variety of soy based yogurts, as well as non-dairy milks (almond, soy), plus tofu.  They also have bulk bins of oats, nuts and muesli. Moderately priced.
Le Bon Marche Epicerie  (La Grande Epicerie)
38, Rue Sèvres
75007 Paris, France
+33 1 42 22 10 12
Touted as "the" best gourmet grocery store in Paris with a selection of everything, including organic and vegan treats.
Monoprix has vegan options too (they sell food now?  who knew?).  I got a seaweed salad there, but they have many many other pre-packaged eats and basic groceries (see below).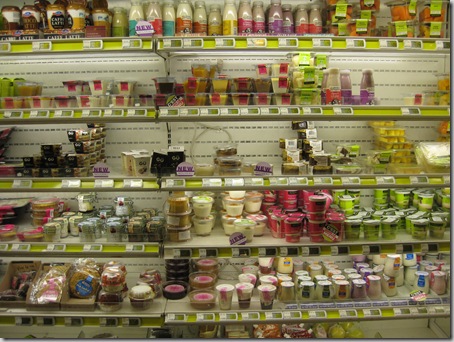 [Pasta, salads, lentils, wraps, soups, sandwiches, sushi, etc.]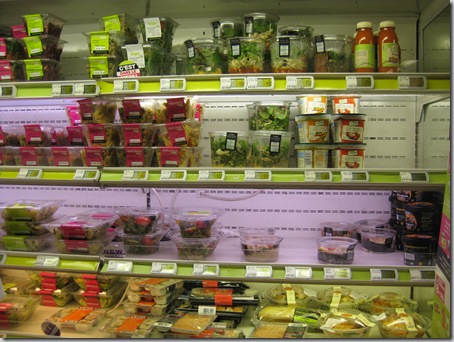 Be sure to check when stores are open!  We found this out the hard way when we tried to get some basics on a Monday and found all the main grocery stores were closed. 
Markets
Marché Biologique Raspail on Sundays is said to be the best but has a reputation of being the most expensive as well.  It runs from Rue de Rennes to Rue du Cherche Midi from 9 a.m.-1:30 p.m.  Metro: Rennes/Sevres-Babylone
Marché Bastille is also on Sundays and at the Bastille end there's a Lebanese stand selling hot-off-the-grill food. 
Marche des Enfants Rouges (take the Metro Filles du Calvaire to 39 Rue de Bretagne) to get to this open-air market.  It has stands selling everything from juices to salad bars to Moroccan vegetable tangines and couscous.
There are many corner markets off the main streets of Paris with fruit, veggies, and basic groceries, too (good for those Mondays when the main places are closed).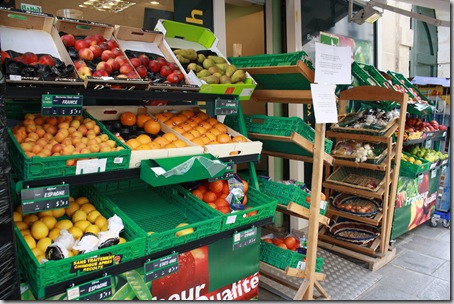 All this is info I accumulated from online research alone, so I'm sure there are many many more vegan places to be discovered!!
You see, as much trouble as I personally had eating in the land of butter and fried food, there were definitely vegan restaurants available.  It's just the unfortunate reality when you are (a) traveling in a group, (b) have limited days, and (c) a packed itinerary, all the research in the world doesn't mean you will make it to the restaurants you've bookmarked. 
I'm not trying to blame my lack of veg-friendly dining on my fellow travelers, because it's not their fault we have differing diets.  However, as far as menu options are concerned in Parisian restaurants, there is little overlap in the vegan world and non-vegan world.  Unlike in the US, where you can find restaurants that can accommodate any diet, in Paris, vegan restaurants are vegan and non-vegan restaurants are non-vegan.  Chefs prepare their cuisine one way (their way) and that's that. 
As a result of this trip, one thing that I have come to realize is how lucky I am to live in a city that is able to please my palate while also delighting my non-veggie dining mates.  In fact, all the places I've lived have been similarly veg-friendly.  I promise to never ever take this for granted.
So, to future vegans visiting Paris, if you want to eat well, my advice is to pick vegan places from the above list and go there.  If your companions want to join you, fabulous. 
Hope this is helpful!  Bon appétit!
Elise June 29, 2011 Uncategorizedparis, restaurant review Read more >