I think my carry-on bag weighed more than I do.
Allow me to explain (with photos):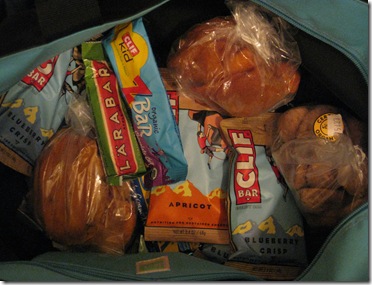 Bar-ville, USA.
No such thing as over-packing when you're flying from the east coast to the middle of the pacific ocean…right?
But then, after piling my bag with dried fruit, clifs & laras, I freaked out and worried I didn't have enough food so then I added more.
And then more.
Of course, I STILL ended up buying tons more at LAX because I'm so type A, I think there's no such thing as being TOO prepared…but I'll get to the flights later.
I previously posted my tips for flying, here.
What are your go-to foods for flying?
Anyways, I woke up Sunday morning wayyy earlier than necessary, so I could do this…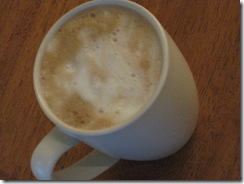 …and this.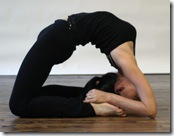 Just kidding, I only did the first one.  But I did make sure to get in a solid 20 minutes of stretching…cramped up on a plane all day is no bueno for my old lady runner joints.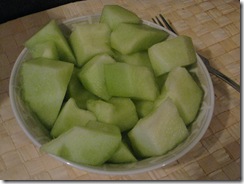 I also had a big bowl of melon for brekkie.  Never too soon to start hydrating.
After waking up a bit more, I did some last minute packing, and hit the road for JFK.  Kyle was sweet enough to walk me to the subway (although I'm pretty sure it was just an excuse for him to get a muffin for breakfast on the way home).
The airport is the ultimate place for people watching…there were far too many weirdos to document.  However, I DO have a few highlights from my 15+ hours of observing.
I took a few notes so as not to forget.  If you don't care about my random musings, feel free to skip ahead, I won't be offended know either way 🙂
Seven.
That's the bathroom tally from my middle seat neighbor on the flight from JFK to LAX.  SEVEN.  SEVEN!!!  And these weren't quick trips, these were half hour long visits (I know this because on one of them I watched an entire episode of Kendra)…so there was clearly something going on. 
At first I felt bad for the guy.  Homes must've been dealin' with some serious GI issues.  But once he started nearing (and then passed) the double digits (of times I had to get up to let him back in), my empathy quickly turned to annoyance.  Dude, get the aisle seat if you have a weak stomach. 
I know I sound horrible (especially coming from a girl with IBS), but the guy was also a SUPER CREEP.  He was staring at me the entire freakin' flight.  You know when you can tell someone is looking at you, and you look up and meet their eyes and they quickly look away.  Well, he was like that, but DIDN'T look away!  I mean I was like, helloooooo, I can see you staring at me!
At one point (when middle seat was in the bano) the guy in the window seat actually said "is this his first time out of the house?!"  Word, window seat guy.  Word.
I could go on and ON about his bizarre actions over the course of the 5 hours we were forced to share 2 inches of armrest and overhead compartment space, but I'll move on.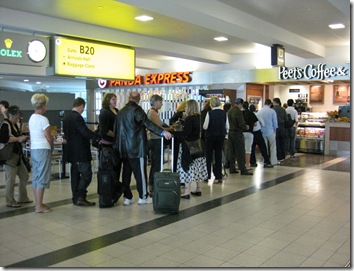 Btw, this was the line for the only coffee place in the Delta terminal.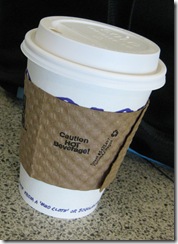 Clearly, I waited – and yes, people thought I was very weird for taking pictures of the line and then of my coffee…but I don't really care.
BECAUSE…LOOK WHAT THEY HAD!!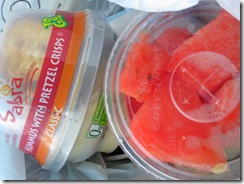 Sabra + pretz = happy happy hippie 🙂
I also got the $5 cup of melon, which brought my morning airport expenses to $13.  WELL worth it.
Given the advantage of hindsight, I can now say it was a very necessary purchase.  I don't know HOW I would have coped with the creepy middle seat guy without my hummus love.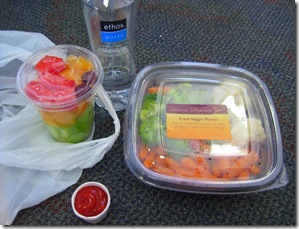 I had a 3 hour layover in LAX, during which I consumed 2 bars, 45 pounds of dried fruit, my pre-packed salad, and the above purchases (add on another $11 to my bill).
Notice the ketchup shot in the bottom of the screen :)  I felt guilty just entering the golden arches to get it!
I bought another veg platter for the second flight, too.
And now for some superlatives…(kidding! kinda…ok, maybe not)
JFK to LAX fellow passenger best outfit award goes to purple velour matchy matchy sweat suit with "apple bottom" emblazoned in crystals across the ass.  The outfit didn't end there though…she also rocked stunna shades on top of her head the entire (5 hour) flight PLUS she obvs got her hair did freshly for the trip and sported hoops I could easily fit my fist through, all while balancing in 4 inch stilettos.  Seriously.  You can't make this shiz up.  I wish I could have gotten a picture of that!  I hope she had someone soopah important waiting for her in LA, because with a get-up like that, she should be P. Diddy's shoulder candy (at the least).
Runner up goes to the female body builder with biceps that would make Jillian's gun show look like amateur hour.  Her veins were bulging like a mo fo.  AND (as if her peek-a-boo veins weren't enough to get the point across) she also had underarmor gear hugging her muscles tighter than House of Derion jeans on Beyonce's bootylicious lady lumps.
Love me some people watching 🙂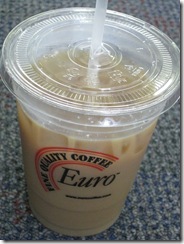 The second flight was pretty perfect (as far as 5+ hour flights go)…I had an endless supply of free movies, so I watched Confessions of a Shopaholic and He's Just Not That Into You.  Quality.  I figured Kyle wouldn't be too heart broken if I saw these without him…(he'd be so bummed if I saw the Jonas Brothers movie before he did, so I held off on that one – maybe the flight back home?)!