Round 2!  Actually, if you count the Thanksmas we had in Tahoe earlier in December with Kyle's family, this is really our third Christmas.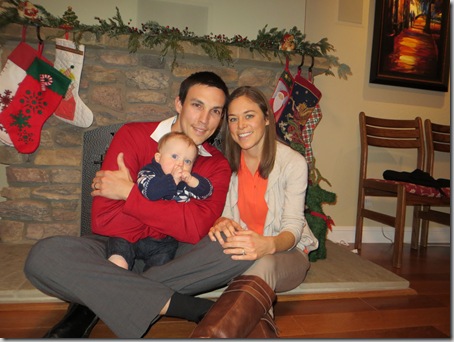 No such thing as too much celebrating, right?!  Especially when it's baby's first Christmas.
We got to my parents' house just in time for a few cookies.  Which provided the perfect fuel for the Niners' game.
My little cheerleader fell asleep on my shoulder during the game so I wasn't much help in preparing dinner.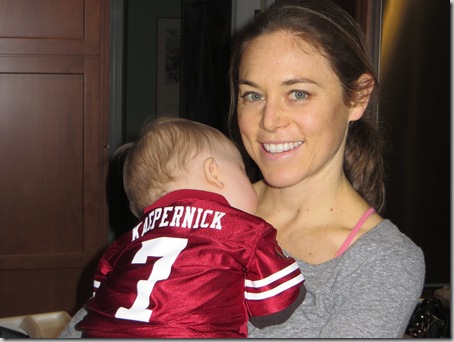 After we put him down we had a mini facetime sesh with my sis in Australia, wishing her a Merry Christmas.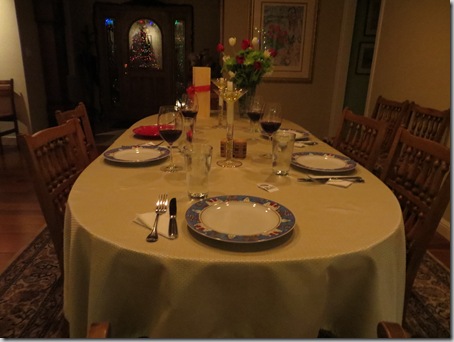 For dinner we had this salmon along with roasted potatoes and a simple salad.
Yum!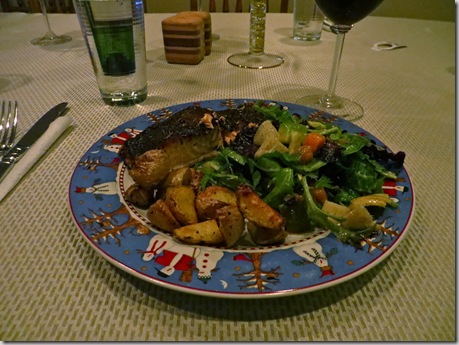 And the 49ers won too!  Double awesome.
The next day was Christmas Eve and I still had tons to get done (like wrapping all the presents!).  After a morning workout with my trainer Jillian (level 1, cd #2) I sipped coffee and made food.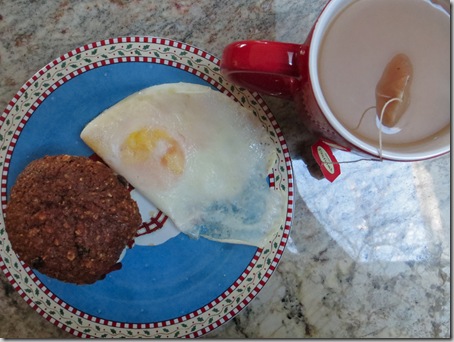 My dad went to WF and discovered tons of awesome products, including these GF carrot raisin muffins by Flax4Life.  I had one for breakfast with a fried egg.  Delightfully bready and not at all dried out or bland. 
Next on the to-do list was baking for my grandpa, aunt, and uncles. 
I make them quick bread every year.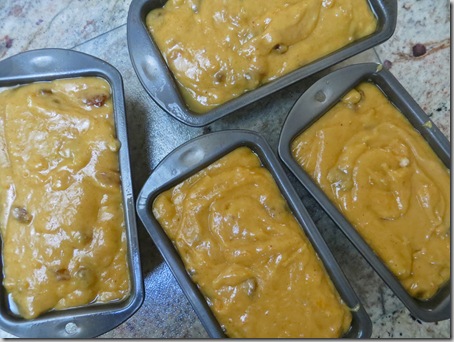 This year I chose pumpkin bread with walnuts and golden raisins.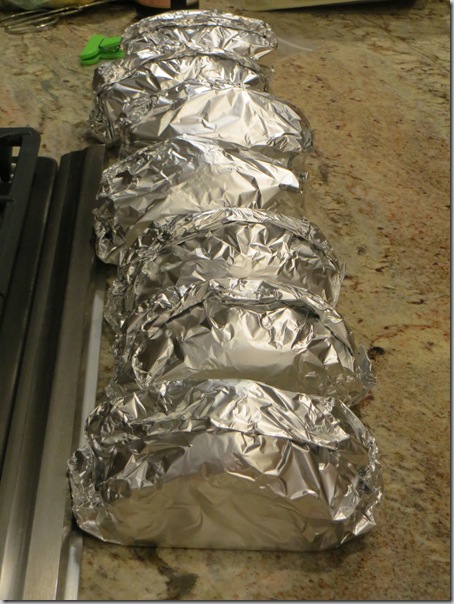 As you can see, I was quite productive!
The first ones I made were a disaster in that I overfilled the pans and they ended up hideously shaped.  Top heavy doesn't even begin to describe them.  It's especially weird because I didn't even double the recipe so I really don't know what size loaf it's meant to make!  One thing's for sure, it yields way more than 3 mini loaves!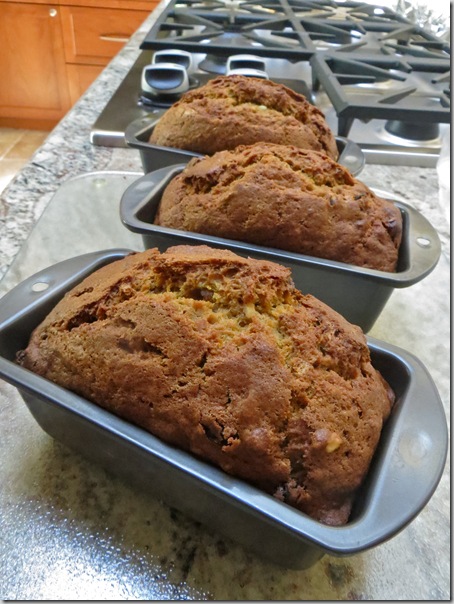 The second time I made the recipe I halved it and I got 3 normal sized (non exploding) mini loaves out of it.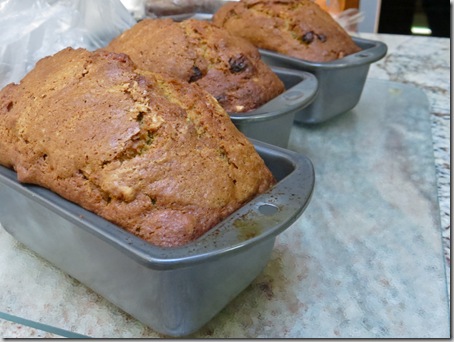 Autumn Pumpkin Bread [adapted from The Lafayette Collection cookbook, yields 3 large loaves or 6 mini loaves]
Ingredients:
3 1/2 cups flour
2 tsp baking soda
2 tsp cinnamon
1 tsp nutmeg
1 1/2 tsp salt
3 cups sugar
4 eggs
3 tsp vanilla
1 cup vegetable oil
2/3 cup water
2 cups canned pumpkin puree
1 1/2 cups golden raisins
2 cups walnuts, chopped
Directions:
Preheat oven to 350 degrees F.
Combine the dry ingredients (first 6 listed) and mix.  Add in the remaining ingredients (except the raisins and walnuts) and stir to combine.  Fold in the raisins and walnuts.  Pour into 3 large greased bread pans.
Bake for 60 minutes or until toothpick inserted in the center comes out clean. 
Lunch on the left, snack on the right.  Oh cookies, why are you so delicious.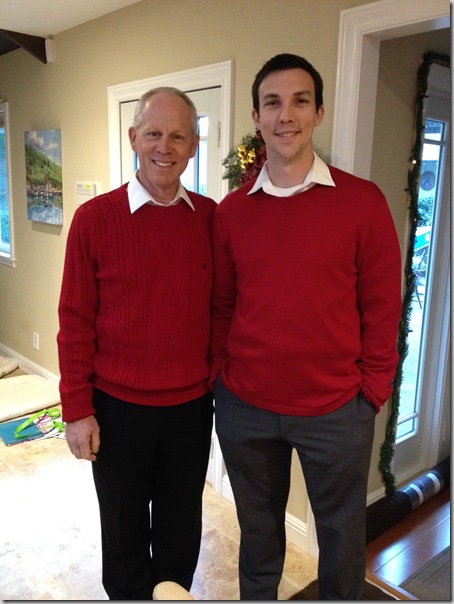 Matchy matchy church outfits for the boys. 
After Christmas Even mass we went over to our friends' house for the annual food and sing-along.  Last year I was uber pregnant and this year I got to show off my little man!  He was a champ and lasted an hour into the party (way past his bedtime) before we had to peace out to do his bedtime routine back at home.
I snacked here and there and went to bed with a belly full of odds and ends.  Stuffed though.
Christmas morning!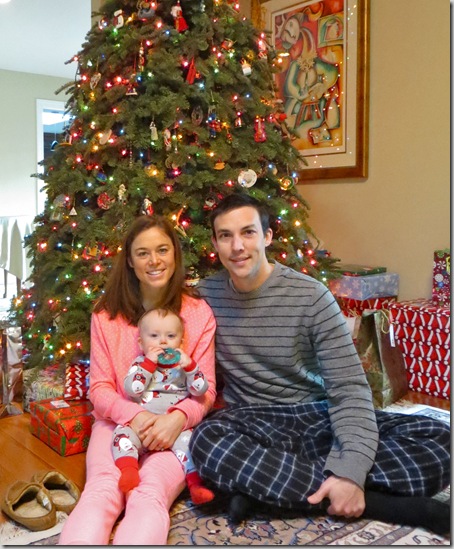 Obviously we stayed in our PJs all morning. 
Breakfast intermission for pancakes and eggs.
We used the entire box of King Arthur GF pancake mix, which was superb.  Highly recommend.  You'd never know they don't have wheat and they puffed up perfectly.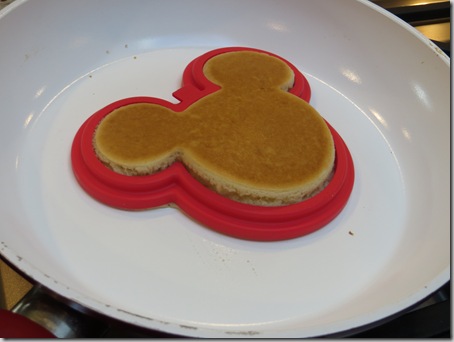 Even Mickey.  :)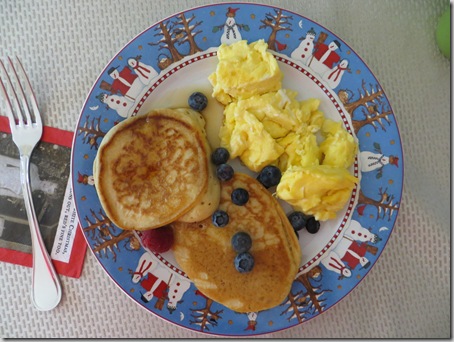 This is my first portion.  I topped the pancakes with fresh berries and maple syrup.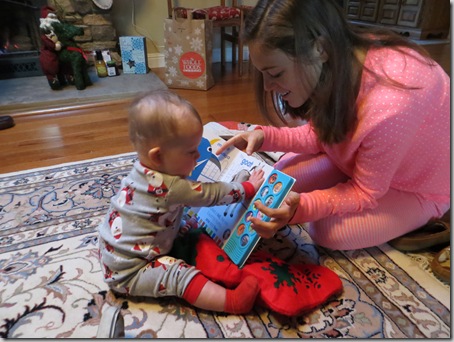 And then it was back to presents!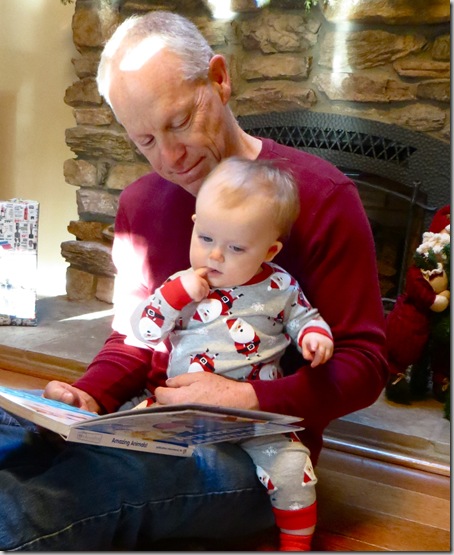 Thanks to all the stimulation, Patty-cakes started to get reallllly tired by the late morning so I tried to nurse him into a slumber.  It kinda worked and even though he resisted it at first, he finally fell asleep and napped for a solid 2+ hours. 
During that time, we finished opening presents, showered, and got working on the fooooood.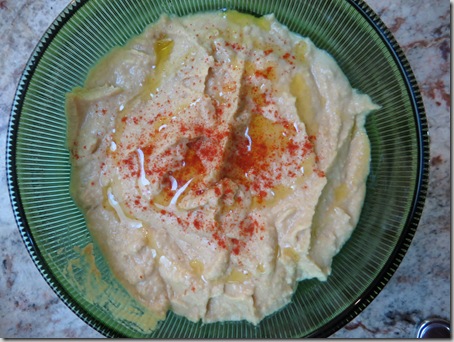 My sister made hummus without sesame seeds!!  What a good auntie.  It's so nice when you don't have to worry about allergens in group settings.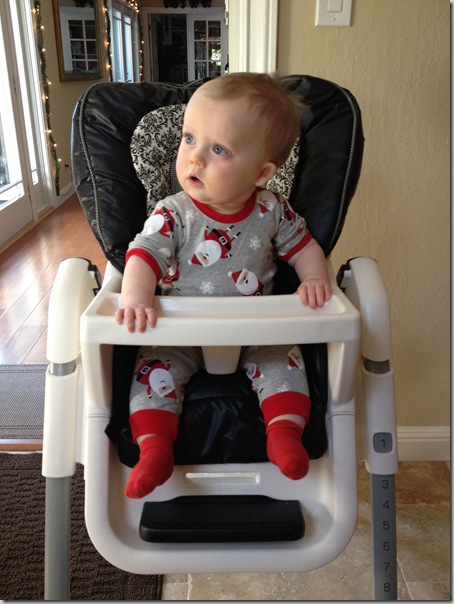 I know this little guy really appreciated it.  🙂
I always look forward to seeing my grandpa in his plaid pants on Christmas.
It was a busy time in the kitchen and since I was helping with everything from the salad to the mashed potatoes to the crisp, I don't have many photos.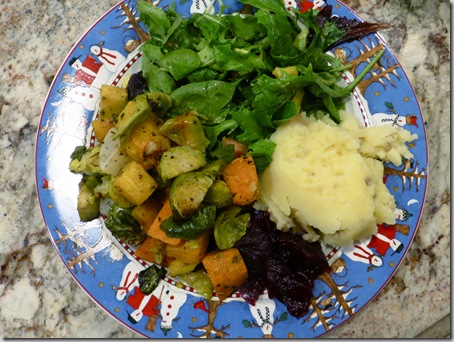 Here's my plate.  Loaded with veg.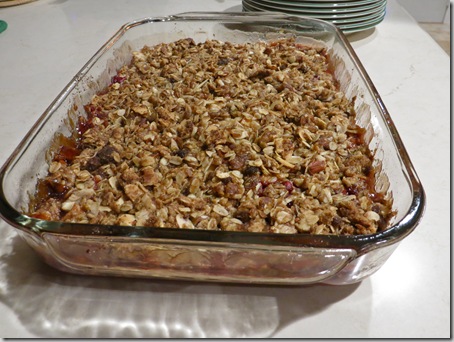 And here's the crisp I made.
Apple & Cranberry Crisp [vegan, gluten free options noted*]
Ingredients:
Filling
6 apples, peeled, cored, and chopped
2 cups fresh cranberries
1 cup sugar
1 tbsp lemon juice
2 tsp cinnamon
1/3 cup flour (*use oat flour to make GF)
1/4 cup vegan butter, melted (I used Earth Balance)
Topping
1 cup quick cooking oats (*use certified GF)
3/4 cup slivered almonds
3/4 cup all purpose flour (*use GF all purpose or oat flour)
1/2 cup brown sugar
1/2 cup Earth Balance, softened
Combine filling ingredients in a large bowl.  Pour into a greased baking dish. 
In a separate bowl combine topping ingredients until uniformly mixed (small clumps are fine). 
Pour the crumble topping over the cranberry apple mix.
Bake for ~60 minutes at 375 degrees F (until the fruit is bubbling throughout the pan).  Cover with foil once the top has browned.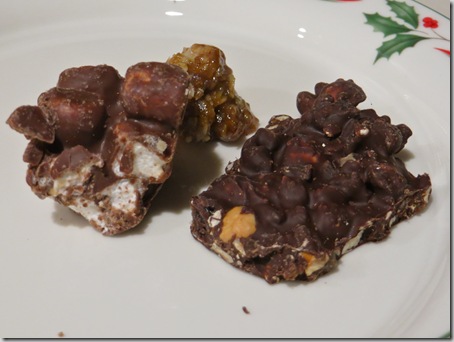 I couldn't help but dig into the chocolate (even though I already had some crisp).  My aunt brought a sh!t ton of home-made goodies, including fudge and chocolate covered this and chocolate covered that.  The best thing of all, though, was this rocky road amazingness.  I could have died it was so good.
The next morning I was back on the workout train.  I went for an awesome (chilly) run around the neighborhood.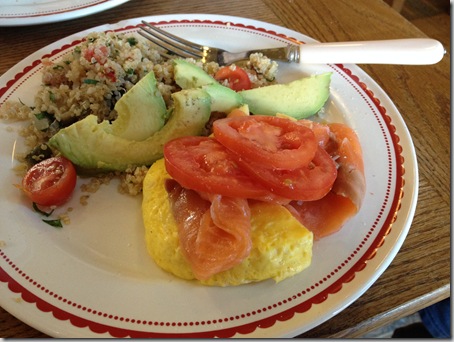 Then we went to brunch with my New York ladies who were back in town.  We went to La Boulange (again) and I got the quinoa, egg, tomato, avo creation above.  They finally got to meet the little pacman! 
He was so excited to be seated next to the massive Christmas wreath in the window.  He spent the first half of the brunch plucking the needles off it and throwing them at me (fortunately the wreath was on it's last legs or I would have been more concerned).  He spent the second half of the brunch asleep on my chest (we were talking and catching up for hours!). 
Eventually we had to part ways.  🙁
You can't see my lunch very well, but there's a mountain of leftovers underneath the fried eggs.  Who doesn't love a before and after yolk goo photo?
It took us double the time it normally does to drive home to Davis.  Freakin' Tahoe traffic.  All the New Years people must have decided to go up the day after Christmas because it was mis-er-able on the road.   Silver lining, P got a lengthy nap in and we found a new back road route from Vacaville.  Going 80 mph on a country road is actually more fun than the freeway.
Can you believe we only have a few more days of 2013!!!
Elise December 28, 2013 apples, avocado, chocolate, dessert, eggs, fish, hummus, king arthur flour, nuts, potatoes, pumpkin, quinoa, root veggies, salmon, vegan cookiesrecipe Read more >