Here's a fun little "would you rather."
It's pretty much the question that most Angelinos face on a daily basis.  Would you rather drive or ride your bike for 12 miles?  What if I told you the cycling route would be a guaranteed 60 minute commute, but you may or may not be in your car for 1-2 hours?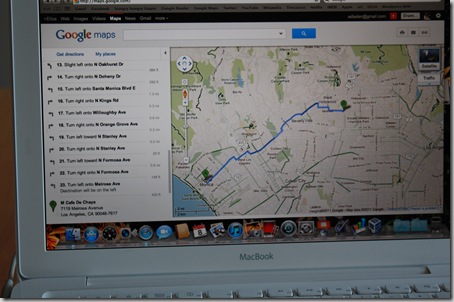 Welcome to my life.
I chose the bike.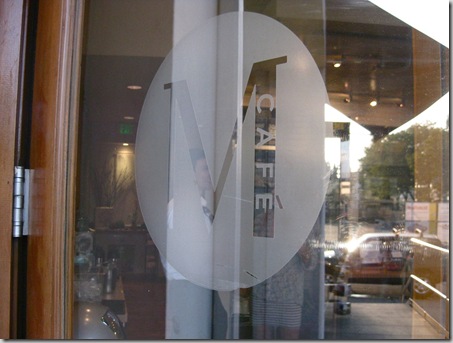 My parents are in So Cal this week to see all the new babies in the fam, so on Monday night they took us out to dinnah.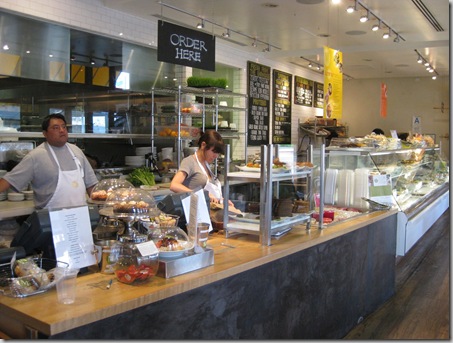 My cousin joined us too, so when picking a restaurant I opted for one that was somewhere between us all. 
Kyle driving from his internship in Glendale.  My cousin coming from her casa in West Hollywood.  My parents heading north from my g-ma's in Newport Beach.  And ME cycling over from Santa Monica. 
Final Destination?  M Cafe de Chaya on Melrose for a fun vegan dinner outing!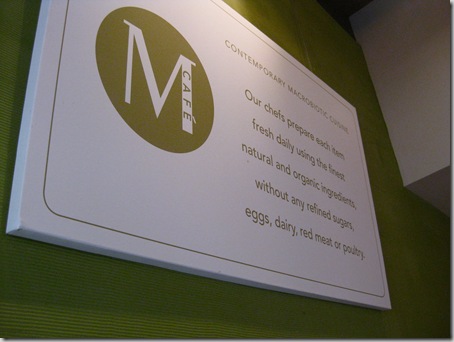 I've heard about this place from soooo many different sources lately.  Just yesterday I was flipping through the 2011 Best Of LA awards and saw that Bob Harper listed M Cafe as his top LA restaurant choice.  Holla!
Other reasons to love it?  They are don't use any refined sugars, eggs, dairy, meat, or poultry (they do have some fish dishes).  They have Babycakes NYC desserts.  And the chef used to be Gwyneth Paltrow's personal chef.  Sign me up!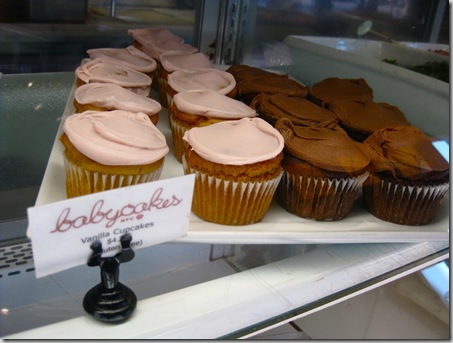 Lynn is also a huge fan and she made sure I knew to order the kale salad with peanut sauce before I went.  She's never done me wrong before and as soon as I saw it I knew she was on the money.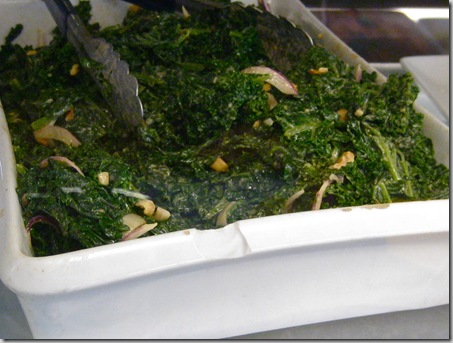 I chatted with a few employees – asking for their faves and any recommendations.  You see I made a vow last month…when dining out I want to will order outside my comfort zone and try dishes I wouldn't normally get.  Long gone are the days of reordering the same meal time and time again!  If a restaurant has a signature dish – even if it's something I wouldn't ordinarily choose – it must be famous for a reason.  And I should give my taste buds a chance to experience it!  Right?  Right!  Also, I can't help but feel a bit lame for ordering things I could make myself…that often messes with my head when I browse menus.  No more!  I will clear my head and feel it out in the moment.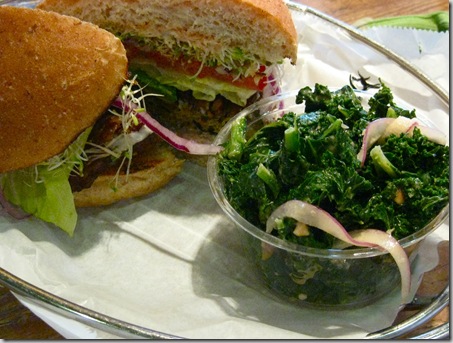 My meal! 🙂
The kale salad was a prime example of me rolling with recommendations…and it totally paying off.  I wasn't in the mood for peanut dressing, but it was fantastic (and then some). 
I got the kale salad alongside my main…the Big Macro.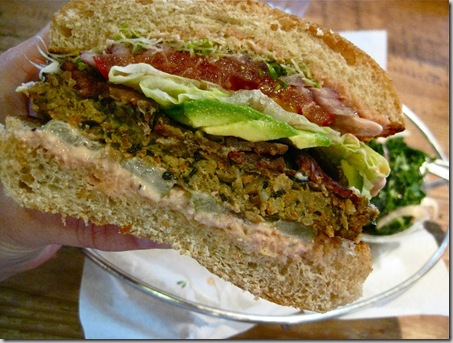 Whole grain brown rice & vegetable burger, special sauce, lettuce, soy mozzarella, tomato, pickles, onion, and sprouts on a house-baked whole wheat bun. 
And get this.  Since I am "in the know" I asked for my burger "loaded"…which is why mine has avocado and tempeh bacon too.  EFF YES.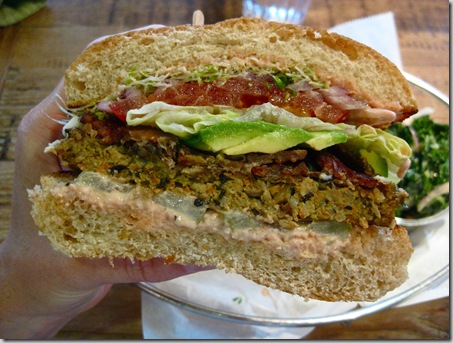 Jealous?  It was everything I wanted and more.  With success like this, I should definitely continue ordering this way.
Kyle got the California Club with a side of sesame tofu soba noodles.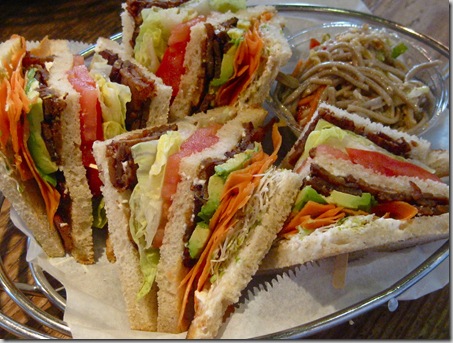 A triple-decker of savory tempeh "bacon", lettuce, tomato, avocado, carrots, sprouts & soy-mayo on house baked toasted sourdough (the alternate bread choice is multi-grain & seed). 
And about that noodle side dish…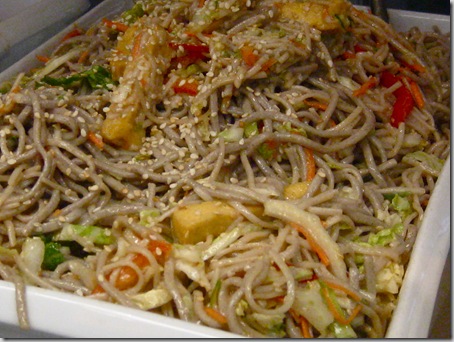 Kyle thought this was one of the best vegan meals he's had in LA.  The portion was satisfying and the flavors were simple yet delicious.  He was especially happy that he could get a real side dish with his main course. 
My mom got the Tuna Tataki salad, which was obviously not vegan but had quite the assortment of deliciousness piled on top.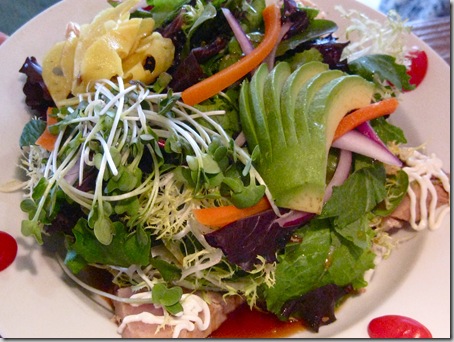 Citrus-soy marinated tuna seared rare, over mixed baby greens with cucumber, avocado, kaiware sprouts, wasabi mayo, and ponzu vinaigrette. 
And on the side a beet lemonade.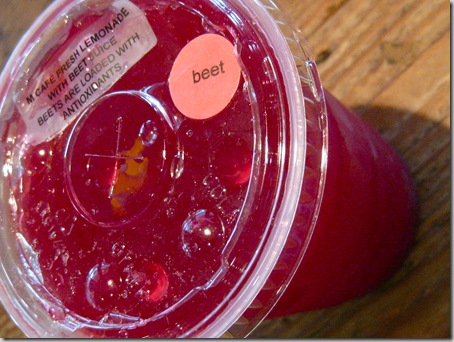 Yes, you read that correctly.  Lemonade with beets.  I had a few sips and it was surprisingly delish.  It was more tart than sweet and even though it was definitely lemonade-y there was also the distinct taste of beets.  Which was (insert shock here) good! 
My dad and cousin both got the Hummus & Falafel Wrap.  [Aren't you floored that I didn't get this for myself????]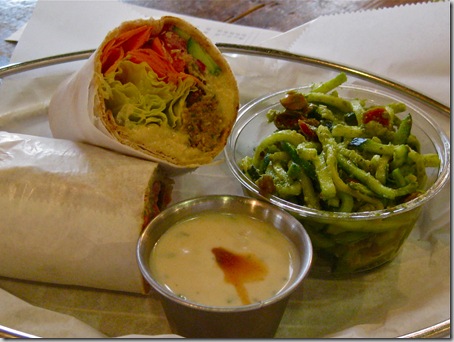 Roasted garlic hummus, mixed grain falafel, carrots, radish, cucumber, red onion, sprouts, lettuce & tahini-soy yogurt dressing in a whole wheat lavash.
My dad got a side of zucchini noodle slaw (above), while my cousin got the peanut kale salad (below).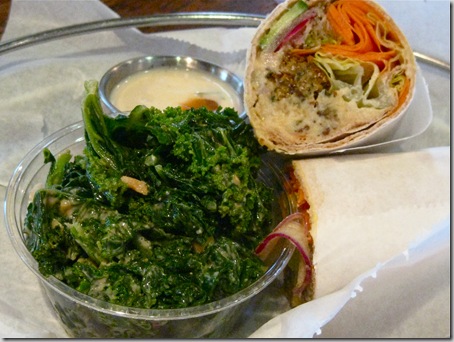 Pretty sure everyone was completely satisfied with their orders.
After quite a bit of chit-chatting it was time for dessert.  My cousin's husband conveniently arrived right as we were perusing the chocolates.  🙂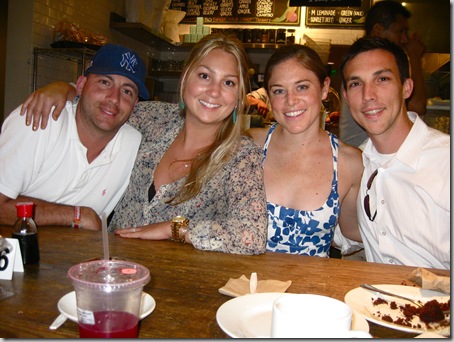 My dad suggested we order several treats to share (which I suspect had more to do with his indecisive sweet tooth than his appreciation for communal dining).  No complaints here!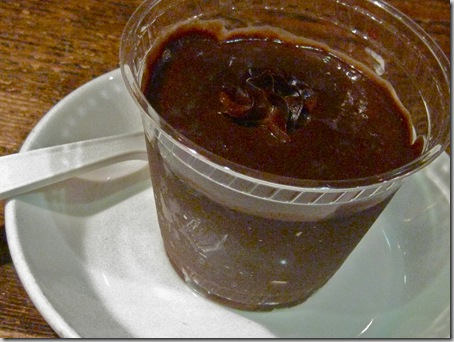 The chocolate pudding was crazy thick – so much so that it was hard to spoon bites out.  Seriously, it was that thick.  It was really good though.  Really good.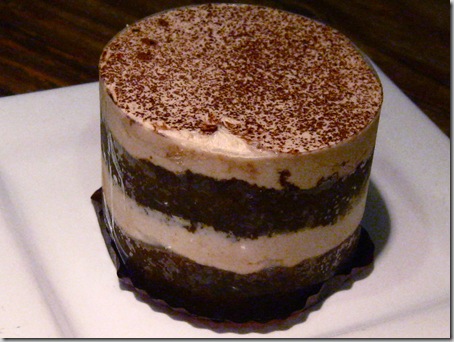 I didn't try the tiramisu because (don't think I'm crazy now) I don't like tiramisu.  Kyle said it was good and he wouldn't have known it was vegan.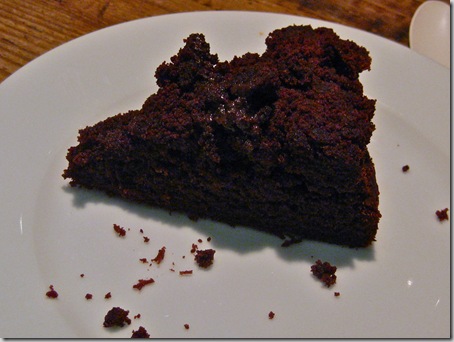 The chocolate cake was too dry though.  Not sure how long it had been out. 
My choice?  The biggest cookie in the case.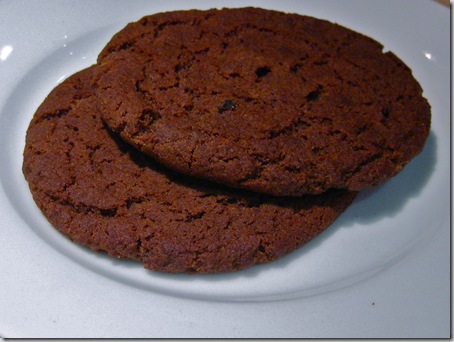 I had my eye on these as soon as we walked in the place and when I discovered all the desserts were vegan, I picked my jaw up off the floor, wiped away the drool, and then got a cookie to go.  Since mine was for later, we got two (so everyone else could sample some). 
Truthfully, I ordered it thinking it was dark chocolate.  Then I tasted it and discovered it was gingersnap!  Ummmm…even better!!!!  Any excuse to get more ginger in me is welcomed.  Gingersnap and oatmeal raisin (without nuts) are my two favorite cookie flavors.  Of all time.  And this was a perfectly chewy one.  Spicy and sweet and I wish I'd gotten a case of them for the road. 
If you're appalled that I didn't order any desserts by Babycakes NYC, just know that (a) I own the cookbook, (b) I wasn't in the mood for cupcakes, and (c) I'm going to NYC in a month and have big plans to do some serious cupcaking.  It's a verb, look it up. 
Honestly, I hardly had any room for dessert, but I still dabbled in a few of the other desserts.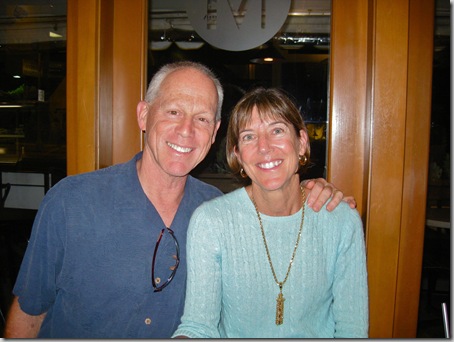 Thanks for making the drive and treating us to a great dinner mom & dad! 
The good news about Kyle coming to the restaurant separately was that I got a ride home.  In a car.  Having my bike is great for rush hour, but when there's no traffic to battle, the commute is far faster by vehicle. 
I would like to give a shout out to M Cafe's restrooms.  I arrived in such a hideously sweaty state, I was prepared to be on the stinky side through dinner.  Lucky for me, the bathrooms were so nice I was able to take a 4 second sink shower.  Kidding (kinda)!  As you can imagine, the drive home was way quicker than the ride there. 
So have you figured out your answer to my "would you rather" question yet?
Elise August 10, 2011 babycakes, chocolate, chocolate cake, falafel, hummus, kale, m cafe, soba noodles, vegan cake, vegan pudding, veggie burger Read more >