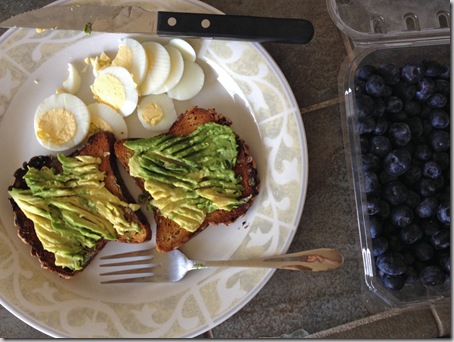 We ran out of eggs before the end of the week but I refuse to ruin the budget by going to the store.  I gave P the last two, scrambled with spinach, just like he likes them.  Luckily I had one hard boiled egg left for me.  I layered the slices atop avocado toast.  We both had blueberries on the side.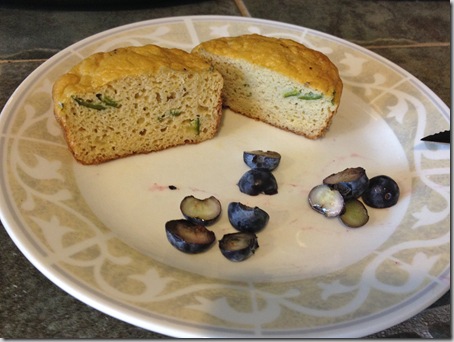 P had an entire zucchini muffin (cut into small bite sized pieces) with his eggs and blueberries.
I used the same recipe as I did here only I bumped up the coconut aminos to 2 tbsp and decreased the olive oil to 3 tbsp.  I taste tested one to make sure it was edible (it was!) and so they are both hippie and hippie junior approved.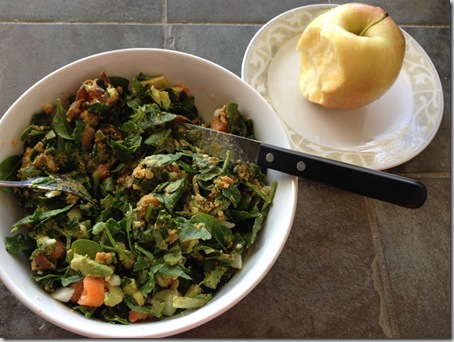 For lunch I made a massive salad which completely hit the spot.  The sweet potato I had cooked the day before was perfectly soft which mashed so well into the salad.  It almost acted like a thickener, coating the spinach along with the nooch and avocado.  And it was awesome.  Nutritional yeast and Bragg's aminos are the best duo when it comes to salads anything.
P and I were meant to split the avocado, but he ended up eating nearly 2/3 of it himself.  His portion combined with my breakfast and lunch portions…we split three whole avocados in under four hours.  I wish I could say that's an anomaly but the reality is, like mother like son, we both enjoy the 'cado.  Good thing Costco sells them in bulk.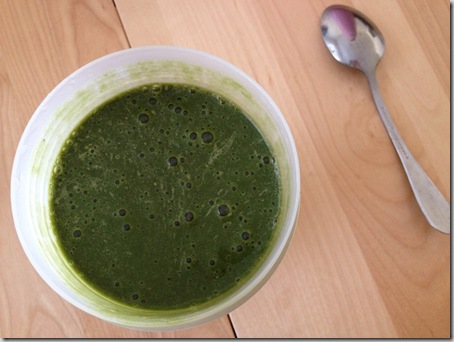 My afternoon snack was a green smoothie.  Standard.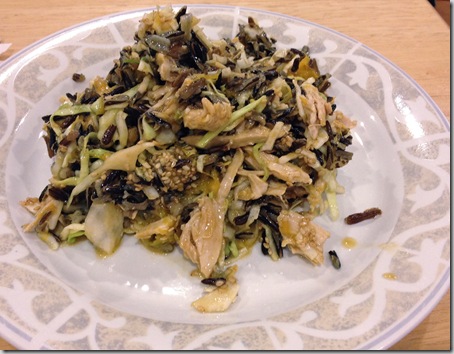 Dinner was a Bon Appétit recipe I bookmarked from the Food Lover's Cleanse – chicken, mango, and black rice salad.
The sesame miso dressing is a keeper.  I could slurp it plain.  Kyle said the dish would be perfect for a potluck – summer or winter – and I agree!  Crowd pleaser, fasho.
I used frozen mango but I wish I'd gotten fresh ones (I'd already done the weekly grocery shopping when I saw that fresh ones were on sale at WF – 3/$5 – oh well).  We had zero leftovers.  You'd think I'd learn by now that Bon Appétit recipes that "serve 4" really only serve 2 (when the 2 are me and Kyle).  [For the record, I omitted the sesame seeds on my serving in order to avoid P's allergens]
For dessert I had several squares of TJ's pound plus chocolate and some candied ginger.  It's the same dessert I have pretty much every night.  Along with decaf chai tea with coconut milk.  I can't remember the last time I didn't have chocolate after dinner.  I basically refuse to skip dessert.
Elise February 28, 2014 avocado, big salad, bon appetit, chicken, chocolate, eggs, smoothie, spinach salad, the essential baking co, zucchinibaby Read more >