Are you scared of the title?  Haha…don't worry, I haven't gone quite that hummus crazy (yet!).
But I did bake a batch of falafel today, which looked pretty damn similar to (how I would picture) chickpea pastries. 
But before I went to town in the kitch, I got my breks-face on.
Coffee.  Froth.  Bluebeezies.  Chobani.
I heart my antioxidants and Chobz knows how to do it right.  The store has been running on empty in the greek yogurt department, so I finally was able to re-stock.  I actually went to the grocery store at 9 am in an effort to avoid crowds and get some errands out of the way early in the day.  Even though I found it to be slightly less crowded, the intellectual capacity of the employees was definitely lesser, too.  Hmmm.  I was ready for a second breakfast when I got home.
Wawamelon.  Alvarado street bread.  Mozz Vegan Rella cheese.  Apple.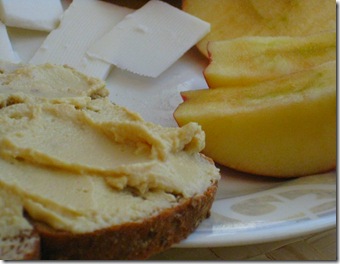 Hummus lurked it's way into the meal, too…naturally 🙂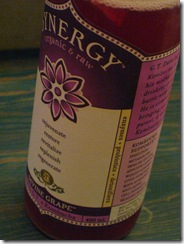 After my early morning grub session, I popped a grape Kombucha, and set to work in the kitchen.  I made big batches of quinoa, tofu, and falafel (lots of work coming up).
I'm not sure why the ingreds/instructions are also in French…but either way, I didn't follow them.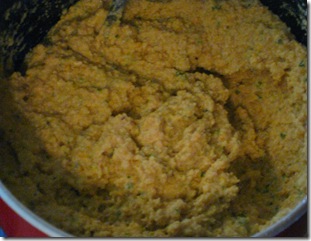 As soon as I added in the water, I was immediately overwhelmed with the amazingly delicious aroma of falafel.  YOWZA!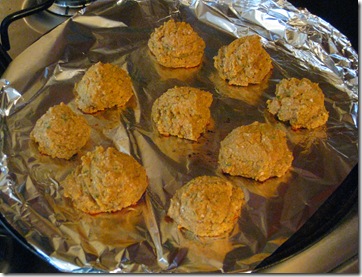 This is 1 of 2 pans…and it only took 10 minutes to set the smoke alarm off finish baking.  So easy (and healthier than going the deep fried route). 
Maybe I should have made them a bit smaller, but now I'll feel more dainty when I say I only ate 4 (as opposed to 20).
I ate lunch later, since my double breakfast action held me over pretty well into the afternoon…
I had a nice little massive platter of TWO apples (one yellow, one red) and the last bits of cheddar Vegan Rella "cheese" and then a bowl of quinoa with green goop and hummus.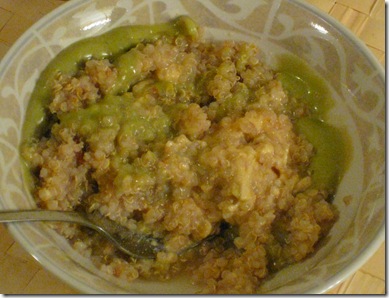 Does this look like a HEAB creation or what!?  Mmmmm…
After some digesting time, I headed to the gym for a bit of cardio a$$ kicking.
20 min elliptical, 10 min bouncy hamster wheel, 10 min spinning bike, 20 min elliptical AND Jillian inspired core training = woo hoo
After I showered I had a chocolate Kids SuperFood, which provided the perfect post workout hydration, along with 500% of my daily green intake (I'm not sure what exactly makes this flavor a kids version exactly…but anyways).  I may have snuck a falafel ball, too.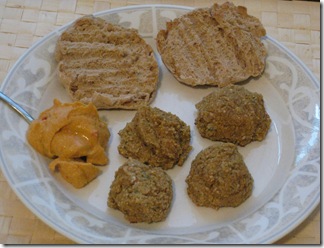 Home-made falafel success!  Portion control fail.  I probably had about 6 unpictured balls on the side, but they were insanely good, so what's a girl to do?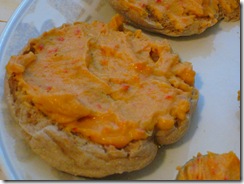 I toasted the english muffin before lathering it in roasted red pepper hummus.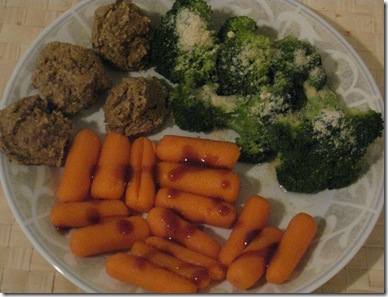 Of course I needed some greens in my din din, so I steamed some brocc and topped it with vegan parm, and then had muchos carrots with a drizzle bizzle of Country Bob's All purpose sauce.  Oh, and did I mention I had more falafel?
I'm pretty sure I am going to have dessert, in the form of chocolate, soon.  But for now, I'm going to pack my lunch and get to bed. 
Happy 31st anniversary Mom & Dad!!  Seeing how your love for one another grows each and every day is the perfect model for a happy marriage (once I get past the ick factor)…LOVE YOU!!!