I forgot to share the good news!  The Instant Pot support people have gotten back to me and are sending me a new base.  Like I suspected, mine is broken beyond repair because it can't correctly detect pressure (kinda important for a pressure cooker).
So I'll have a replacement part in a week or so…and until then, it's back to slow cooking.  I think I'll survive. 🙂
I didn't even know Kyle took this pic until I uploaded my pics!! So sneaky!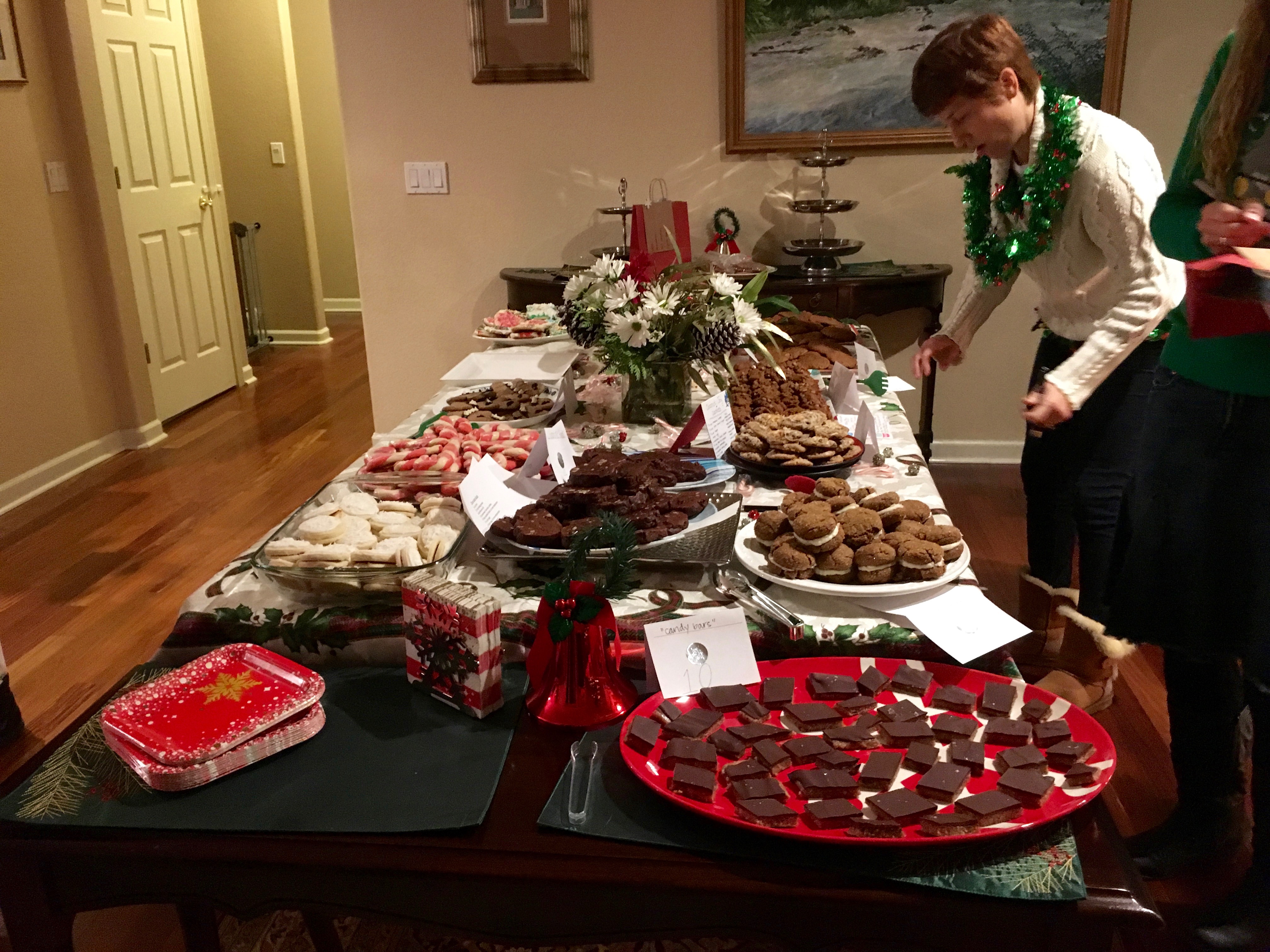 I had been reallllly looking forward to Saturday (all week in fact!!) because I had a moms night out cookie exchange planned with my stroller strides group.  You guys.  I'm just so thankful for this new group of people.  I can't believe I resisted joining for so long.  I never thought it would be such a source of happiness for me, but here it is, a few months later, and I'm still going on and on about it.
Before I started going, I already knew a ton of people in the group because of how much it overlaps with our church, P's school, and MOPS.  And I didn't really think I needed more motivation to work out…so why pay money to exercise?  But the truth is, it has expanded my friend group even more AND deepened my relationships with those friends I already knew before.  And now I have a whole circle of like-minded fitness-focused people who totally get me.
Ok, so that said, the pressure was really on for me to make a bomb @$$ cookie for the party.  I have a reputation to maintain!!  (JK, nobody cares about HHH)  But still, I'm a perfectionist.  You know that right?  Ha.  Ha.  Hi, I'm Elise, I have anxiety about things not going 100% the way I want them to and I carry the entire weight of that responsibility on my shoulders. Now you are my therapist, apparently.  I digress…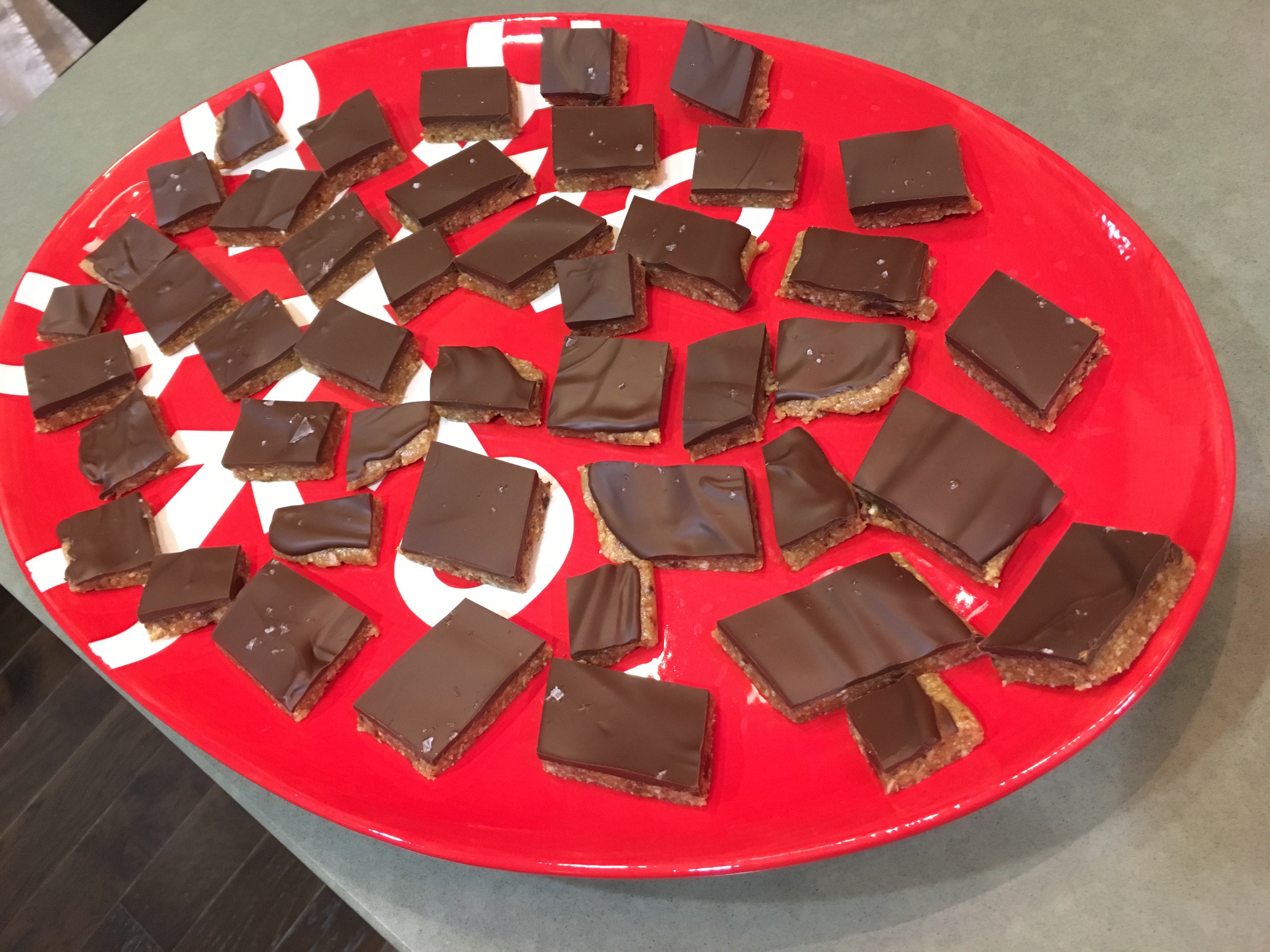 COOKIES!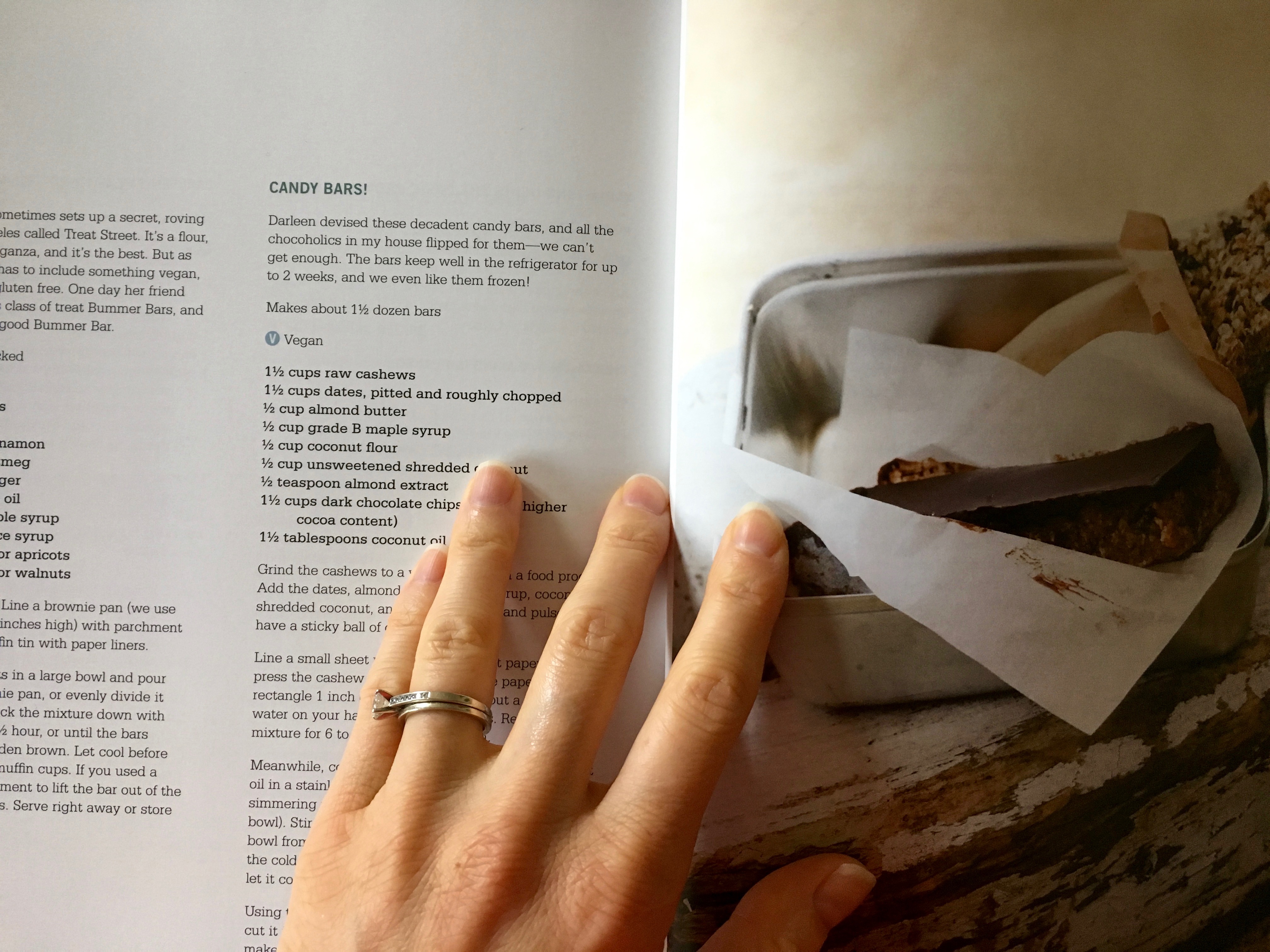 GP has never done me wrong, so I consulted her It's All Good cookbook and picked out the "candy bars" recipe.  It's hard to know what others will like, but I know what I like, and I also knew I'd likely be the only one to bring an allergy friendly option.  So for my sake alone, I wanted a gluten and dairy free treat.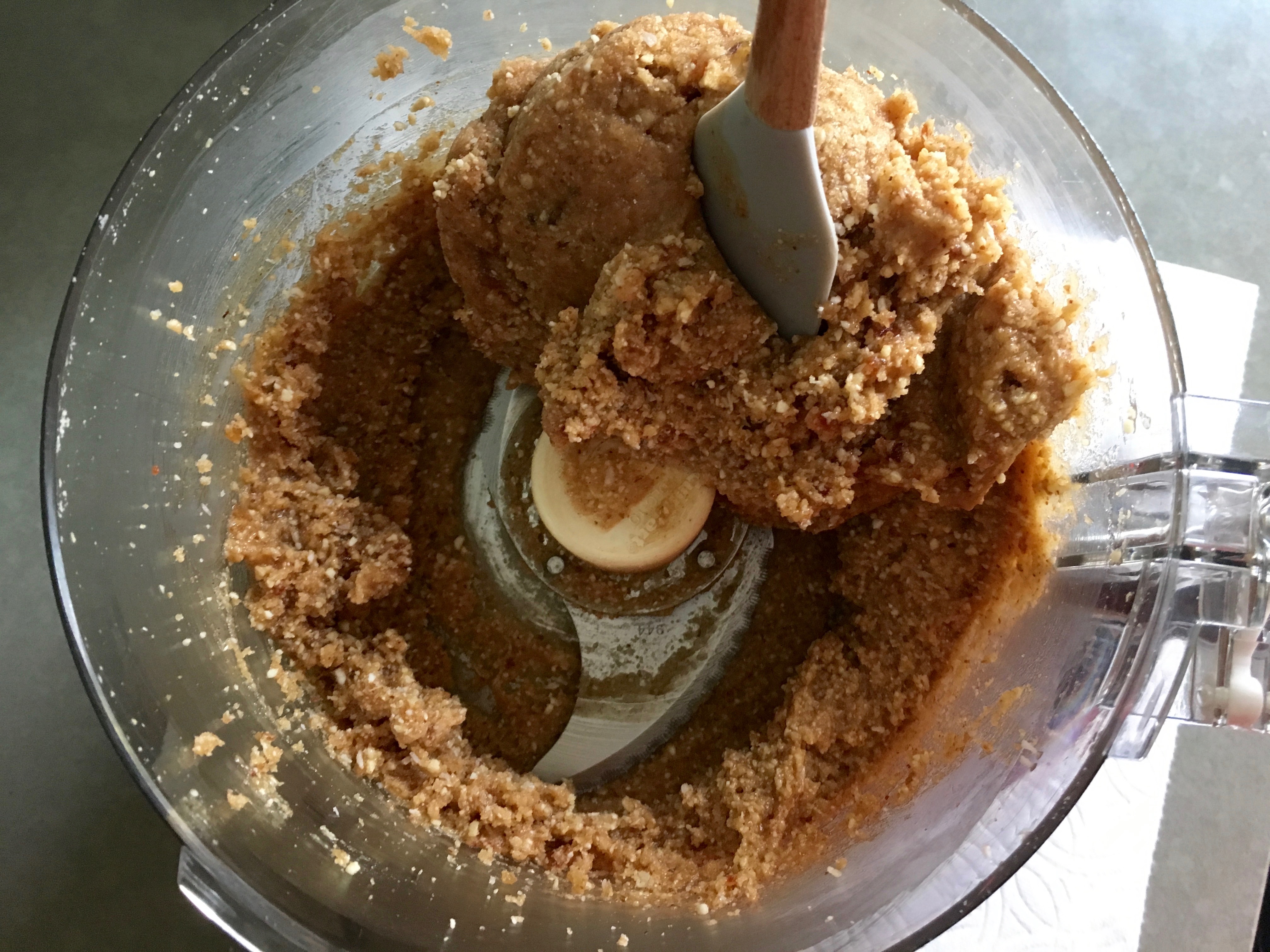 It was really quick to make in the food processor and scooped out SO easily leaving nothing behind.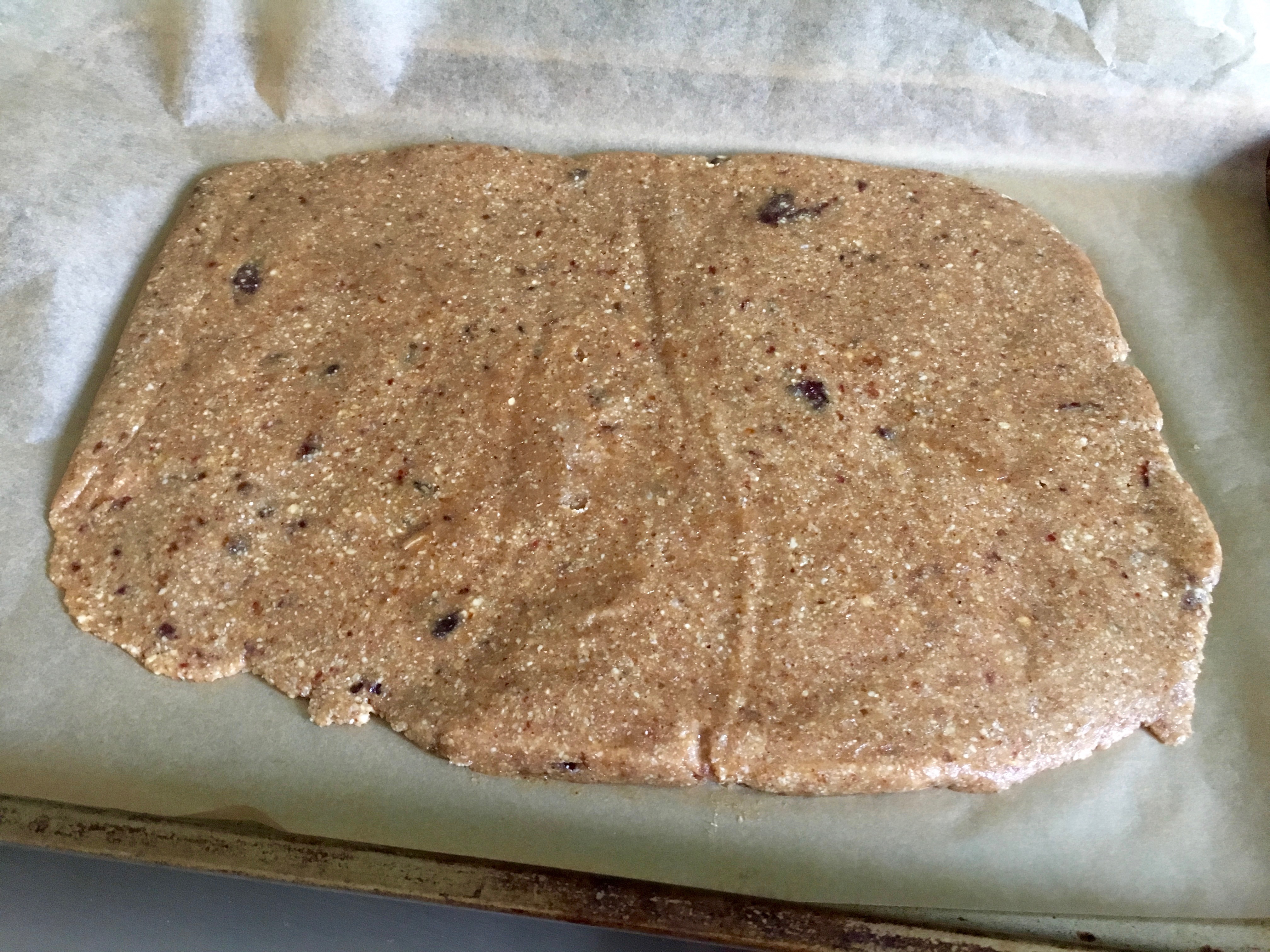 I did all of this while the kids were at farmer's market with Kyle.  Alone time!  I was soaking it up because Kyle's leaving again Monday so I won't hear my own thoughts for a few days.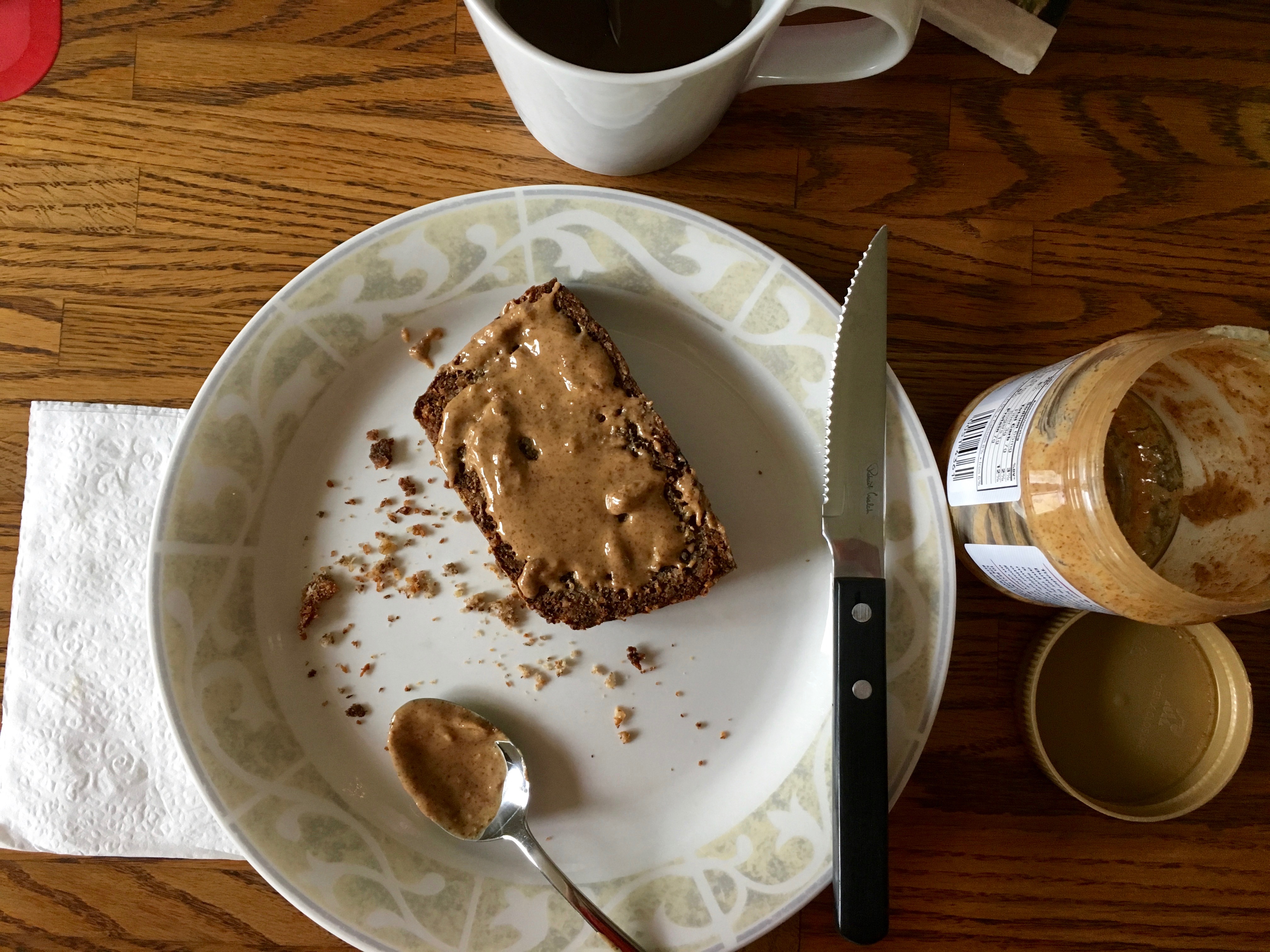 I ate breakfast too, naturally.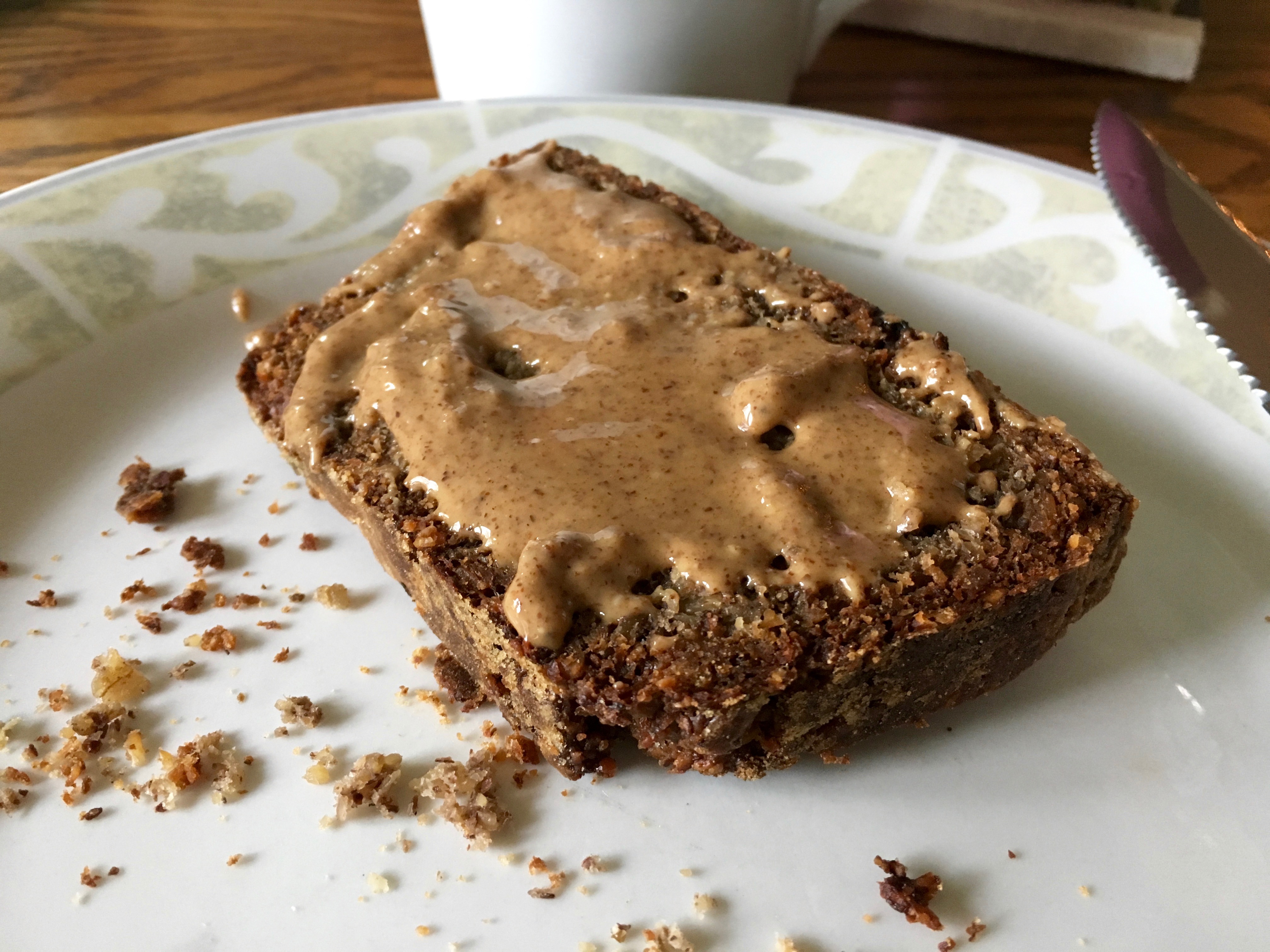 After this was gone, I polished off every last little bit that remained in the AB jar with the spoon.  Mmmm.  Don't worry, I already have another jar waiting in the wings.
Ok, so back to the cookies.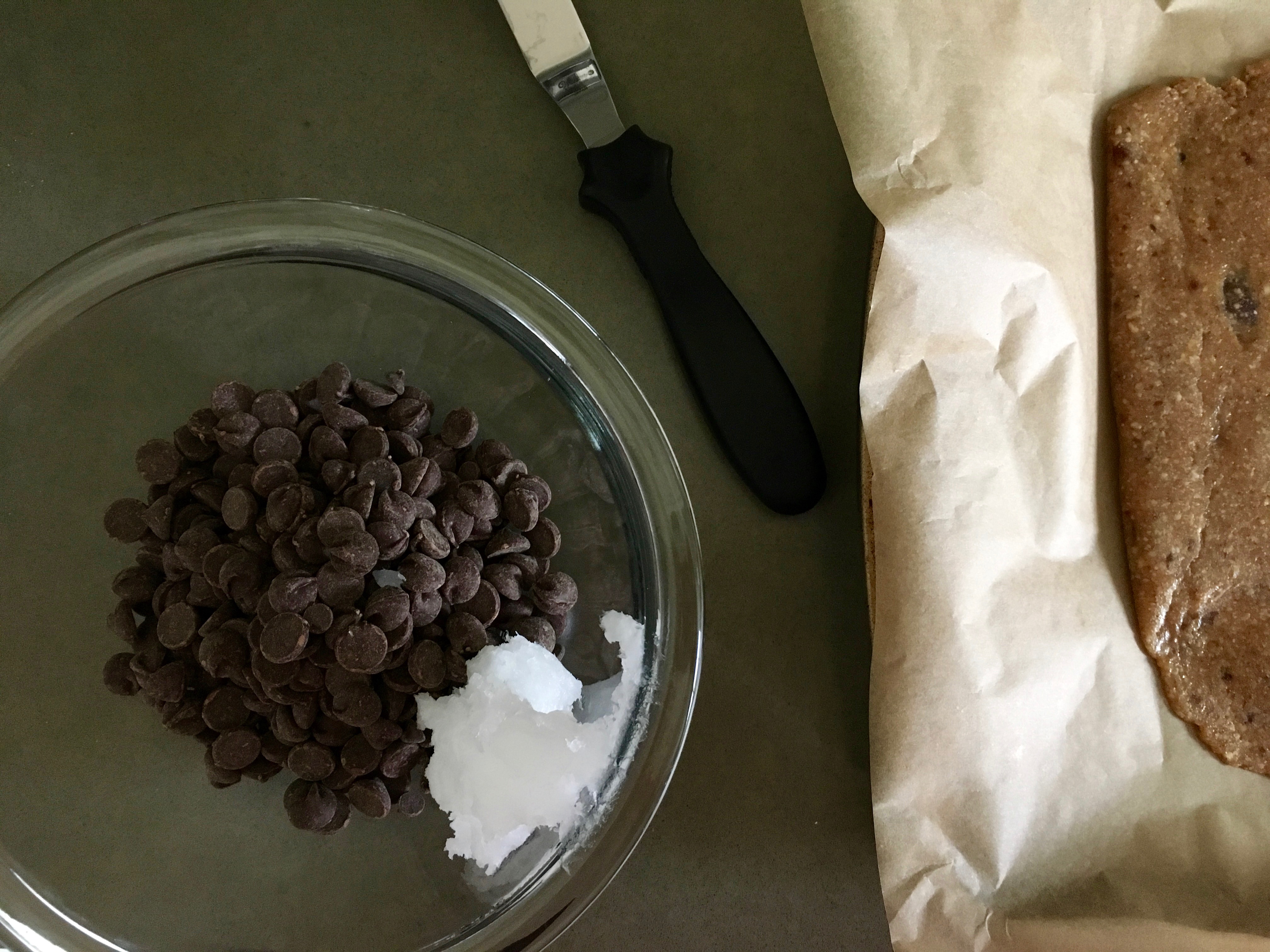 I let the bottom part of the bar set in the fridge and then made the top chocolate layer.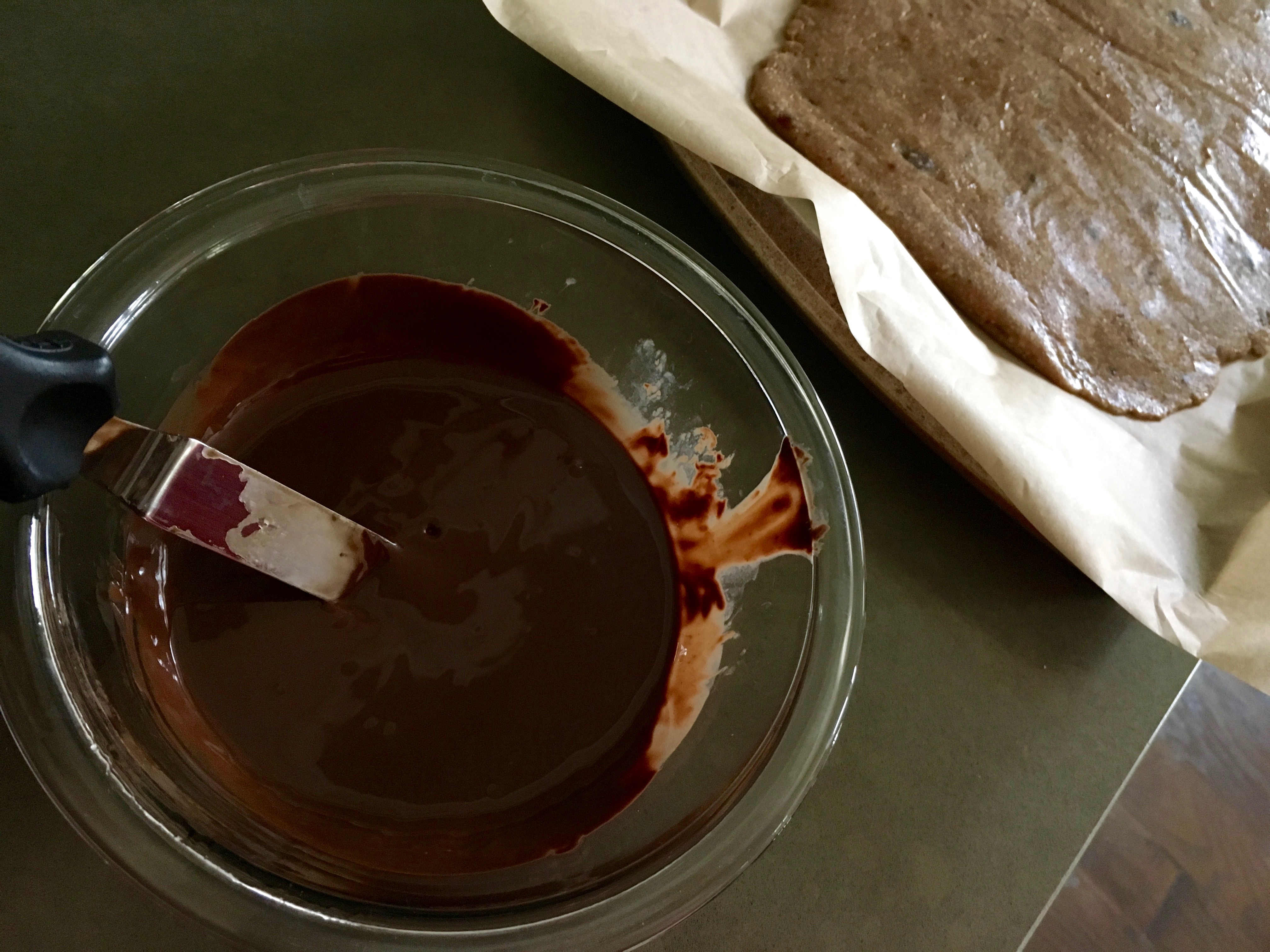 Oooooh baby.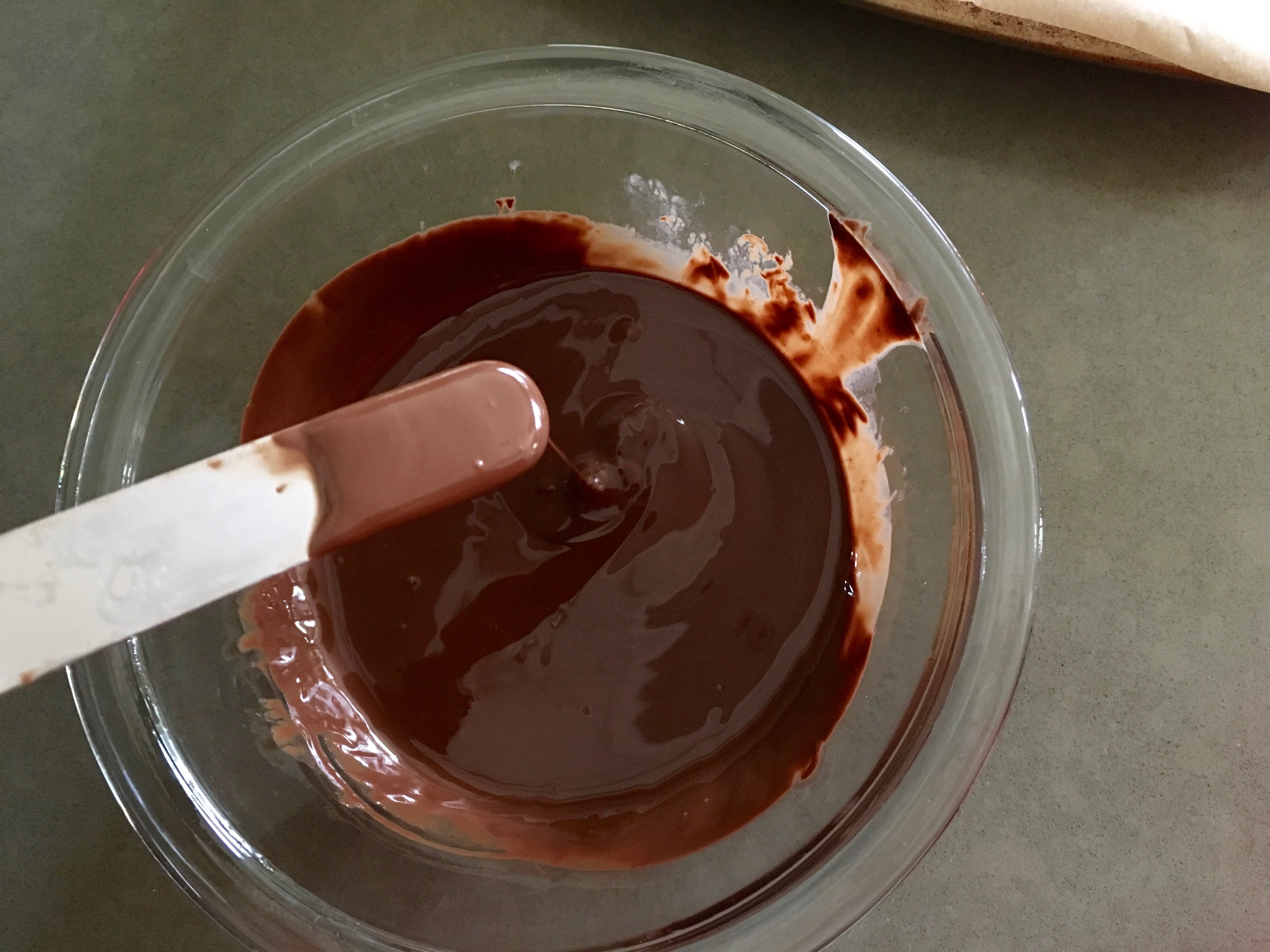 Spread it on top.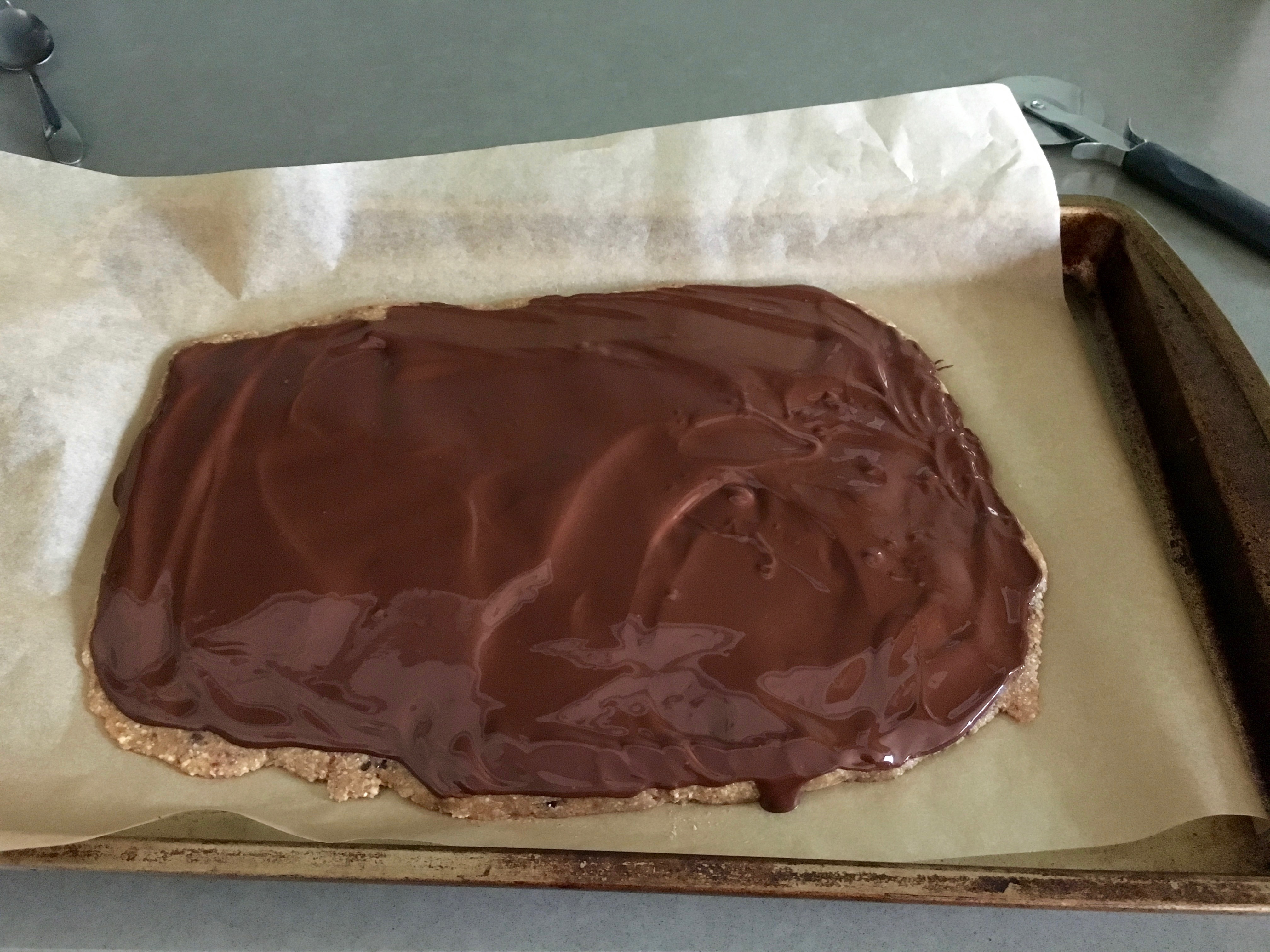 Add some Cyprus flake salt.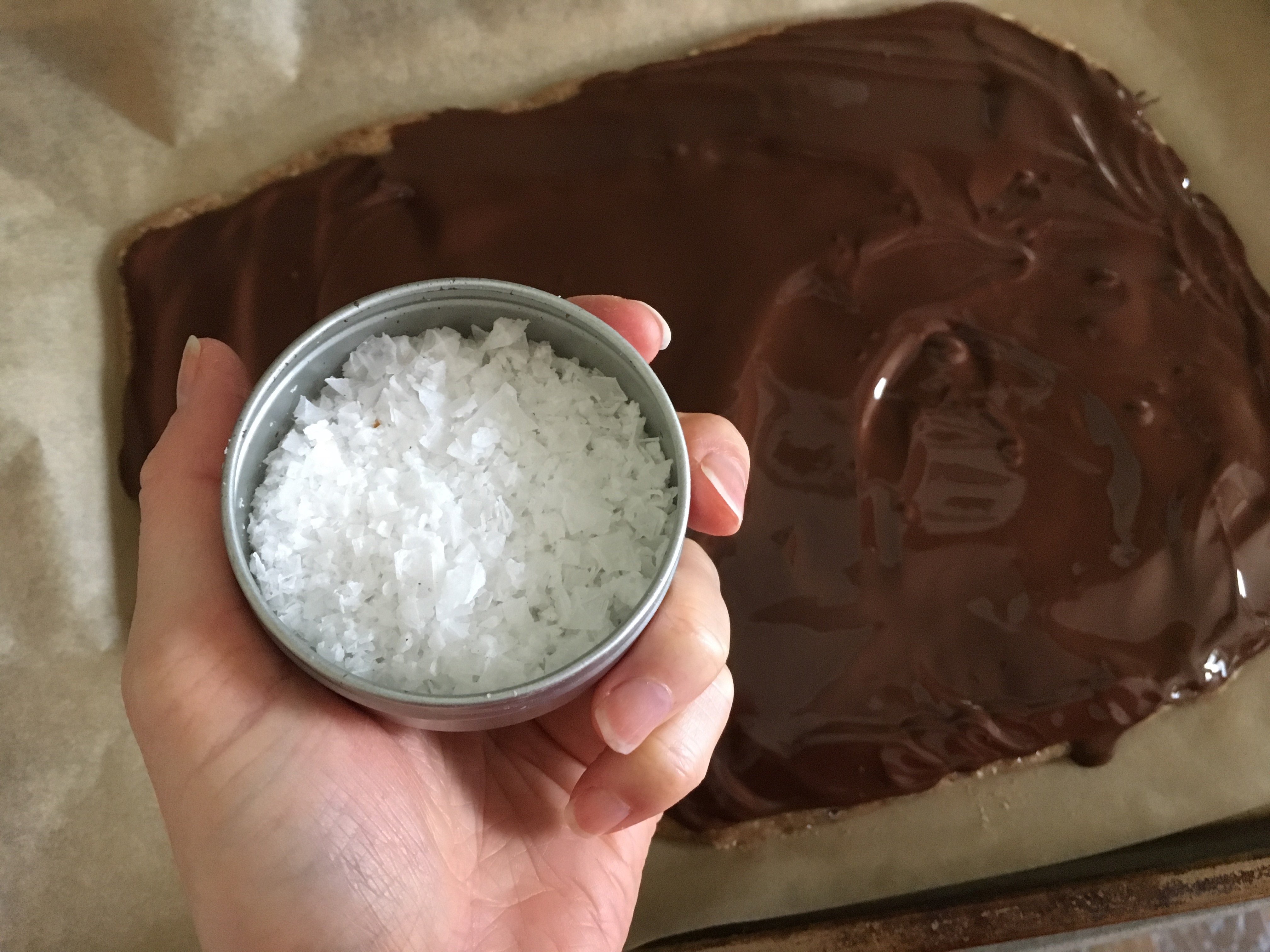 Put it back in the fridge to set.
Lick the bowl clean.
Carry on with the day  🙂
Time to make a grocery list!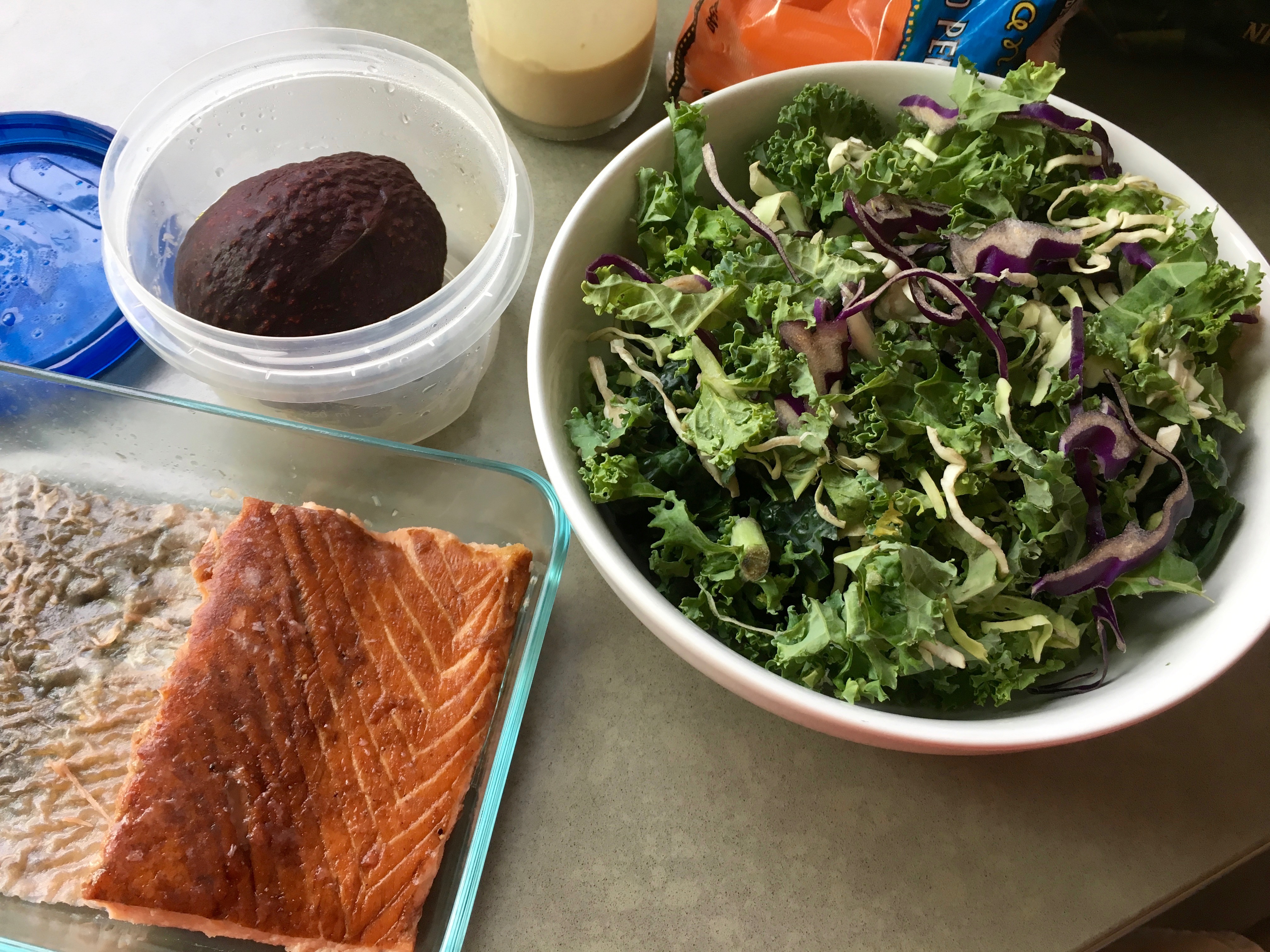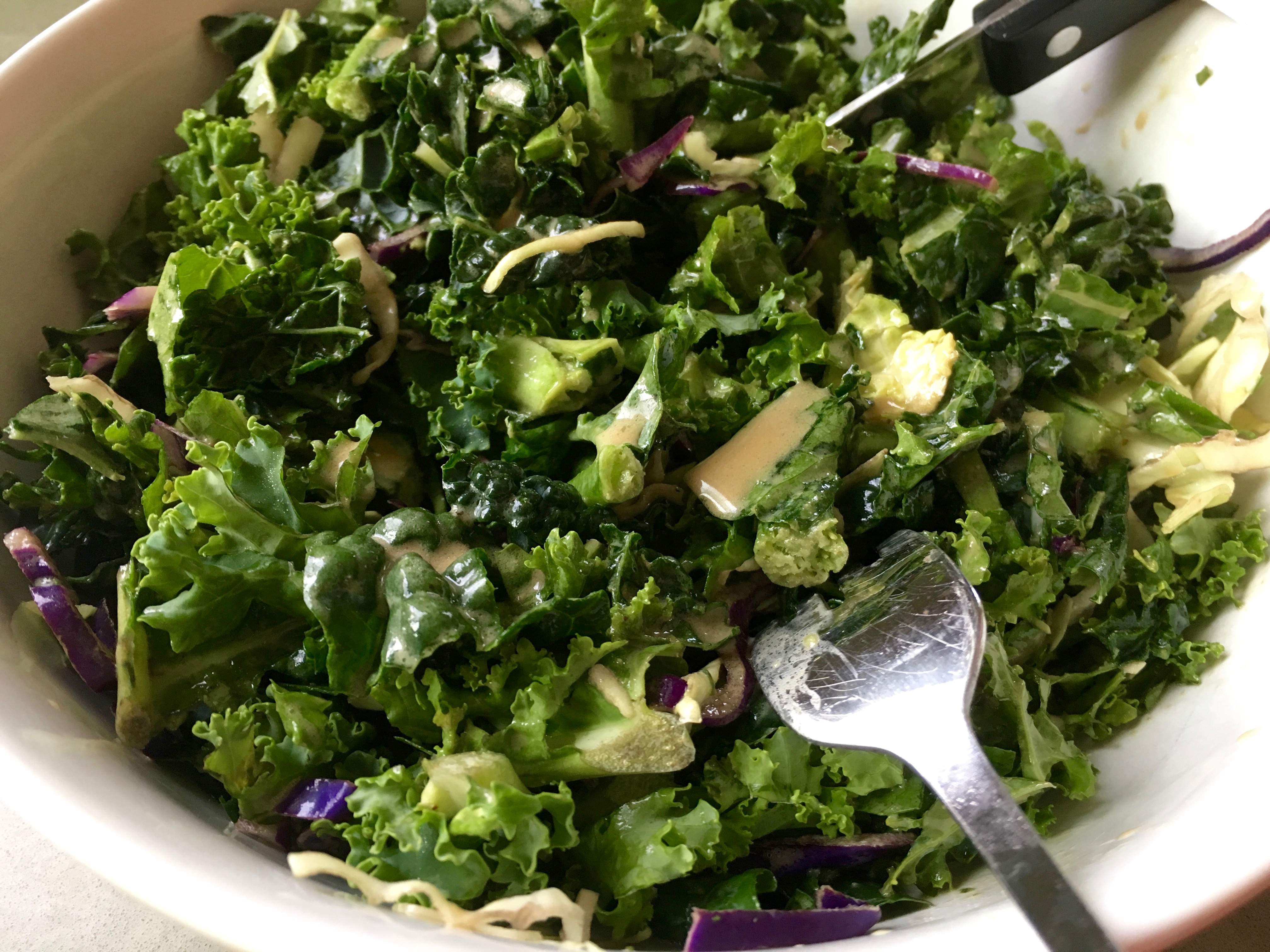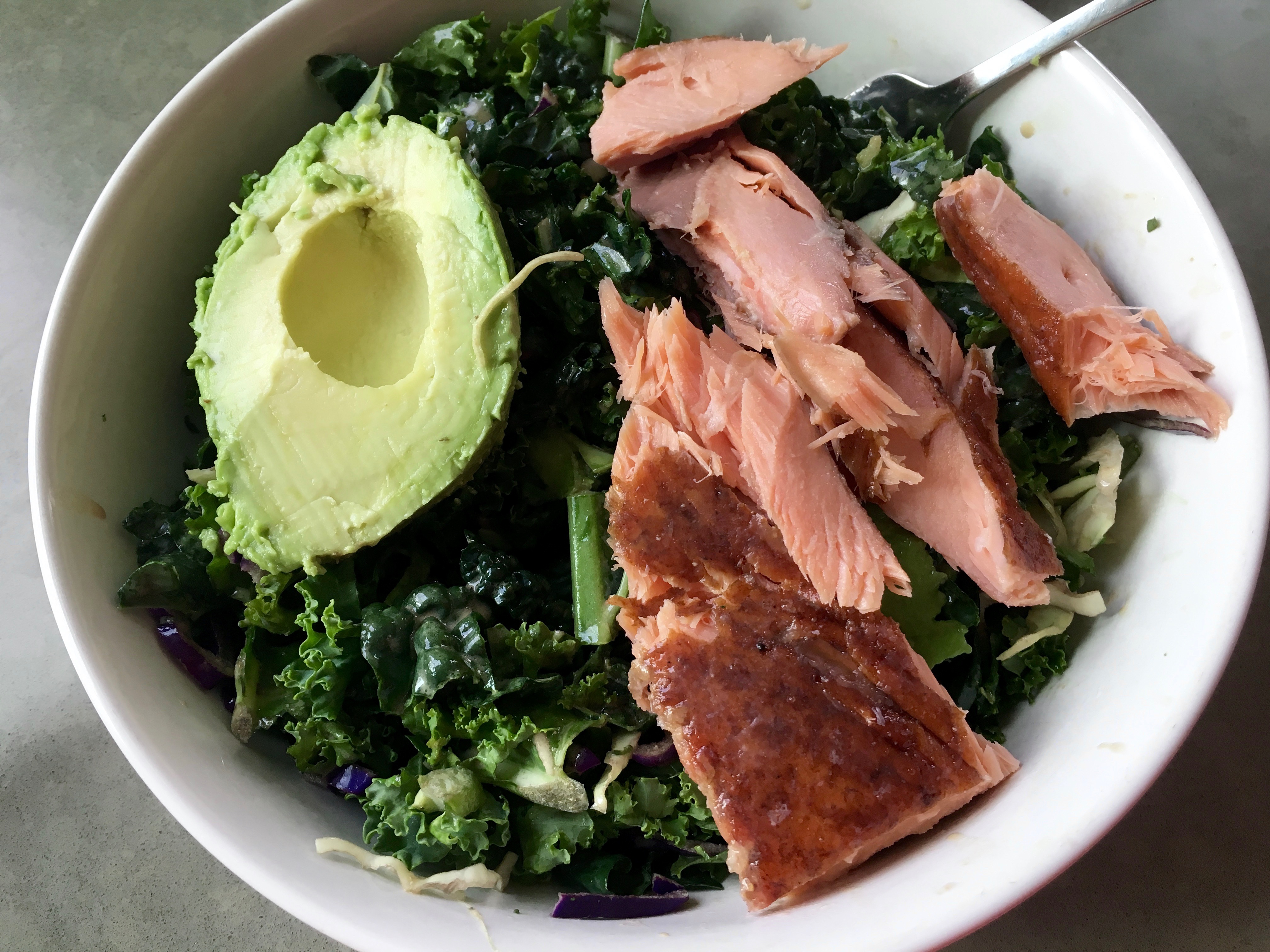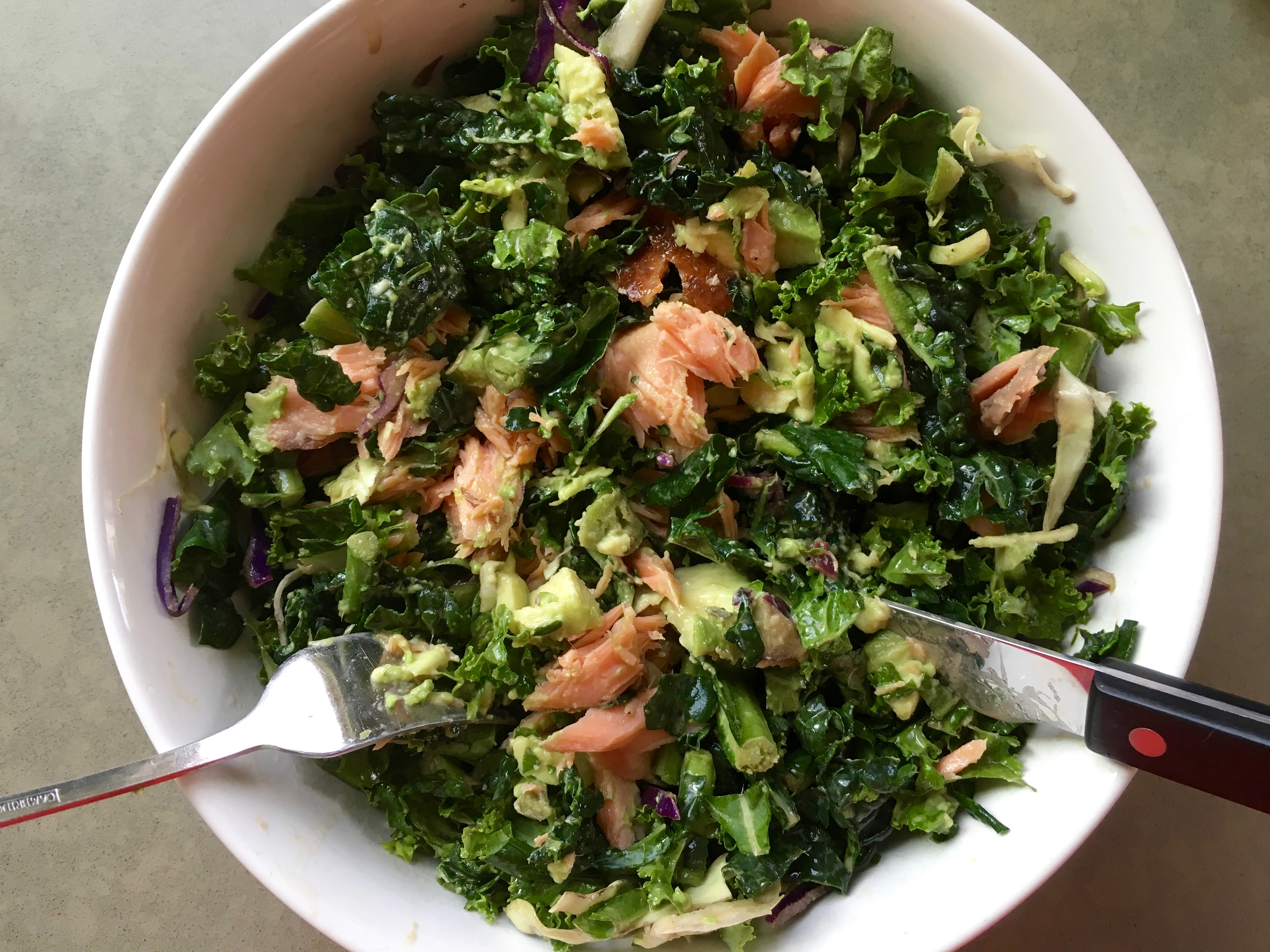 Lunch salad had: kale, cabbage, shaved brussels, home-made balsamic vinaigrette, avocado, and smoked salmon.
Baby carrots sold separately.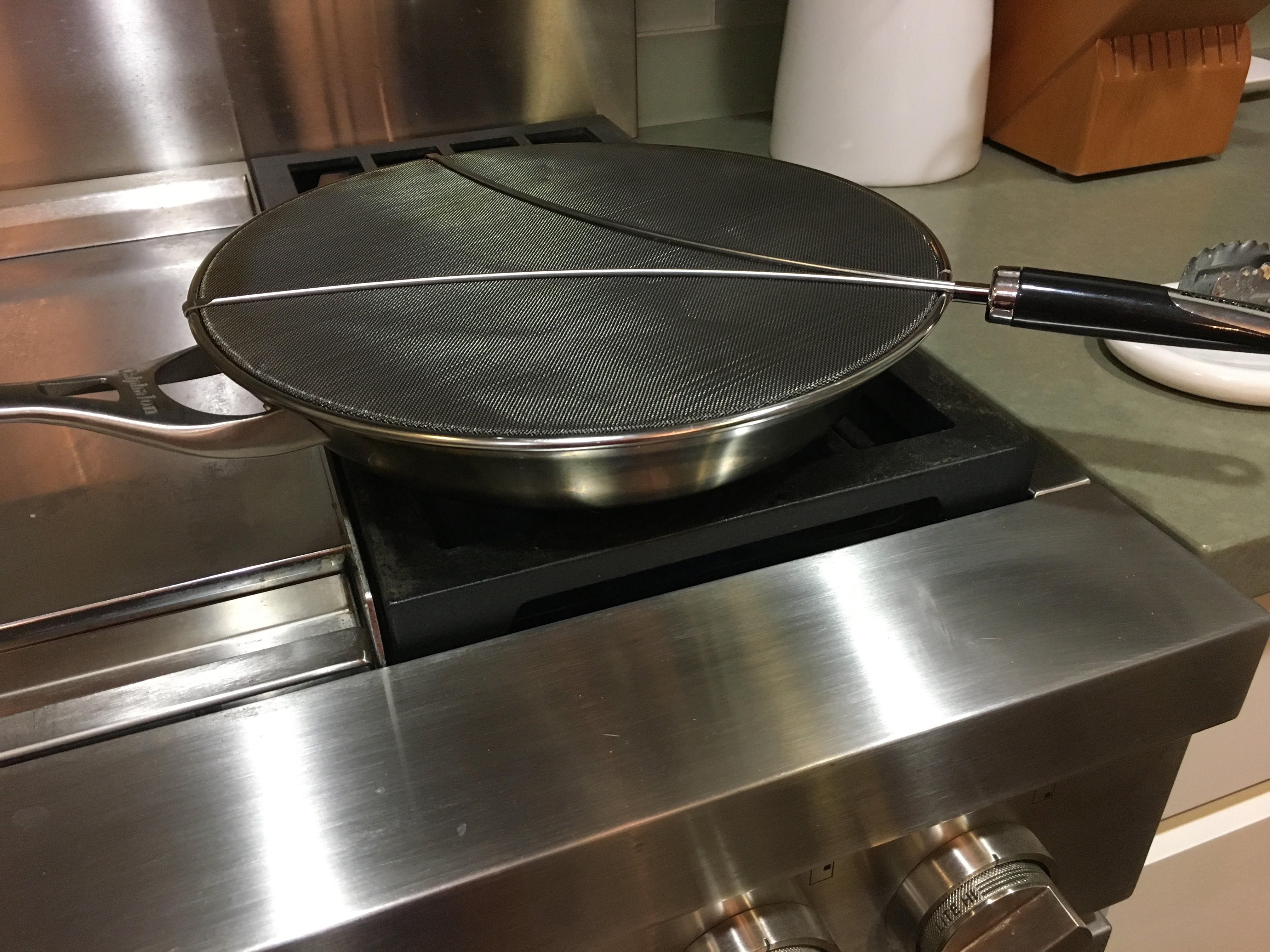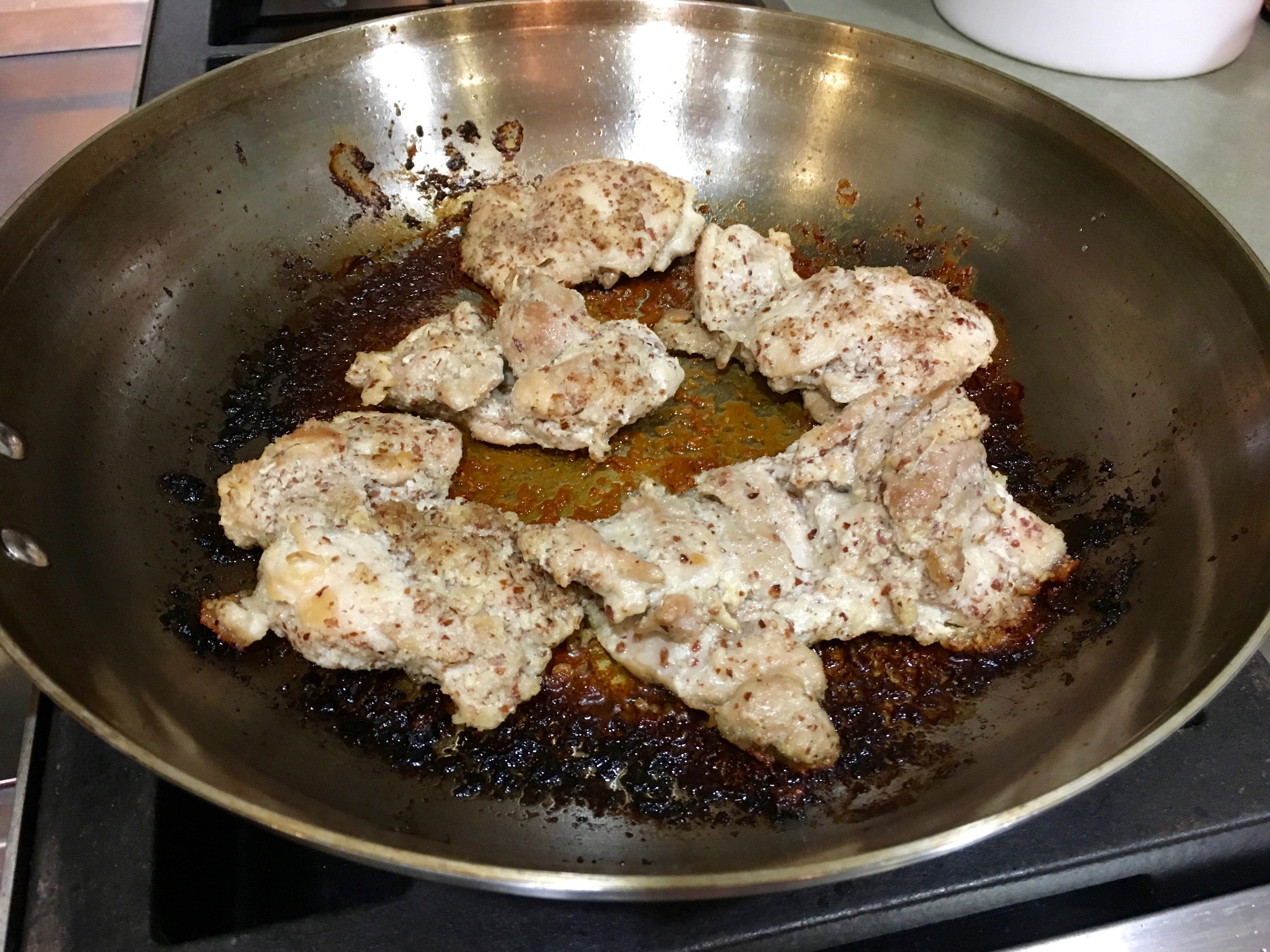 For dinner I fried some chicken "breaded" in almond meal and salt.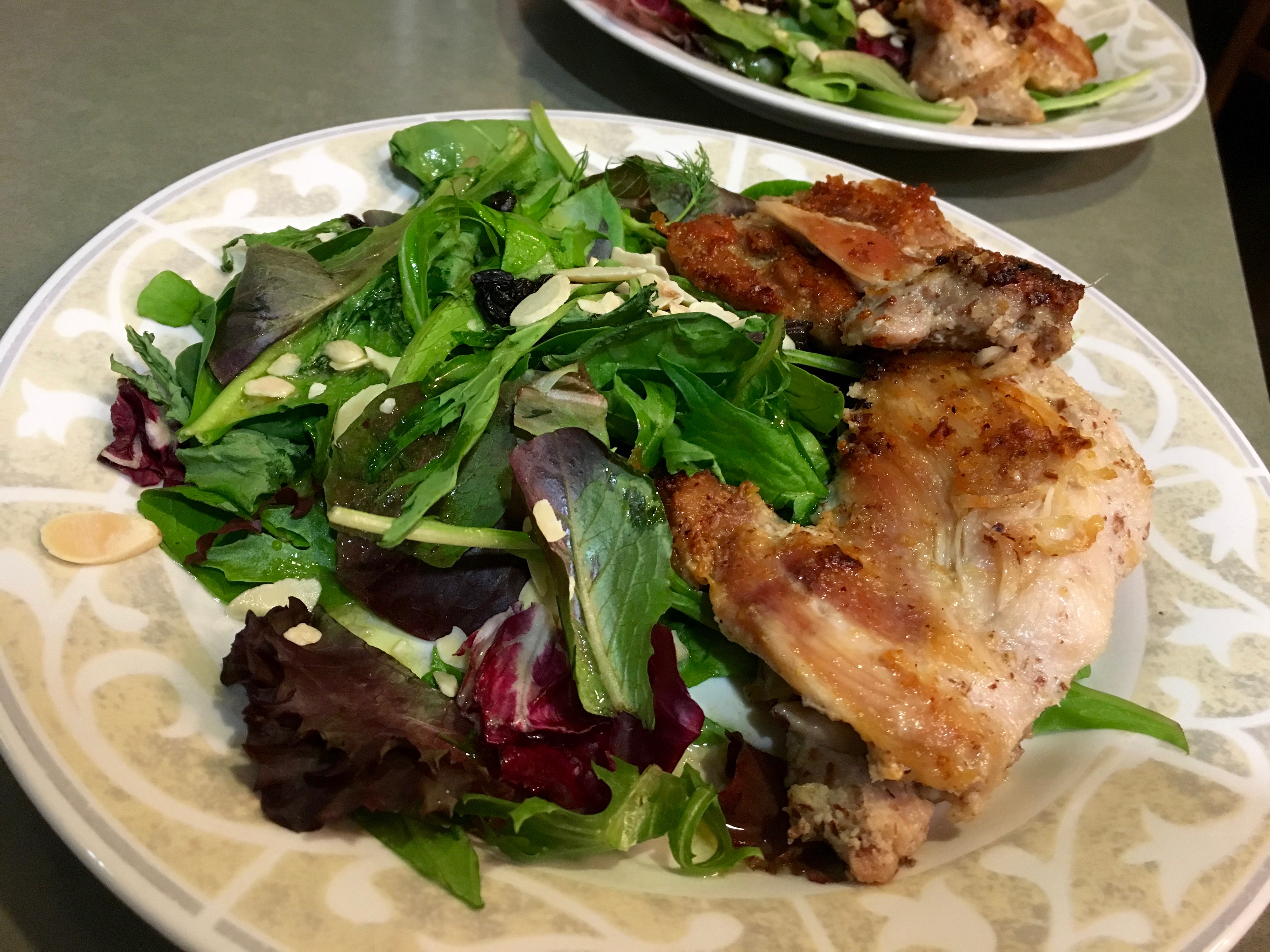 Served with a super simple salad (slivered almonds, currants, home-made champagne vinaigrette) and herb bread for everyone but me since I was about to go out and eat ALL THE COOKIES.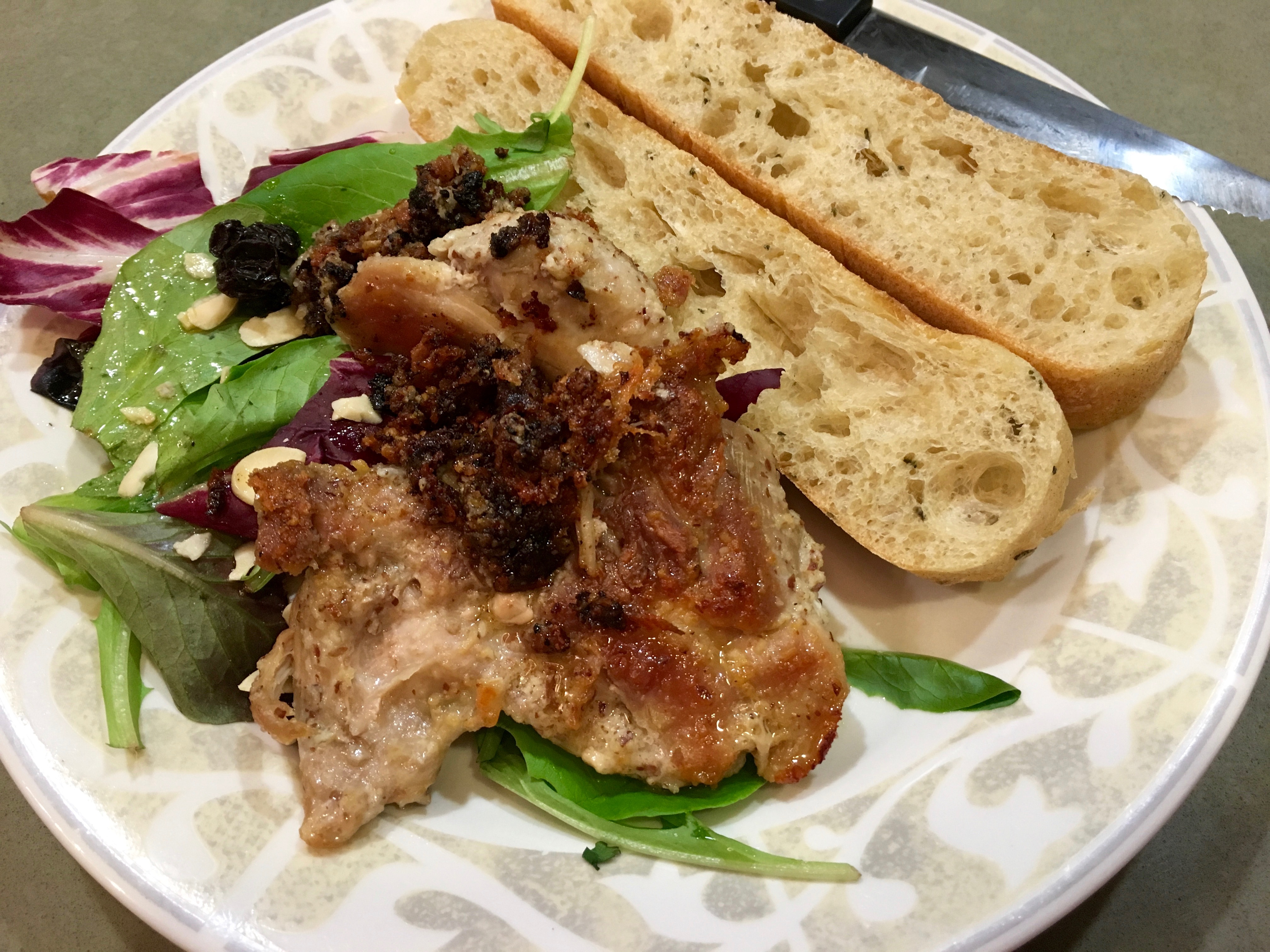 Before I left I sliced them into squares and arranged them all nicely on my holiday platter.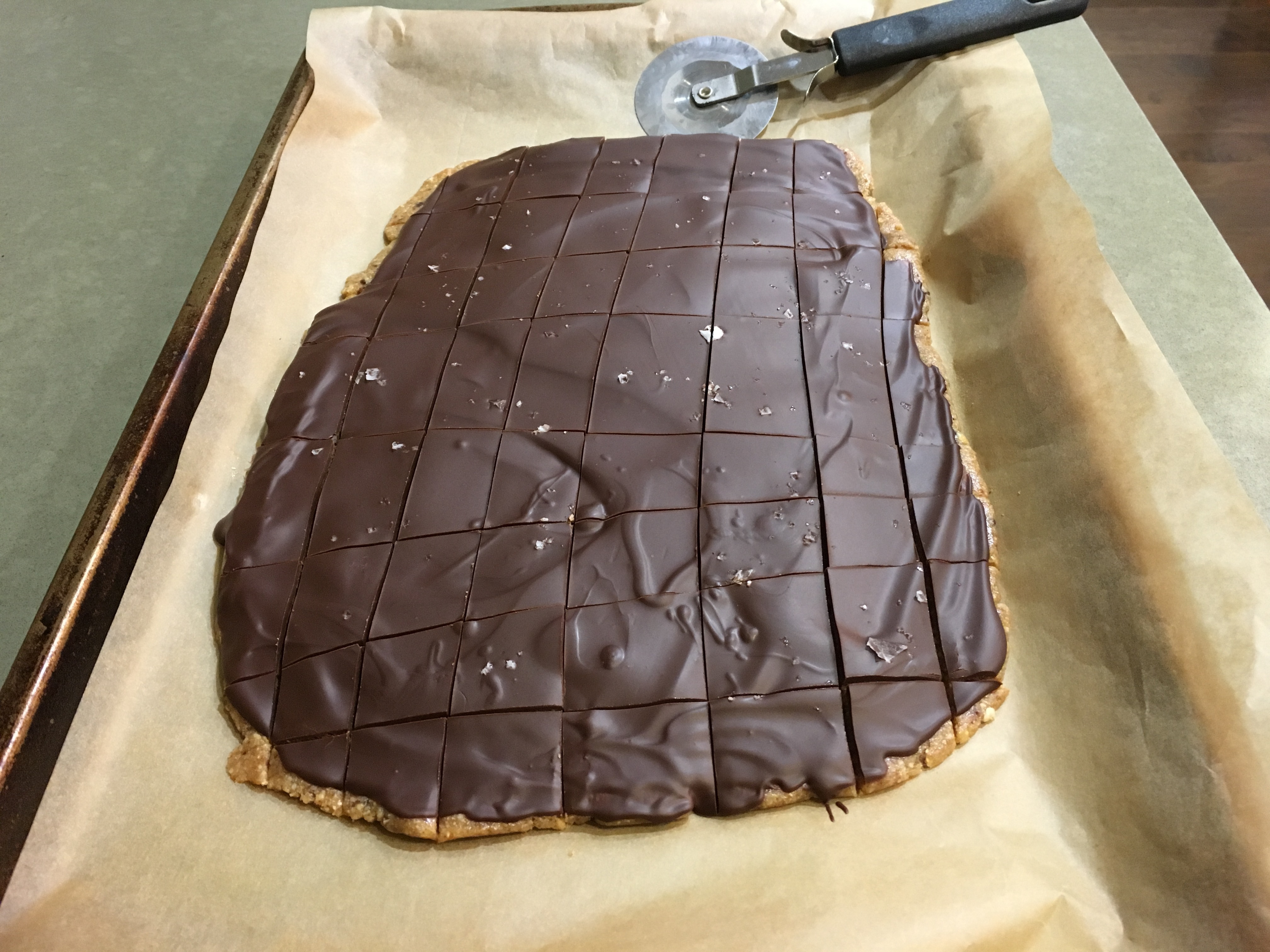 Ta da!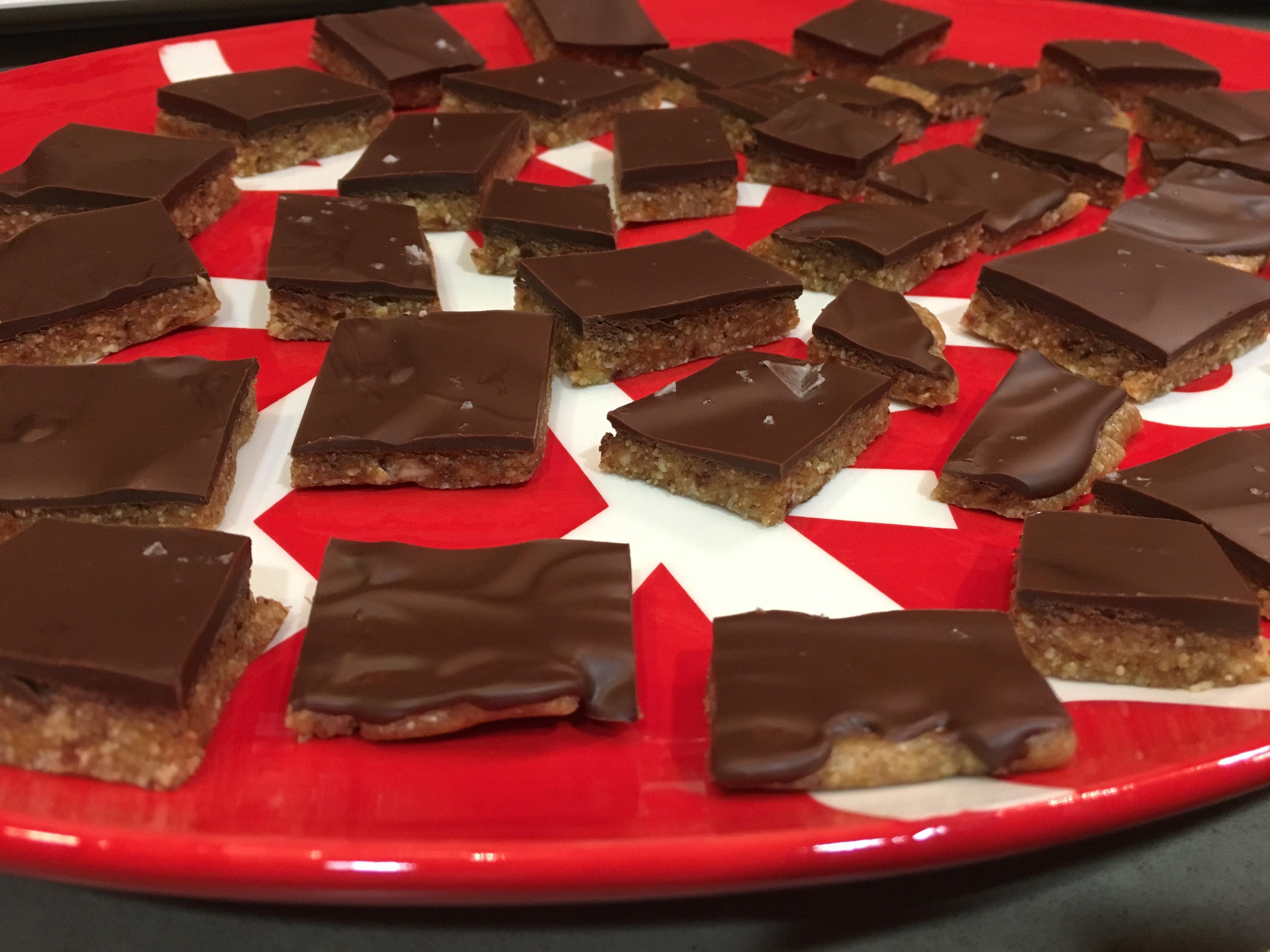 Good job Gwyneth!  This recipe was SOLID.  Definitely a hit at the party, although everyone was so inundated with the sheer amount of cookies, it was impossible to try every one there.  Seriously there were SO MANY COOKIES. I was in heaven.  I ate a bunch, with dairy and gluten, I'm sure, but saved up my fodmaps all day for this event so it was actually pretty fine.  And I made sure to drink a bunch of water too.
That said, I was for sure still riding a sugar high at 11:30 when I got home.  And this was after hours of board games!  Am I that sensitive to food nowadays??  Like the alcohol of last weekend, this sugar hit me harder than I would have thought given my nightly sweet tooth sessions.  I'm not going to overthink it because I actually felt fine the next day, but these foodie hangovers are making me feel old.  🙁