Kyle and I went out for a date!!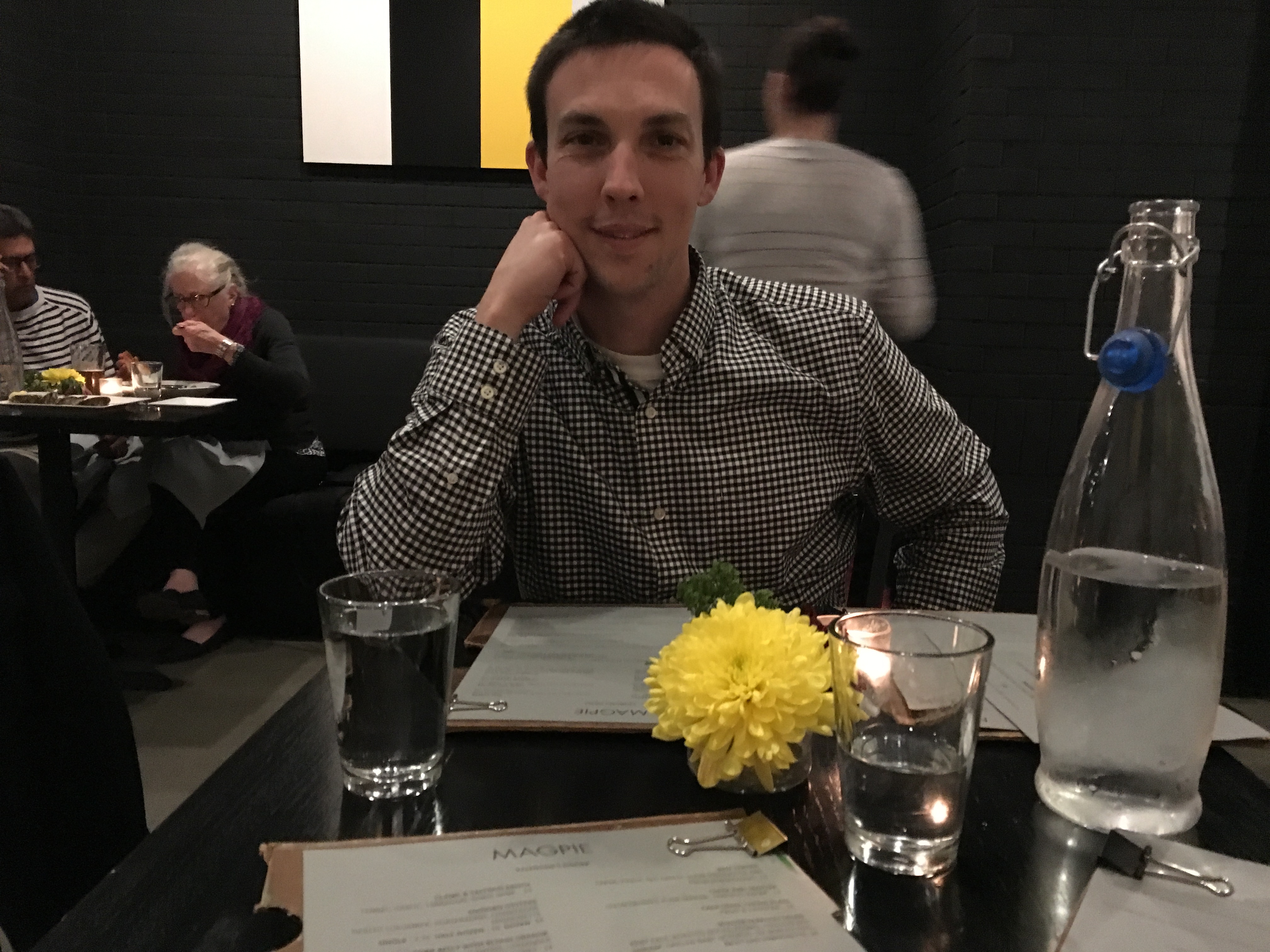 This was basically my (only) New Year's Resolution.  Hopefully it will become a regular thing (making it a regular thing is my actual resolution).  I know it's important, but it's hard for a variety of reasons (some of which are valid and some of which are in my head).
We still have never had a non-family member watch the kids, which may seem weird but…I don't know…we just haven't.
And although I could say a lot right now – about my anxieties and personal road blocks as they relate to accepting help from outside sources – I will skip ahead to the restaurant review because this is a food blog, not a therapy session.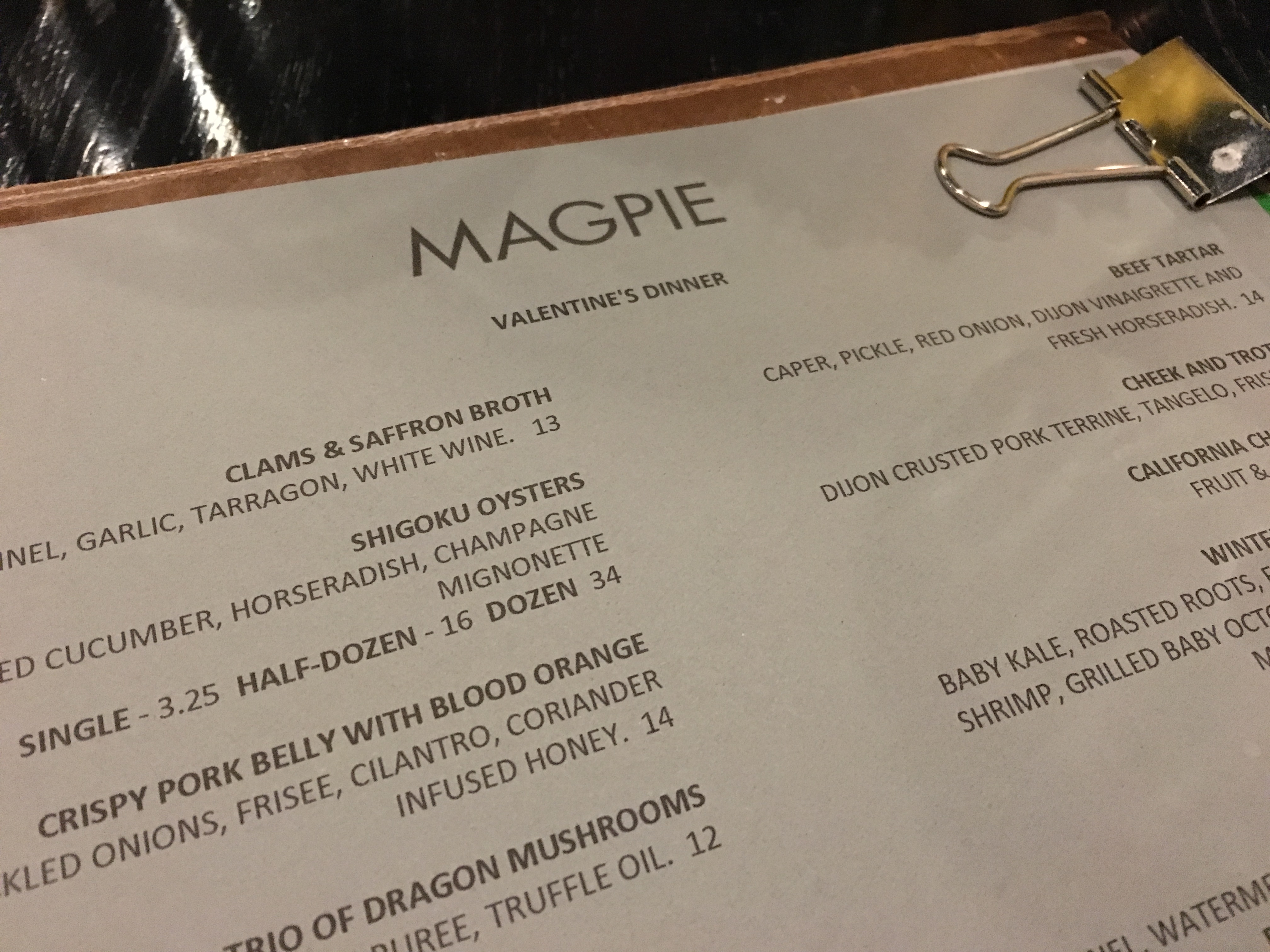 We asked a friend for recs in Sac because we have zero clue on the local food scene.  The bummer was it was Valentine's Day so there were a lot of places we ruled out due to a prix fixe sitch.  How cliche to go out on Valentine's Day.  So not me.  In the end, Magpie was the winner. They weren't taking reservations so we were on the same level as everyone else.  And because we are 30 going on 80, we eat at 6, which worked out nicely for us.  After putting V down, we left P with my parents at our house and zipped over to Sac.  After a few minutes of circling for parking we finally made it to the restaurant and were seated in no time at all.  Score.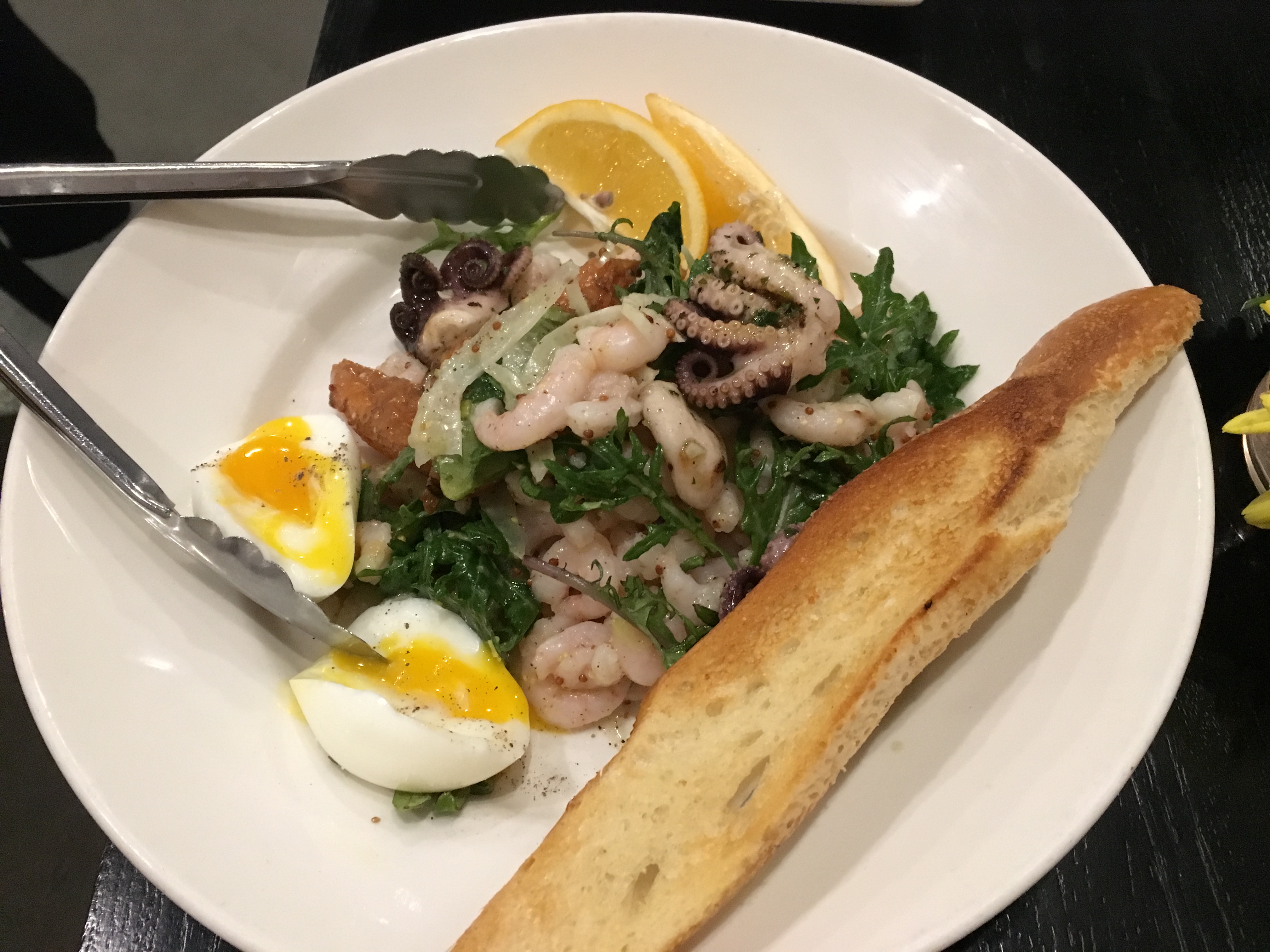 To start we shared the winter seafood salad which had baby kale, roasted roots, fennel, oregon bay shrimp, grilled baby octopuse, six-minute egg and mustard vinaigrette.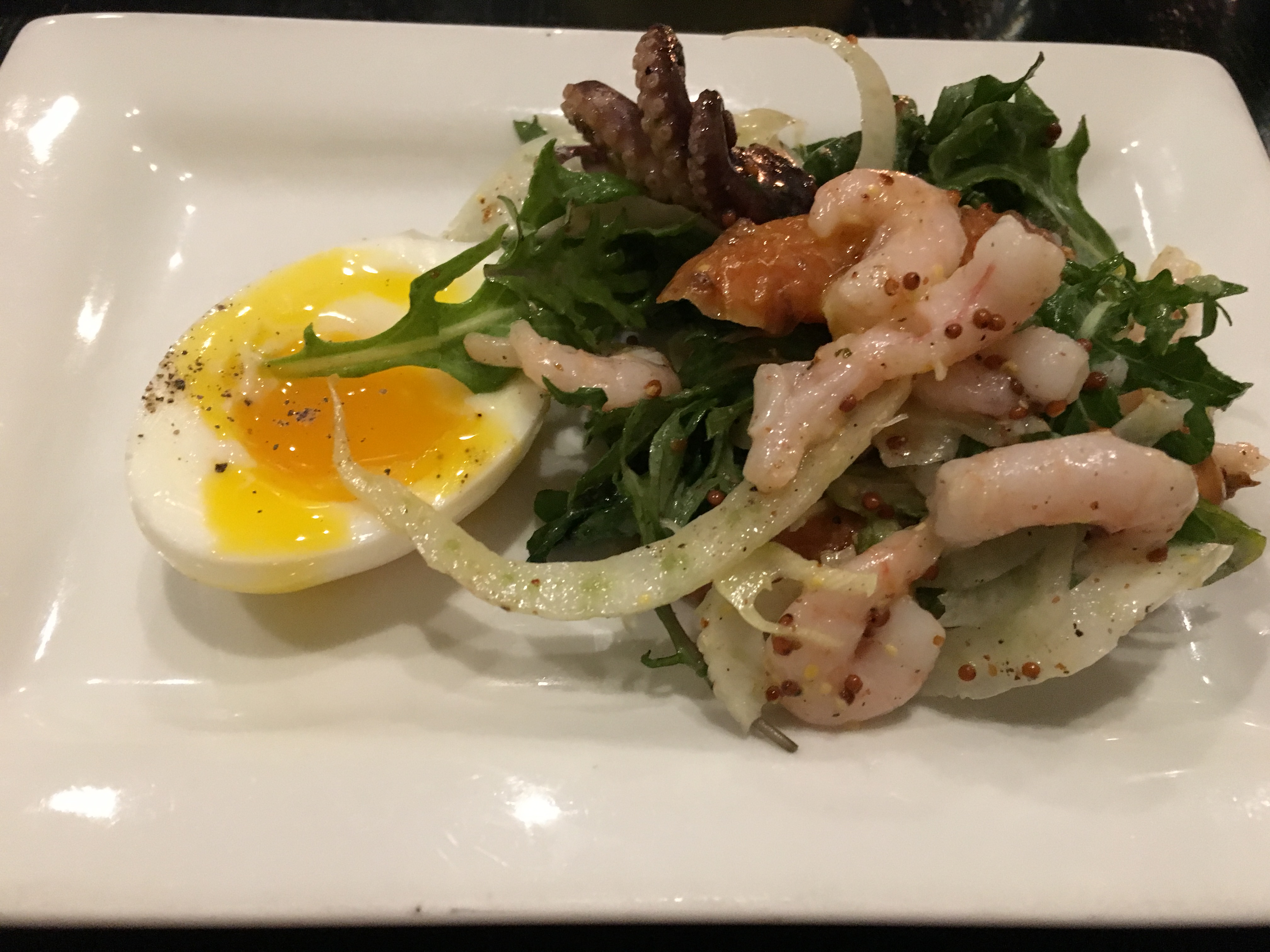 This sounded good so we went for it.  Octopus?  Why not!?!  Also, I recently discovered that I like fennel so that's fun.  My thought process about dining out is to be adventurous and order things I couldn't make at home. There's nothing worse than paying big bucks for a lame salad that I could throw together with my eyes closed.  This was exceptional and I was really glad to step outside my comfort zone.
In the same vein, my entree was very not me.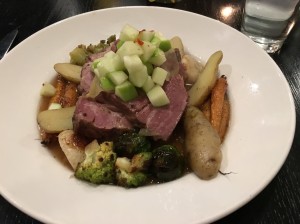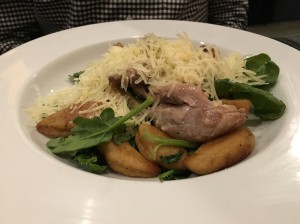 On the left is my corned pork and cabbage with roasted root veggies and a tart apple mostarda.  On the right is Kyle's gnocchi with duck confit and organic yukon golds and bloomsdale spinach.  We both loved our mains.  I found the pork delightfully salty and yet, they were totally in balance with the apple and veggies.  The roasted brussels were perfection in every way.  Had I not ordered this, I would have gone with the vegetable plate, but that just seemed like a silly thing to get when we so rarely have the opportunity to treat ourselves to food that is not made by yours truly.  I can roast a vegetable like nobody's business.  I can't (and don't want to) corn pork though.  Therefore, it was a worthwhile splurge.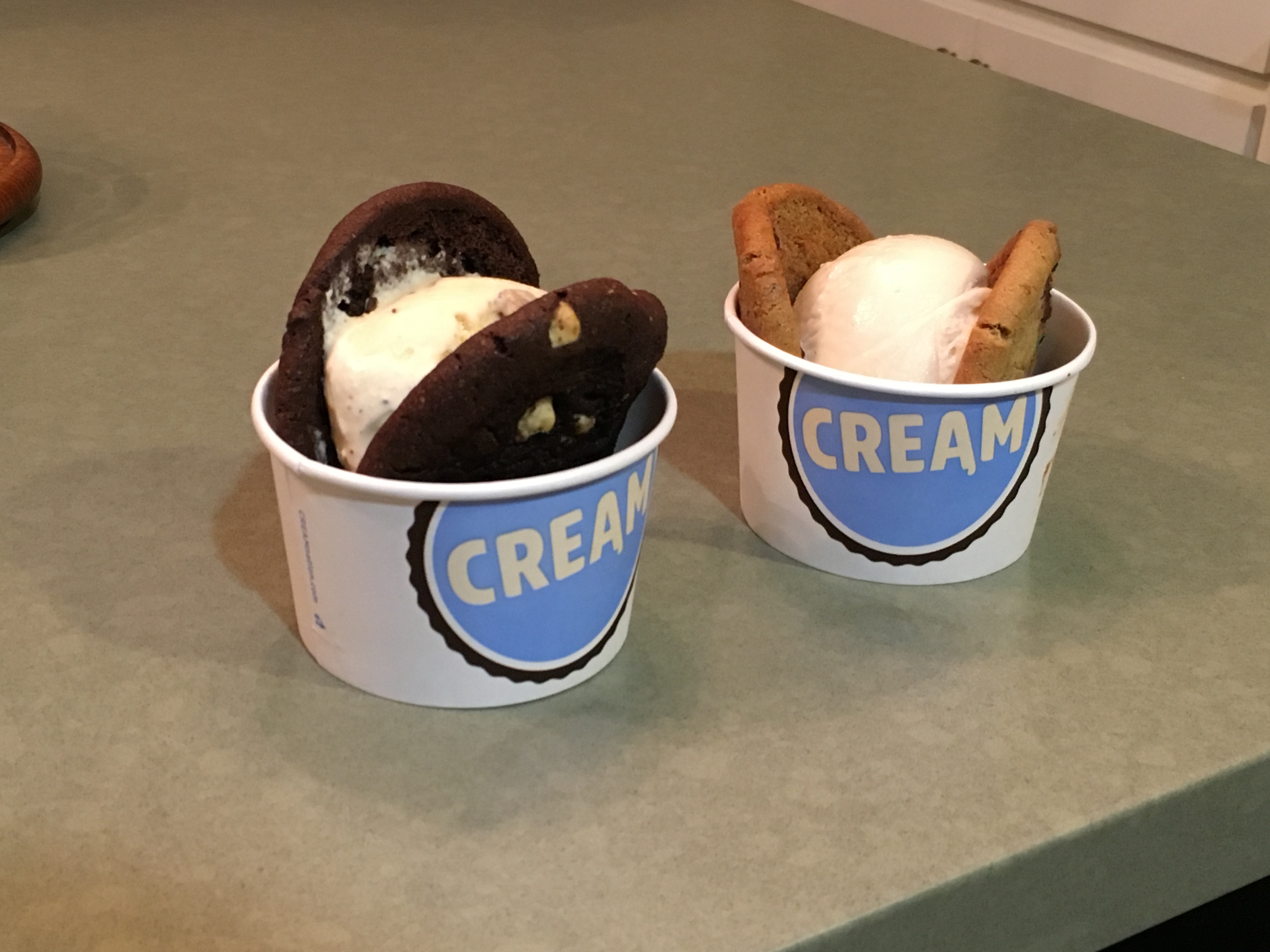 And since we are on the topic of splurges.  Why end the night after dinner?  Strolling through downtown Davis seemed a way more fun option.
CREAM!  It's a thing here.  Much like Diddy Riese is in Westwood.  This was my first time going!!  I got two gluten free chocolate chip cookies with soy ice cream.  Kyle got double chocolate chip cookies with cookie dough ice cream.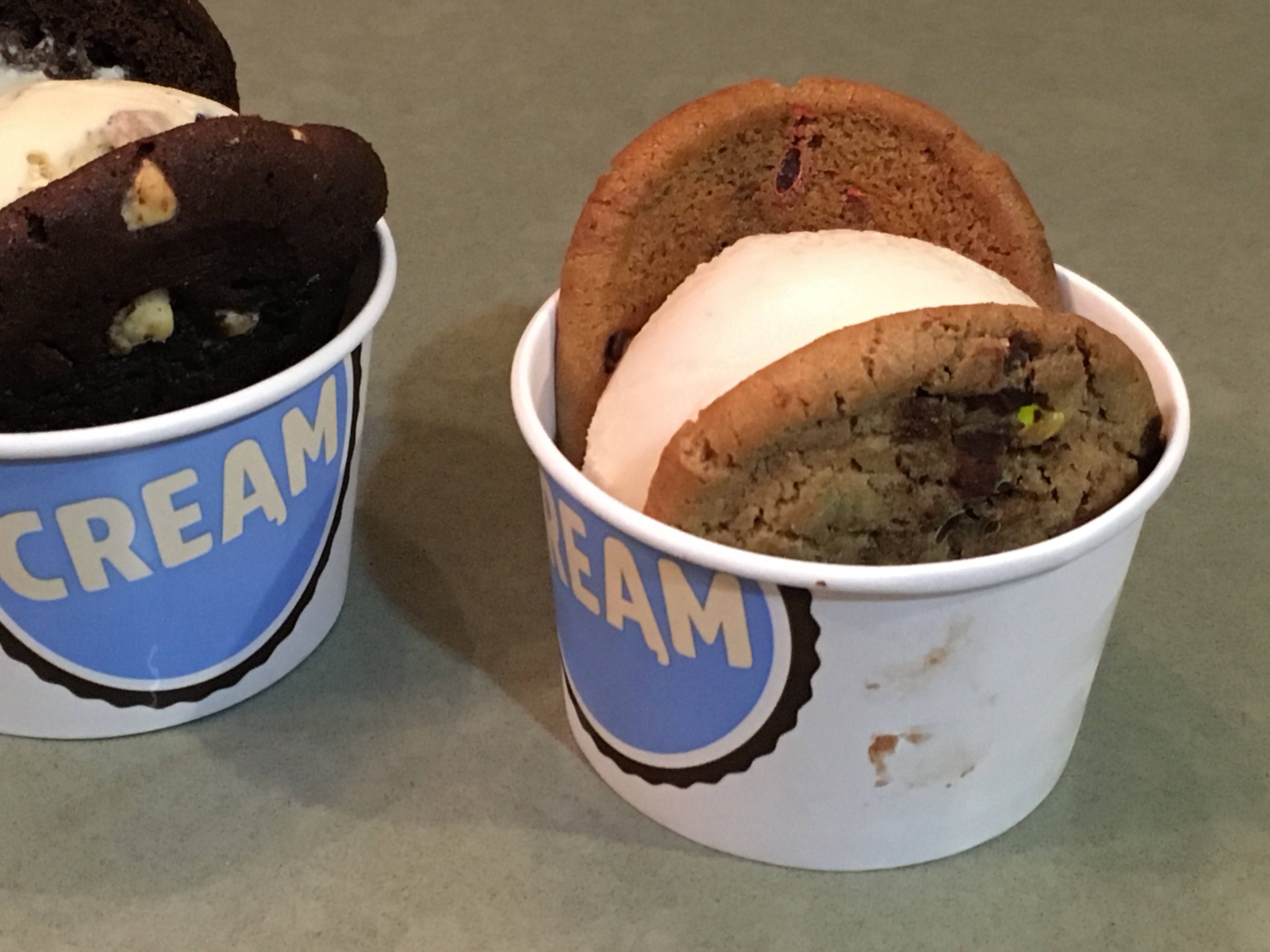 Mmmmmmm…mega thanks to my parents for letting us go out.