Why not start off with chocolate?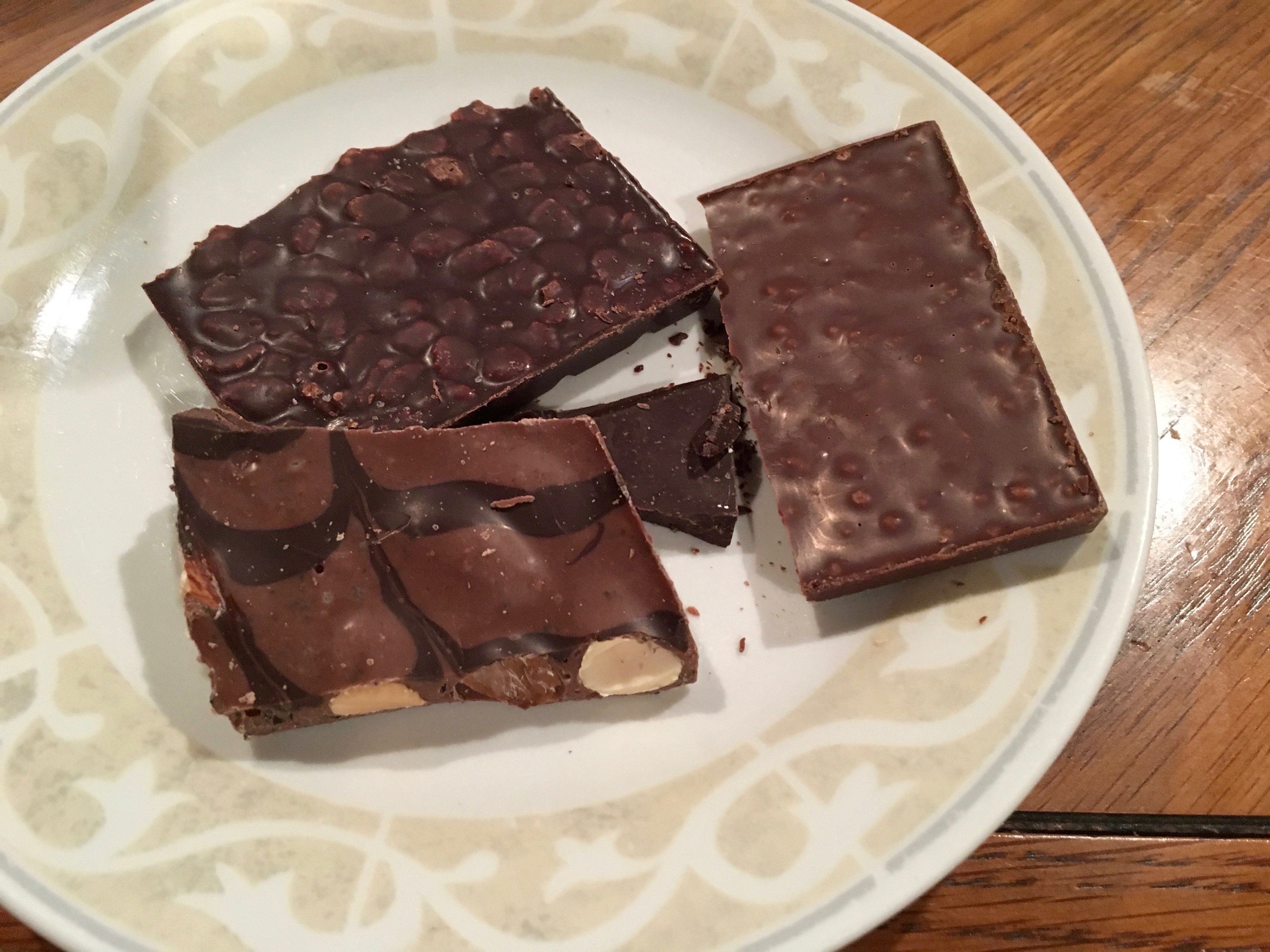 This dessert plate has Lily's crispy rice chocolate bar, TJs chai almond chocolate bar, TJs golden spiced chocolate bar, and TJs firecracker bar. I had odds and ends to finish off so I just took care of business.
I didn't take a pic of either the banana bread I made, but that's because the banana bread was for my man so I packed it up in his lunches.  And this was the only shot I got of the zucchini bread I made (for myself), because I've had a hard time plating my breakfasts lately.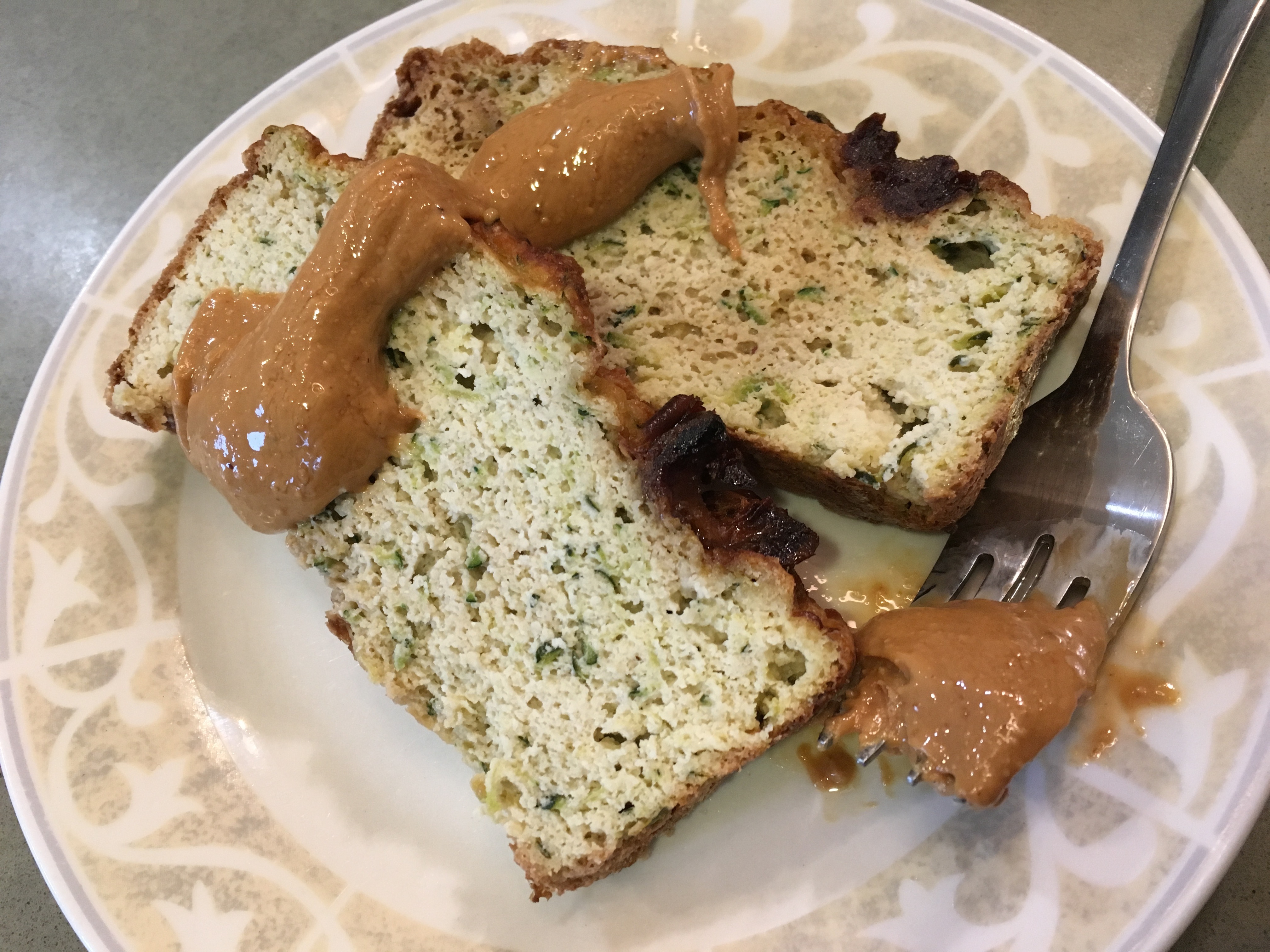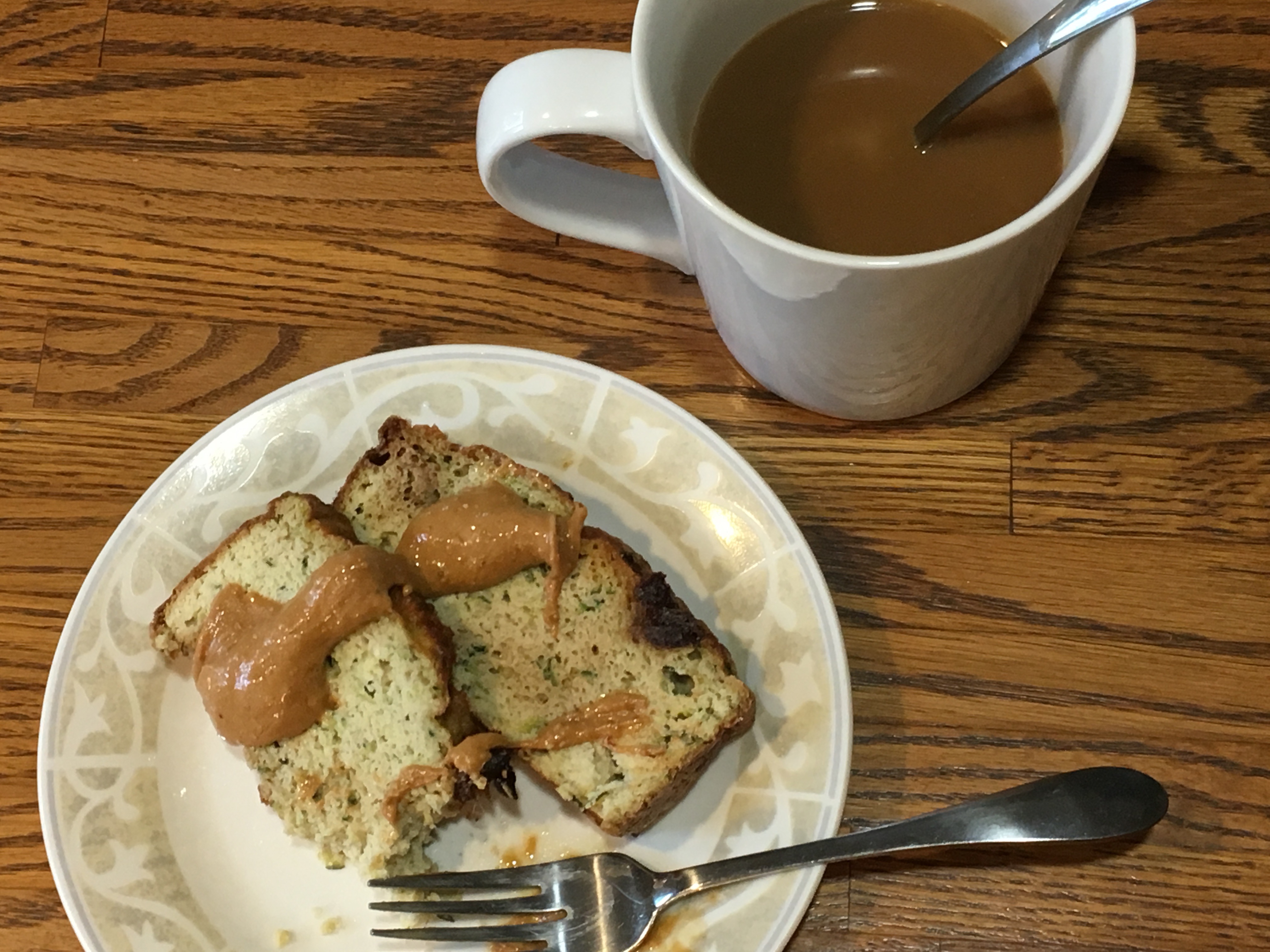 I went back to the cashew butter, after a brief foray with the mixed nut butter jar.  The rest of the days I ate this, I just unrolled it from the tin foil and stabbed it with a fork quickly until my stomach was set (or we had to run out the door).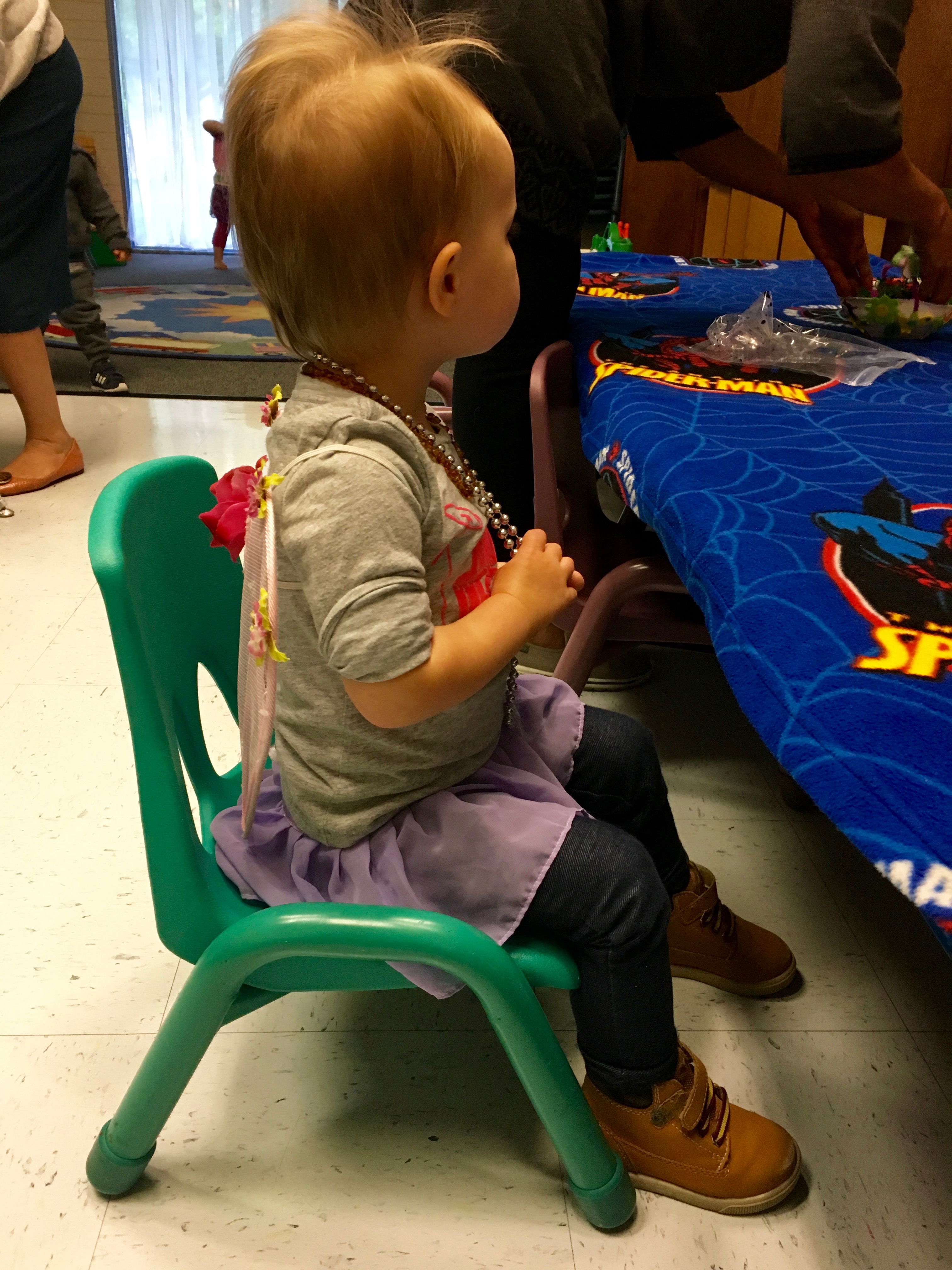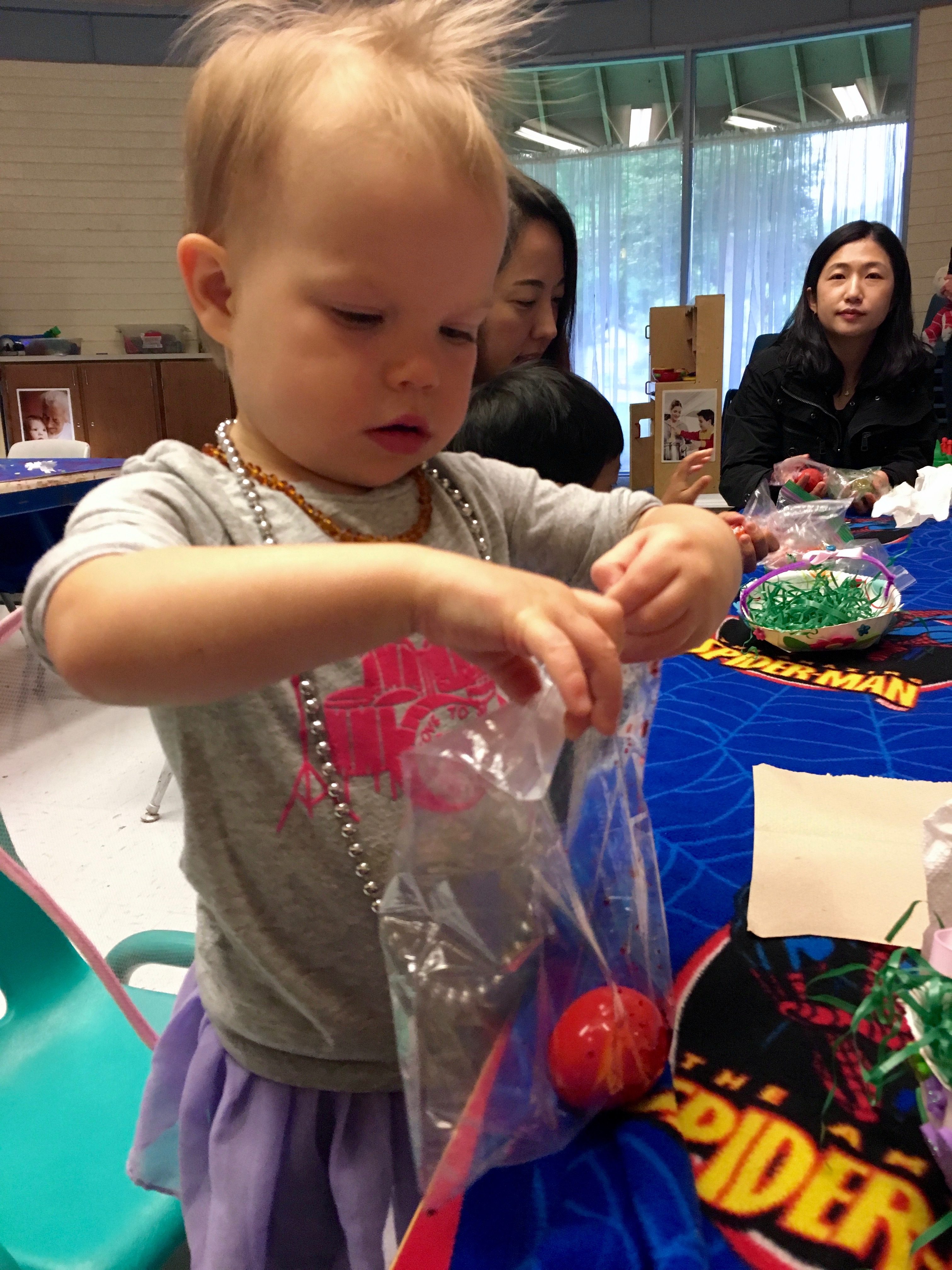 I meant to show you this brilliant technique that we did at V's school!  Ziplock bags with dye! Then you add a hard boiled egg…voila!  No mess 🙂
Doesn't everyone dye eggs in fairy wings, ballet skirts, and pearls?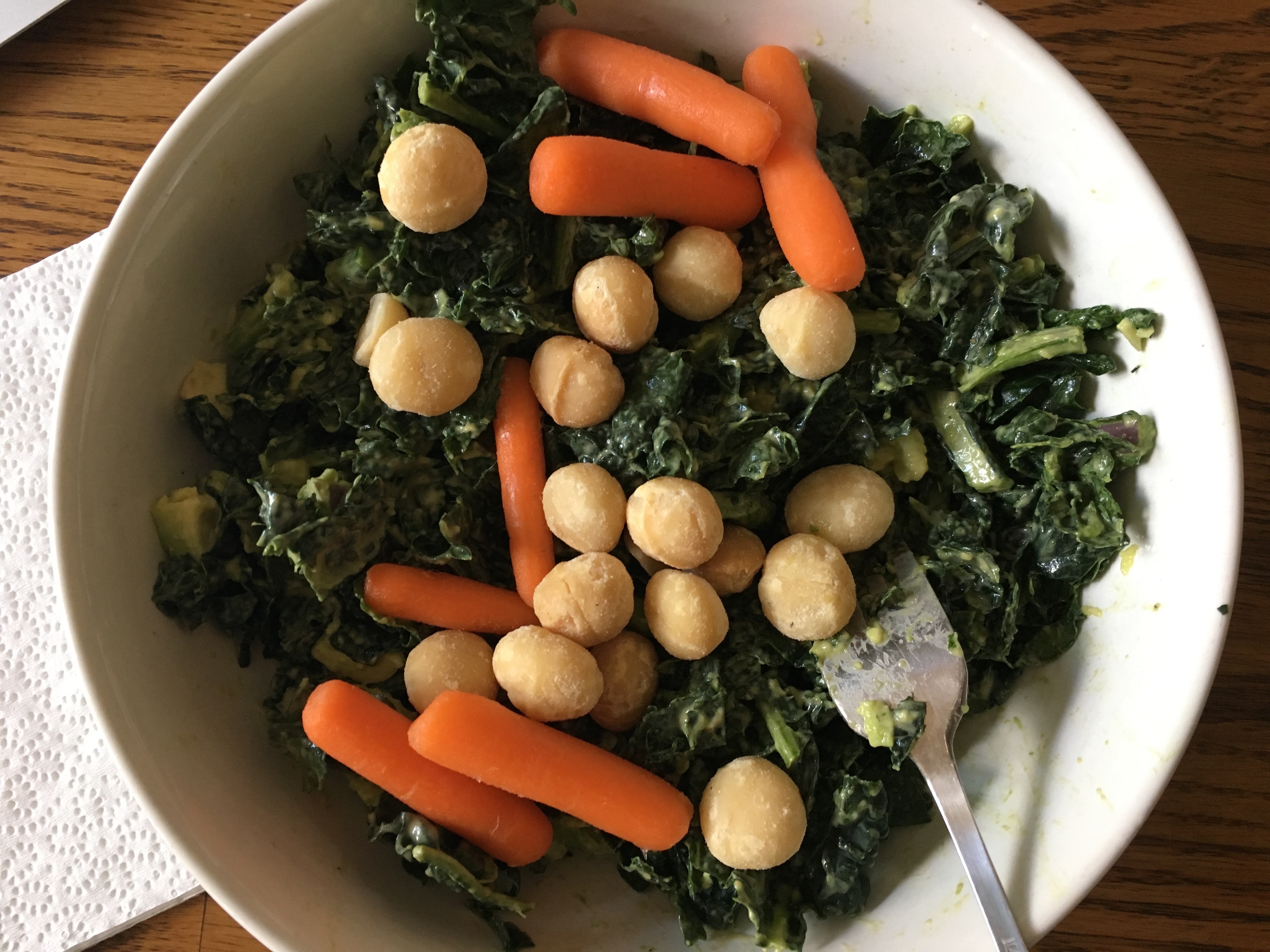 LUNCH TIME KALE DOSE.
Plus an obscene amount of mac nuts on top of these.  I think I overdid it this time.  I always think that though…and then I find myself hungry by dinner time so obviously it's all an ok amount, right?
Dinner at my parents' house – because errrryone loves a taco bar.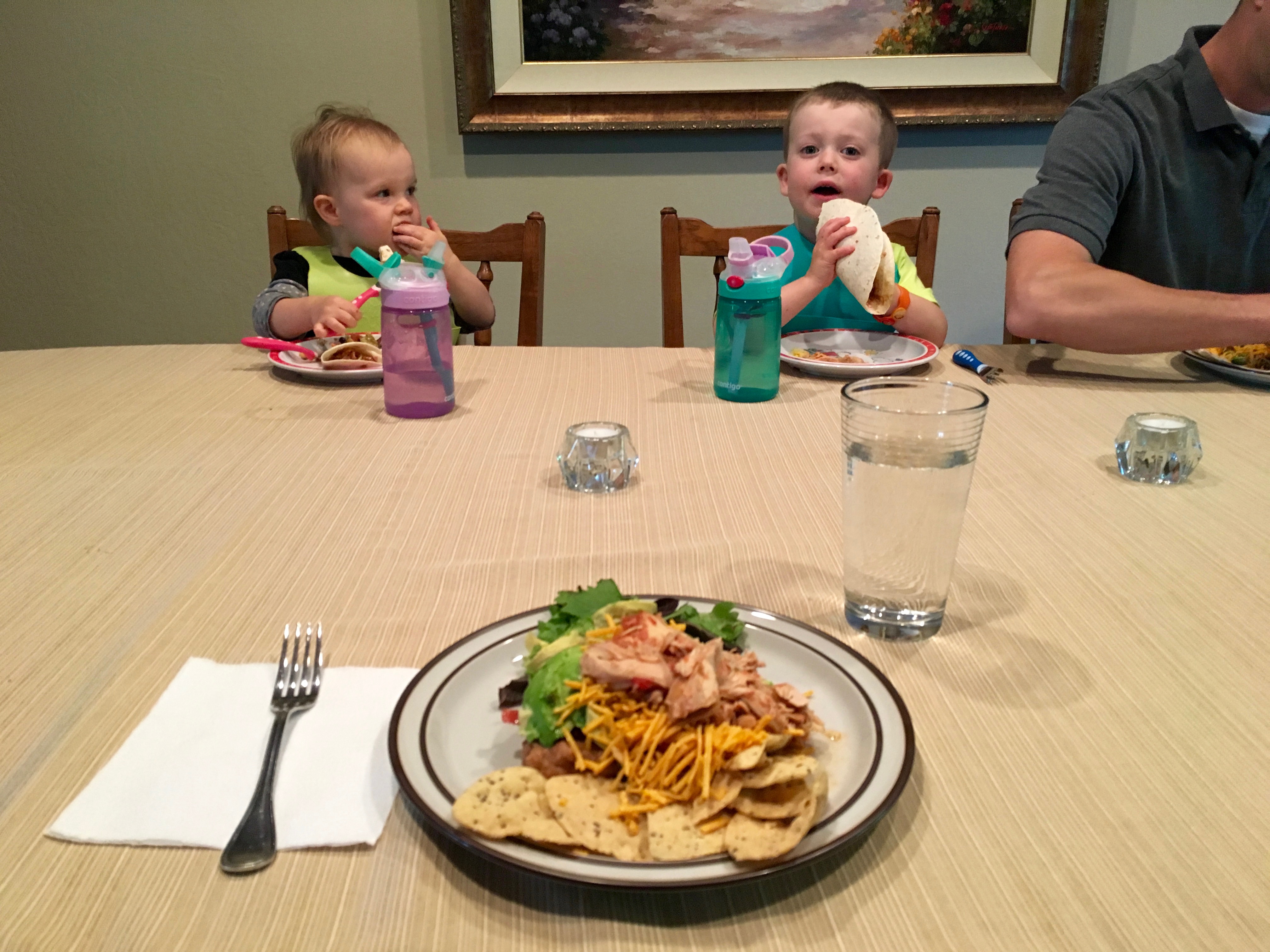 I made mine nacho-y with chips, and accidentally made my kids' tacos bigger than their heads. Oops!  They didn't really mind.
The next morning was oit.  I went on a run and came back to a fully awake household.  A few hours after the end of each oit session I feel like I finally exhale, and that's when I realize I am so stressed and tense throughout the process. I know it's not healthy for me to do that, but it's obviously subconscious.  Anyway, I know that sweating in the morning helps me.  P is such a champ during the appointments, and I'm sure it's hard for him.  But he's also young enough that he doesn't totally get the significance of what he's doing.  Or the danger.  But I take all that on.  I know the risks and I watch him like a hawk, analyzing every little sneeze, eye rub, ear scratch, etc.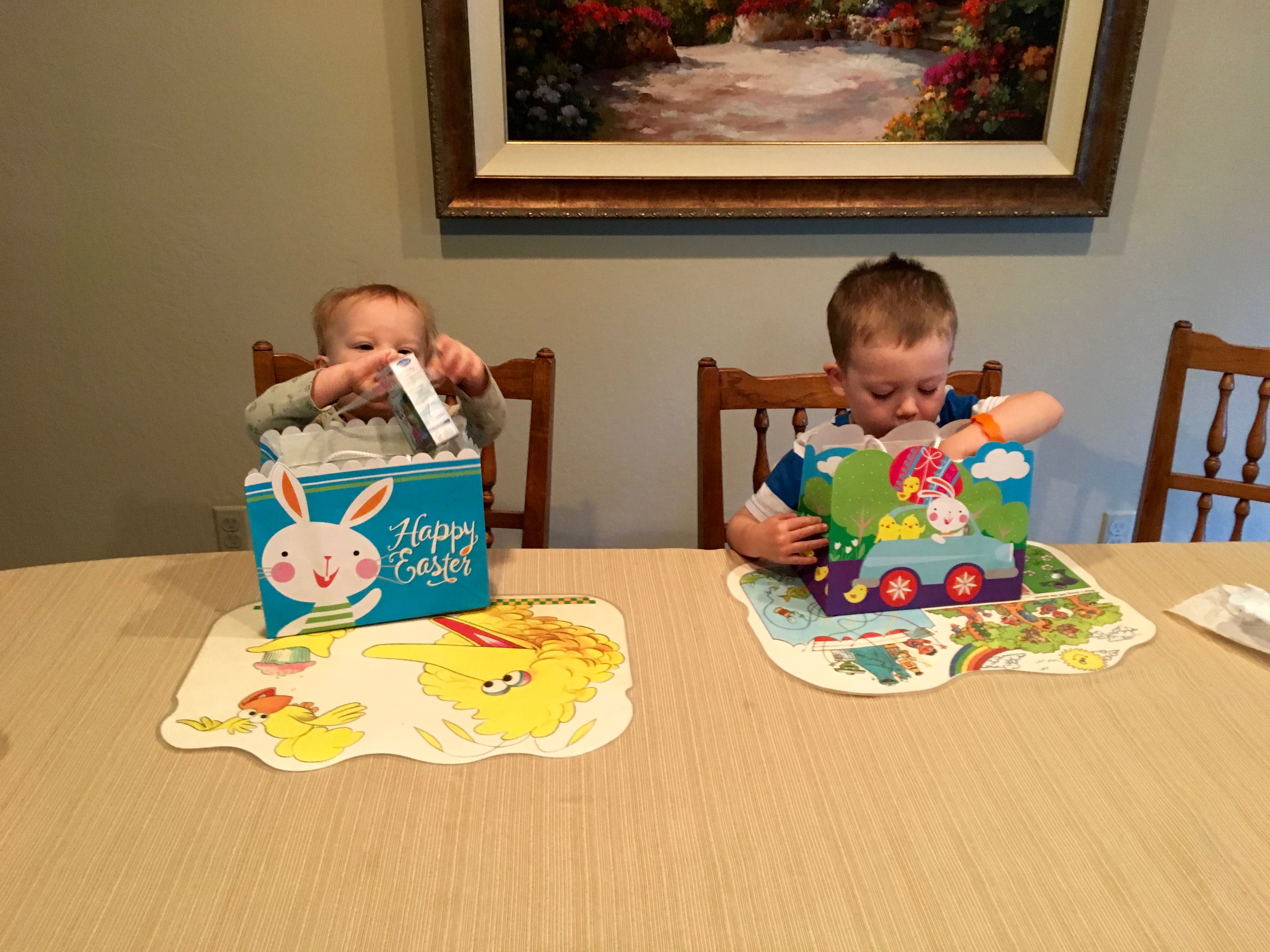 Before we headed to Fremont they opened Easter presents from my parents.  Cars band-aids and Larabars for the win.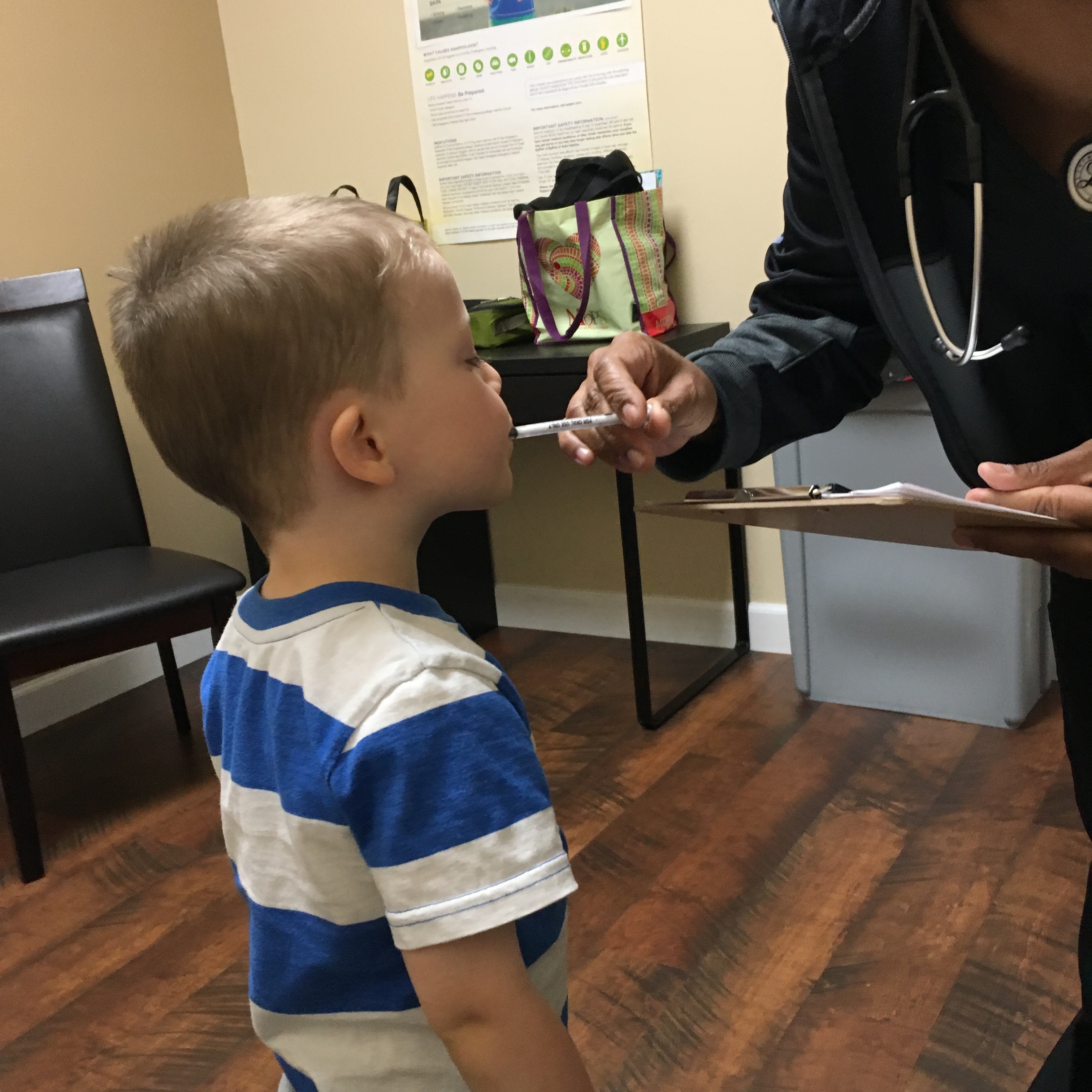 Dosing it up.
We had a little hiccup, but not a set back.  As always the clinic was cautious and played it safe before forging ahead.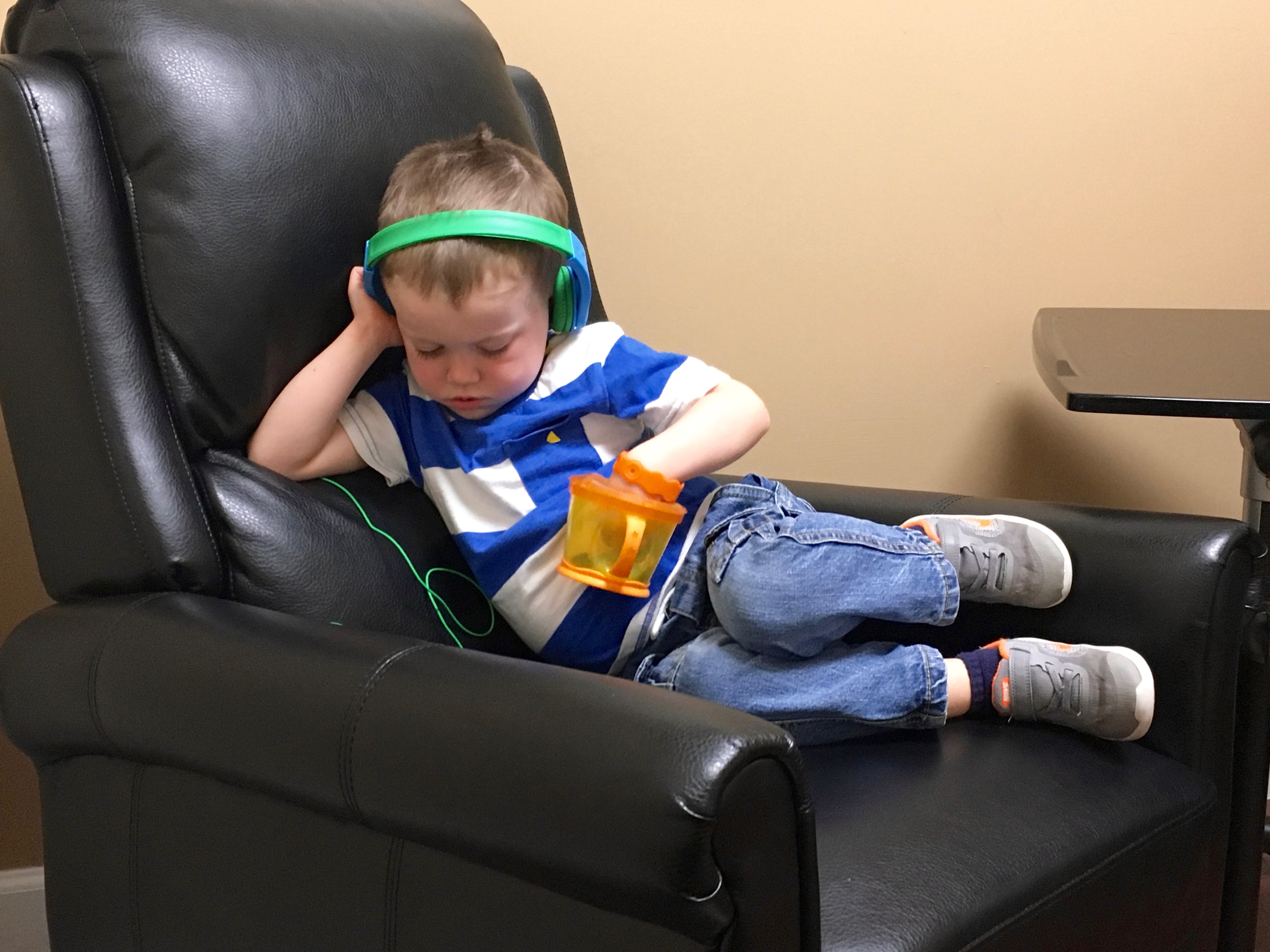 Now we are up to > 1 tsp whole milk twice a day!  Can you even believe it!?!?! Trying not to get too ahead of myself.  Baby steps.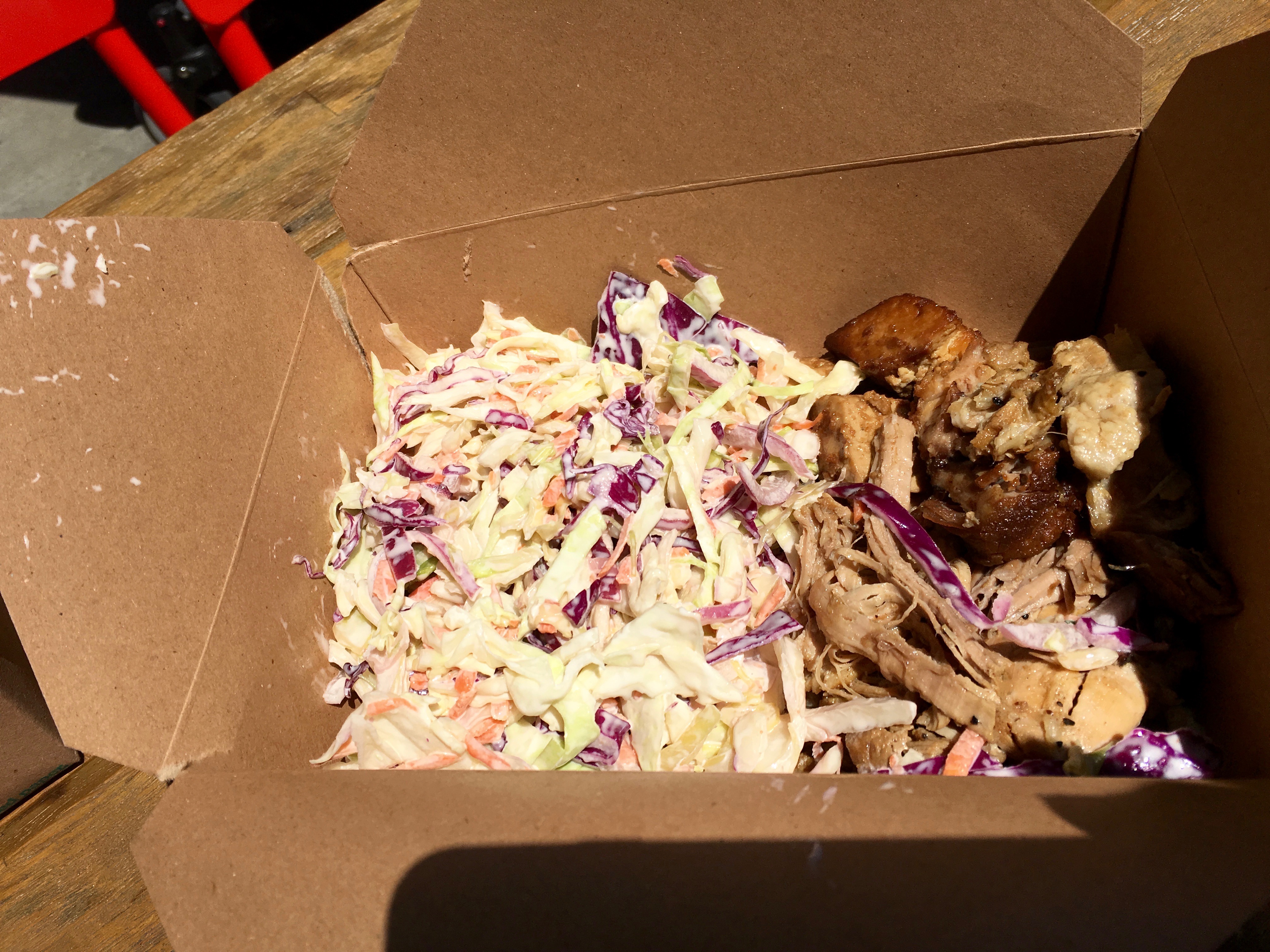 Celebrated with a burrito (that I made and packed from yesterday's leftovers) and whole foods hot bar for me!  I got miso lime tofu and pulled pork with cole slaw, but the pork was so bland. I wish I'd only gotten the tofu.  It was salty and delicious.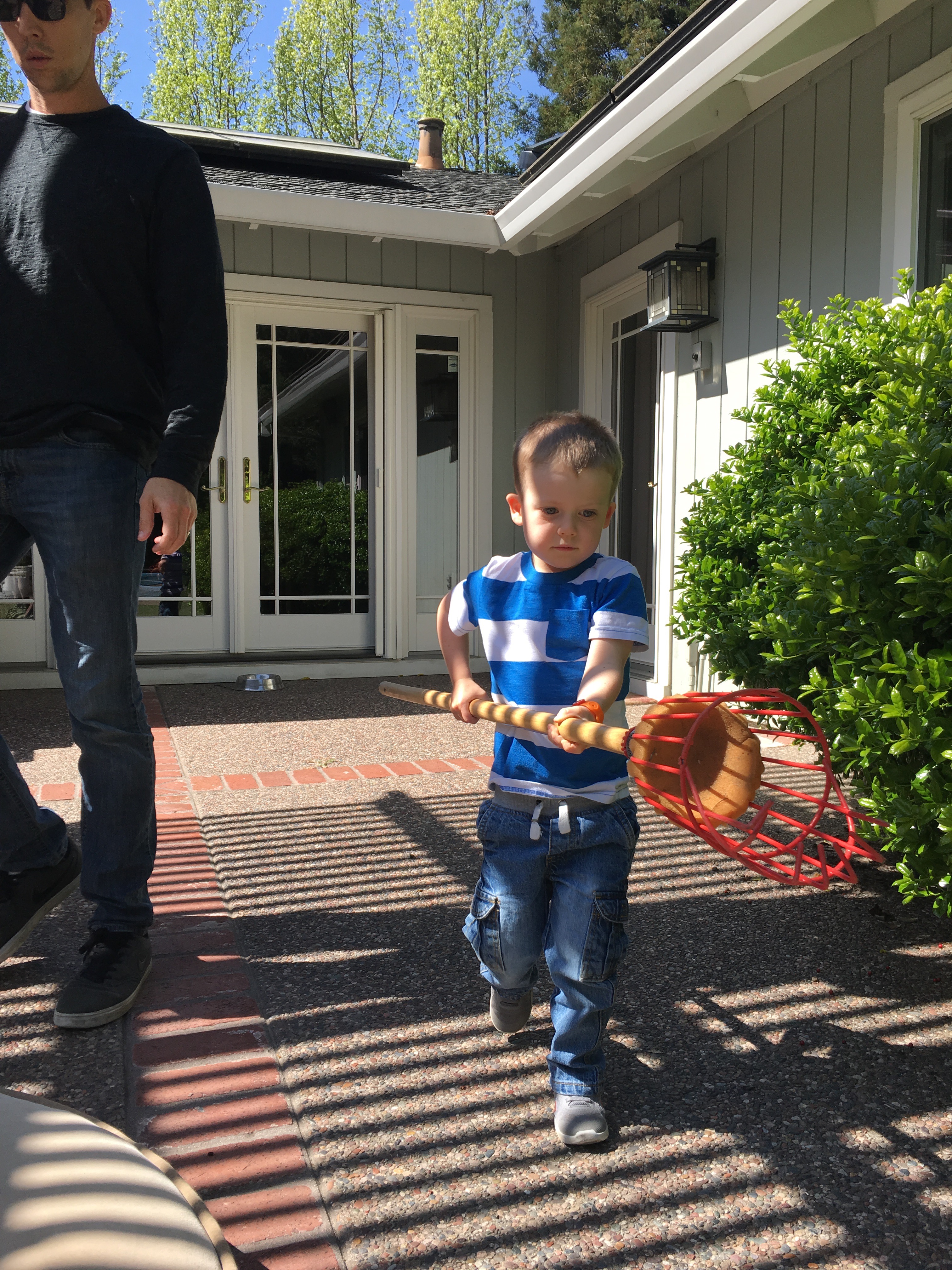 Back at my parents' house we waited for V to wake up and picked some oranges.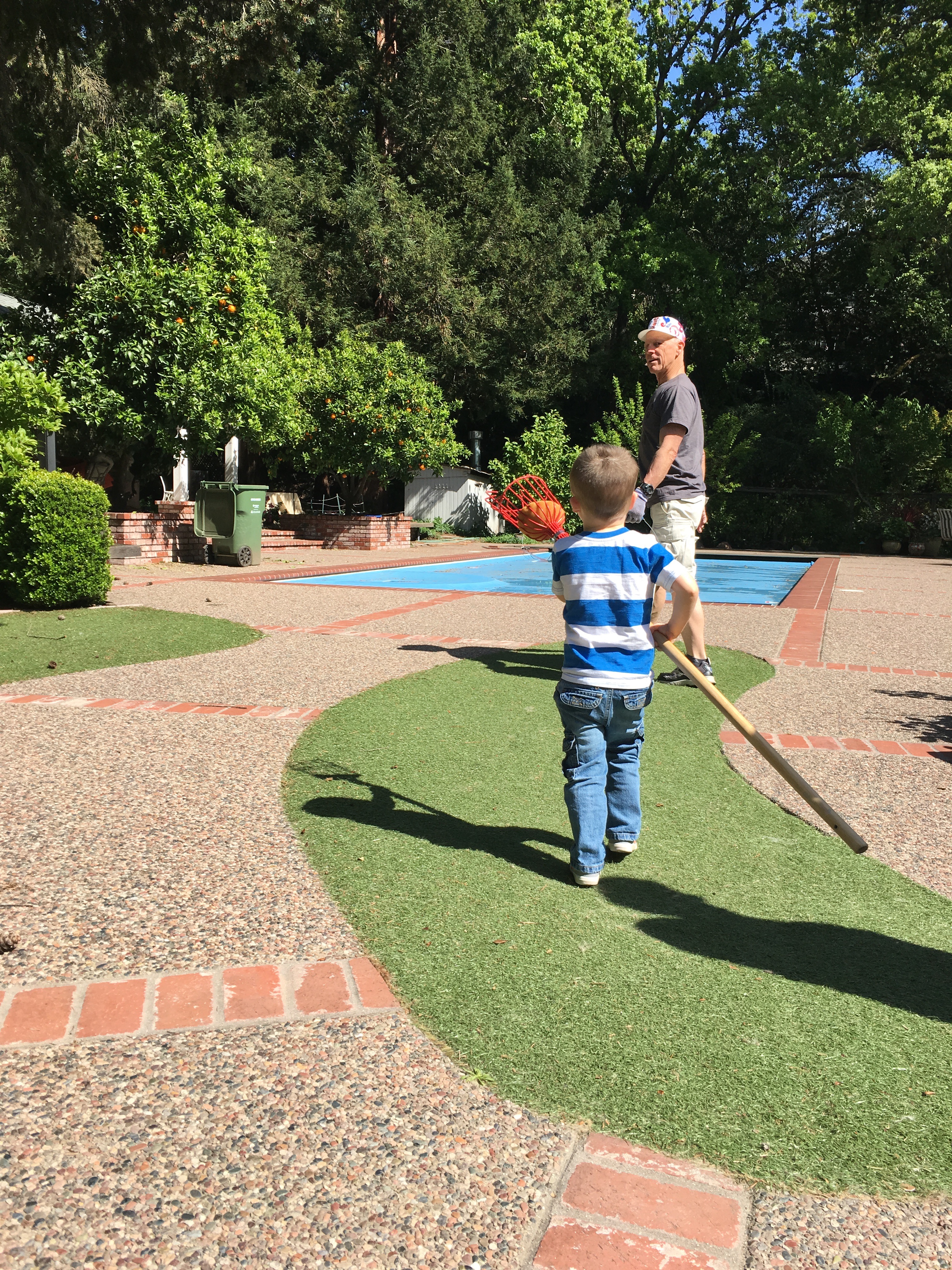 My padres sent us home with SO MANY oranges.  V is doing her best to finish them all in as little time as possible!  This girl is a citrus fiend.  All she wants for breakfast, lunch and dinner are oranges.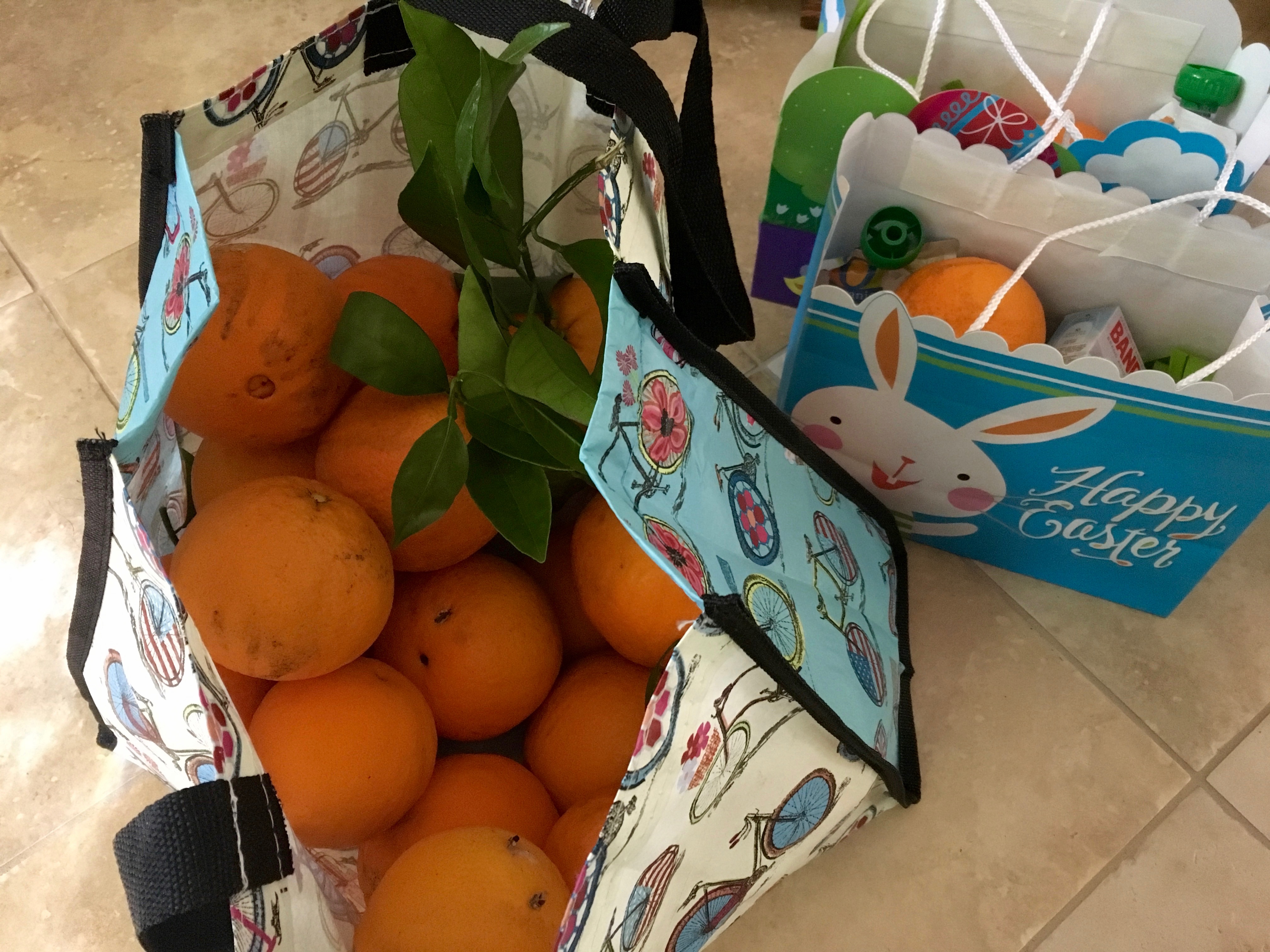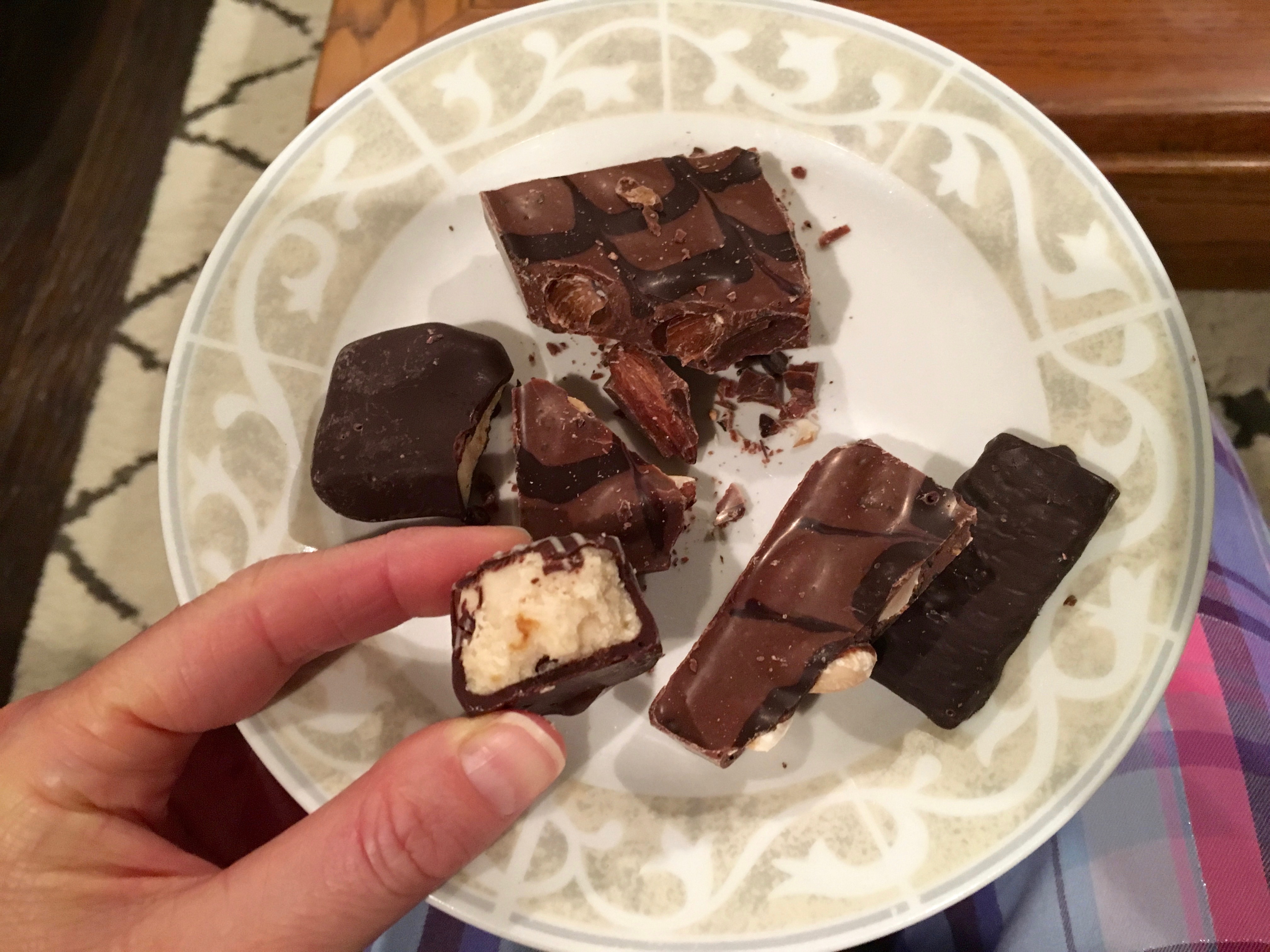 We had leftovers for dinner…which resulted in a major fridge clean out.  I love that!  I love it when all the small portions get finished off.
Our Saturday was so crazy packed.  We had two birthday parties and a tee ball game.  Kinda much for a 2 and 4 year old, but what can you do??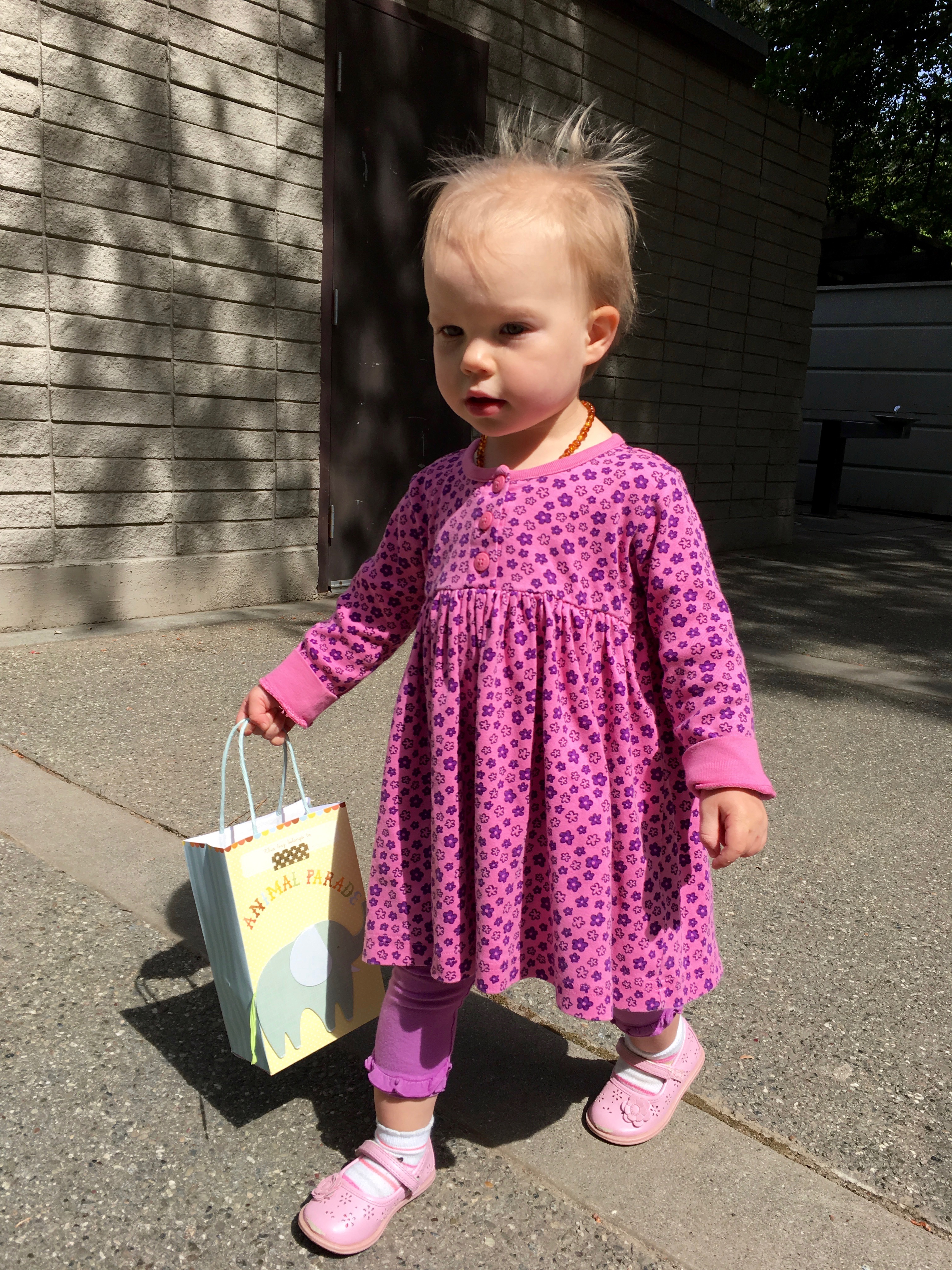 The first party had a bounce house, so they were exhausted for the day by 11 am.  Ruh roh.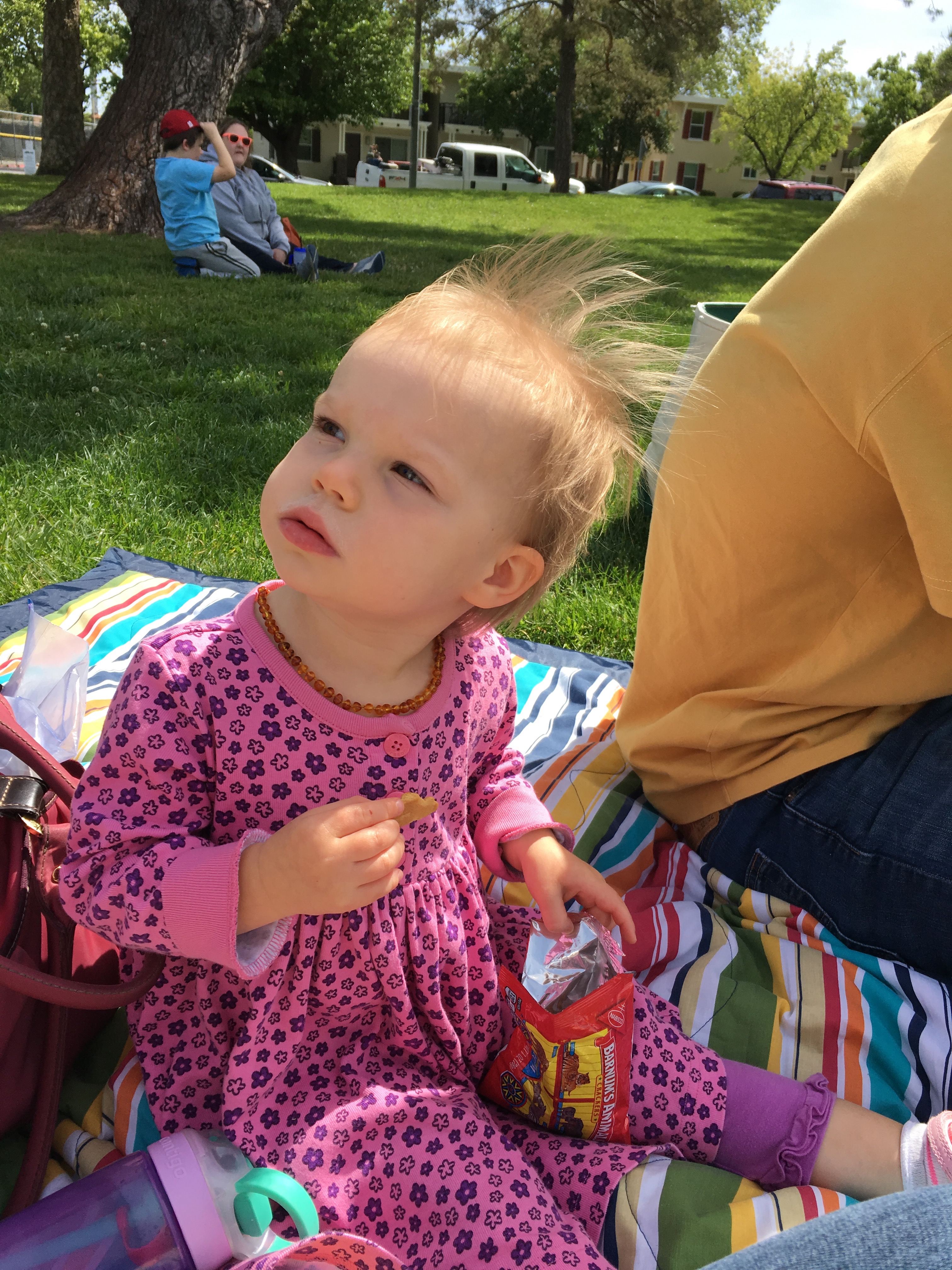 We had to leave early to get to the Rockies tee ball game on time, which V was bummed about. But she was pretty ok with it all once she found out the party bag had animal crackers.  I let her have them during the game because it's a holiday weekend so she can have a treat.  I swear I'm not a total tight a$$ of a mom, but I really try to avoid processed snacks.  They love fruit, so why give them anything else?  Anyway, I'm finding it harder and harder to dodge these days with all their group/team activities.  Now don't get me wrong, we are in Davis, so the things parents are bringing are far from offensive…but…ugh…I don't think this is worth my time and energy to stress about..??  But if there's one thing this food blog should emphasize, it is that food is really super important to me!!!  Ok, don't think I'm a freak for this.  I just love my kids and want the best for them, like every other parent.  So if I want to worry about the non organic wheat and soy crackers my daughter is eating then nobody can stop me.  🙂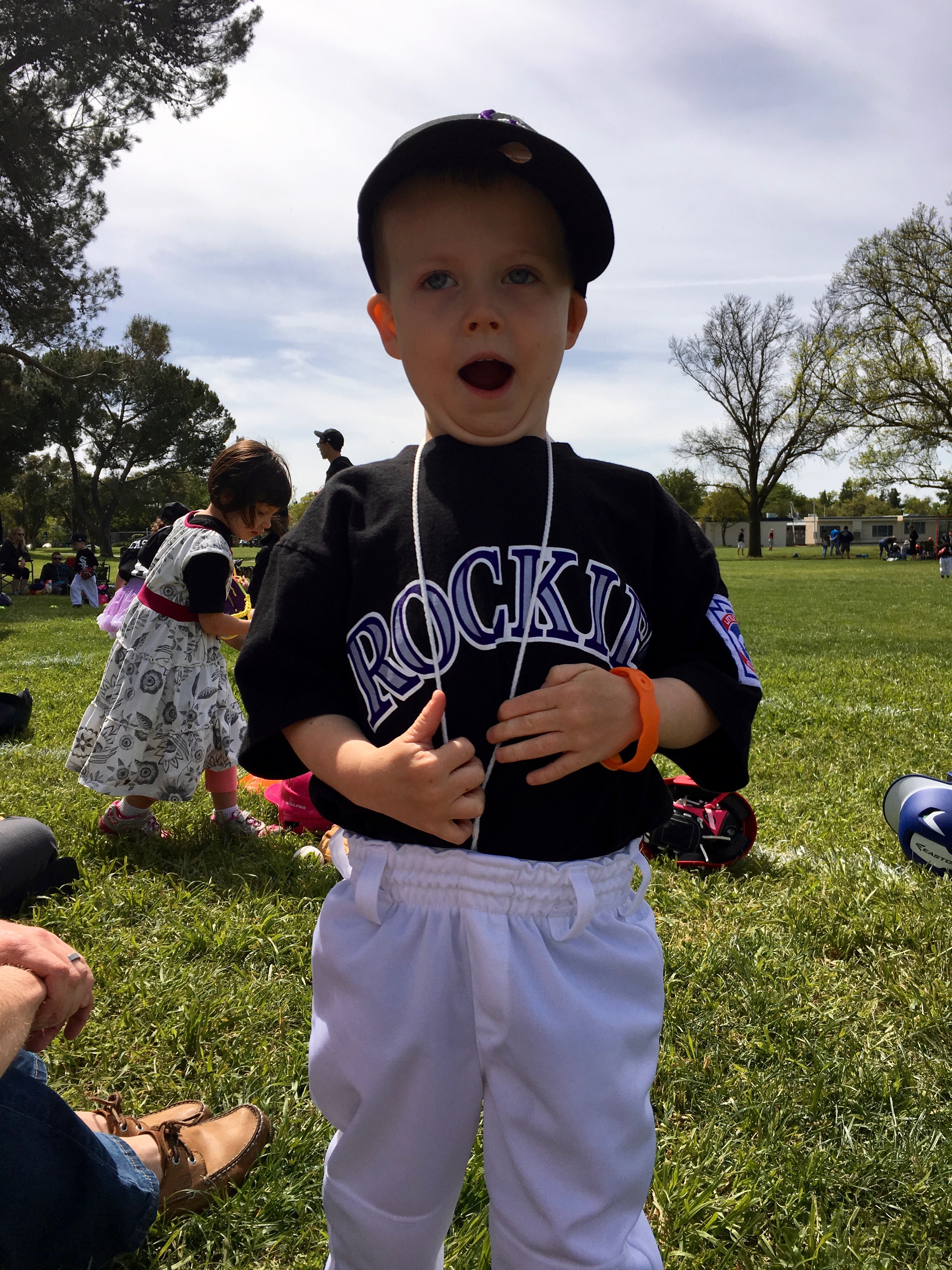 This is a good look no?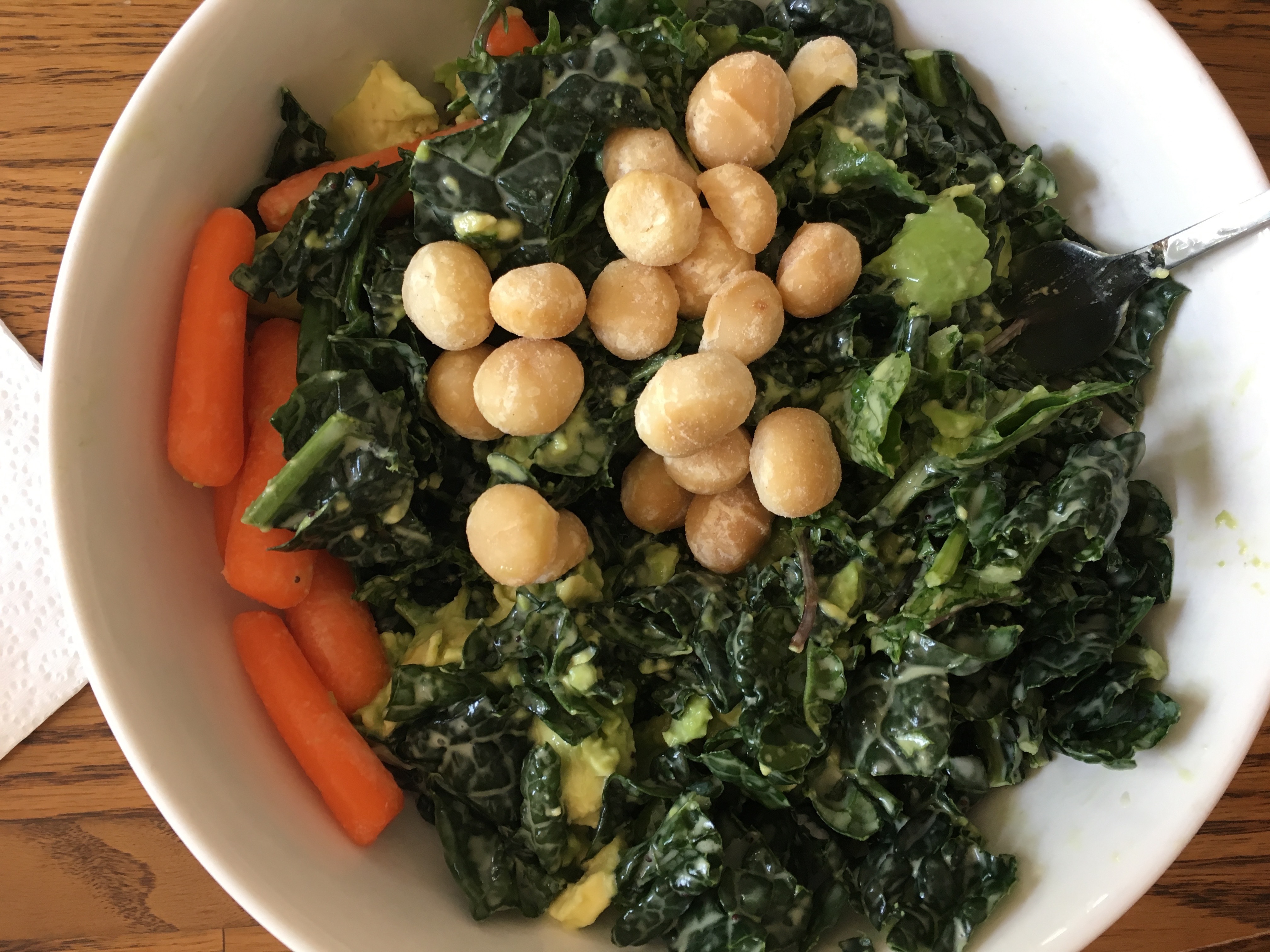 Aaaaand more mac nuts. One of these days I will figure out a proper serving size for them, but until then I will continue to serve myself a normal portion followed by heaps more once the salad is gone.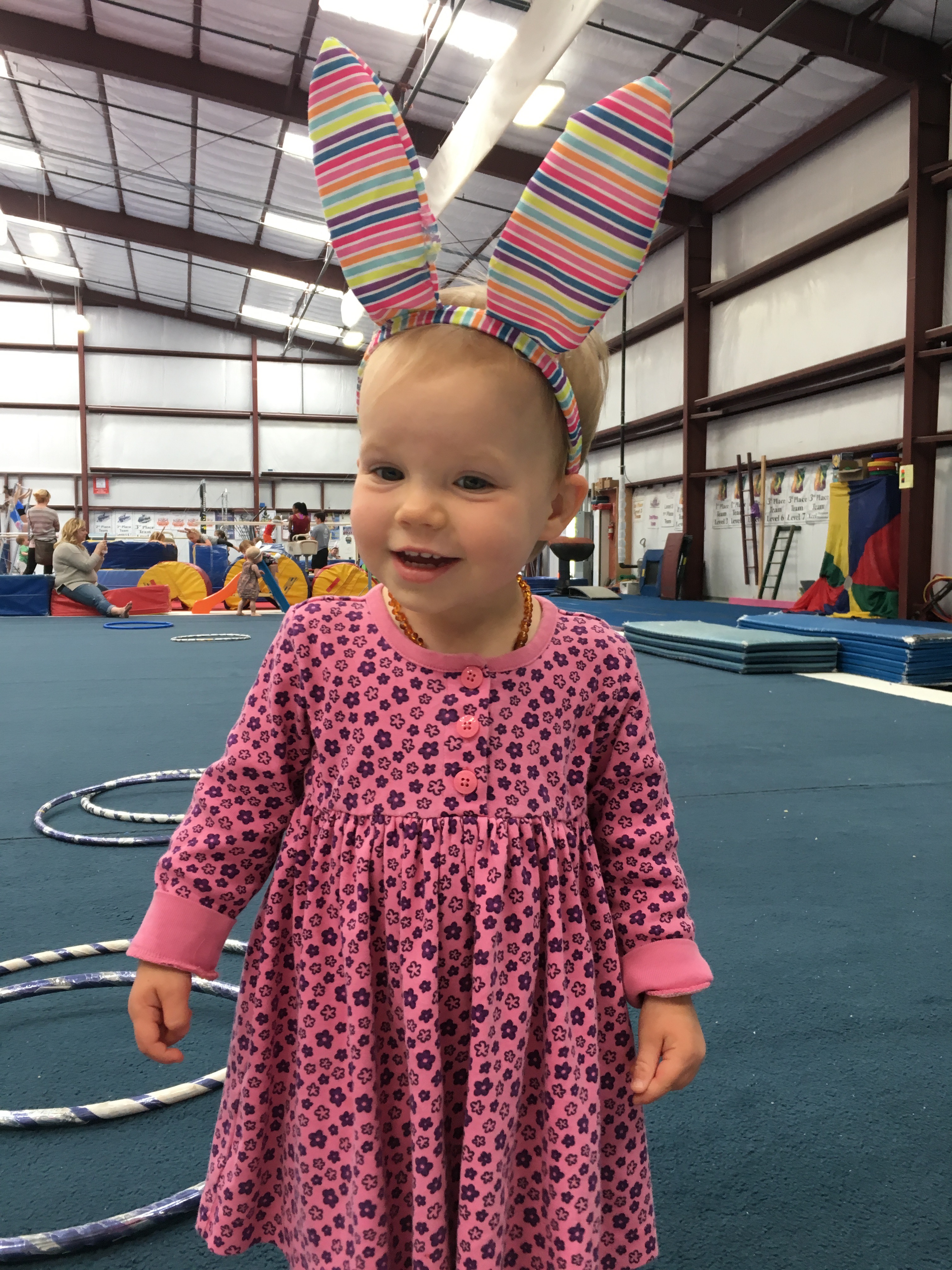 Hop hop hop!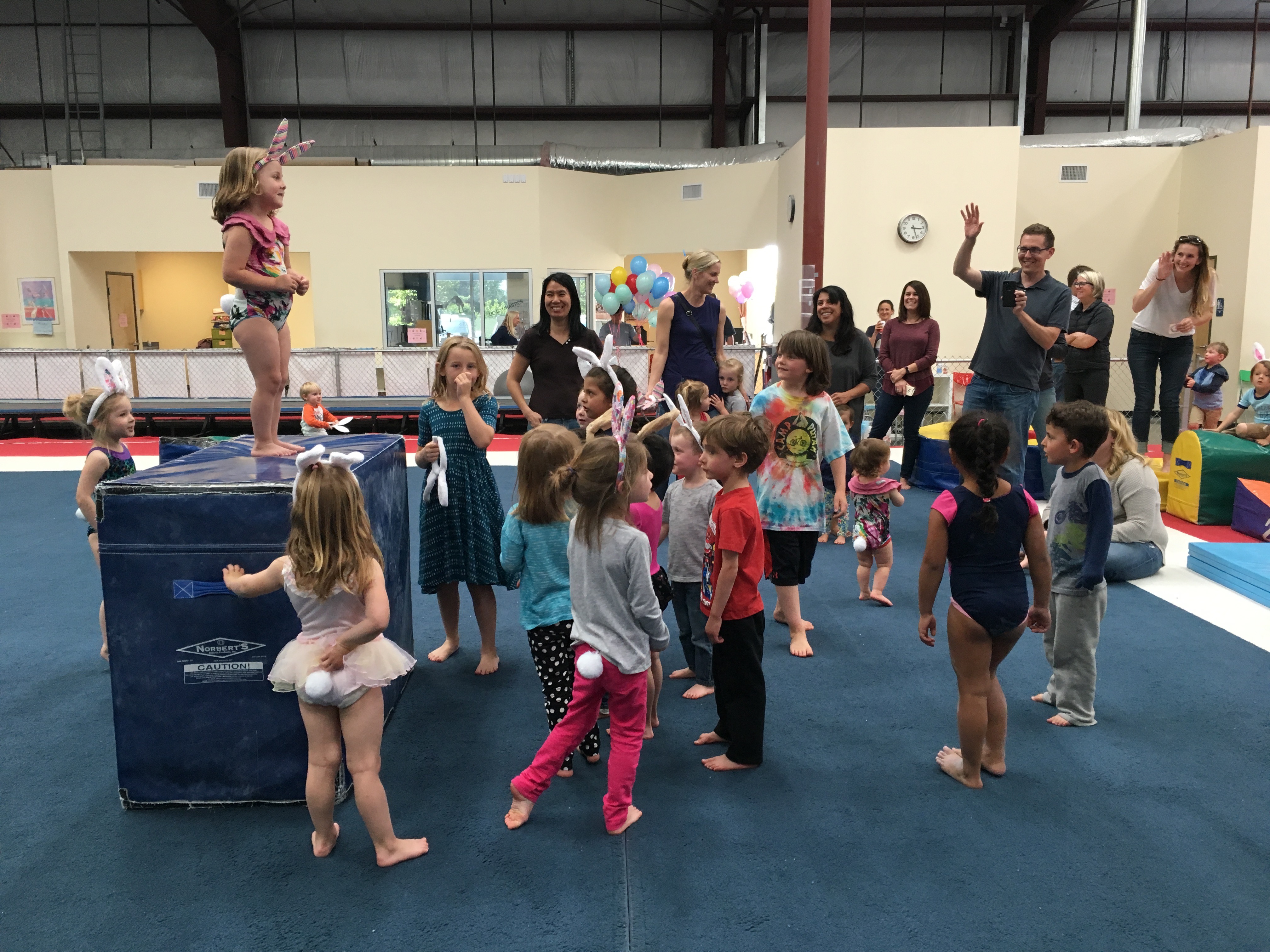 Party number two of the day was at gymnastics.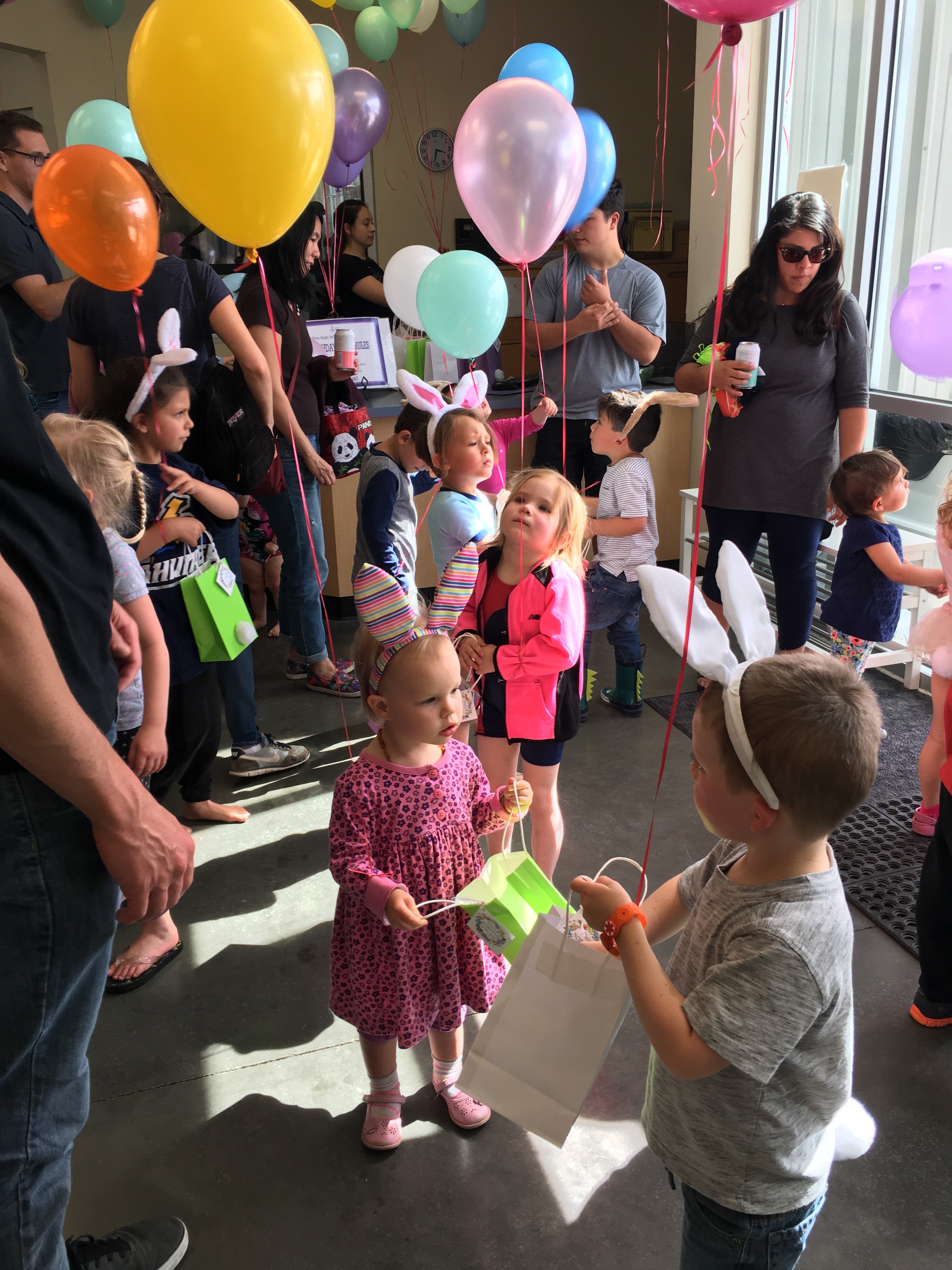 Followed by an egg hunt at the park.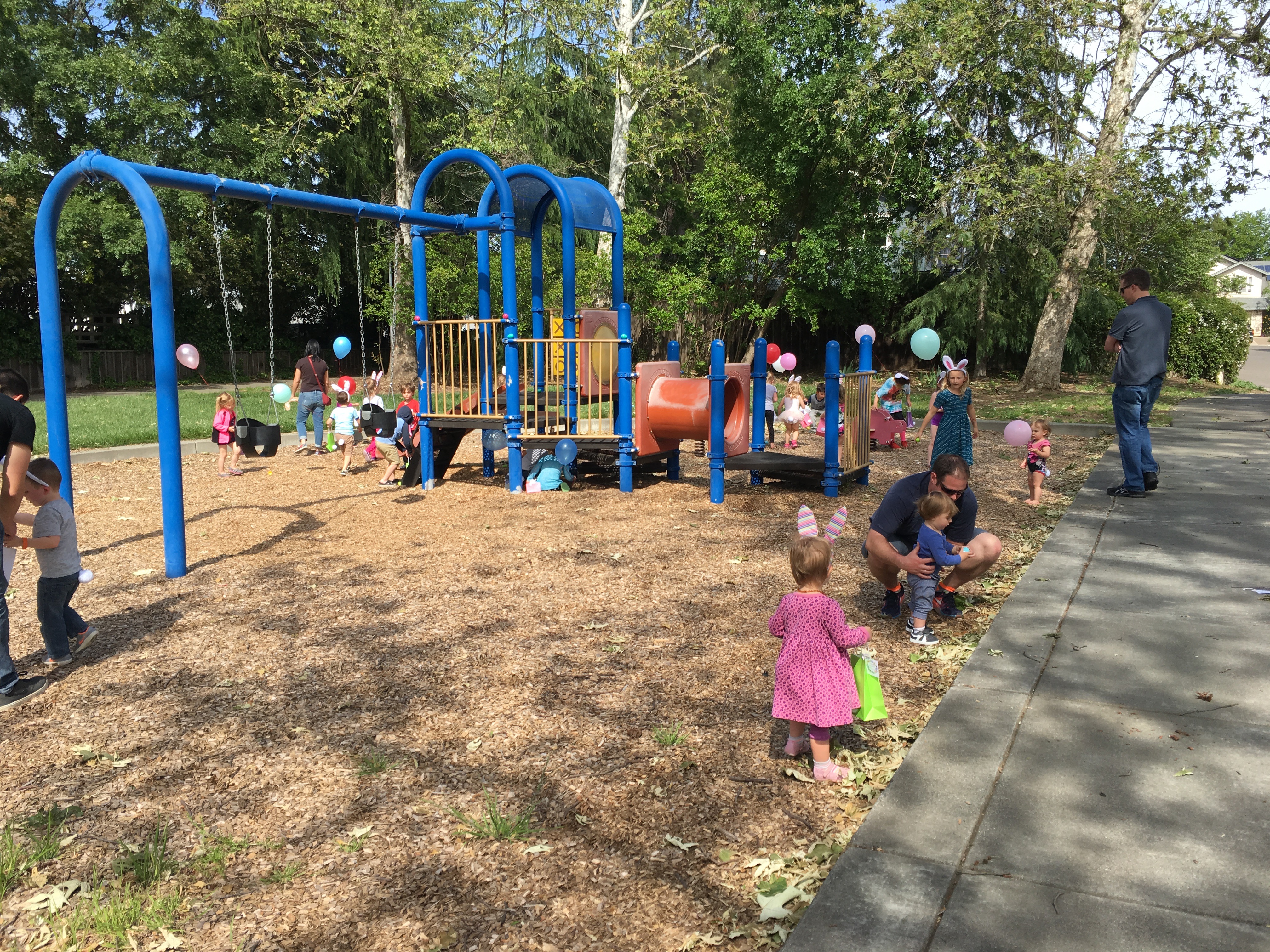 P was starting to hit a wall at this point (duh!! he didn't nap!!), but Kyle and I still decided to be extra ambitious and hit up Costco that evening.
I came up with this dinner last week and had been waiting to make it until I got a chance to try hazelnuts on P.  It's hard to find good times to try things with him since I don't want it to be around a time he will be sleeping, at an activity, away from me (at school), which leaves not many options. That said, I had his blood tested a while back for hazelnuts and it came back negative, so I wasn't really thinking it would be an issue.  Still, it's something I get a little anxious about. Anyway, no issues.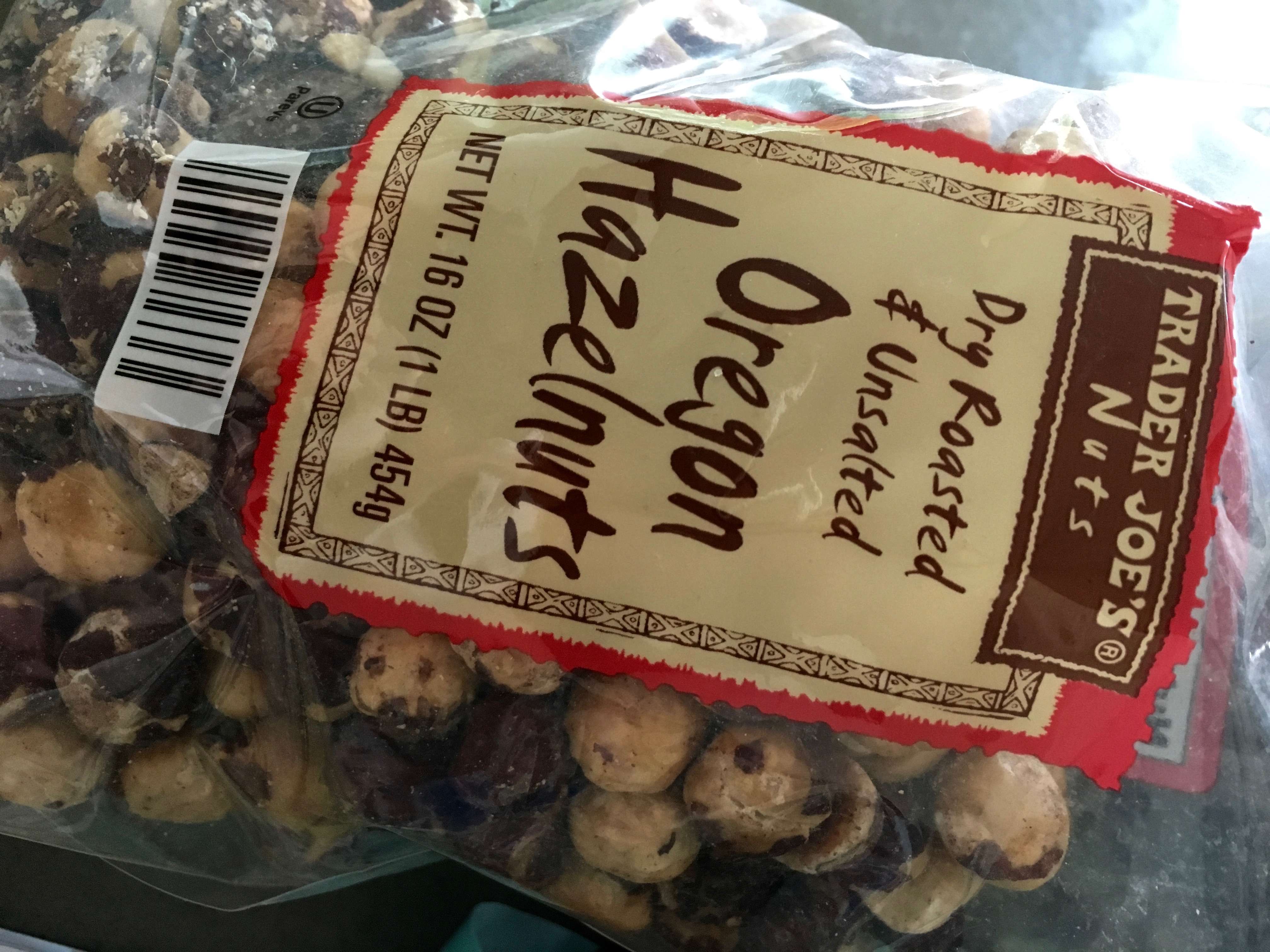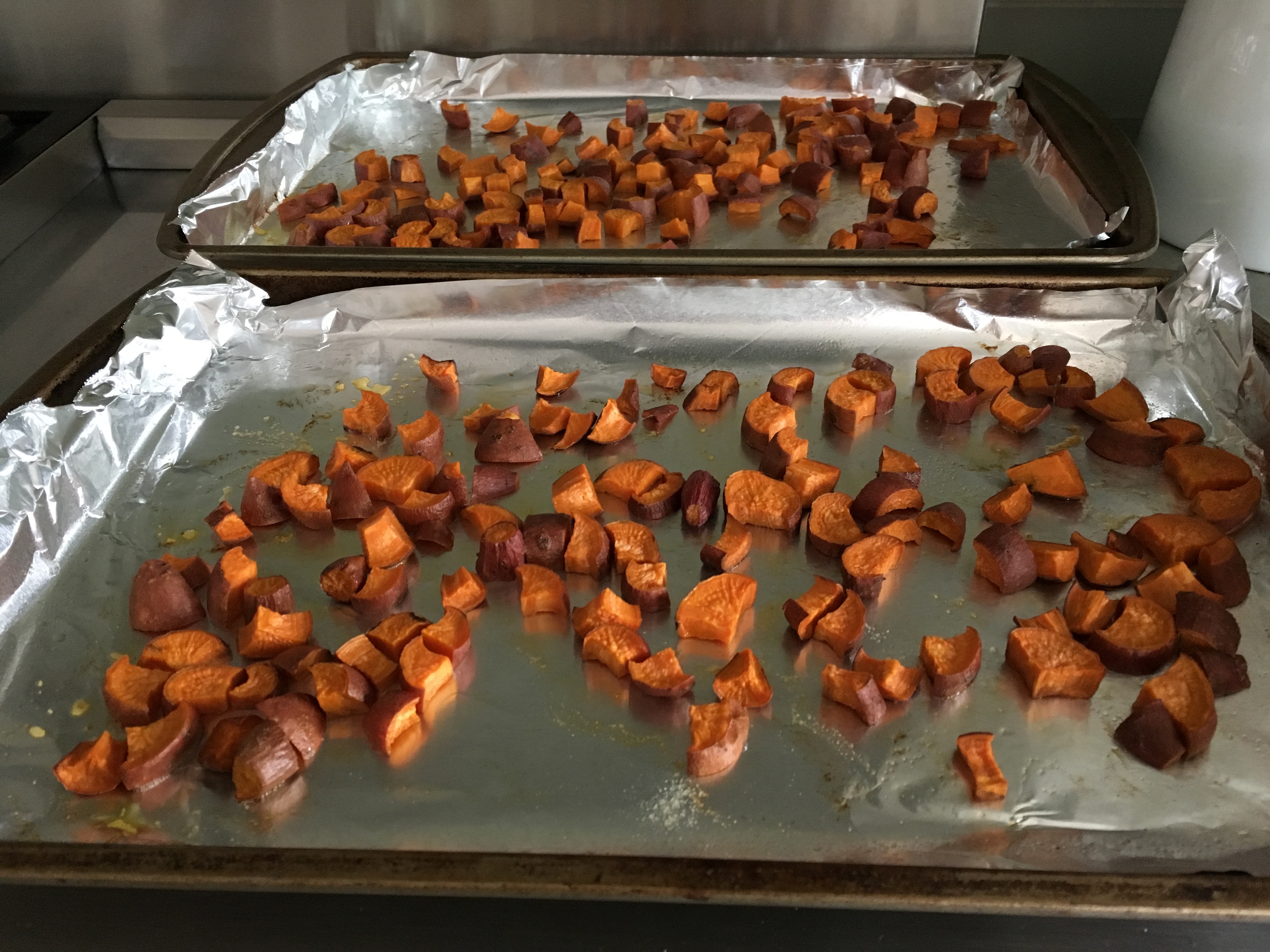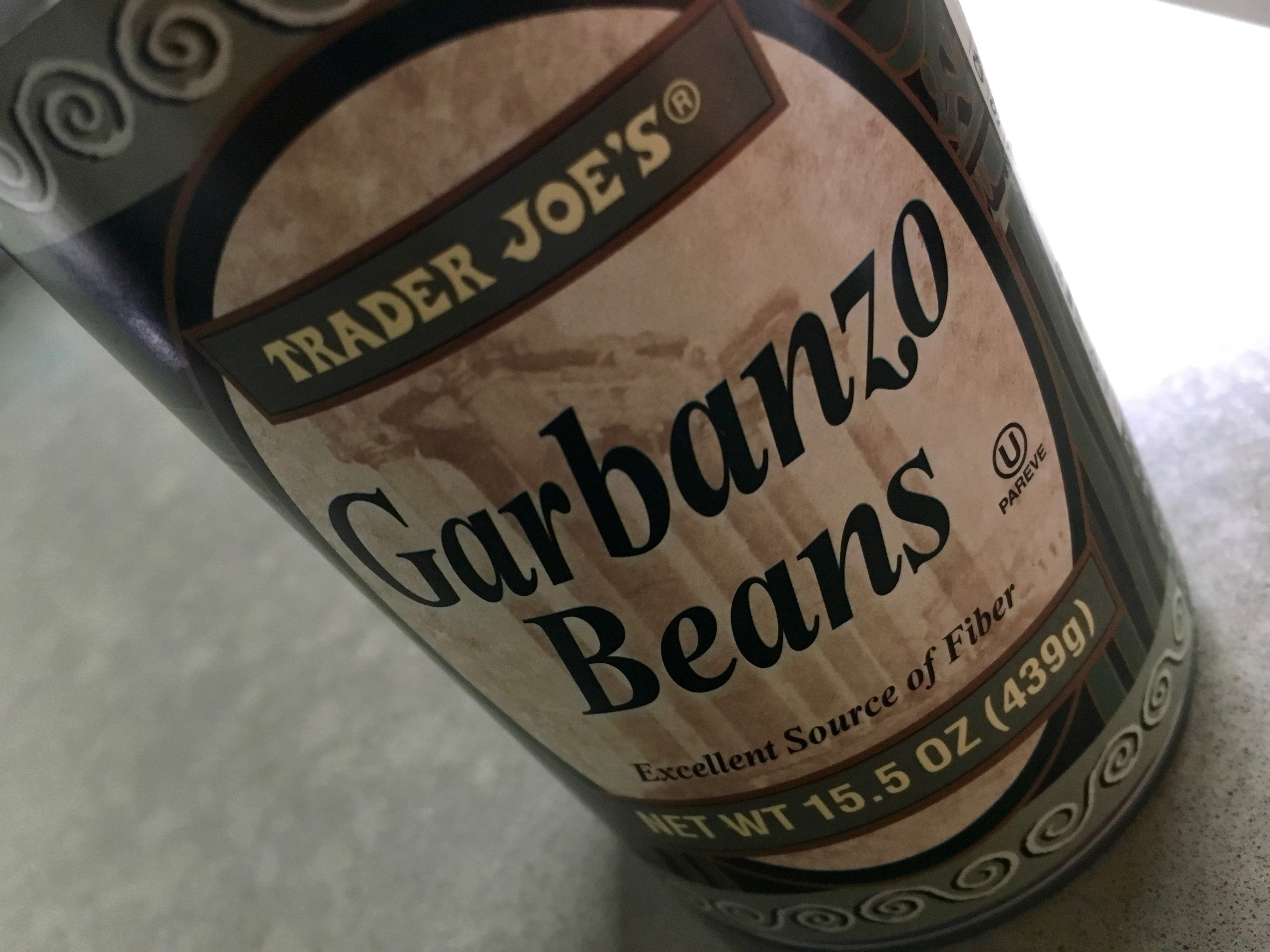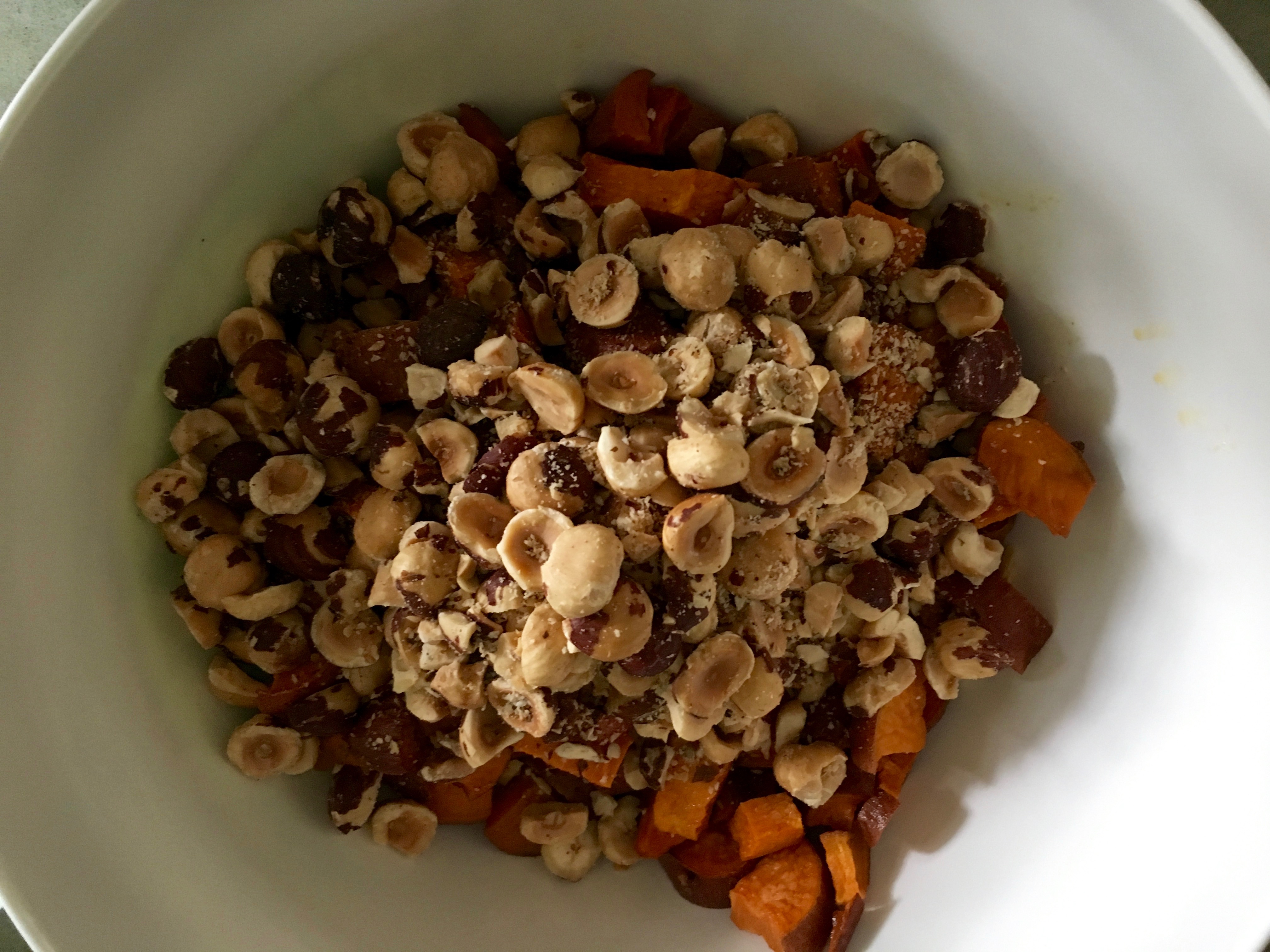 Ingredients:
roasted sweet potatoes with avocado oil (new LOVE!) and salt
crushed roasted hazelnuts (SOOO many)
maple syrup + olive oil + apple cider vinegar
dried cranberries (I wanted roasted grapes but there aren't organic ones available yet)
chickpeas (for the kids)
baby kale (for the adults)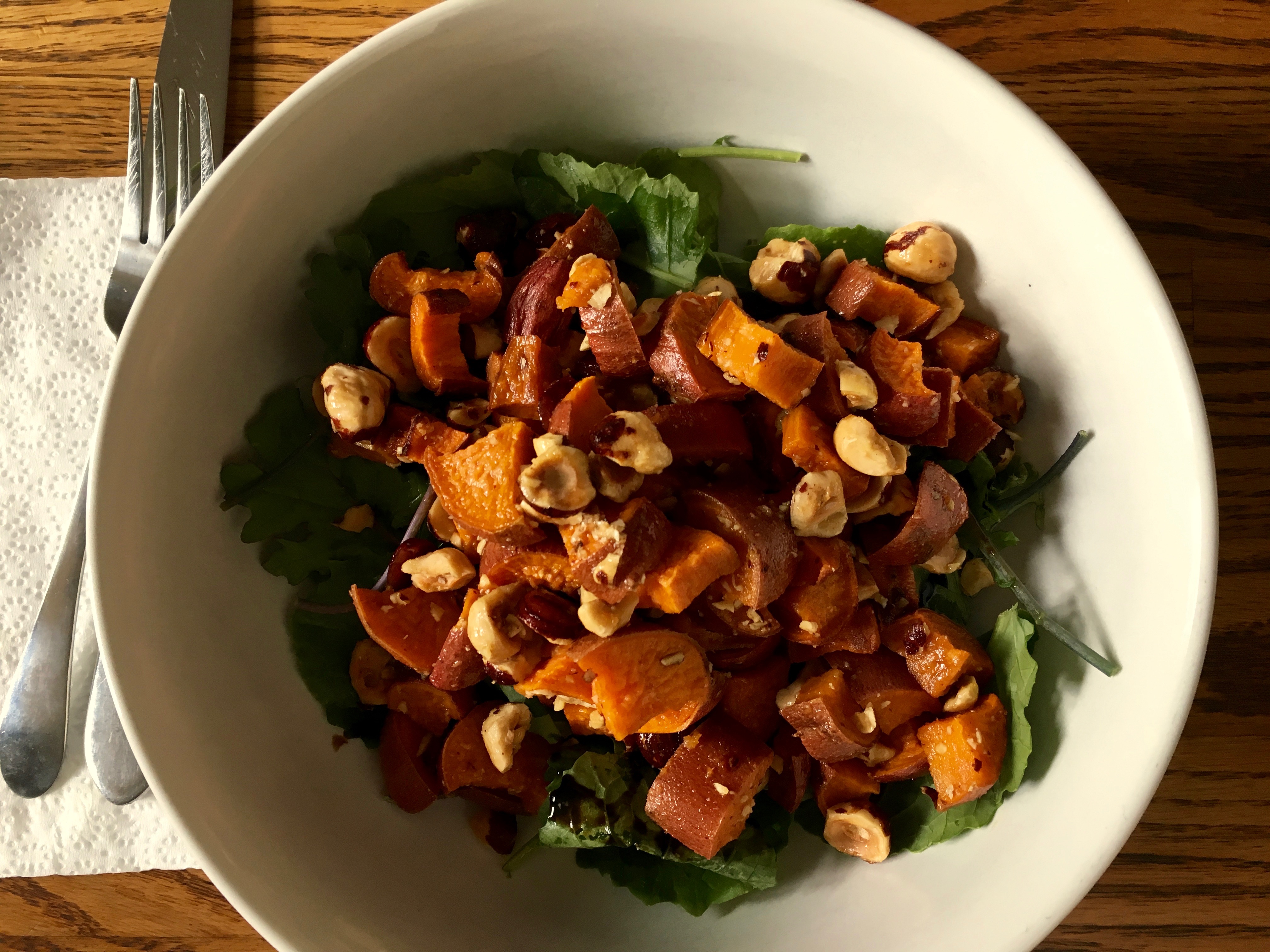 Obviously kids and adults could have either or both, but I wasn't in the mood for more fodmaps and lettuce sounded good.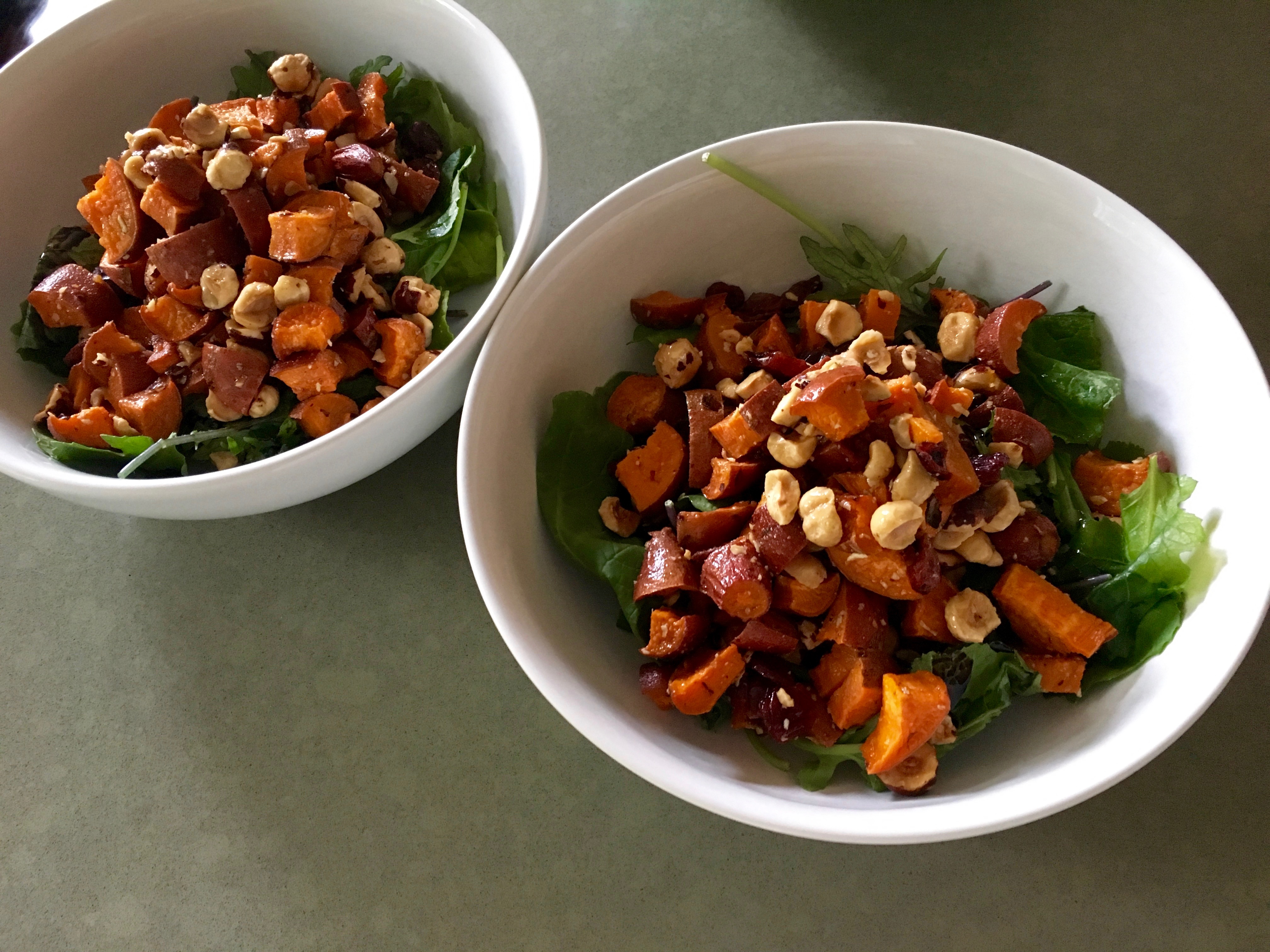 I didn't have dessert this night, but did drink some tea while watching a movie with Kyle.  We rented Hidden Figures from apple.  I am trying to sorta maybe a little kinda limit my chocolate eating to 4-5 times a week??  I'm not keeping track, but every other is a decent way to figure it out, and I knew for sure I was going to eat LOTS of Easter candy the next day.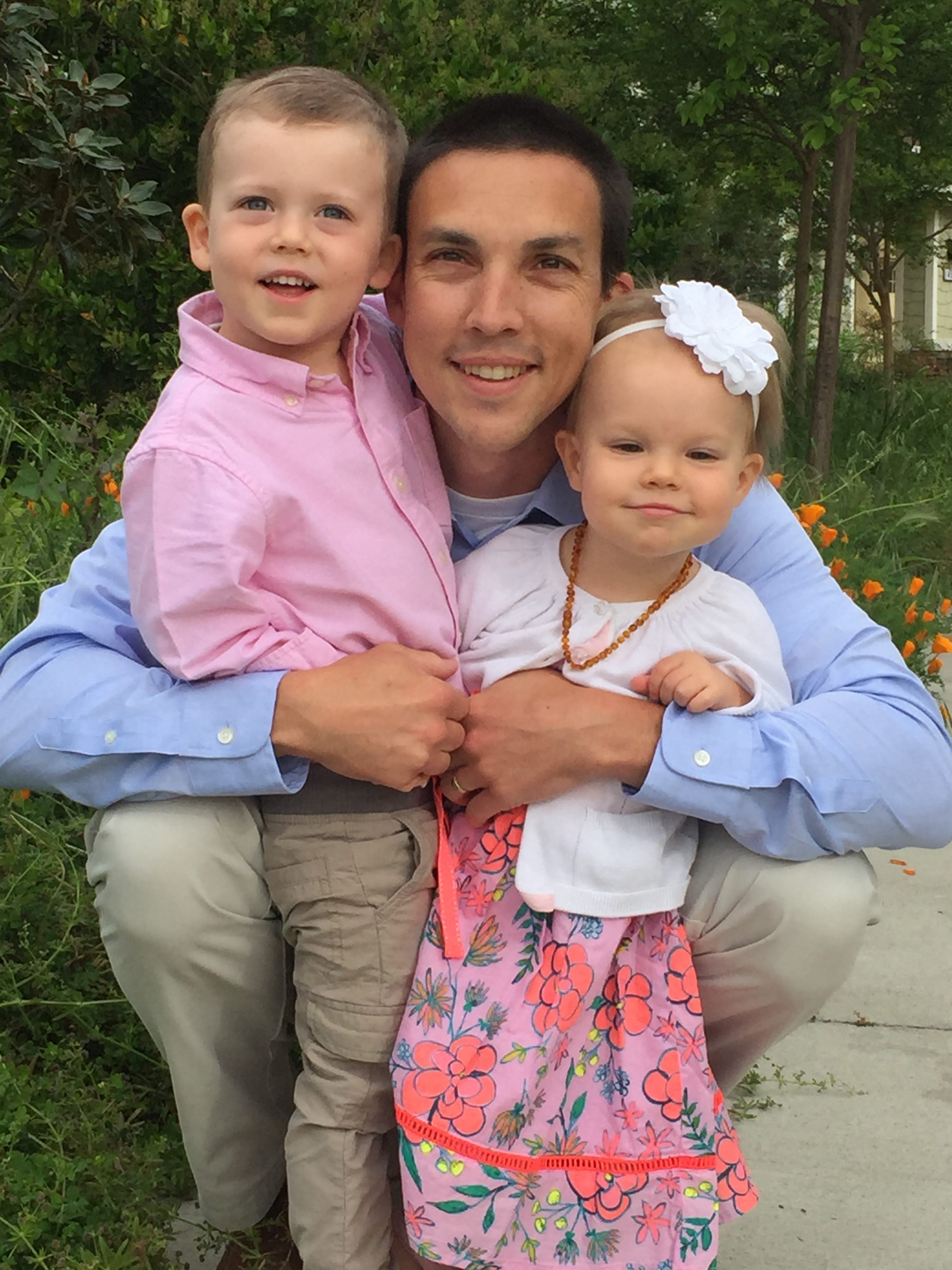 Happy Easter!
Oh man are these three my favorites.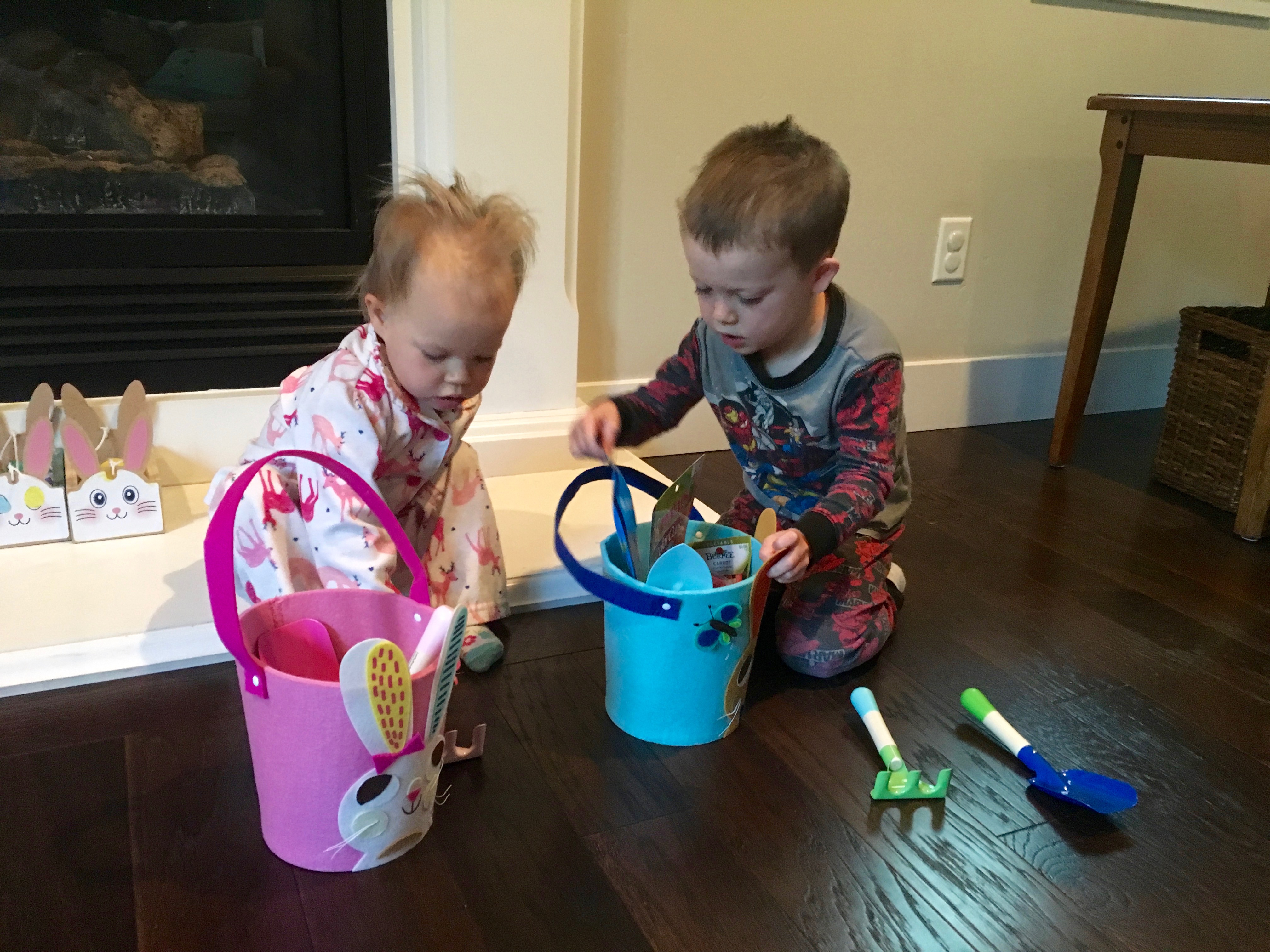 We started the day with an egg hunt, that lead them downstairs to baskets.  Since this was their second of three egg hunts, I made sure it was very low key.  And the baskets were just an excuse for them to get some gardening tools and seeds.  Now mama has helpers for our Spring gardening!  Thanks Easter bunny!!  😉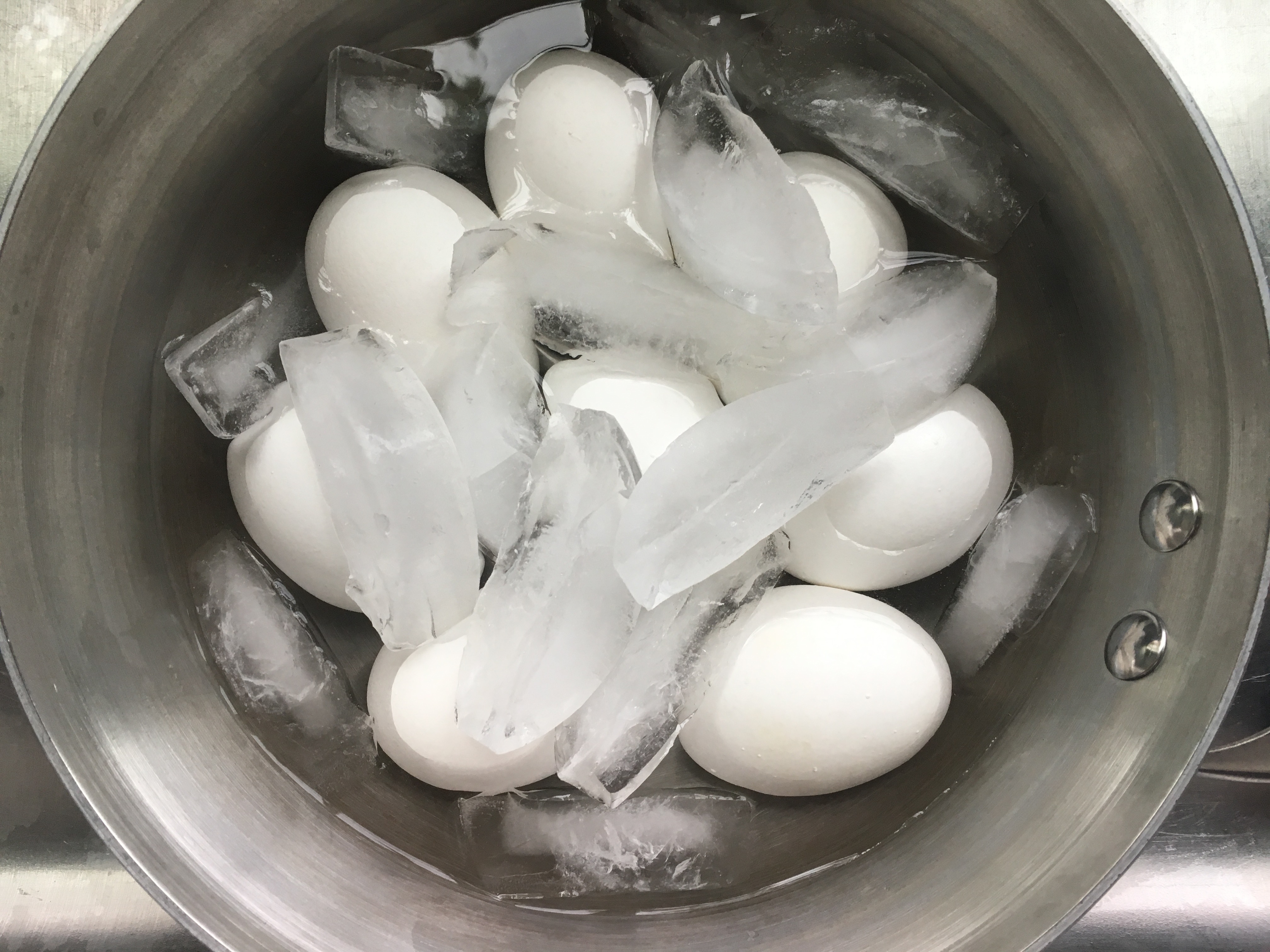 I made a triple batch of pancakes for breakfast, so we would have enough to get us to Tuesday. Then I hard boiled some (WHITE) eggs while Kyle got them dressed for church.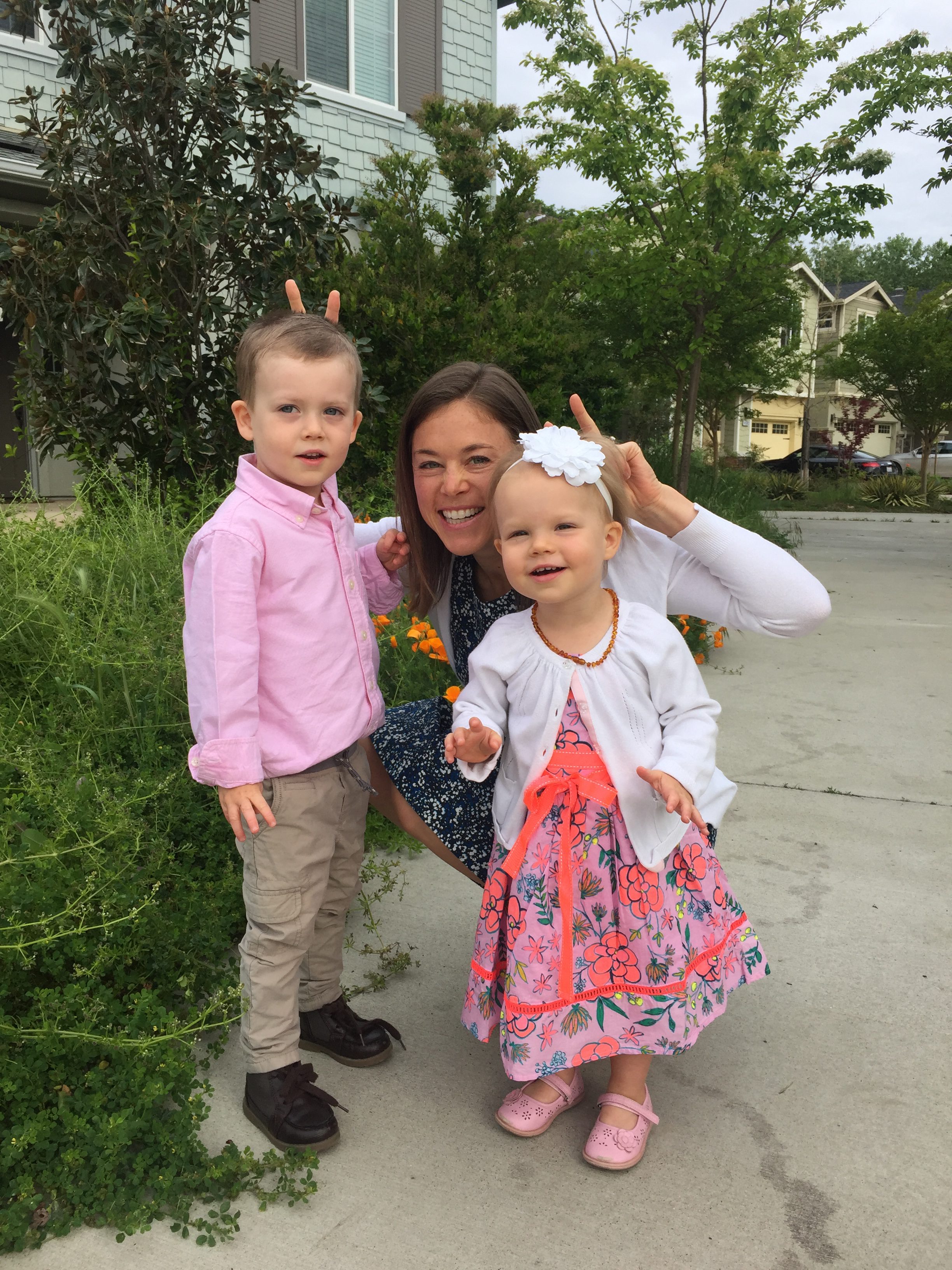 Family photo ops in front of the house as we loaded up in the car (it was sunny for the moment, so we had to capitalize).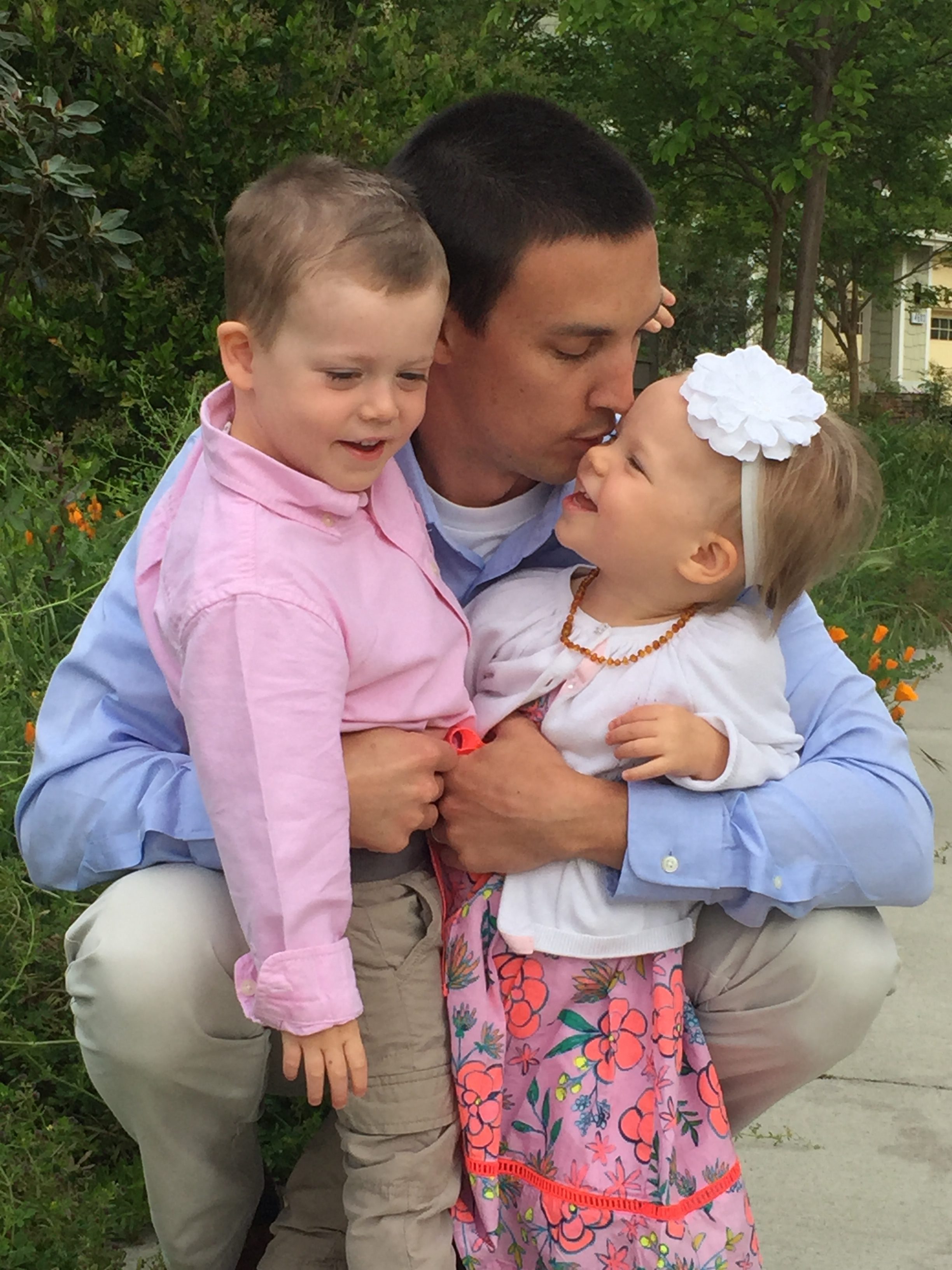 Our neighbors took a family photo too, so don't worry mom, I'll send you that one.
After church (which had another egg hunt!) we dyed eggs.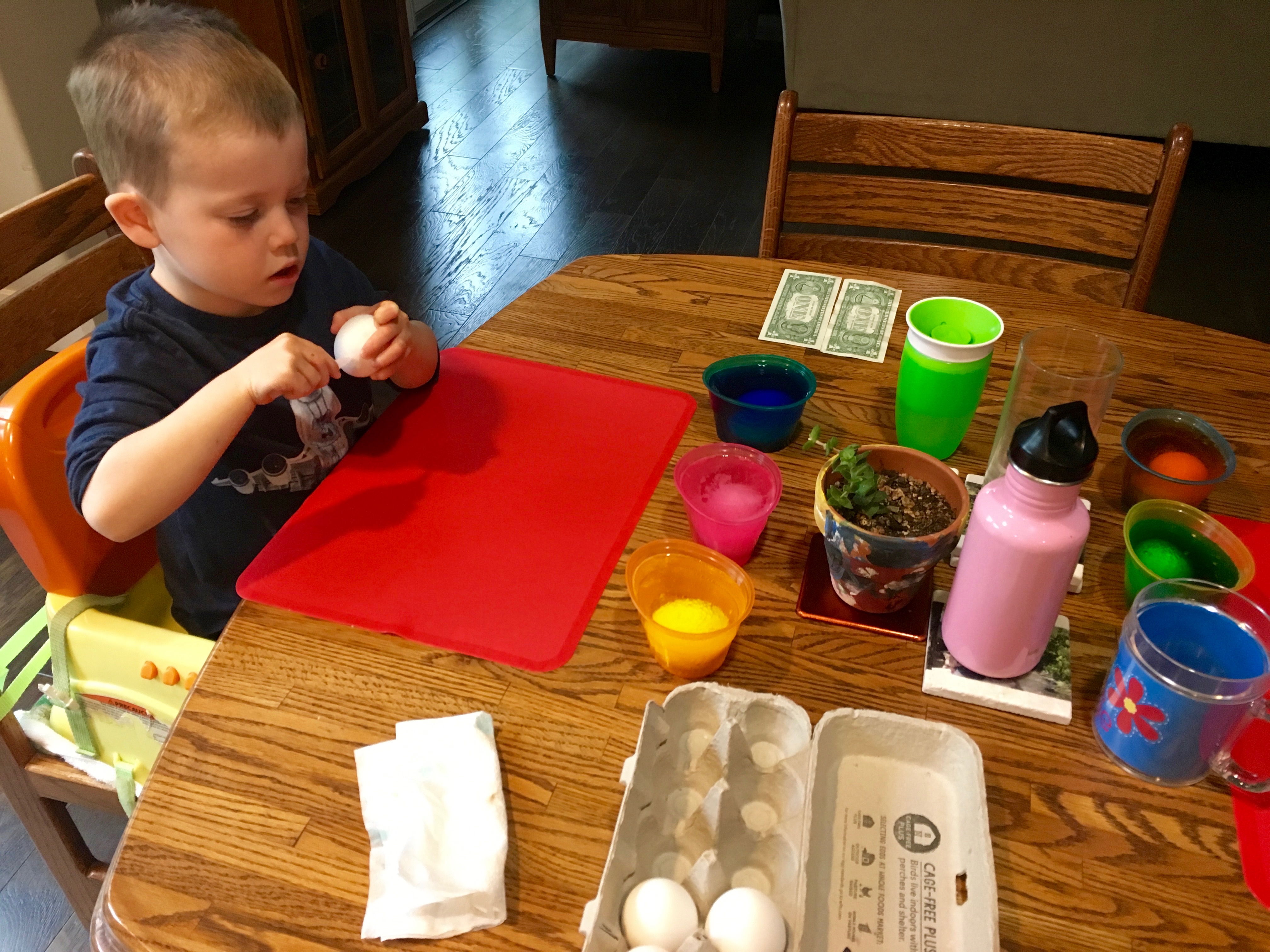 And then they ate 6 (!!) for lunch.
I don't blame them though, because I made 7 minute eggs and the yolks were perfectly creamy and soft inside. Gooey yolk porn, for sure.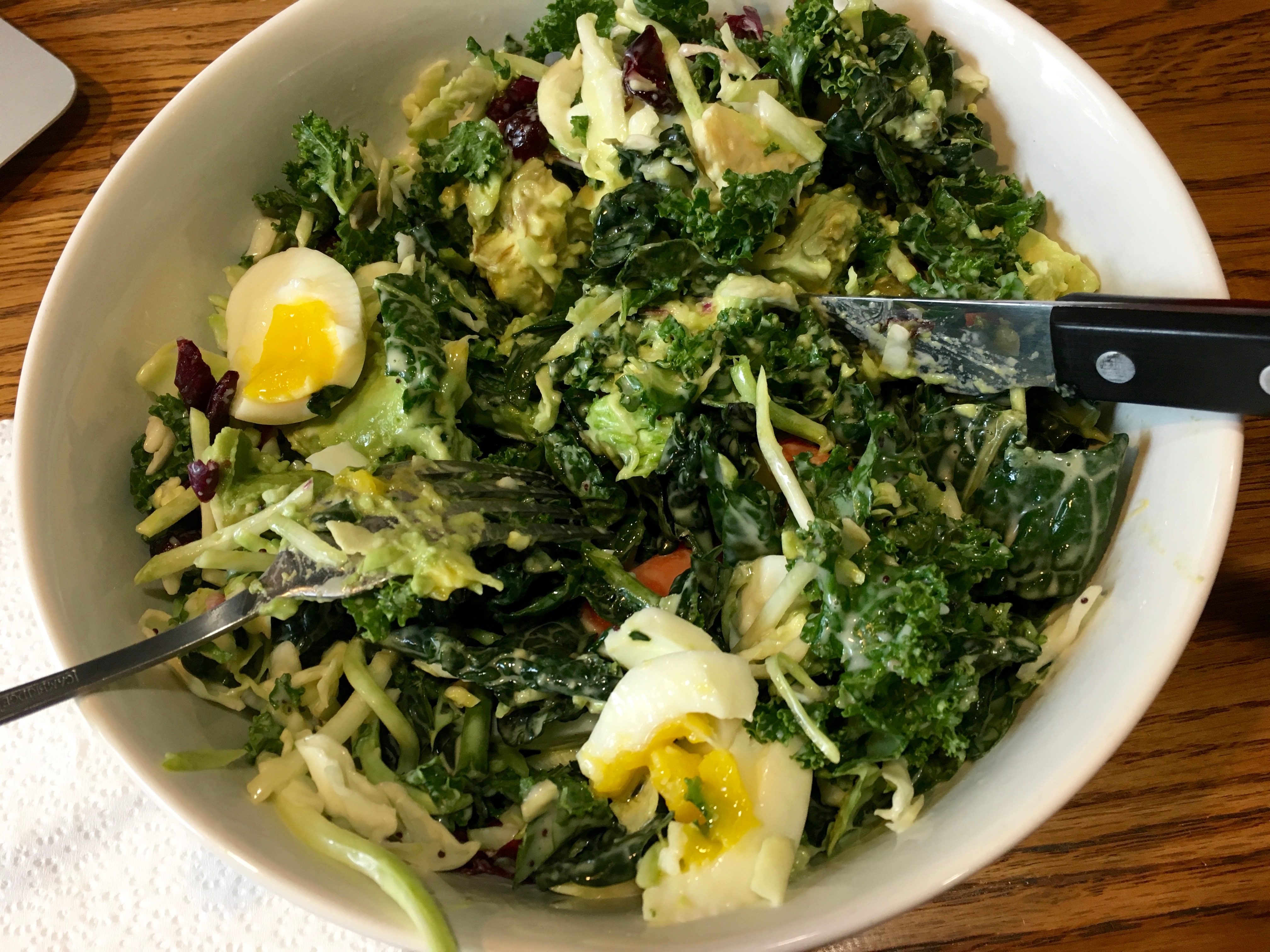 I had some on my salad because they looked heavenly.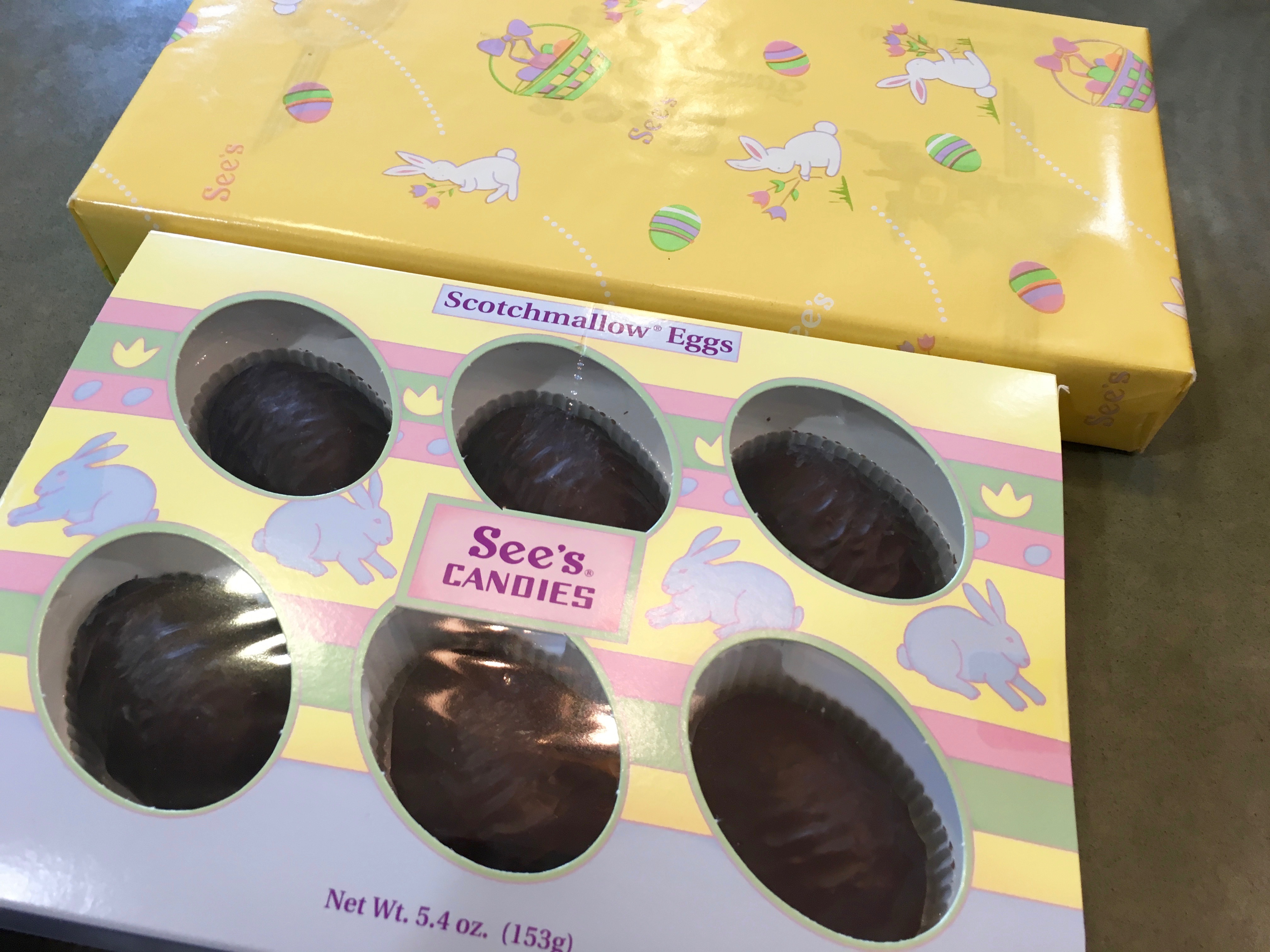 The Easter bunny knows the way to my <3  A whole box of Scotchmallows!!!!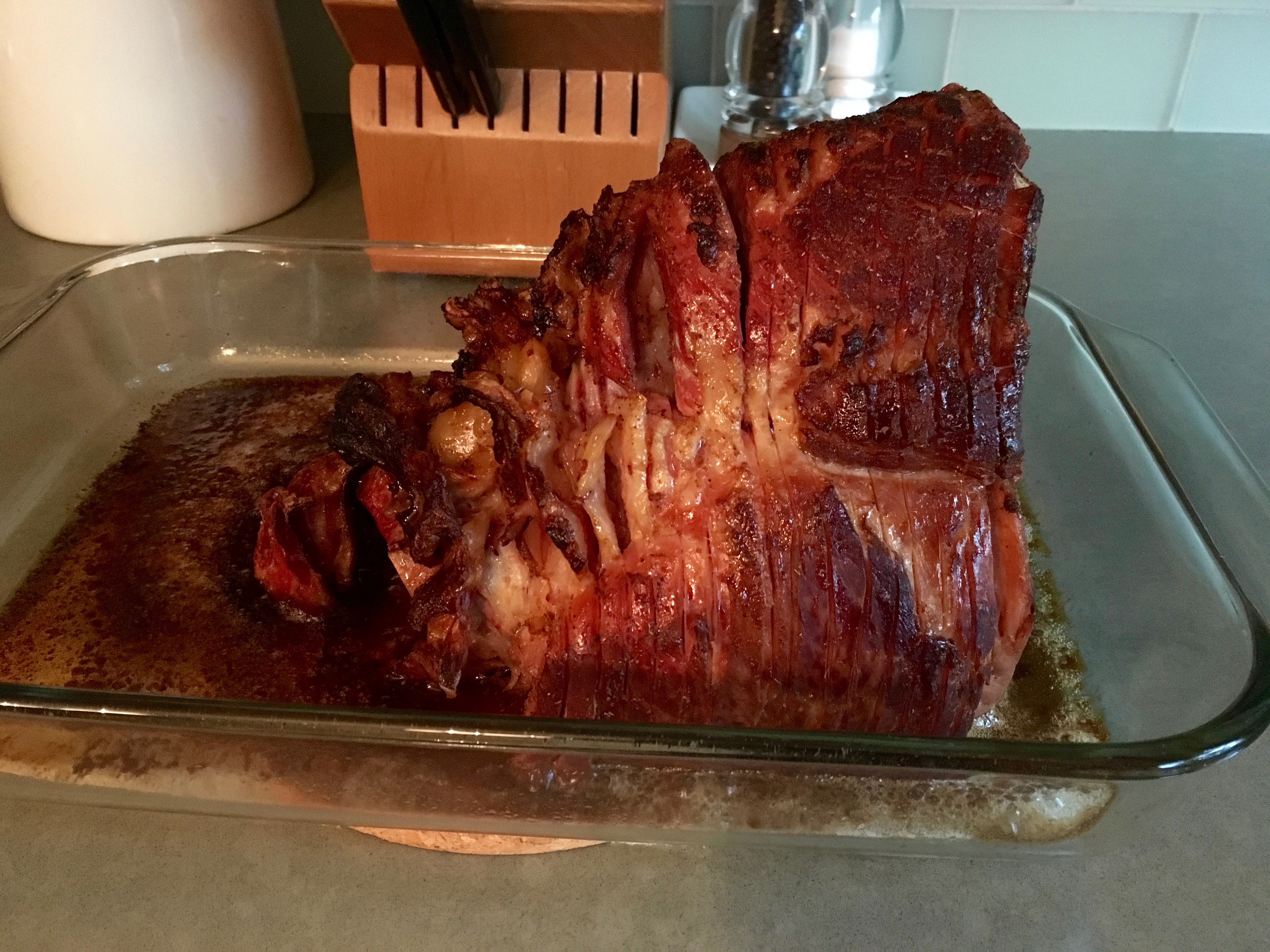 First attempt at roasting ham was a major success.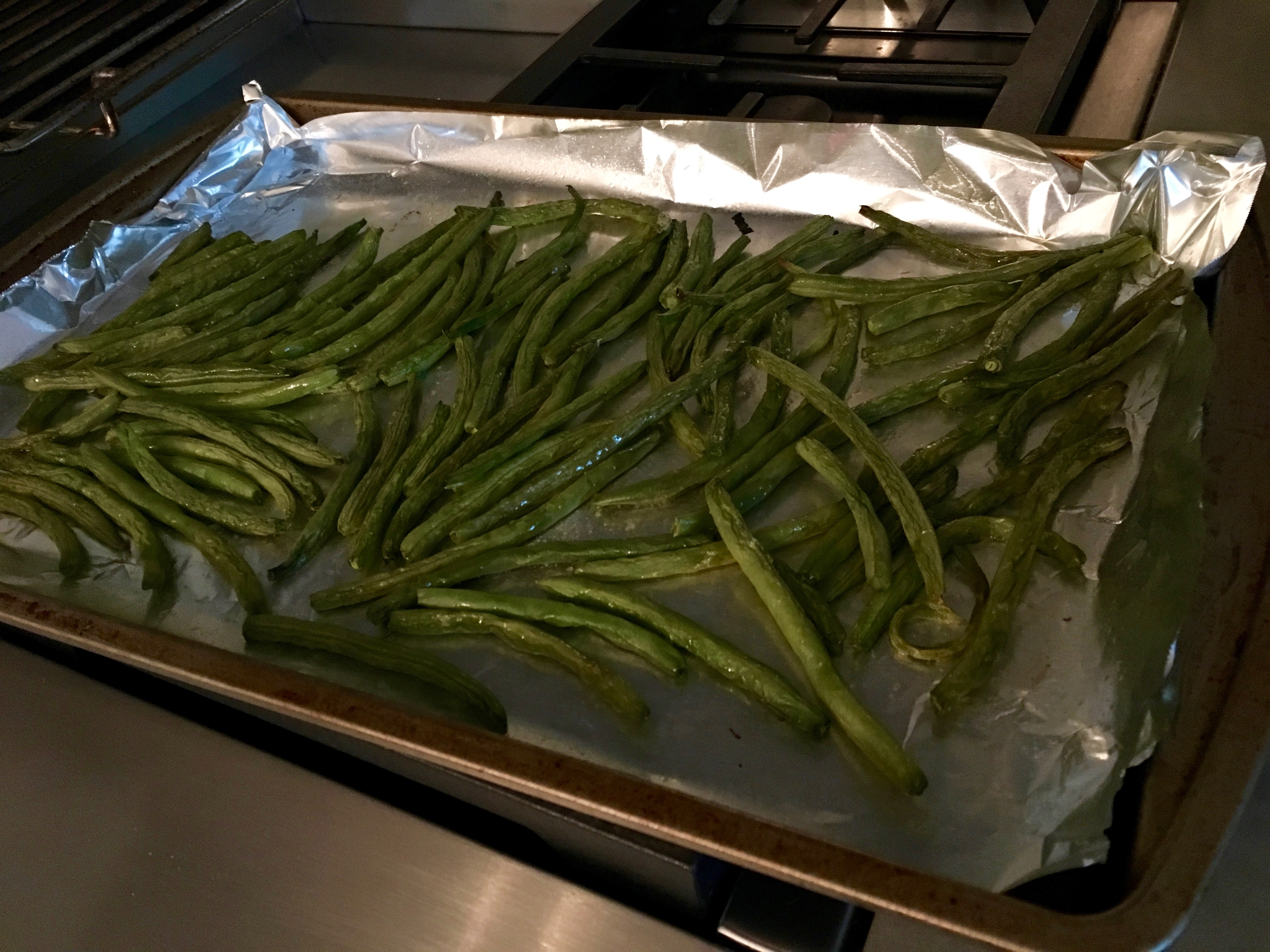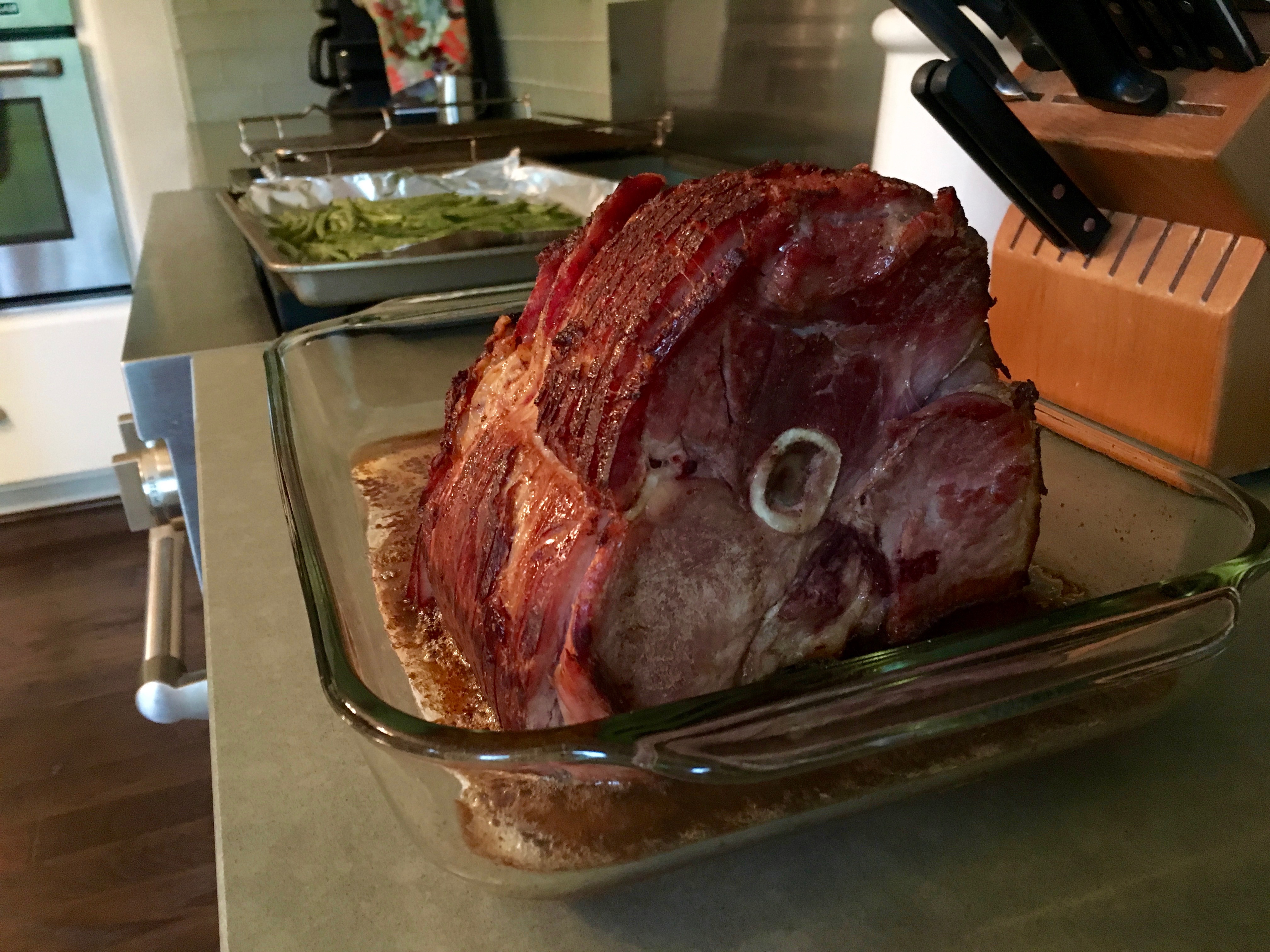 I roasted green beans too.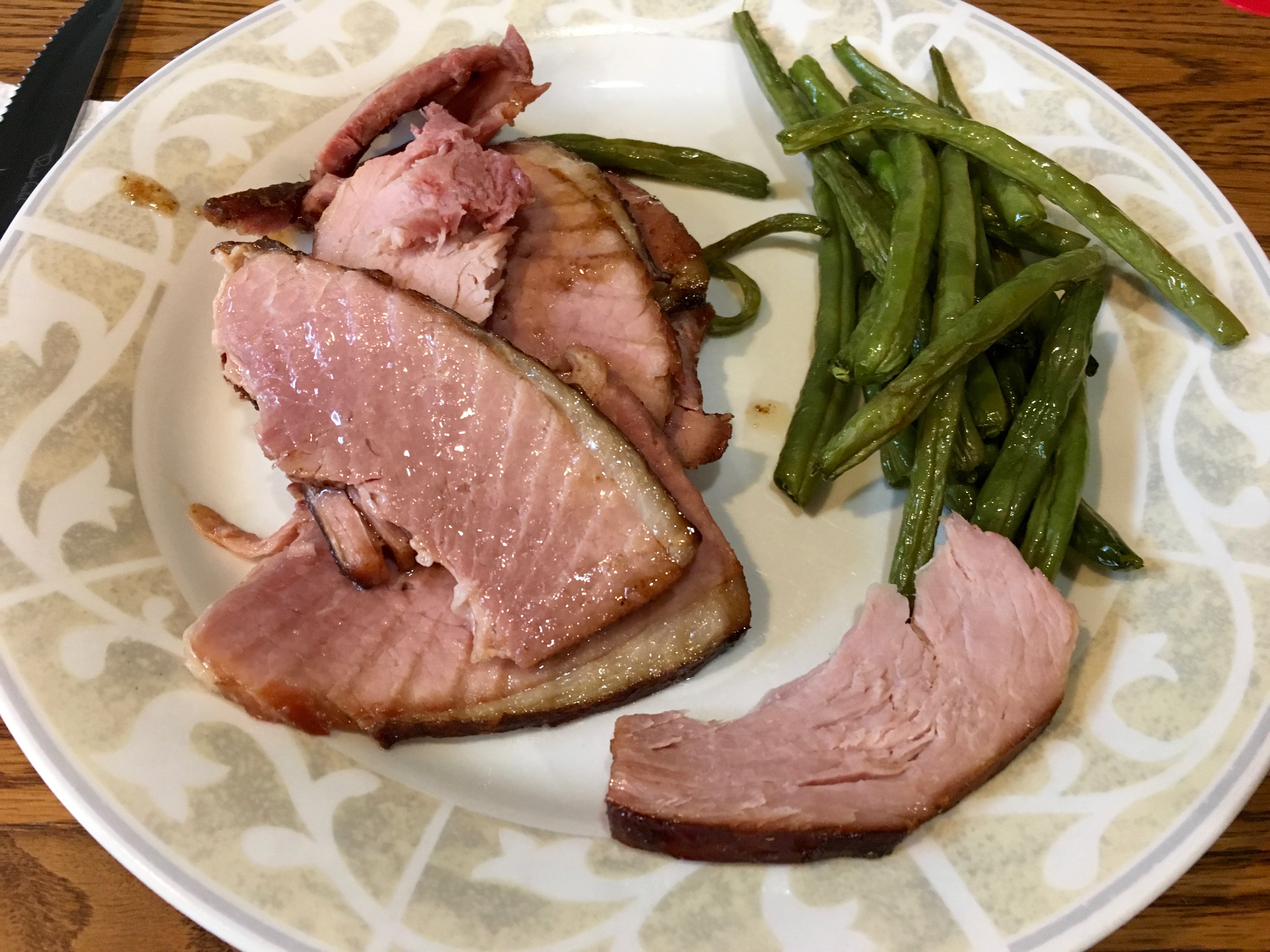 Check it out!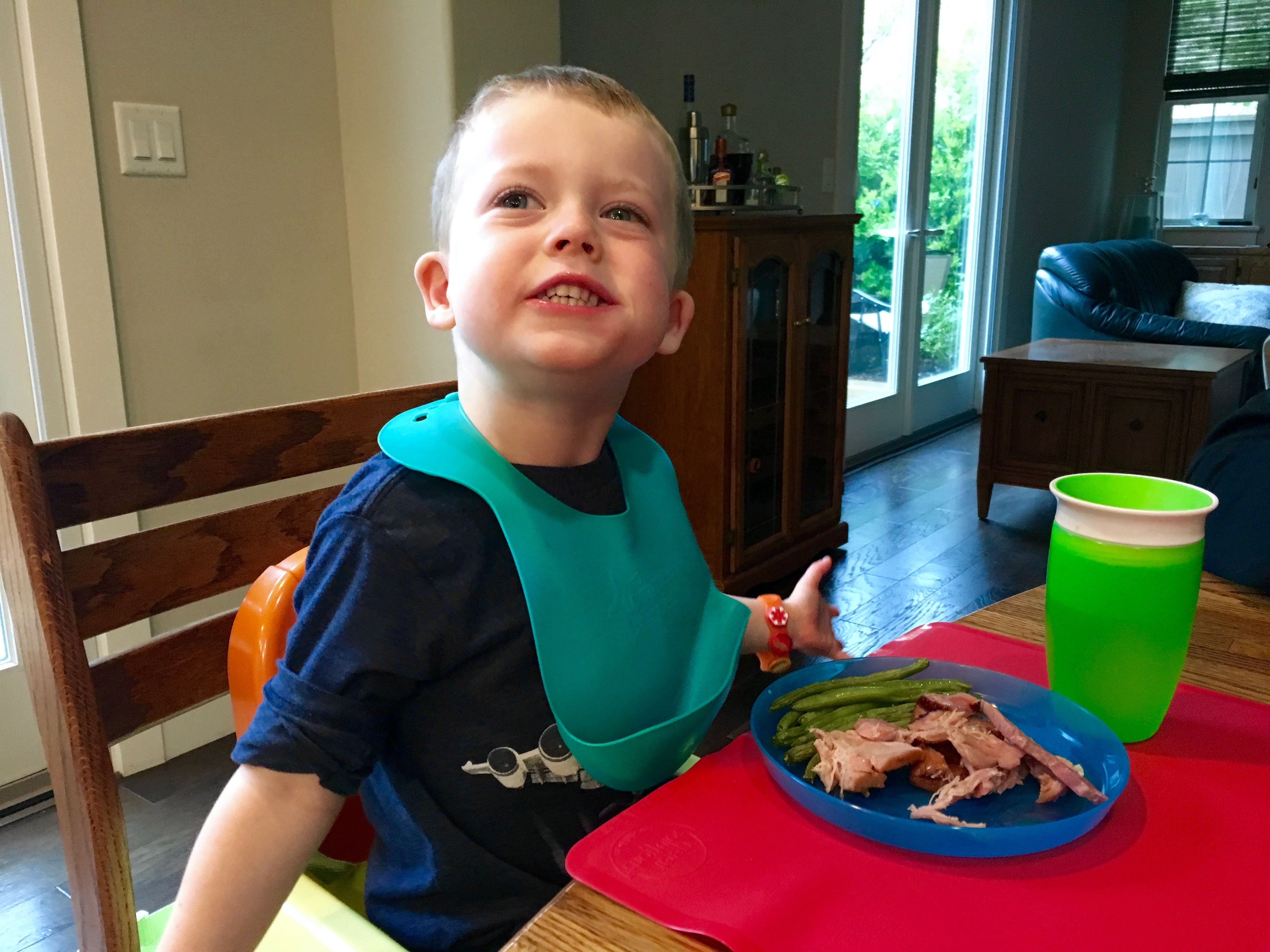 I basted it with glaze to take it over the top, and the kids couldn't get enough of it.  No shock right? Since it's basically bacon…  And there are mega leftovers, which I have already used to make a quiche.  Oh and I realized I should probably do something with the hock (that's what the bone is called right?) so I added it to the crock pot with a bunch of water and some chopped celery and bay leaves that night.  And then the next day went to get a pound of white beans to cook in that ham liquid.  I hardly need to go grocery shopping this week since I have gobble meals arriving tomorrow!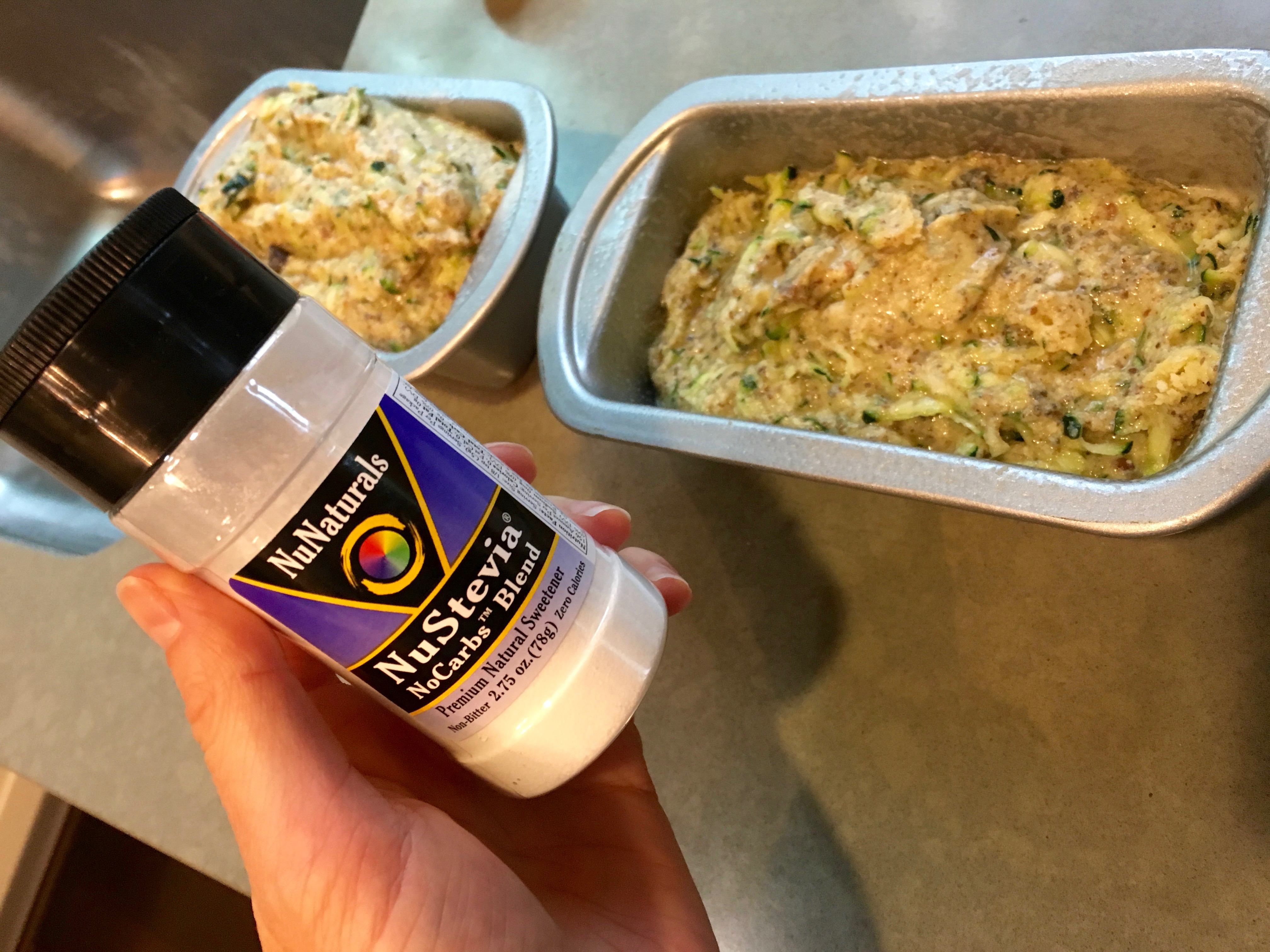 I had a major brain fart while baking zucchini bread and forgot to add sweetener…and then realized my mistake after pouring it in the pan.  So I quickly sprinkled some NuNaturals stevia on top hoping for the best.  One loaf had chocolate chips in it, so that could be enough I guess, but the other loaf was plain.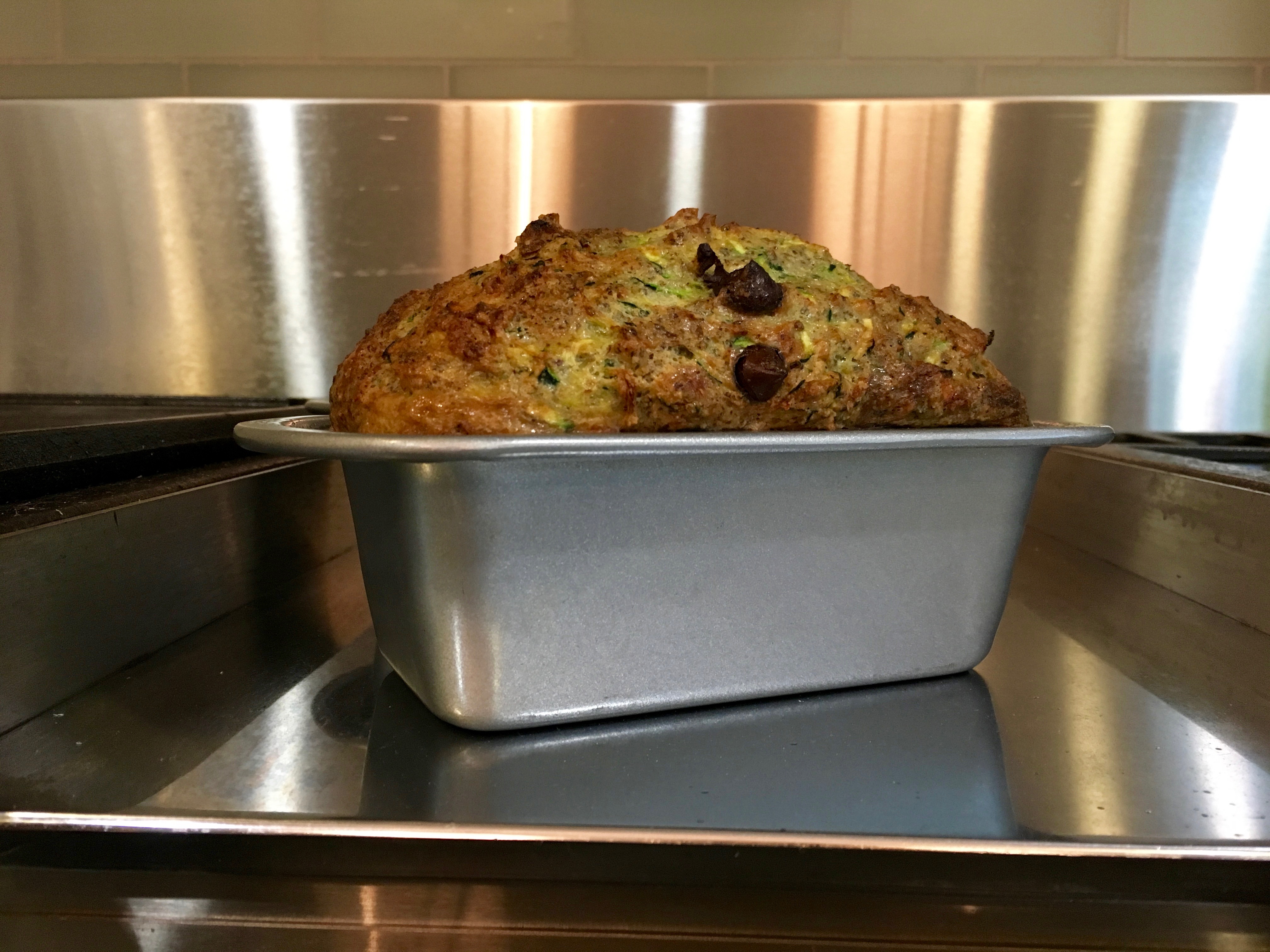 Oh hey there massive loaf.  I can't wait to eat you in the morning.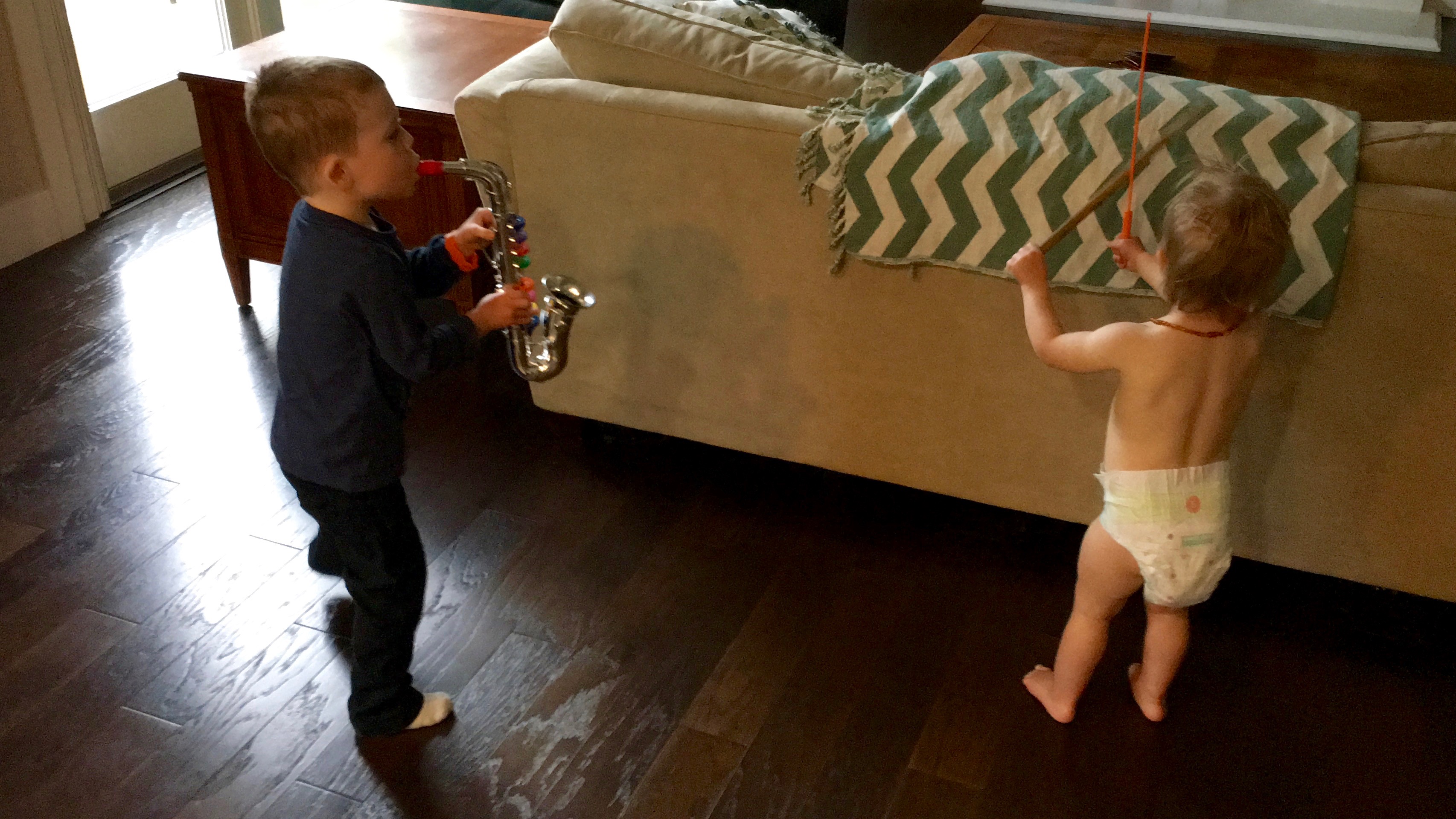 Family band jam sesh after dinner.  The usual.  These days I have to kinda remind him to tone it down since he isn't supposed to do anything too active after his dose, but man is that hard for a 4 year old.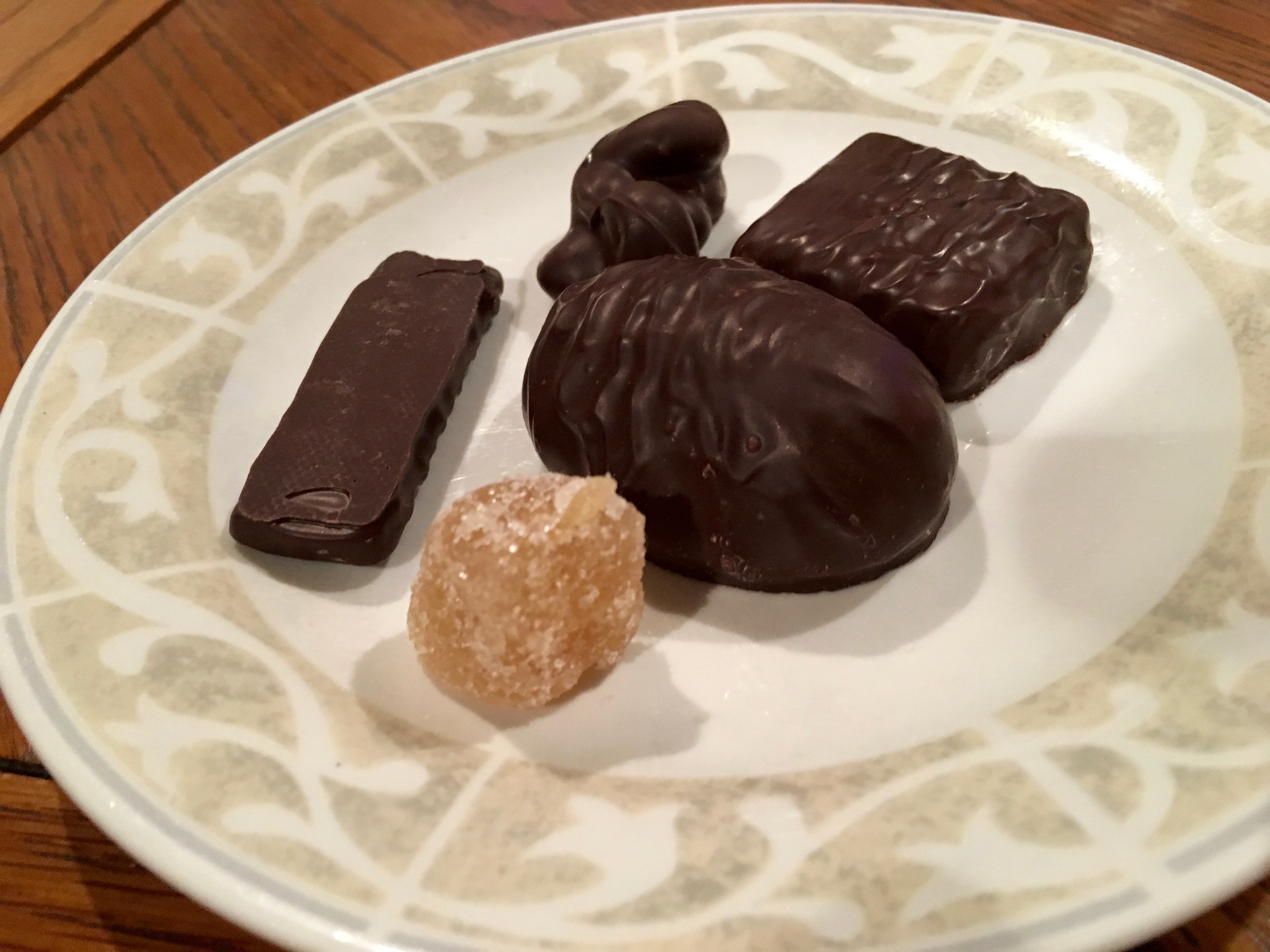 I had seconds after this because it's Easter and that's all I have to say to justify it.